Open Access This article is
freely available
re-usable
Review
The Potential of Non-Provitamin A Carotenoids for the Prevention and Treatment of Non-Alcoholic Fatty Liver Disease
Department of Nutritional Sciences, University of Connecticut, Storrs, CT 06269, USA
*
Author to whom correspondence should be addressed.
Academic Editor: Chris O'Callaghan
Received: 23 September 2016 / Accepted: 3 November 2016 / Published: 8 November 2016
Abstract
:
Non-alcoholic fatty liver disease (NAFLD) is an obesity-associated spectrum of comorbidities defined by the presence of metabolic dysfunction, oxidative stress, inflammation, and fibrosis in the liver. If left untreated, NAFLD can progress to cirrhosis, liver failure, or hepatocellular carcinoma. NAFLD is recognized as the most common liver disease in the United States, affecting around 30% of the population. Identification of dietary components capable of reducing or preventing NAFLD is therefore essential to battle this condition. Dietary carotenoids including astaxanthin, lycopene, lutein, and zeaxanthin have been demonstrated to be potent antioxidants as well as to exhibit anti-inflammatory effects. Many studies report the protective effect(s) of these carotenoids against different conditions such as atherosclerosis, diabetic complications, age-related macular degeneration, and liver diseases. In this review, we will focus on the effects of these carotenoids in the prevention or reduction of NAFLD as seen in epidemiological observations and clinical trials, as well as the suggested mechanism of action derived from animal and cell studies.
Keywords:
non-alcoholic fatty liver disease (NAFLD); carotenoids; lycopene; astaxanthin; lutein; zeaxanthin; hepatic steatosis
4. Lycopene
These data indicate that supplementation with 2 or 4 mg/kg body weight of lycopene can reduce high-fat diet-induced oxidative stress and liver damage, suggesting a protective role of this carotenoid in the development of NAFLD.
When the remaining rats from the high-fat diet group were returned to a normal diet with or without lycopene (20 mg/kg body weight/day of lycopene given via oral gavage), TC and high-density lipoprotein (HDL)-cholesterol concentrations returned to values comparable to controls. However, LDL-cholesterol concentrations returned to normality only with diet and lycopene supplementation, not with diet alone. Similarly, liver weight and hepatic TC were only restored completely when lycopene was added to the diet. Furthermore, the addition of lycopene to the control diet helped to revert the morphological changes seen in the histological evaluation from 90% of affected cells to less than 50%. SOD and GPx activities were comparable to those observed in the control group only with lycopene supplementation, which suggests that the mechanism by which lycopene exerts its protective effects is by reducing oxidative stress. The results observed in this particular study highlight the fact that diet control is crucial to the treatment of NAFLD. However, bioactive antioxidant components such as lycopene could be used in addition to dietary interventions to accelerate the recovery from and reversion of high-fat diet-induced liver damage.
Both high-fat diet groups exhibited characteristics of hepatic steatosis, such as swelling of hepatocytes and fat accumulation. However, urinary isoprostanes, a marker of oxidative stress, were significantly increased only in the diet with no lycopene. In addition, a significant improvement in plasma HDL-cholesterol and TG concentration was observed in the high lutein group compared with control animals.
An important finding in this research is that the tomato juice had effects on liver metabolites that had no relation to the redox state. For example, hepatic amino acids increased, tending toward those seen in a normal diet and metabolic pattern, suggesting that this food is protective by more than just its antioxidant mechanism.
5. Conclusions
The available evidence regarding the potential use of non-provitamin A carotenoids in the prevention and treatment of NAFLD suggests that these compounds are effective in decreasing lipid accumulation, insulin resistance, oxidative stress, and inflammation in hepatic tissue, and therefore could be used as a dietary alternative to ameliorate the characteristic damage observed in NAFL and prevent its progression to more complicated stages such as NASH and liver fibrosis. The effects of specific mechanisms by which non-provitamin A carotenoids protect against NAFLD are depicted in
Figure 2
.
Although the classic mechanism by which non-provitamin A carotenoids can protect against NAFLD and other chronic diseases is by quenching ROS and decreasing oxidative damage, more complex pathways related to gene expression, inflammation, and macrophage plasticity are being elucidated. This suggests that each carotenoid can interfere differently with the development of NAFLD, creating a potential synergistic effect if they are consumed together. Therefore, a dietary approach that could be used in NAFLD patients is the Mediterranean diet, which is characterized by a high intake of fruits and vegetables that are natural sources of carotenoids, among other bioactive components [
86
]. Several studies have found that the adherence to the Mediterranean diet is related to a low incidence of chronic diseases, including NAFLD. It is hypothesized that the presence of large amount of antioxidants, such as carotenoids, in this diet is likely responsible for this correlation [
86
,
87
].
However, more epidemiological data is needed to assess whether there could be a specific recommended intake of dietary carotenoids to prevent NAFLD or if this protection can be only achieved through pharmacological doses. In addition, it is important to note that carotenoids have low and inconsistent bioavailability and therefore, in the human situation, it could be more relevant to find an adequate plasma concentration of carotenoids, rather than a suggested intake.
Nevertheless, carotenoids, as with other bioactive components, most likely do not have a substantial effect on their own. The prevention of NAFLD should be achieved by a healthy diet and lifestyle that includes food groups and nutrients in the recommended proportions. The prevention of obesity, metabolic syndrome, and T2DM seems to be the most effective way to avoid NAFLD; perhaps these strategies could be complemented with the inclusion of natural sources of carotenoids in the diet.
Author Contributions
Ana Gabriela Murillo, Diana M. DiMarco and Maria Luz Fernandez contributed to the development of this manuscript.
Conflicts of Interest
The authors declare no conflicts of interest.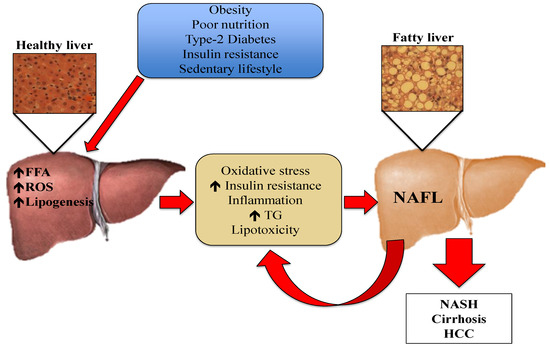 Figure 1. Pathogenesis of NAFL: Risk factors such as obesity, poor nutrition, Type-2 Diabetes, insulin resistance, and sedentary lifestyle cause an increment in the efflux of FFA from the adipose tissue to the liver. The increased FFA in hepatic tissue stimulates TG synthesis and accumulation. This excess of lipids induces an immune response, which causes the production of cytokines, ROS, and increased insulin resistance. Oxidative stress causes lipid peroxidation and tissue damage, amplifying the inflammatory response and leading to the progression of NAFLD. FFA: free fatty acids, HCC: hepatocellular carcinoma, NAFL: non-alcoholic fatty liver, NASH: non-alcoholic steatohepatitis, ROS: reactive oxygen species, TG: triglycerides.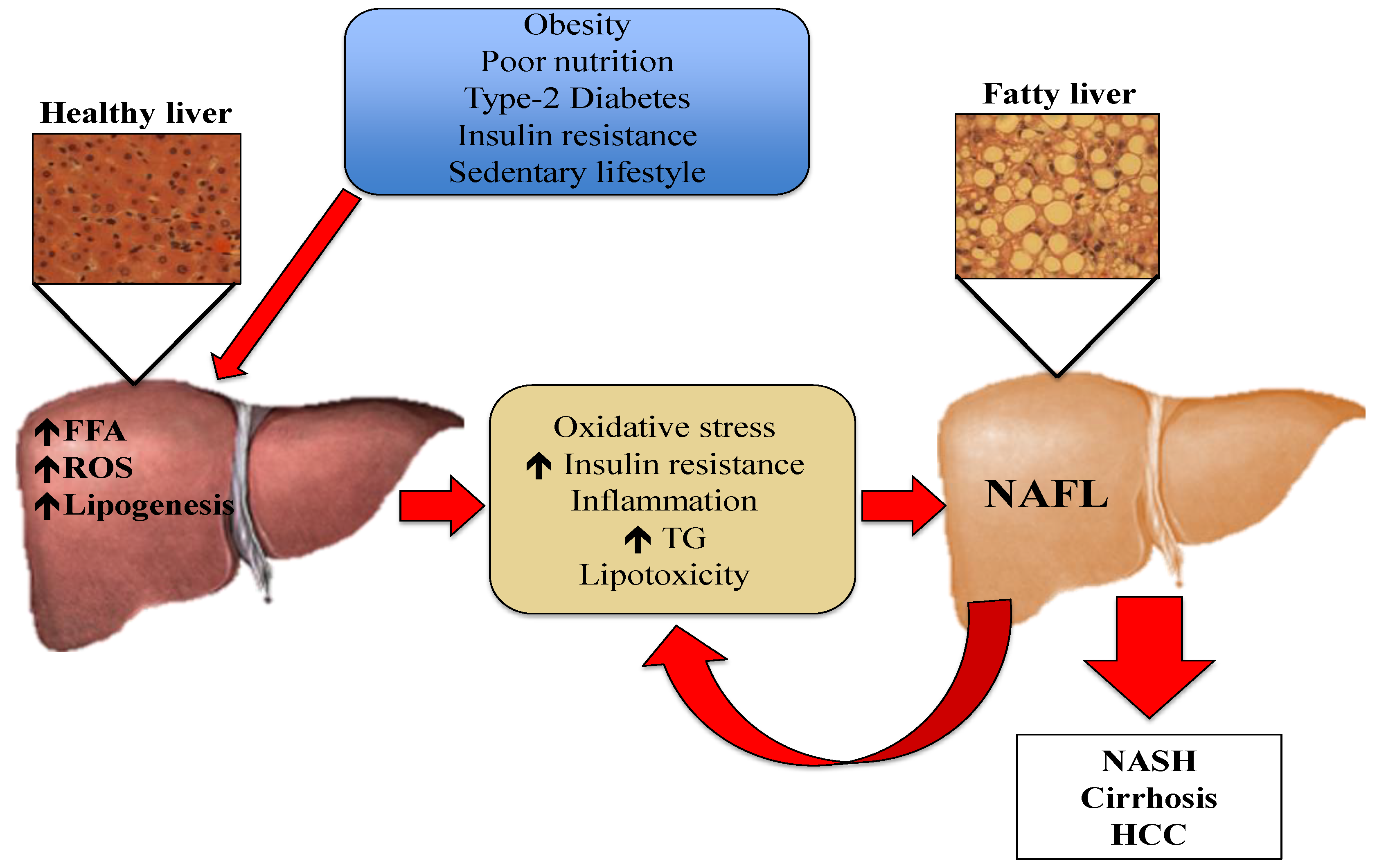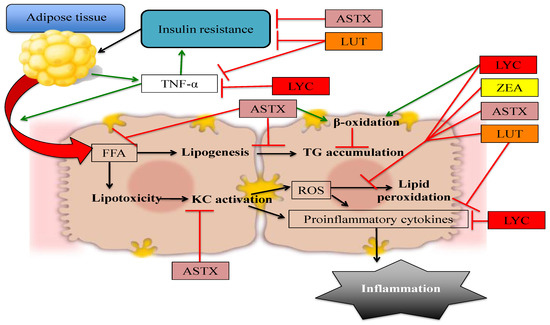 Figure 2. Non-provitamin A carotenoids have the potential to prevent or treat NAFLD by affecting different pathways: The quenching of ROS, thus decreasing oxidative stress and lipid peroxidation. However, other mechanisms include decreasing hepatic FFA influx, modulating expression of lipogenic and lipolytic genes, improving insulin signaling, and directly reducing inflammation. Red arrows denote blocked or decreased pathways whereas green arrows represent increased or promoted pathways. ASTX: astaxanthin, FFA: Free fatty acids, KC: Kupffer cells, LUT: lutein, LYC: lycopene, ROS: reactive oxygen species, TNF-α: tumor necrosis factor α, ZEA: zeaxanthin.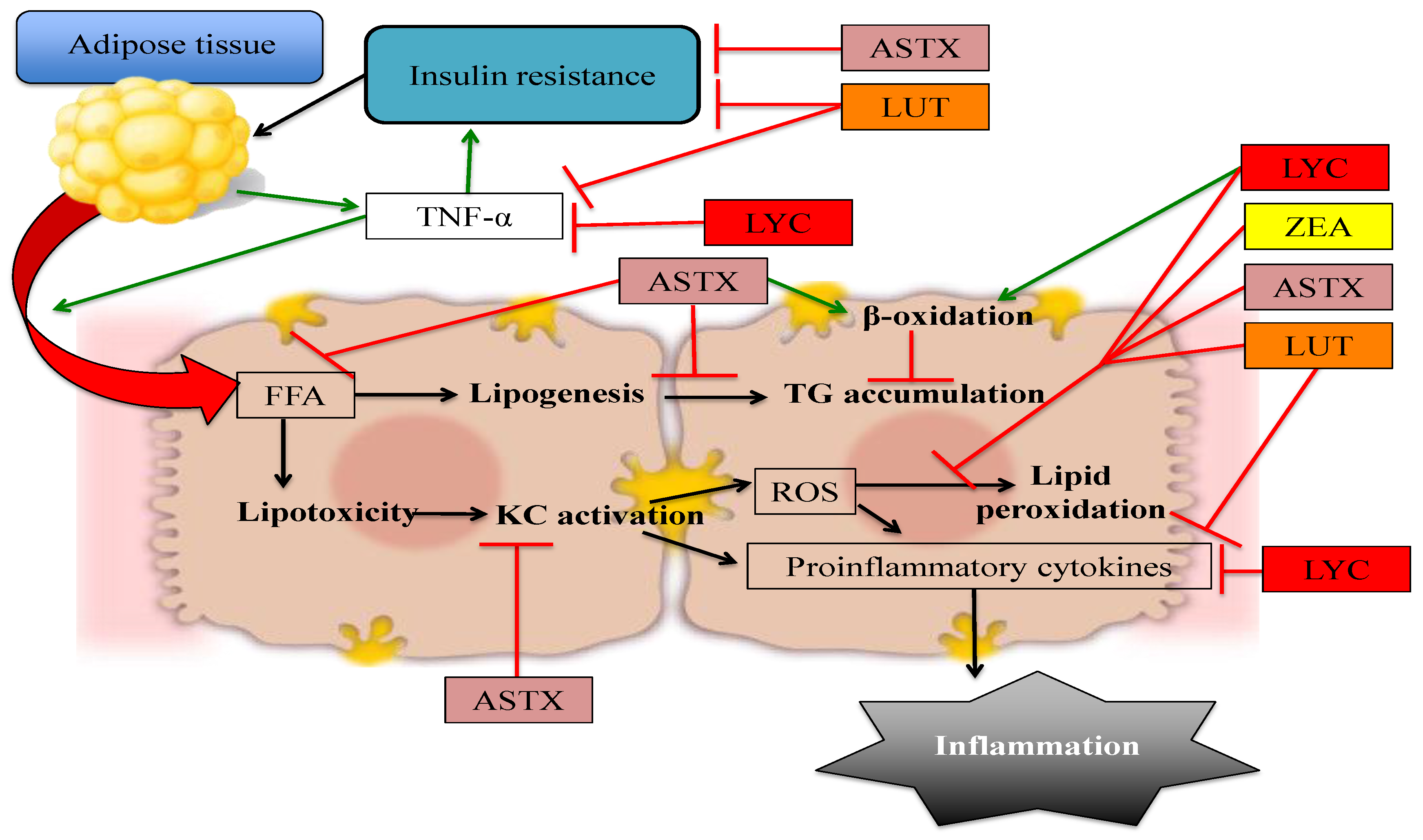 Table 1. Summary of studies where carotenoids had a beneficial effect on Hepatic Steatosis in Animal and Cell Models.
Table 1. Summary of studies where carotenoids had a beneficial effect on Hepatic Steatosis in Animal and Cell Models.
Carotenoid
Stage of Liver Disease
Study Model
Dietary Treatment
Dose
Duration of the Intervention
Main Outcomes
Reference
Astaxanthin
NASH
Male ob/ob mice and C57BL/6J mice
High-fat, high-cholesterol diet (60% kcal from fat +1.25% cholesterol)
0.0067 or 0.02% astaxanthin (w/w)
10 weeks
↓ Hepatic steatosis
↓ Hepatic lipid uptake and accumulation
↓ Plasma ALT, AST, TG, TC, and NEFA
↓ Hepatic lipid peroxidation
↓ Hepatic lipogenic gene expression
↑ Hepatic insulin sensitivity
↓ Hepatic inflammation and fibrosis
[40]
Astaxanthin
NAFLD
Male C57BL/6J mice
High-fat diet (35% w/w)
0.003, 0.01, or 0.03% astaxanthin (w/w)
12 weeks
↓ Plasma ALT and AST (with 0.03%)
↑ Hepatic FA β-oxidation
↓ Hepatic steatosis
↑ Hepatic antioxidant enzyme expression
[38]
Lutein
Hepatic steatosis
Male Hartley guinea pigs
Hypercholesterol-emic diet (0.25% w/w)
0.1% supplemental lutein
12 weeks
↓ Hepatic free cholesterol
↓ Hepatic MDA and TNF-α
↓ Hepatic NF-ĸB p65 DNA Binding
[58]
Lutein
NAFLD
Male Sprague-Dawley rats
High-fat diet (33% kcal from fat)
12.5, 25, or 50 mg/kg BW/day
10 days HFD, then 45 days of HFD + lutein
↓ Hepatic TC and TG
↑ Serum HDL-cholesterol
↓ Serum ALT
↑ Hepatic insulin sensitivity
↑ Hepatic FA catabolism
[62]
Lycopene
NAFLD
Male C57BL/6J mice
High-fat diet (49.29% kcal from fat)
0.05% lycopene
8 weeks
↓ Hepatic lipids, TG, and TC
↑ Hepatic PPARα, CPT1α, LCAD, and ApoA4 expression
↓ Hepatic PPARγ and FASN expression
↓ Hepatic lipogenesis
↑ Hepatic fatty acid β-oxidation
↓ Hepatic FABP7 expression via ↑ miRNA-21
[81]
Lycopene
NASH
Male Sprague-Dawley rats
High-fat diet
2 or 4 mg/kg BW, given 3× per week
6 weeks
↓ Serum ALT (both doses), glucose (with 2 mg/kg) TG (with 4 mg/kg)
↓ Serum MDA
↓ Serum TNF-α
↑ Hepatic glutathione
↓ Hepatic steatosis and inflammation
↓ Hepatic stellate cell activation
[70]
Lycopene
NAFLD
Male Sprague-Dawley rats
Hypercholesterol-emic/high-fat diet
3.15–3.5 mg/day lycopene from tomato juice
5 weeks
↓ Plasma TG
↑ Plasma HDL cholesterol
↓ Plasma VCAM
↑ Hepatic amino acids
↓ Urinary isoprostanes
↑ NAD/NADH ratio and redox balance
↑ Hepatic expression of genes related to FA transport, hydrolysis, and β-oxidation
[77,79]
Lycopene
NAFLD
Male Sprague-Dawley rats
High-fat diet (71% kcal from fat)
20 mg/kg BW/day supplemental lycopene
4 weeks high-fat diet then 4 weeks normal chow diet + lycopene
↓ Liver weight
↓ Serum LDL-cholesterol
↓ Hepatic TC
↑ Antioxidant enzyme activity
↓ Hepatic steatosis
[76]
Lycopene
NASH-promoted hepato-carcinogenesis
Male Sprague-Dawley rats
High-fat diet (71% kcal from fat)
15 mg/kg BW/day all-

trans

lycopene supplement or lycopene from tomato extract
6 weeks
↓ Cell growth and replication
↓ Precancerous lesions
↓ Inflammatory cytokine expression
↓ Oxidative stress
[72]
Zeaxanthin
NASH
Male Mongolian gerbils
Methionine- and choline-deficient diet
0, 12.5 or 25 mg/kg zeaxanthin
6 weeks
↓ Liver fibrosis (at highest dose)
↓ Hepatic lipid hydroperoxides
[63]
Apo: apolipoprotein; ALT: alanine aminotransferase; ALP: alkaline phosphatase; AST: aspartate aminotransferase; BW: body weight; CPT1α: carnitine palmitoyltransferase 1α; FA: fatty acid; FABP7: fatty acid binding protein 7; FASN: fatty acid synthase; HDL: high density lipoprotein; LCAD: long-chain acyl-CoA dehydrogenase; LDL: low density lipoprotein; MDA: malondialdehyde; miRNA: microRNA; NAD: nicotinamide adenine dinucleotide; NAFLD: non-alcoholic fatty liver disease; NASH: non-alcoholic steatohepatitis; NEFA: non-esterified fatty acid; NF-κB: nuclear factor κB; PPAR: peroxisome proliferator activated receptor; TC: total cholesterol; TG: triglycerides; TNF-α: tumor necrosis factor α; VCAM: vascular cell adhesion molecule. 1 ↑ indicates increase and ↓ indicates decrease.
© 2016 by the authors; licensee MDPI, Basel, Switzerland. This article is an open access article distributed under the terms and conditions of the Creative Commons Attribution (CC-BY) license (http://creativecommons.org/licenses/by/4.0/).