How Glutamate Is Managed by the Blood–Brain Barrier
1
Department of Physiology and Biophysics, The Chicago Medical School, Rosalind Franklin University of Medicine and Science, North Chicago, IL 60088, USA
2
Department of Biochemistry and Molecular Biology, Faculty of Medicine and Odontology, Medical Research Institute-INCLIVA, University of Valencia, Valencia 46010, Spain
*
Author to whom correspondence should be addressed.
Received: 30 June 2016 / Accepted: 22 September 2016 / Published: 8 October 2016
Abstract
A facilitative transport system exists on the blood–brain barrier (BBB) that has been tacitly assumed to be a path for glutamate entry to the brain. However, glutamate is a non-essential amino acid whose brain content is much greater than plasma, and studies in vivo show that glutamate does not enter the brain in appreciable quantities except in those small regions with fenestrated capillaries (circumventricular organs). The situation became understandable when luminal (blood facing) and abluminal (brain facing) membranes were isolated and studied separately. Facilitative transport of glutamate and glutamine exists only on the luminal membranes, whereas Na
+
-dependent transport systems for glutamate, glutamine, and some other amino acids are present only on the abluminal membrane. The Na
+
-dependent cotransporters of the abluminal membrane are in a position to actively transport amino acids from the extracellular fluid (ECF) into the endothelial cells of the BBB. These powerful secondary active transporters couple with the energy of the Na
+
-gradient to move glutamate and glutamine into endothelial cells, whereupon glutamate can exit to the blood on the luminal facilitative glutamate transporter. Glutamine may also exit the brain via separate facilitative transport system that exists on the luminal membranes, or glutamine can be hydrolyzed to glutamate within the BBB, thereby releasing ammonia that is freely diffusible. The γ-glutamyl cycle participates indirectly by producing oxoproline (pyroglutamate), which stimulates almost all secondary active transporters yet discovered in the abluminal membranes of the BBB.
View Full-Text
►

▼

Figures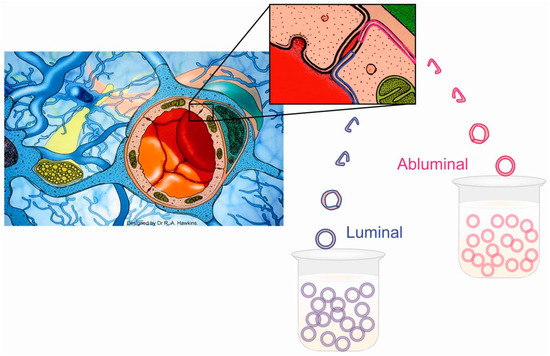 Figure 1
This is an open access article distributed under the
Creative Commons Attribution License
which permits unrestricted use, distribution, and reproduction in any medium, provided the original work is properly cited (CC BY 4.0).

Share & Cite This Article
MDPI and ACS Style
Hawkins, R.A.; Viña, J.R. How Glutamate Is Managed by the Blood–Brain Barrier. Biology 2016, 5, 37.
Note that from the first issue of 2016, MDPI journals use article numbers instead of page numbers. See further details here.
Related Articles
Comments
[Return to top]