On-Beads Digestion in Conjunction with Data-Dependent Mass Spectrometry: A Shortcut to Quantitative and Dynamic Interaction Proteomics
1
Systems Biology Ireland, Conway Institute, University College Dublin, Belfield, Dublin 4, Ireland
2
Conway Institute of Biomolecular and Biomedical Research, University College Dublin, Belfield, Dublin 4, Ireland
3
School of Medicine and Medical Science, University College Dublin, Belfield, Dublin 4, Ireland
*
Author to whom correspondence should be addressed.
Received: 9 January 2014 / Revised: 13 March 2014 / Accepted: 25 March 2014 / Published: 16 April 2014
Abstract
With the advent of the "-omics" era, biological research has shifted from functionally analyzing single proteins to understanding how entire protein networks connect and adapt to environmental cues. Frequently, pathological processes are initiated by a malfunctioning protein network rather than a single protein. It is therefore crucial to investigate the regulation of proteins in the context of a pathway first and signaling network second. In this study, we demonstrate that a quantitative interaction proteomic approach, combining immunoprecipitation, in-solution digestion and label-free quantification mass spectrometry, provides data of high accuracy and depth. This protocol is applicable, both to tagged, exogenous and untagged, endogenous proteins. Furthermore, it is fast, reliable and, due to a label-free quantitation approach, allows the comparison of multiple conditions. We further show that we are able to generate data in a medium throughput fashion and that we can quantify dynamic interaction changes in signaling pathways in response to mitogenic stimuli, making our approach a suitable method to generate data for system biology approaches.
View Full-Text
►

▼

Figures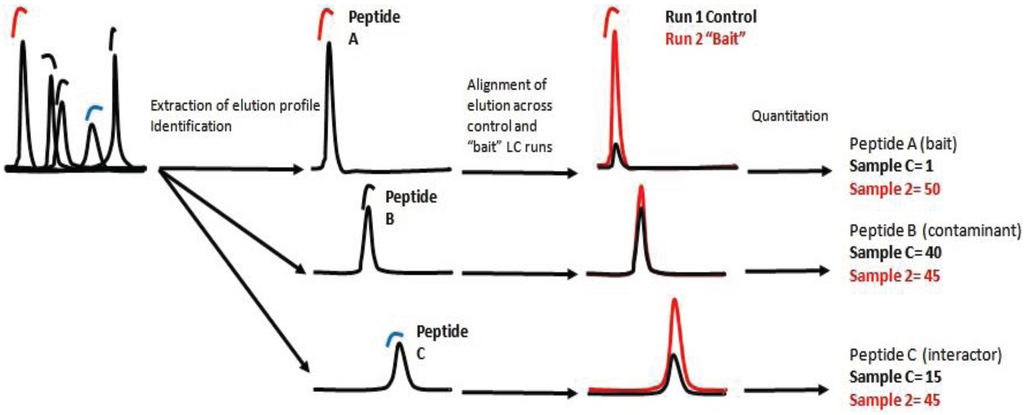 Figure 1

Share & Cite This Article
MDPI and ACS Style
Turriziani, B.; Garcia-Munoz, A.; Pilkington, R.; Raso, C.; Kolch, W.; Von Kriegsheim, A. On-Beads Digestion in Conjunction with Data-Dependent Mass Spectrometry: A Shortcut to Quantitative and Dynamic Interaction Proteomics. Biology 2014, 3, 320-332.
Related Articles
Comments
[Return to top]