Future Approaches for Treating Chronic Myeloid Leukemia: CRISPR Therapy
1
Departamento de Medicina, Universidad de Salamanca, 37007 Salamanca, Spain
2
Institute de Investigación Biomédica de Salamanca (IBSAL), 37007 Salamanca, Spain
*
Author to whom correspondence should be addressed.
Academic Editor: Magali Cucchiarini
Received: 11 January 2021 / Revised: 27 January 2021 / Accepted: 2 February 2021 / Published: 4 February 2021
Simple Summary
In the last two decades, the therapeutic landscape of several tumors have changed profoundly with the introduction of drugs against proteins encoded by oncogenes. Oncogenes play an essential role in human cancer and when their encoded proteins are inhibited by specific drugs, the tumoral process can be reverted or stopped. An example of this is the case of the chronic myeloid leukemia, in which all the pathological features can be attributed by a single oncogene. Most patients with this disease now have a normal life expectancy thanks to a rationality designed inhibitor. However, the drug only blocks the protein, the oncogene continues unaffected and treatment discontinuation is only an option for a small subset of patients. With the advent of genome-editing nucleases and, especially, the CRISPR/Cas9 system, the possibilities to destroy oncogenes now is feasible. A novel therapeutic tool has been developed with unimaginable limits in cancer treatment. Recent studies support that CRISPR/Cas9 system could be a definitive therapeutic option in chronic myeloid leukemia. This work reviews the biology of chronic myeloid leukemia, the emergence of the CRISPR system, and its ability as a specific tool for this disease.
The constitutively active tyrosine-kinase
BCR/ABL1
oncogene plays a key role in human chronic myeloid leukemia development and disease maintenance, and determines most of the features of this leukemia. For this reason, tyrosine-kinase inhibitors are the first-line treatment, offering most patients a life expectancy like that of an equivalent healthy person. However, since the oncogene stays intact, lifelong oral medication is essential, even though this triggers adverse effects in many patients. Furthermore, leukemic stem cells remain quiescent and resistance is observed in approximately 25% of patients. Thus, new therapeutic alternatives are still needed. In this scenario, the interruption/deletion of the oncogenic sequence might be an effective therapeutic option. The emergence of CRISPR (clustered regularly interspaced short palindromic repeats) technology can offer a definitive treatment based on its capacity to induce a specific DNA double strand break. Besides, it has the advantage of providing complete and permanent oncogene knockout, while tyrosine kinase inhibitors (TKIs) only ensure that
BCR-ABL1
oncoprotein is inactivated during treatment. CRISPR/Cas9 cuts DNA in a sequence-specific manner making it possible to turn oncogenes off in a way that was not previously feasible in humans. This review describes chronic myeloid leukemia (CML) disease and the main advances in the genome-editing field by which it may be treated in the future.
View Full-Text
►

▼

Show Figures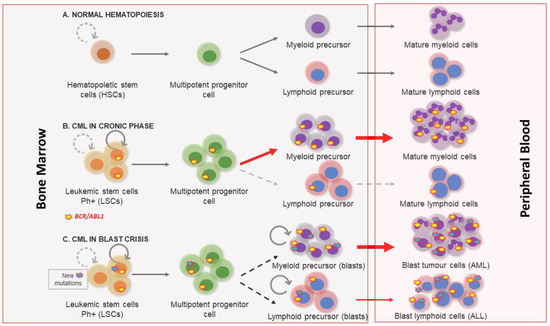 Figure 1
This is an open access article distributed under the
Creative Commons Attribution License
which permits unrestricted use, distribution, and reproduction in any medium, provided the original work is properly cited

MDPI and ACS Style
Vuelta, E.; García-Tuñón, I.; Hernández-Carabias, P.; Méndez, L.; Sánchez-Martín, M. Future Approaches for Treating Chronic Myeloid Leukemia: CRISPR Therapy. Biology 2021, 10, 118. https://doi.org/10.3390/biology10020118
AMA Style
Vuelta E, García-Tuñón I, Hernández-Carabias P, Méndez L, Sánchez-Martín M. Future Approaches for Treating Chronic Myeloid Leukemia: CRISPR Therapy. Biology. 2021; 10(2):118. https://doi.org/10.3390/biology10020118
Chicago/Turabian Style
Vuelta, Elena, Ignacio García-Tuñón, Patricia Hernández-Carabias, Lucía Méndez, and Manuel Sánchez-Martín. 2021. "Future Approaches for Treating Chronic Myeloid Leukemia: CRISPR Therapy" Biology 10, no. 2: 118. https://doi.org/10.3390/biology10020118
Note that from the first issue of 2016, MDPI journals use article numbers instead of page numbers. See further details
here
.