Antimicrobial Activities of Hydrophobically Modified Poly(Acrylate) Films and Their Complexes with Different Chain Length Cationic Surfactants
1
"Ilie Murgulescu" Institute of Physical Chemistry, Romanian Academy, Spl. Independentei 202, 060021 Bucharest, Romania
2
National Institute for Research and Development in Chemistry and Petrochemistry-ICECHIM, Spl. Independentei 202, 060021 Bucharest, Romania
3
Physical Chemistry Department, University of Bucharest, 4-12 Elisabeta Blvd., 030118 Bucharest, Romania
4
Microbiology Immunology Department, Faculty of Biology, University of Bucuresti, 1–3 Portocalelor, 060101 Bucharest, Romania
*
Authors to whom correspondence should be addressed.
Received: 19 March 2019 / Revised: 5 April 2019 / Accepted: 9 April 2019 / Published: 11 April 2019
Abstract
Multilayer films from hydrophobically modified poly(acrylic acid) (HMPA) and their complexes with cationic surfactants were successfully prepared using the layer-by-layer (LbL) method. Alkyl trimethylammonium bromide derivatives with various lengths of the hydrophobic chain (C
10
–C
18
) were used to interact with the HMPA polymer, generating highly hydrophobic domains in the films and contributing to the antimicrobial properties of the prepared coating. The antimicrobial efficiency against common pathogens such as
Staphylococcus aureus
,
Escherichia coli
,
Pseudomonas aeruginosa
, and
Candida albicans
was investigated in relationship with the morphology and composition of the thin films. The wettability and roughness of the multilayered systems were evaluated using atomic force microscopy (AFM) and contact angle measurements. The effects of the microbial exposure on the surface properties of the prepared films were investigated in order to assess the stability of the HMPA-deposited multilayers and the durability of the antimicrobial activity. The hydrophobically modified films exhibited antimicrobial activity against the studied pathogens. The best efficiency was registered in the case of
S. aureus
, which showed an inhibition of growth up to 100% after 2 h.
C. albicans
proved to be less sensitive to the effect of the multilayers deposited from HMPA–surfactant complexes. These results suggest that HMPA and HMPA–surfactant complex LbL multilayer films can be used as promising materials in antimicrobial surface coatings with increased resistance to pathogens during exposure.
View Full-Text
►

▼

Figures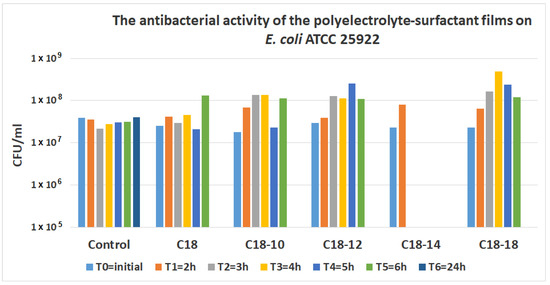 Figure 1
This is an open access article distributed under the
Creative Commons Attribution License
which permits unrestricted use, distribution, and reproduction in any medium, provided the original work is properly cited (CC BY 4.0).

Share & Cite This Article
MDPI and ACS Style
Gîfu, I.C.; Maxim, M.E.; Cinteza, L.O.; Popa, M.; Aricov, L.; Leontieș, A.R.; Anastasescu, M.; Anghel, D.-F.; Ianchis, R.; Ninciuleanu, C.M.; Burlacu, S.G.; Nistor, C.L.; Petcu, C. Antimicrobial Activities of Hydrophobically Modified Poly(Acrylate) Films and Their Complexes with Different Chain Length Cationic Surfactants. Coatings 2019, 9, 244.
Note that from the first issue of 2016, MDPI journals use article numbers instead of page numbers. See further details here.
Related Articles
Comments
[Return to top]