Effect of the Incorporation of Titanium on the Optical Properties of ZnO Thin Films: From Doping to Mixed Oxide Formation
1
Instituto de Ciencia de Materiales de Madrid (CSIC), 28049 Madrid, Spain
2
Departamento de Ciencia de los Materiales e Ingeniería Metalúrgica y Química Inorgánica, IMEYMAT, Universidad de Cádiz, 11510 Puerto Real, Spain
3
Dept. de Física, Universidad de Concepción, Casilla 160-C, Concepción 4030000, Chile
4
Dept. de Física Aplicada, Universidad Autónoma de Madrid, 28049 Madrid, Spain
5
UGdS-Optronlab Group, Dpto. Física Materia Condensada, Universidad de Valladolid, Paseo de Belén 11, 47011 Valladolid, Spain
*
Author to whom correspondence should be addressed.
Received: 17 January 2019 / Accepted: 5 March 2019 / Published: 8 March 2019
Abstract
ZnO films with Ti atoms incorporated (TZO) in a wide range (0–18 at.%) have been grown by reactive co-sputtering on silicon and glass substrates. The influence of the titanium incorporation in the ZnO matrix on the structural and optical characteristics of the samples has been determined by Rutherford backscattering spectroscopy (RBS), X-ray photoelectron spectroscopy (XPS) and X-ray diffraction (XRD). The results indicate that the samples with low Ti content (<4 at.%) exhibit a wurtzite-like structure, with the Ti
4+
ions substitutionally incorporated into the ZnO structure, forming Ti-doped ZnO films. In particular, a very low concentration of Ti (<0.9 at.%) leads to a significant increase of the crystallinity of the TZO samples. Higher Ti contents give rise to a progressive amorphization of the wurtzite-like structure, so samples with high Ti content (≥18 at.%) display an amorphous structure, indicating in the XPS analysis, a predominance of Ti–O–Zn mixed oxides. The energy gap obtained from absorption spectrophotometry increases from 3.2 eV for pure ZnO films to 3.6 eV for those with the highest Ti content. Ti incorporation in the ZnO samples <0.9 at.% raises both the blue (380 nm) and green (approx. 550 nm) bands of the photoluminescence (PL) emission, thereby indicating a significant improvement of the PL efficiency of the samples.
View Full-Text
►

▼

Figures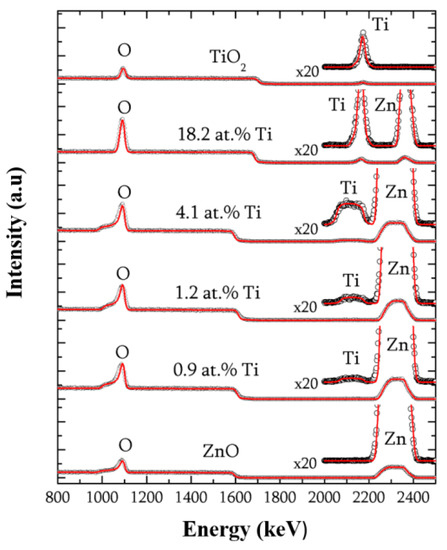 Figure 1
This is an open access article distributed under the
Creative Commons Attribution License
which permits unrestricted use, distribution, and reproduction in any medium, provided the original work is properly cited (CC BY 4.0).

Share & Cite This Article
MDPI and ACS Style
Yuste, M.; Escobar-Galindo, R.; Benito, N.; Palacio, C.; Martínez, O.; Albella, J.M.; Sánchez, O. Effect of the Incorporation of Titanium on the Optical Properties of ZnO Thin Films: From Doping to Mixed Oxide Formation. Coatings 2019, 9, 180.
Note that from the first issue of 2016, MDPI journals use article numbers instead of page numbers. See further details here.
Related Articles
Comments
[Return to top]