Open Access This article is
freely available
re-usable
Article
Corrosion Protection of N80 Steel in Hydrochloric Acid Medium Using Mixed C15H15NO and Na2WO4 Inhibitors
1
School of Chemical Engineering, Northwest University, Xi'an 710069, China
2
School of Materials Science and Engineering, Nanyang Technological University, 50 Nanyang Avenue, Singapore 639798, Singapore
*
Authors to whom correspondence should be addressed.
Received: 10 July 2018 / Accepted: 3 September 2018 / Published: 6 September 2018
Abstract
:
A novel inhibitor based on mixed Mannich base (C15H15NO) and Na2WO4 was developed for the corrosion prevention of N80 steel in hydrochloric acid solution. Infra-red spectrum, electrochemical measurements, X-ray Photoelectron Spectroscopy, and Scanning Electron Microscopy were used to understand the inhibition efficiency and mechanism. The results showed that the mixed inhibitors reduced the corrosion current density and increased the interface resistance. The inhibition efficiency is the highest when the ratio of C15H15NO to Na2WO4 is 1:1 in the mixture. Observed from the surfaces, the number of pits and small cracks was reduced on the surface in the presence of the optimized inhibitors. The inhibition film can successfully hinder the chloride ions from reaching the bulk steel.
Keywords:
corrosion inhibition; binding energy; N80 steel
1. Introduction
N80 steel is a commonly used material for pipelines for the petroleum and natural gas industry. This material suffers from serious corrosion problems when exposed to hydrochloric acid medium during industrial processes, such as acid cleaning, acid picking, acid descaling, and oil well acidizing [
1
,
2
,
3
,
4
].
In recent years, applying inhibitors has attracted a great deal of attention because of its advantageous properties, including its environmental friendliness, high efficiency, and convenience in application. Inhibitors can be divided into two types: organic and inorganic. Most inhibitors are organic compounds containing nitrogen, oxygen, or sulfur atoms [
5
,
6
,
7
,
8
,
9
,
10
,
11
]. It is generally believed that the organic molecules can produce a barrier layer through adsorption at the metal-solution interface [
12
,
13
], thus hindering the transfer of electrons between the metal substrate and the corrosion solution [
14
]. More and more researches have revealed that a single inhibitor has a limited effect, and mixed inhibitors are able to improve the protection effectiveness. For example, Meng et al. studied the inhibitor mechanism of Mannich base (C
15
H
15
NO) and Thiourea in a gas-field wastewater. The results showed that a bi-layer inhibitor film with an inner layer of Thiourea molecules and an outer layer of C
15
H
15
NO displayed a greatly improved inhibition efficiency [
15
]. Shibli et al. discussed the co-inhibition characteristics of sodium tungstate (Na
2
WO
4
) with potassium iodate. It was concluded that the presence of an oxidizing agent like KIO
3
can enhance the inhibition of tungstate [
16
]. Huang et al. [
17
] analyzed the inhibition performance of Na
2
WO
4
and sodium lauroyl sarcosine for carbon steels in seawater. They revealed that the adsorption of sodium tungstate on the surface of carbon steel followed the Langmuir adsorption mechanism, and mixed inhibitors had a better corrosion performance than Na
2
WO
4
alone [
17
]. Although both C
15
H
15
NO and Na
2
WO
4
have been used as corrosion inhibitors in hydrochloric acid, most of them were used alone or in combination with other substances. Until now, little attention has been devoted to the investigation of the inhibition effect of C
15
H
15
NO with Na
2
WO
4
for N80 steel in hydrochloric acid medium.
The objective of this paper is to discuss the inhibition mechanism of mixed C15H15NO and Na2WO4 for N80 steel in an acidic medium. Optimization of the C15H15NO:Na2WO4 ratio was explored. Infra-red (IR) spectrum, electrochemical tests, X-ray photoelectron spectroscopy (XPS), and scanning electron microscopy (SEM) were used to assist in the understanding of the inhibition effectiveness and corrosion prevention mechanism.
2. Experimental Procedures
The chemical composition of N80 steel is shown in
Table S1
. The concentration of Na
2
WO
4
(AR, ≥99.5%, Shanghai Sinopharm Group, Shanghai, China) is 0.0002 M. C
15
H
15
NO was synthesized based on the conventional method [
18
]. The ratio of the C
15
H
15
NO to Na
2
WO
4
in the mixture was setting as 20:1, to 10:1, 2:1, 1.25:1, 1:1, and 0.67:1, respectively. Two types of specimens were used: one is the circular columns with dimensions of Φ14.5 × 5 mm
2
for electrochemical measurements; the other is a cuboid block with dimensions of 5 × 5 × 3 mm
3
for micrographic analysis. All specimens were manually polished by metallographic emery papers with a grit size from 400 to 800, 1000, and 1200. Afterward, they were immersed in petroleum ether for 10 min, washed thoroughly with distilled water, degreased with acetone, washed again with bidistilled water, and ultimately dried at room temperature [
19
].
The electrochemical experiments were conducted in a nitrogen environment, using the CS350 electrochemical workstation (Wuhan CorrTest Instruments Corp., Ltd., Wuhan, China) with a three-electrode system. The sweeping rate during polarization measurements was 0.5 mV·s
−1
, and the potential was changed from –500 to +500 mV vs.
E
oc
. Electrochemical Impedance Spectroscopy (EIS) measurements were carried out at the open-circuit potential for alternating voltage amplitudes of 10 mV over a frequency range of 100 kHz to 10 mHz. The IR spectrum was recorded on a Perkin Elmer FTIR (PerkinElmer, Waltham, MA, USA) pls check instrument with a resolution of 4 cm
−1
, and the aperture was set as 2.5 mm. XPS was taken by a Shimadzu-Kratos AXIS Ultra
DLD
(Kratos Analytical Ltd., Kyoto, Japan) which uses Al Kα as the excitation source, and operated in the constant 1486.7 eV analyzer energy mode with a pass energy of 50 eV. The sputtering speed was 2.4 nm s
−1
and the angle between the sample and the ion gun was 30°. The accuracy of the reported binding energy is ±0.1 eV. The C 1
s
peak at 284.6 eV, from adventitious carbon, was used as the reference for all spectra. Quantification of the atomic layer composition and the spectral simulation of the experimentally observed peaks were performed using Thermo Avantange software (V4.88) [
20
]. SEM images of N80 steel samples were taken by ZEISS SIGMA (ZEISS, Oberkochen, Germany). More details about the experimental procedures are available in
section S1 of the Supporting Information
.
The inhibition efficiency, η is calculated by:
where
I
corr(0)
is the value of the corrosion current density before adding inhibitor molecules and
I
corr(

i

)
is the value of the corrosion current density after adding the inhibitor. The surface coverage (θ) is an important parameter for the evaluation of the quality of the corrosion inhibitor film, and it can be calculated by:
where is the charge transfer resistance of the blank electrode and
R
ct
is the charge transfer resistance after adding the inhibitor to the solution.
3. Results and Discussion
4. Conclusions
In this paper, the combined use of C15H15NO and Na2WO4 as a corrosion inhibitor for N80 steel in 15% HCl solution was investigated by electrochemical experiments and microscopic analysis. The mixed inhibitors of Mannich base and sodium tungstate have demonstrated excellent corrosion prevention, and the best corrosion inhibition efficiency is 96.19% when the mixing ratio of the two components is 1:1. The SEM results indicate a fine and dense surface structure when the optimal mixed inhibitor was applied, and the degree of corrosion was greatly reduced compared with an un-protected surface or when a single inhibitor was used. The XPS analyses show that the content of Cl on the film was much decreased in the mixed inhibitor solution. The mixed inhibitors are able to form a stable membrane structure, which can effectively protect the metal from severe corrosion.
Supplementary Materials
The following are available online at
https://www.mdpi.com/2079-6412/8/9/315/s1
, Figure S1: Cyclic voltammetry of N80 steel at a mixed corrosion inhibitor ratio of 1:1 in 15% HCl solution at 60 °C under the environment of N
2
, Figure S2: Degree of coverage for N80 steel in 15% HCl solution after adding the inhibitor at 60 °C under the environment of N
2
, Figure S3: C/θ~C plots of different ratios of Mannich Base and Sodium Tungstate, Figure S4: (a) XPS survey spectra of 0.0002 mol·L
−1
C15H15NO with etch time; (b) XPS survey spectra of 0.0002 mol·L
−1
Na
2
WO
4
with etch time; (c) XPS survey spectra of 0.0002 mol·L
−1
C15H15NO and 0.0002 mol·L
−1
Na
2
WO
4
with etch time. Table S1: Chemical composition of N80, Table S2: Corrosion kinetics parameters of N80 steel with and without the inhibitor in 15% HCl solution at 60 °C under the environment of N
2
, Table S3: The corrosion inhibition efficiency of different inhibitors in 15% HCl for N80 steel under the same experimental conditions in the literature, Table S4: Binding energy of Fe 2
p
on the surface of N80 steel under different inhibitors. References [
40
,
41
,
42
,
43
,
44
,
45
,
46
,
47
] are cited in the supplementary materials.
Author Contributions
Conceptualization, J.H. and Z.C.; Methodology, T.W. and Z.W.; Formal Analysis, L.W., J.Z. and M.Z.; Writing-Original Draft Preparation, T.W.; Writing-Review & Editing, J.H. and Z.C.; Funding Acquisition, J.H.
Funding
This research was funded by the National Natural Science Foundation of China (21676216, 51606153), China Postdoctoral Science Foundation (2014M550507, 2015T81046), and Innovative projects of Northwest University (YZZ17140).
Acknowledgments
Greatly acknowledgment to Xi'an Modern Chemistry Research Institute, who provided the experimental help.
Conflicts of Interest
The authors declare no conflict of interest.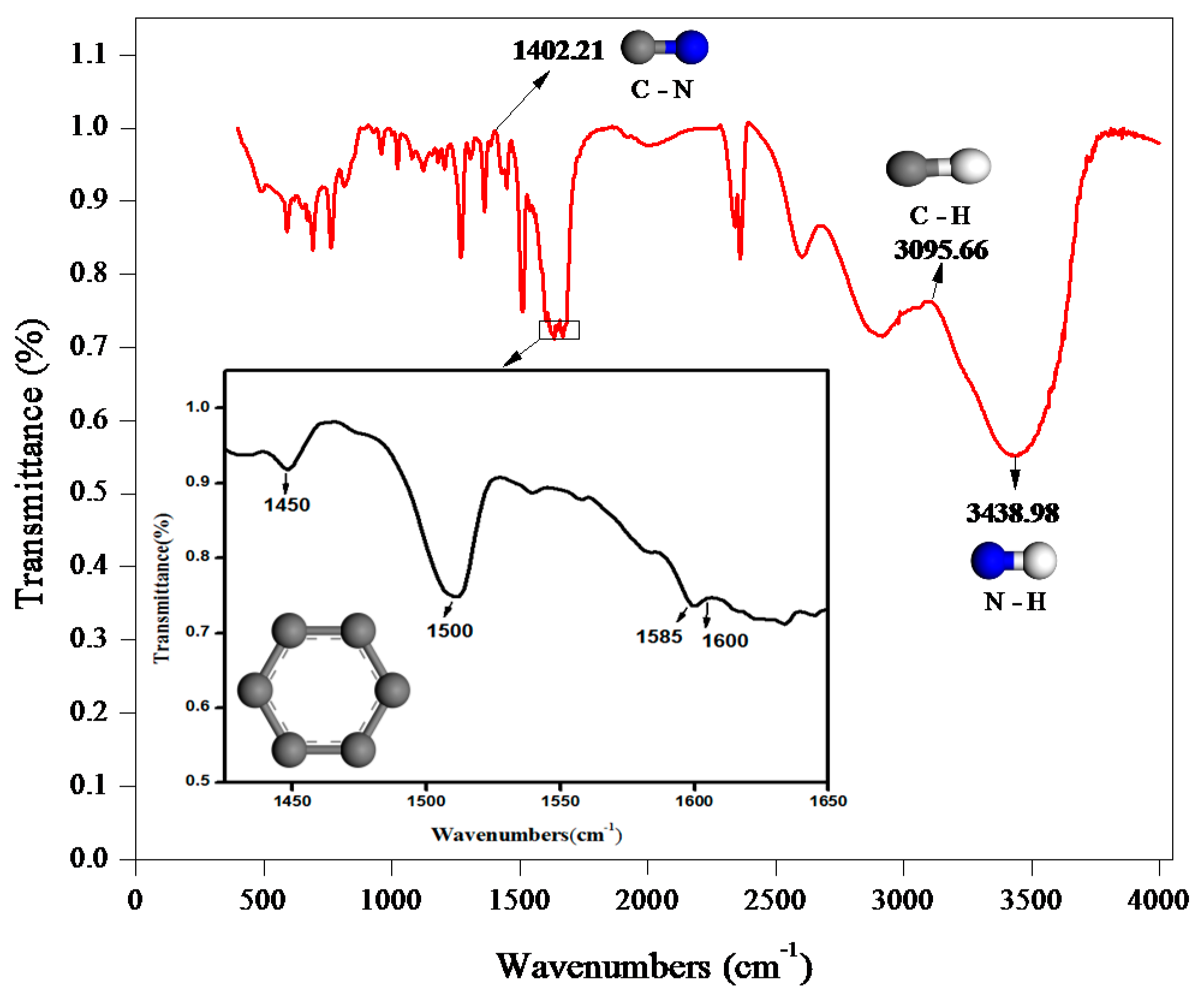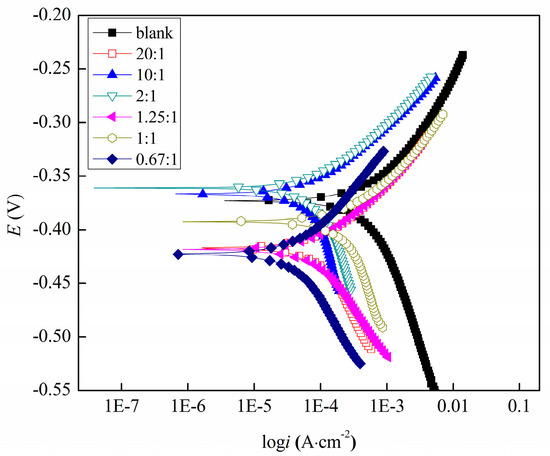 Figure 2.
Polarization curves of N80 steel in the absence and presence of the inhibitor in 15% HCl solution at 60 °C under the environment of N
2
after 12 h immersion. Fitted polarization data are shown in
Table S2
.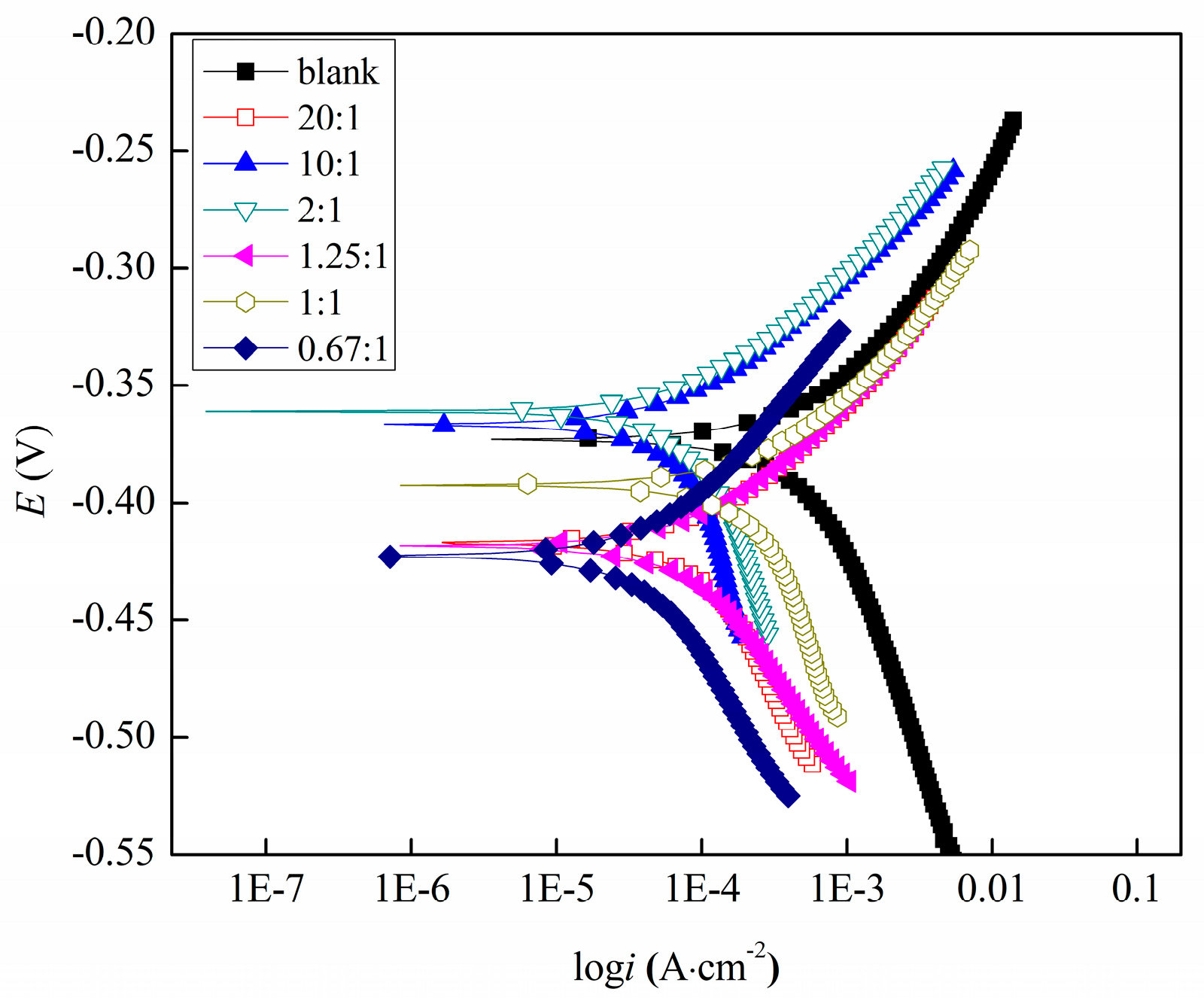 Figure 3. (a) Nyquist and (b) Bode diagram for N80 steel in the absence and presence of the inhibitor in 15% HCl solution at 60 °C under the environment of N2 after 12 h immersion.

Figure 4. SEM image of N80 steel after 12 h immersion in 15% HCl solution having (a) no inhibitor, (b) 0.0002 mol·L−1 C15H15NO, (c) 0.0002 mol·L−1 Na2WO4, and (d) 0.0002 mol·L−1 C15H15NO and 0.0002 mol·L−1 Na2WO4.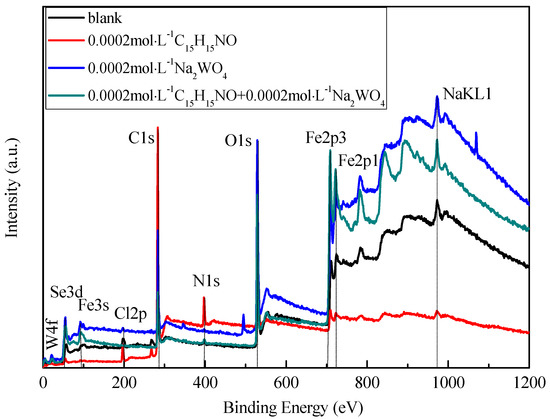 Figure 5. XPS survey spectra of the N80 steel in 15% HCl solution in the absence and presence of the inhibitor.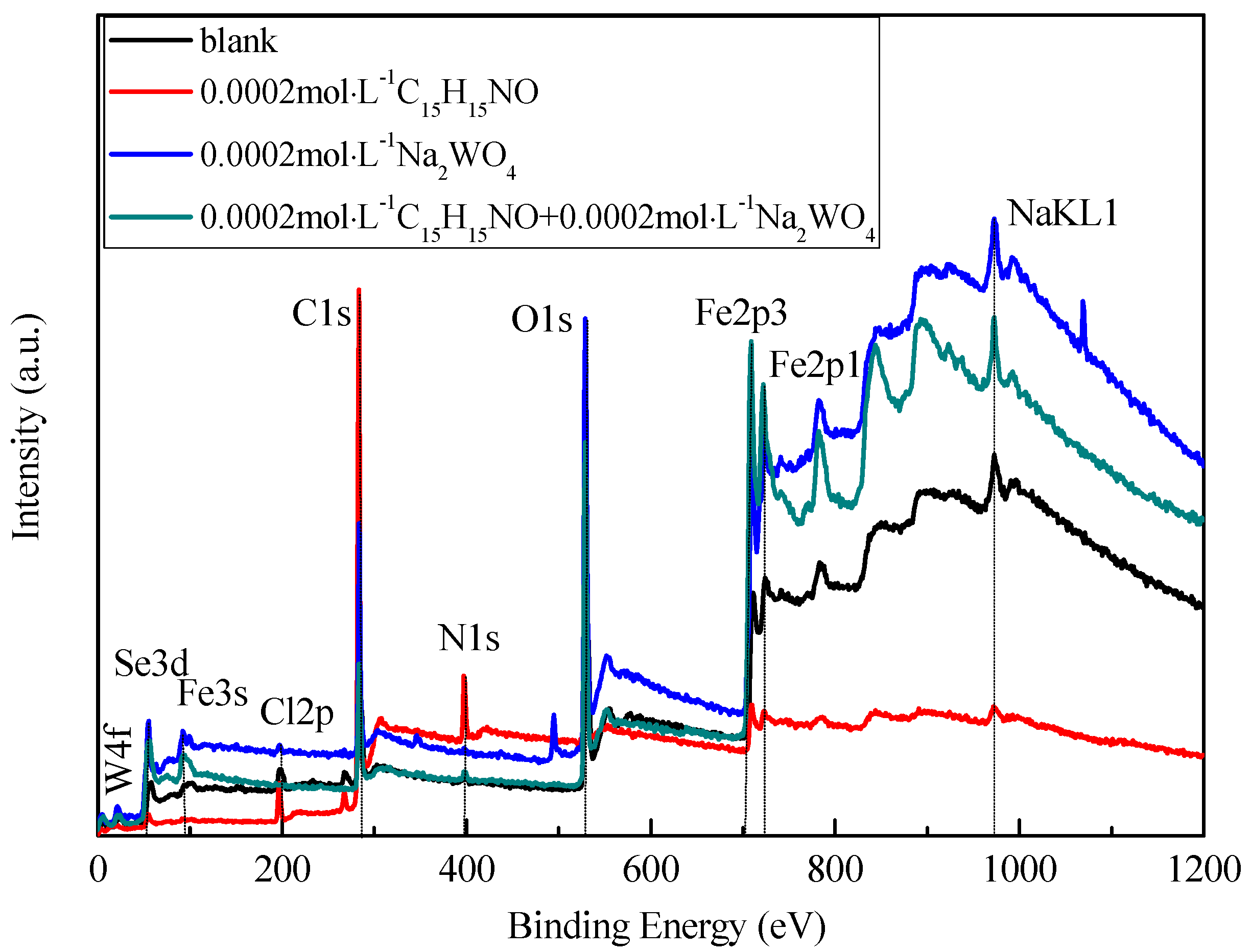 Figure 6.
(
a
) Content of the Cl element on the N80 surface in different solutions. (
b
) Changes of C l2
p
content with etching time in corresponding corrosion solutions. Details of the XPS survey spectra can be found in
Figure S4
.
Figure 7.
The XPS spectrum of some elements on N80 steel in the mixed inhibitors with the ratio of 1:1 for 250 s etching: (
a
) C 1
s
peak, (
b
) N 1
s
peak, (
c
) O 1
s
peak, (
d
) Fe 2
p
peak, (
e
) Na 1
s
peak, and (
f
) Fe Auger peak.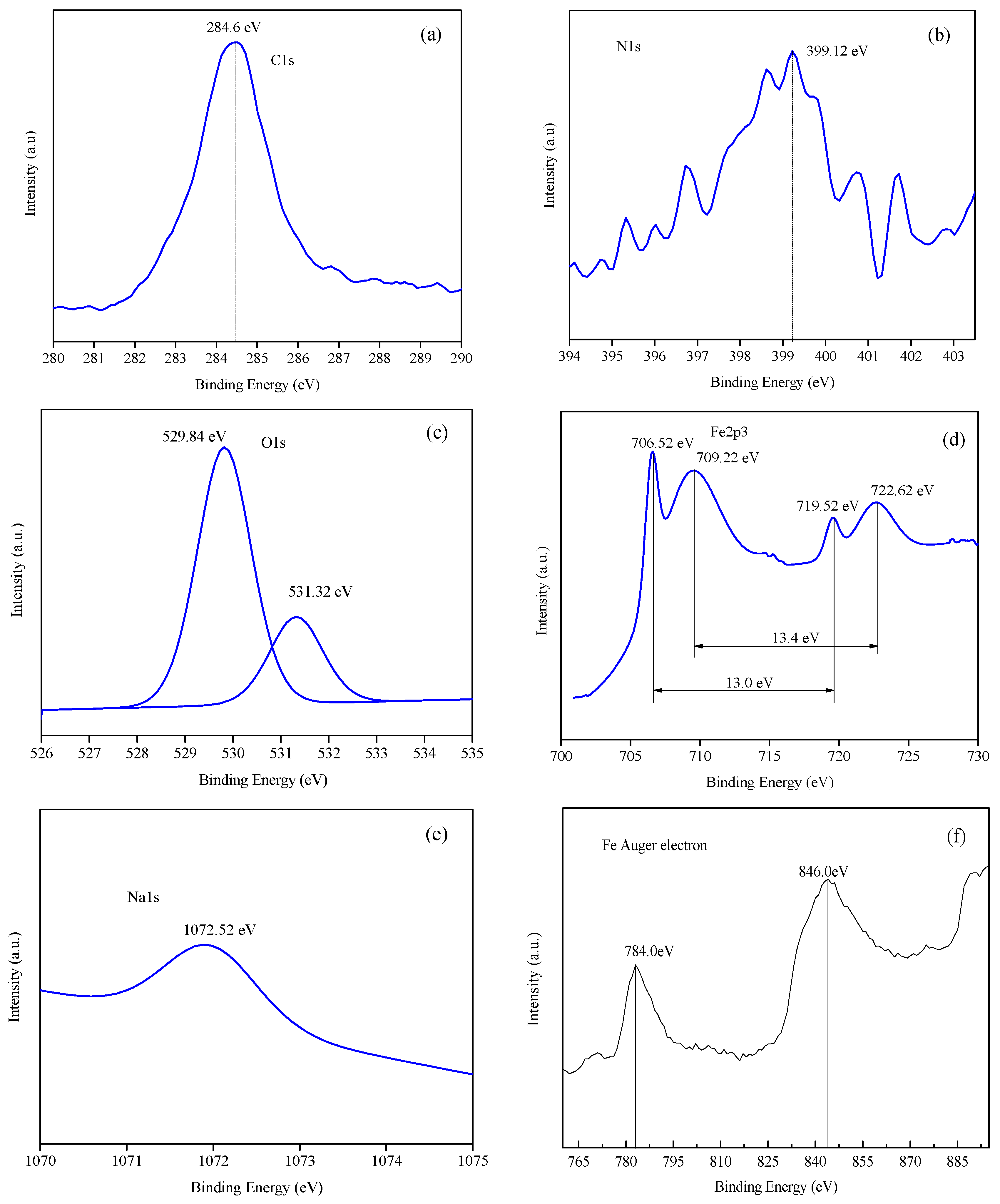 Table 1. Electrochemical parameter of N80 steel obtained from the EIS Equivalent electrical circuit.
Sample/mol·L–1

R

s/Ω·cm2

C

f/S·sn·cm−2/×10−5

n

1/0 <

n

< 1

R

f
/Ω·cm2

C

dl/S·sn·cm−2/*10−2

n

2
/0 <

n

< 1

R

ct/Ω·cm2

θ

HCl
C15H15NO
Na2WO4
4.865
0
0
0.6821
2.375
0.9656
4.102
0.057
0.6694
39.34
–
0.004
0.0002
0.8403
1.833
0.8728
3.789
0.089
0.5647
102.1
0.615
0.002
0.0002
0.7169
2.184
0.8899
3.064
0.046
0.6856
83.99
0.532
0.0004
0.0002
0.7487
2.177
0.9937
2.901
0.011
0.5495
114.8
0.657
0.00025
0.0002
0.8093
2.169
0.8972
3.918
0.035
0.5889
92.24
0.574
0.0002
0.0002
0.7571
2.484
0.9844
5.217
0.034
0.6518
260.9
0.849
0.00013
0.0002
0.8079
1.89
0.9423
5.589
0.034
0.634
139.2
0.717

© 2018 by the authors. Licensee MDPI, Basel, Switzerland. This article is an open access article distributed under the terms and conditions of the Creative Commons Attribution (CC BY) license (http://creativecommons.org/licenses/by/4.0/).