Corrosion Resistance of Boronized, Aluminized, and Chromized Thermal Diffusion-Coated Steels in Simulated High-Temperature Recovery Boiler Conditions
10-203 Donadeo Innovation Center for Engineering, Department of Mechanical Engineering, University of Alberta, Edmonton, AB T6G 1H9, Canada
*
Author to whom correspondence should be addressed.
Received: 30 May 2018 / Revised: 5 July 2018 / Accepted: 22 July 2018 / Published: 24 July 2018
Abstract
In this study, the high-temperature molten salt corrosion resistance of bare steels and steels with protective coatings, fabricated by thermal diffusion processes (boronizing, aluminizing and chromizing), were investigated and compared. Surface engineering through thermal diffusion can be used to fabricate protective coatings against corrosion, while alleviating issues around possible cracking and spallation that is typical for conventional thermal-sprayed coatings. In this regard, samples of low carbon steel and 316 stainless steel substrates were boronized, chromized, and aluminized through a proprietary thermal diffusion process, while some of the samples were further coated with additional thin oxide and non-oxide layers to create new surface architectures. In order to simulate the actual corrosion conditions in recovery boilers (e.g., from black liquor combustion), the surfaces of the samples sprayed with a modeling salt solution, were exposed to low-temperature (220
C) and high-temperature (600
C) environments. According to microstructural and X-ray diffraction (XRD) studies and results of hardness determination, the coatings with multilayered architectures, with and without additional oxide layers, showed successful resistance to corrosive attack over bare steels. In particular, the samples with boronized and chromized coatings successfully withstood low-temperature corrosive attack, and the samples with aluminized coatings successfully resisted both low- and high-temperature molten salt corrosive attacks. The results of this study conducted for the first time for the thermal diffusion coatings suggest that these coatings with the obtained architectures may be suitable for surface engineering of large-sized steel components and tubing required for recovery boilers and other production units for pulp and paper processing and power generation.
View Full-Text
►

▼

Figures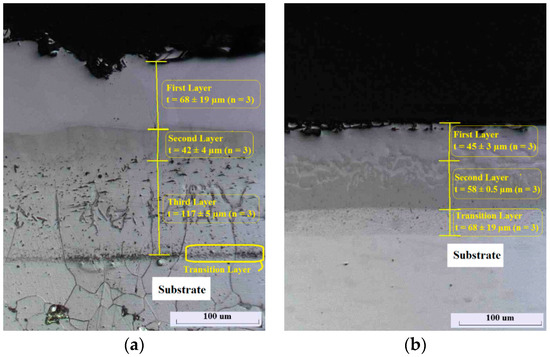 Figure 1
This is an open access article distributed under the
Creative Commons Attribution License
which permits unrestricted use, distribution, and reproduction in any medium, provided the original work is properly cited (CC BY 4.0).

Share & Cite This Article
MDPI and ACS Style
Mahdavi, A.; Medvedovski, E.; Mendoza, G.L.; McDonald, A. Corrosion Resistance of Boronized, Aluminized, and Chromized Thermal Diffusion-Coated Steels in Simulated High-Temperature Recovery Boiler Conditions. Coatings 2018, 8, 257.
Note that from the first issue of 2016, MDPI journals use article numbers instead of page numbers. See further details here.
Related Articles
Comments
[Return to top]