Characterization of Flake Boron Nitride Prepared from the Low Temperature Combustion Synthesized Precursor and Its Application for Dye Adsorption
1
Central Iron & Steel Research Institute, Beijing 100081, China
2
Collaborative Innovation Center of Steel Technology, University of Science and Technology Beijing, Beijing 100083, China
3
School of Metallurgical and Ecological Engineering, University of Science and Technology Beijing, Beijing 100083, China
*
Author to whom correspondence should be addressed.
Received: 10 May 2018 / Revised: 30 May 2018 / Accepted: 2 June 2018 / Published: 4 June 2018
Abstract
Flake boron nitride (BN) in large yield was successfully synthesized at low temperature from the combustion synthesized precursor. The precursor was prepared by a low-temperature (350 °C) combustion synthesis (LCS) method using nitric acid (HNO
3
), urea (CO(NH
2
)
2
), boric acid (H
3
BO
3
), and glucose (C
6
H
12
O
6
·H
2
O) as starting materials. The precursor consists of B
2
O
3
and amorphous carbon and the morphology is composed of blocks with average diameters of about 10 μm by statistical methods using SEM at different fields. Then BN was synthesized at 900 °C in NH
3
at a heating rate of 5 °C min
−1
. The as-prepared BN possesses a flake morphology and high specific surface area up to 936 m
2
g
−1
. It also has high density structural defects and abundant –NH
2
/–OH groups. The surface groups improve its water wettability and electronegativity, which contributes to the rapid and selective adsorption performance, especially towards the cationic dyes. When 4 mg of the sample was added into a 100 mL RhB solution with an initial concentration of 5 mg L
−1
, 95% of the RhB was removed within 1 min and the adsorption capacity is 125 mg g
−1
. Importantly, the sample can be regenerated by heating at 400 °C in air.
View Full-Text
►

▼

Figures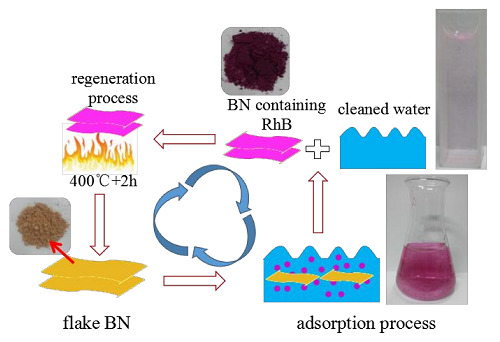 Graphical abstract
This is an open access article distributed under the
Creative Commons Attribution License
which permits unrestricted use, distribution, and reproduction in any medium, provided the original work is properly cited (CC BY 4.0).

Share & Cite This Article
MDPI and ACS Style
Qu, J.; Li, Q.; Luo, C.; Cheng, J.; Hou, X. Characterization of Flake Boron Nitride Prepared from the Low Temperature Combustion Synthesized Precursor and Its Application for Dye Adsorption. Coatings 2018, 8, 214.
Note that from the first issue of 2016, MDPI journals use article numbers instead of page numbers. See further details here.
Related Articles
Comments
[Return to top]