Superhydrophobic Bilayer Coating Based on Annealed Electrospun Ultrathin Poly(ε-caprolactone) Fibers and Electrosprayed Nanostructured Silica Microparticles for Easy Emptying Packaging Applications
1
Design Engineering Research Group (GRID), Product Design Engineering Department, Universidad EAFIT, Carrera 49 No 7sur-50, Medellín 050022, Colombia
2
Novel Materials and Nanotechnology Group, Institute of Agrochemistry and Food Technology (IATA), Spanish Council for Scientific Research (CSIC), Calle Catedrático Agustín Escardino Benlloch 7, 46980 Paterna, Spain
3
Bioinicia R&D Department, Bioinicia S.L., Calle Algepser 65, 46980 Paterna, Spain
*
Author to whom correspondence should be addressed.
Received: 1 April 2018 / Revised: 28 April 2018 / Accepted: 30 April 2018 / Published: 3 May 2018
Abstract
A coating rendering superhydrophobic properties to low-density polyethylene (LDPE) films used in packaging applications was herein generated by means of the electrohydrodynamic processing (EHDP) technique. To this end, electrospun ultrathin poly(ε-caprolactone) (PCL) fibers, followed by electrosprayed nanostructured silica (SiO
2
) microparticles, were deposited on top of the LDPE film. Various electrospinning and electrospraying times were tested and optimized followed by a thermal post-treatment to provide physical adhesion between the bilayer coating and the LDPE substrate. The morphology, hydrophobicity, permeance to limonene, and thermal stability of the resultant nanostructured coatings were characterized. It was observed that by controlling both the deposition time of the electrospun ultrathin PCL fibers and the electrosprayed SiO
2
microparticles, as well as the conditions of the thermal post-treatment, effective superhydrophobic coatings were developed onto the LDPE films. The resultant multilayer presented a hierarchical micro/nanostructured surface with an apparent contact angle of 157° and a sliding angle of 8°. The addition of silica reduced, to some extent, the limonene (aroma) barrier, likely due to the increased surface-to-volume ratio, which allowed permeant sorption to occur but improved the thermal stability of the LDPE/PCL film. As a result, the developed multilayer system of LDPE/PCL/SiO
2
has significant potential for use in easy-to-empty packaging applications of high water activity products.
View Full-Text
►

▼

Figures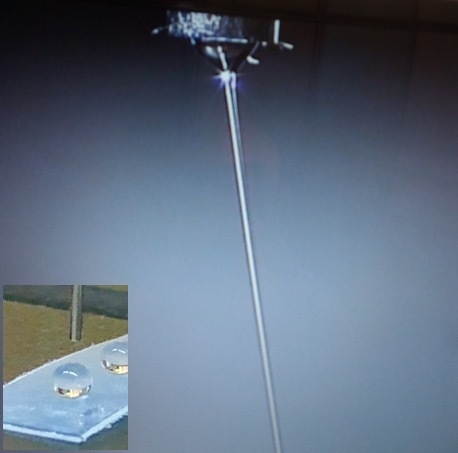 Graphical abstract
This is an open access article distributed under the
Creative Commons Attribution License
which permits unrestricted use, distribution, and reproduction in any medium, provided the original work is properly cited (CC BY 4.0).

Share & Cite This Article
MDPI and ACS Style
Lasprilla-Botero, J.; Torres-Giner, S.; Pardo-Figuerez, M.; Álvarez-Láinez, M.; M. Lagaron, J. Superhydrophobic Bilayer Coating Based on Annealed Electrospun Ultrathin Poly(ε-caprolactone) Fibers and Electrosprayed Nanostructured Silica Microparticles for Easy Emptying Packaging Applications. Coatings 2018, 8, 173.
Note that from the first issue of 2016, MDPI journals use article numbers instead of page numbers. See further details here.
Related Articles
Comments
[Return to top]