Microstructure, Mechanical, Oxidation and Corrosion Properties of the Cr-Al-Si-N Coatings Deposited by a Hybrid Sputtering System
1
School of Convergence Science, Pusan National University, Busan 609-735, Korea
2
Global Frontier R&D Center for Hybrid Interface Materials, Pusan National University, Busan 609-735, Korea
3
National Core Research Center for Hybrid Materials Solution, Pusan National University, Busan 609-735, Korea
4
School of Electromechanical Engineering, Guangdong University of Technology, Guangzhou 510006, China
*
Authors to whom correspondence should be addressed.
Received: 30 July 2017 / Revised: 30 July 2017 / Accepted: 7 August 2017 / Published: 9 August 2017
Abstract
CrN and Cr-Al-Si-N coatings were deposited on SUS304 and Si-wafers by a hybrid coating system. The Cr and Al-Si target were connected to the cathode arc ion plating (AIP) and high power impulse magnetron sputtering (HiPIMS), respectively. Various Al and Si contents in the coatings were obtained by changing the power of Al-Si target from 0 to 1 kW. The results demonstrated a face-centered cubic structure in all of the coatings. With increasing Al-Si target power, both the density and mean diameter of the macroparticles on the coating surface declined. As Al and Si contents increased, the microstructure of the Cr-Al-Si-N coatings evolved from a dense column structure, to a finer grain column structure, and then to a compact granular-like structure. The hardness of the coatings increased from 21.5 GPa for the pure CrN coating, to a maximum value of ~27 GPa for the Cr-Al-Si-N coating deposited at 0.4 kW, which was mainly attributed to the solid solution strengthening and increased residual stress. The addition of Al and Si contents led to enhanced wear resistance against alumina balls at both room and elevated temperatures. Meanwhile, the Cr-Al-Si-N coatings also exhibited an excellent resistance to high-temperature oxidation at 800 and 1000 °C, and improved corrosion resistance, as compared with CrN coatings.
View Full-Text
►

▼

Figures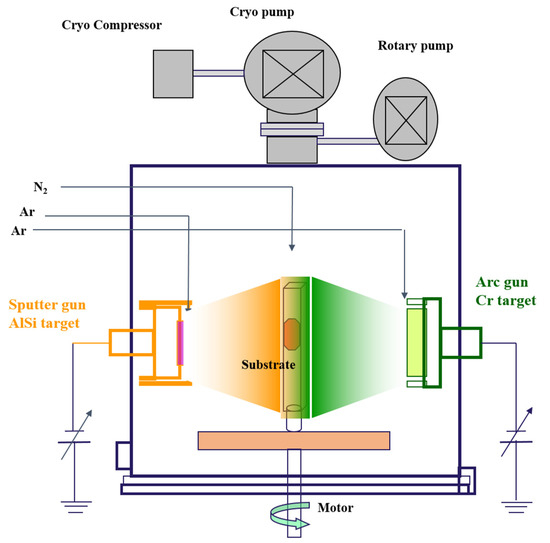 Figure 1
This is an open access article distributed under the
Creative Commons Attribution License
which permits unrestricted use, distribution, and reproduction in any medium, provided the original work is properly cited (CC BY 4.0).

Share & Cite This Article
MDPI and ACS Style
Ding, J.; Zhang, T.; Yun, J.M.; Kang, M.C.; Wang, Q.; Kim, K.H. Microstructure, Mechanical, Oxidation and Corrosion Properties of the Cr-Al-Si-N Coatings Deposited by a Hybrid Sputtering System. Coatings 2017, 7, 119.
Note that from the first issue of 2016, MDPI journals use article numbers instead of page numbers. See further details here.
Related Articles
Comments
[Return to top]