Inkjet-Printed Chemical Solution Y2O3 Layers for Planarization of Technical Substrates
1
Oxolutia S.L, Avda. Castell de Barberà 26, Tallers 13, Nau 1, 08210 Barberà del Vallès, Spain
2
Departament de Física, Universitat Autònoma de Barcelona, 08193 Bellaterra, Spain
3
Institució Catalana de Recerca i Estudis Avançats (ICREA), Passeig Lluís Companys 23, 08010 Barcelona, Spain
4
KAO-Chimigraf, Carcassí, 6-8, Polígon Ind. Can Jardí, 08191 Rubí, Spain
5
Bruker HTS GmbH, Roengenstr. 9, D-63755 Alzenau, Germany
6
Institut de Ciència de Materials de Barcelona (ICMAB-CSIC), Carrer dels Til·lers s/n, Campus de la Universitat Autònoma de Barcelona, 08193 Bellaterra, Spain
*
Author to whom correspondence should be addressed.
Academic Editors: Quanshun Luo and Yongzhen Zhang
Received: 2 October 2017 / Revised: 16 November 2017 / Accepted: 25 November 2017 / Published: 11 December 2017
Abstract
The implementation of the Chemical Solution Deposition (CSD) methodology with the Drop on Demand (DoD) inkjet printing (IJP) technology has been successfully employed to develop a Solution Deposition Planarization (SDP) method. We have used nanocrystalline yttrium oxide (Y
2
O
3
) to decrease the roughness of technical metallic substrates by filling the surface imperfections and thus avoiding costly polishing steps. This alternative process represents an outstanding methodology to reduce the final cost of the second-generation coated conductors manufacturing. Two Y
2
O
3
metalorganic precursor ink formulations were successfully developed and tested to obtain surfaces as smooth as possible with adequate mechanical properties to hold the internal stress developed during the growth of the subsequent layers. By using these inks as precursors for IJP and after a proper tuning of the rheological and wetting parameters, we firstly obtained centimeter length uniform 100 nm-thick SDP-Y
2
O
3
films on unpolished stainless-steel substrate from Bruker HTS. The scalability of the roll to roll (R2R)-IJP process to 100 m is then demonstrated on metallic substrates as well. A complete characterization of the prepared SDP-Y
2
O
3
inkjet-printed layers was carried out using optical microscopy, FIB-SEM (Focus Ion Beam coupled to Scanning Electron Microscopy), XRD (X-ray Diffraction), AFM (Atomic Force Microscopy), reflectometry and nanoindentation techniques. Then, the morphology, thickness, crystallinity and mechanical properties were evaluated, together with the surface roughness in order to assess the resulting layer planarity. The impact of planarity was additionally studied via growth of biaxially textured buffer layers as well as further functional layers. 1.1 µm-thick YSZ layers with in-plane textures better than the stainless steel (SS) polished reference were successfully deposited on top of 100 nm SDP-Y
2
O
3
films yielding 50% of
I
c
in contrast to the standard SS reference.
View Full-Text
►

▼

Figures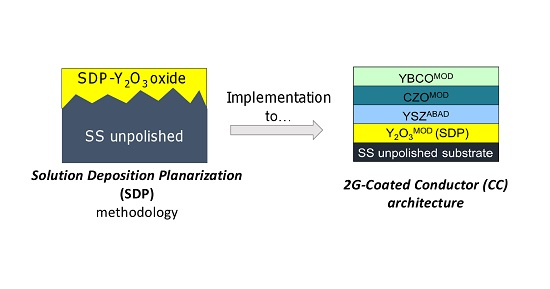 Graphical abstract
This is an open access article distributed under the
Creative Commons Attribution License
which permits unrestricted use, distribution, and reproduction in any medium, provided the original work is properly cited (CC BY 4.0).

Share & Cite This Article
MDPI and ACS Style
Vilardell, M.; Fornell, J.; Sort, J.; Vlad, R.; Fernández, J.C.; Puig, J.; Usoskin, A.; Palau, A.; Puig, T.; Obradors, X.; Calleja, A. Inkjet-Printed Chemical Solution Y2O3 Layers for Planarization of Technical Substrates. Coatings 2017, 7, 227.
Note that from the first issue of 2016, MDPI journals use article numbers instead of page numbers. See further details here.
Related Articles
Comments
[Return to top]