Influence of Power Pulse Parameters on the Microstructure and Properties of the AlCrN Coatings by a Modulated Pulsed Power Magnetron Sputtering
1
Science and Technology on Vacuum Technology and Physics Laboratory, Lanzhou Institute of Physics, Lanzhou 730000, China
2
Materials and Engineering Research Institute, Sheffield Hallam University, Sheffield S1 1WB, UK
3
School of Electromechanical Engineering, Guangdong University of Technology, Guangzhou 510006, China
*
Authors to whom correspondence should be addressed.
Academic Editor: Alessandro Lavacchi
Received: 15 July 2017 / Revised: 9 November 2017 / Accepted: 27 November 2017 / Published: 30 November 2017
Abstract
In this study, AlCrN coatings were deposited using modulated pulsed power magnetron sputtering (MPPMS) with different power pulse parameters by varying modulated pulsed power (MPP) charge voltages (350 to 550 V). The influence of power pulse parameters on the microstructure, mechanical properties and thermal stability of the coatings was investigated. The results indicated that all the AlCrN coatings exhibited a dense columnar microstructure. Higher charge voltage could facilitate a denser coating microstructure. As the charge voltage increased up to 450 V or higher, the microvoids along the column boundaries disappeared and the coatings became fully dense. The main phase in the AlCrN coatings was the c-(Al, Cr)N solid solution phase with NaCl-type phase structure. A diffraction peak of the h-AlN phase was detected at a 2θ of around 33°, when the charge voltage was higher than 500 V. The hardness of the AlCrN coatings varied as a function of charge voltage. The maximum value of the hardness (30.8 GPa) was obtained at 450 V. All the coatings showed good thermal stability and maintained their structure and mechanical properties unchanged up to 800 °C during vacuum annealing. However, further increasing the annealing temperature to 1000 °C resulted in apparent change in the microstructure and decrease in the hardness. The charge voltages also showed a significant influence on the high-temperature tribological behavior of the coatings. The coating deposited at the charge voltage of 550 V exhibited excellent tribological properties with a low friction coefficient.
View Full-Text
►

▼

Figures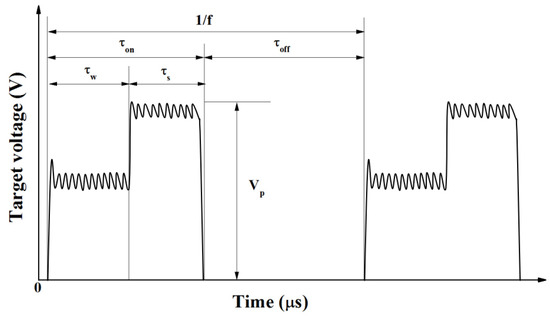 Figure 1
This is an open access article distributed under the
Creative Commons Attribution License
which permits unrestricted use, distribution, and reproduction in any medium, provided the original work is properly cited (CC BY 4.0).

Share & Cite This Article
MDPI and ACS Style
Zheng, J.; Zhou, H.; Gui, B.; Luo, Q.; Li, H.; Wang, Q. Influence of Power Pulse Parameters on the Microstructure and Properties of the AlCrN Coatings by a Modulated Pulsed Power Magnetron Sputtering. Coatings 2017, 7, 216.
Note that from the first issue of 2016, MDPI journals use article numbers instead of page numbers. See further details here.
Related Articles
Comments
[Return to top]