Ink-Jet Printing of
Gluconobacter

oxydans

: Micropatterned Coatings As High Surface-to-Volume Ratio Bio-Reactive Coatings

1

Department for Innovations in Biological, Agro-Food and Forest Systems, Via S. Camillo de Lellis, 01100 Viterbo, Italy

2

Department of Chemical and Biomolecular Engineering, North Carolina State University, Engineering Building I, 911 Partners Way, Raleigh, NC 27695, USA

3

Golden LEAF Biomanufacturing Training & Education Center, 850 Oval Drive, Raleigh, NC 27606, USA

*

Author to whom correspondence should be addressed.

Received: 17 September 2013 / Revised: 2 December 2013 / Accepted: 11 December 2013 / Published: 19 December 2013
Abstract
We formulated a latex ink for ink-jet deposition of viable Gram-negative bacterium
Gluconobacter oxydans
as a model adhesive, thin, highly bio-reactive microstructured microbial coating. Control of
G. oxydans
latex-based ink viscosity by dilution with water allowed ink-jet piezoelectric droplet deposition of 30 × 30 arrays of two or three droplets/dot microstructures on a polyester substrate. Profilometry analysis was used to study the resulting dry microstructures. Arrays of individual dots with base diameters of ~233–241 µm were obtained. Ring-shaped dots with dot edges higher than the center, 2.2 and 0.9 µm respectively, were obtained when a one-to-four diluted ink was used. With a less diluted ink (one-to-two diluted), the microstructure became more uniform with an average height of 3.0 µm, but the ink-jet printability was more difficult. Reactivity of the ink-jet deposited microstructures following drying and rehydration was studied in a non-growth medium by oxidation of 50 g/L D-sorbitol to L-sorbose, and a high dot volumetric reaction rate was measured (~435 g·L
−1
·h
−1
). These results indicate that latex ink microstructures generated by ink-jet printing may hold considerable potential for 3D fabrication of high surface-to-volume ratio biocoatings for use as microbial biosensors with the aim of coating microbes as reactive biosensors on electronic devices and circuit chips.
View Full-Text
►

▼

Figures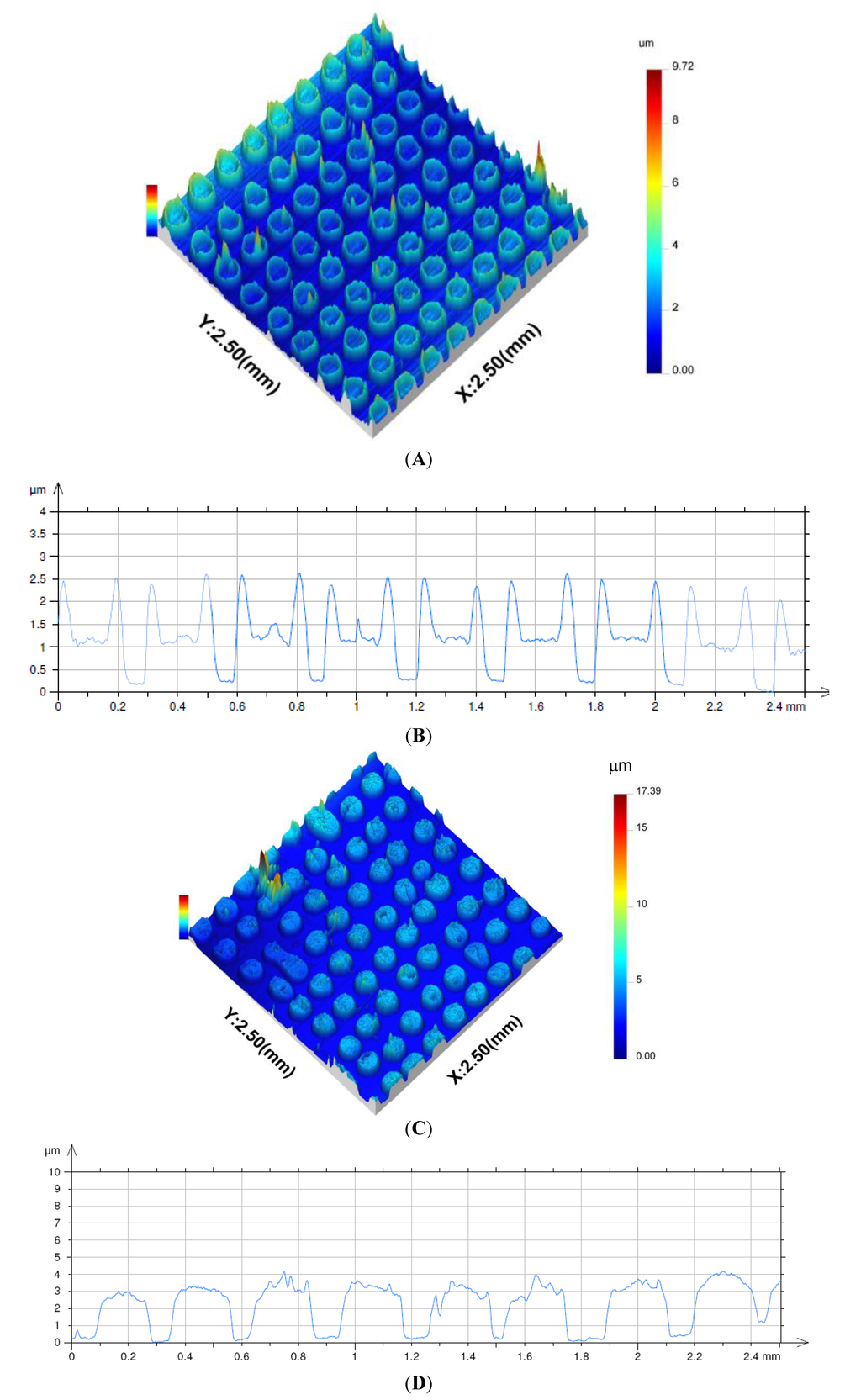 Figure 1

Share & Cite This Article
MDPI and ACS Style
Fidaleo, M.; Bortone, N.; Schulte, M.; Flickinger, M.C. Ink-Jet Printing of Gluconobacter oxydans: Micropatterned Coatings As High Surface-to-Volume Ratio Bio-Reactive Coatings. Coatings 2014, 4, 1-17.
Related Articles
Comments
[Return to top]