Open Access This article is
freely available
re-usable
Review
Production of β-Lactamase Inhibitors by
Streptomyces
Species
1
Campus Serra Talhada, University of Pernambuco, Avenida Custódio Conrado, 600, AABB, Serra Talhada, Pernambuco 56912-550, Brazil
2
Department of Antibiotics, Federal University of Pernambuco, Avenida da Engenharia, 2° andar, Cidade Universitária, Recife, Pernambuco 50740-600, Brazil
3
Department of Bioprocesses and Biotechnology, School of Pharmaceutical Sciences, São Paulo State University (UNESP), Rodovia Araraquara-Jaú/Km 01, Araraquara 14800-903, Brazil
4
Campus Garanhuns, University of Pernambuco, Rua Capitão Pedro Rodrigues, 105, São José, Garanhuns, Pernambuco 55295-110, Brazil
5
Department of Civil, Chemical and Environmental Engineering, Chemical Pole, University of Genoa, Via Opera Pia 15, 16145 Genoa, Italy
6
Department of Morphology and Animal Physiology, Federal Rural University of Pernambuco, Av. Dom Manoel de Medeiros, Recife, Pernambuco 52171-900, Brazil
*
Author to whom correspondence should be addressed.
Received: 30 May 2018 / Accepted: 12 July 2018 / Published: 17 July 2018
Abstract
:
β-Lactamase inhibitors have emerged as an effective alternative to reduce the effects of resistance against β-lactam antibiotics. The
Streptomyces
genus is known for being an exceptional natural source of antimicrobials and β-lactamase inhibitors such as clavulanic acid, which is largely applied in clinical practice. To protect against the increasing prevalence of multidrug-resistant bacterial strains, new antibiotics and β-lactamase inhibitors need to be discovered and developed. This review will cover an update about the main β-lactamase inhibitors producers belonging to the
Streptomyces
genus; advanced methods, such as genetic and metabolic engineering, to enhance inhibitor production compared with wild-type strains; and fermentation and purification processes. Moreover, clinical practice and commercial issues are discussed. The commitment of companies and governments to develop innovative strategies and methods to improve the access to new, efficient, and potentially cost-effective microbial products to combat the antimicrobial resistance is also highlighted.
Keywords:
actinobacteria; β-lactamase; resistance; antibiotic; β-lactamase inhibitor
1. Introduction
Infectious diseases, which are caused by bacteria, viruses, parasites, or fungi, persist to be the main cause of mortality worldwide. Despite the success of antibiotics and advances in their production and purification, children and old people are affected by bacterial infections that cause approximately 17 million deaths per year. One of the main reasons for this occurrence is the increasing prevalence of antibiotic-resistant strains [
1
].
Penicillin was the first antibiotic discovered by Alexander Fleming in 1928, and since then, these compounds have been essential for healthcare [
2
]. Although the first antibiotic producer discovered was a
Penicillium
strain, many others have this potential, and since 1942, the
Streptomyces
genus has been known for its extraordinary ability to produce secondary metabolites, mainly antibiotics; nearly two-thirds of which occur naturally. This genus is one of the largest genera as it contains over 500 species, described along with a variety of species recognized as Actinomycetes [
3
,
4
].
Streptomyces
are among the most versatile soil microorganisms, given their high metabolite production rate and the large variety of biotransformations. Overall, intracellular mechanisms control the accumulation of metabolites, which depends on process variables, types of nutrients, their concentrations, and operating conditions in submerged culture [
5
,
6
]. Therefore, the study and selection of appropriate culture medium composition is essential to ensure high productivity and low costs of the production process [
7
]. Additionally, many natural antibiotics must be purified after the production process through cost-effective methods that enable one to recover the final product at the highest level of purity and yield [
8
].
The first
Streptomyces
species used in industrial antibiotic production were
S. griseus
and
S. venezuelae
, which allowed one to obtain streptomycin and chloromycetin, respectively [
8
]. Since then, a large number of antibiotics (over 55% of available antibiotics) produced by the genus
Streptomyces
were detected between 1945 and 1978 [
9
].
The first important antibiotic used in clinical practice was penicillin G (benzylpenicillin), a β-lactam compound that attracted the interest of researchers to develop other derivatives. The β-lactam ring present in the structure of this drug, which is typical of this class of antibiotics, acts by linking intimately to the penicillin-binding proteins (transpeptidases), affecting cell wall biosynthesis in both Gram-negative and Gram-positive bacteria [
10
,
11
].
Afterwards, as a result of quick replication, recombination, and the high mutation rate of bacteria, resistance to β-lactam antibiotics emerged among the β-lactamase-producing organisms. These enzymes act directly on the β-lactam ring, inactivating the antibiotic. The first β-lactamase was a plasmid-mediated enzyme [
12
], named TEM from the name (Temoniera) of a patient in which the enzyme-producing
E. coli
strain was isolated. Subsequently, a plasmid with similar biochemical properties was detected and named TEM-2. Faced with this fact, the efforts to discover inhibitors able to inactivate β-lactamases began around 1970. Among them, clavulanic acid, which was obtained by screening of natural products, and possesses a similar β-lactam ring, was found to be a potent inhibitor of staphylococcal penicillinases and other plasmid-encoded penicillinases present in enteric bacteria, including TEM [
13
].
Nevertheless, antibiotic resistance was not over, and other bacteria began to produce similar enzymes; thus, the main challenge would be discovering novel inhibitors with activity against a broad spectrum of enzymes from multiple classes [
10
]. Genetic engineering has been an alternative tool to achieve this aim; thanks to a better knowledge of the expression of regulatory proteins in mutant organisms, it suggested that antibiotic production might be influenced by these regulatory events [
14
].
In accordance with the points explained above, this review provides a summary of the β-lactamase inhibitors produced by
Streptomyces
species. Herein, we emphasize some topics such as antibiotic resistance, β-lactamases inhibitor producers, production and purification processes, use of β-lactamase inhibitors in clinical practice, and commercial aspects.
3. Producers of β-Lactamases
4. Inhibitors of β-Lactamases
Although resembling β-lactam antibiotic structure, BLIs are compounds with weak antibacterial activity. Thus, the therapeutic strategy is to co-administer BLIs with penicillins and cephalosporins [
36
] in two different ways: (i) employing substrates that bind the enzyme reversibly and/or irreversibly, forming unfavorable steric interactions; or (ii) developing mechanism-based or irreversible "suicide inhibitors" as clavulanic acid (CA), sulbactam, and tazobactam (
Figure 2
) [
10
,
46
].
CA is a natural drug isolated in 1976 from
Streptomyces clavuligerus
fermentation broth [
41
], while sulbactam and tazobactam are BLIs developed by synthetic route in 1980 [
40
]. CA binds irreversibly with the serine hydroxyl group present in the active site of the enzyme, producing a stable acylated intermediate and inactivating the enzyme. As a result, the antibiotic co-administered with CA performs its main action [
47
]. Augmentin™ (amoxicillin and potassium clavulanate) [
40
] and Timentin
TM
(ticarcillin and potassium clavulanate) [
47
], both produced by GlaxoSmithKline [
10
], are examples of combinations available in the market. Drugs combined with CA have proven clinical efficacy against several bacteria (both Gram-negative and Gram-positive) as described by Drawz and Bonomo [
10
]. CA is associated with other β-lactam antibiotics in its salt form because of its instability under several conditions, such as acidic or alkaline conditions, and in the presence of salts [
36
].
Sulbactam and tazobactam have inhibitory spectra and mechanisms similar to those of CA [
40
]. Sulbactam is available on the medicine market in combination with ampicillin (Unasyn
TM
produced by Pfizer) and cefoperazone (Magnex
TM
produced by Pfizer) [
10
]. Sulbactam has advantages compared with other BLIs because it has its own activity against some
Acinetobacter baumannii
strains and does not induce class I (Ampc) chromosomal β-lactamases in Enterobacteriaceae [
48
]. Moreover, sulbactam combinations have not demonstrated strong selective pressures for ESBL-producing Enterobacteriaceae and vancomycin-resistant enterococci [
48
].
Tazobactam combined with piperacillin (Zosyn
TM
produced by Wyeth) has proven clinical efficacy against Gram-positive and Gram-negative pathogens [
10
]. Tazobactam was also associated with Ceftolozane being an antibacterial agent with potent activity against Gram-negative bacteria, including drug-resistant
P. aeruginosa
and many ESBL-producing Enterobacteriaceae [
49
]. Another association used to improve the spectrum of antibiotic action is that of piperacillin–tazobactam and vancomycin [
50
].
Although clavulanic acid, tazobactam, and sulbactam are commercially available BLIs, they exert inhibitory effect against serine-β-lactamases, mainly belonging to classes A, C, and D, which means that they are not inhibitors of metallo-β-lactamases [
34
]. Regarding metallo-β-lactamases inhibitors, the most important are the following: (i) thiol derivates, such as thiomandelic acids, which bind at the hydrophobic pocket of the enzyme active site and bind to, or interfere with, the bonding network between the hydrolytic water and the Zn
2+
ions [
10
]; (ii) dicarboxylate, that is, succinic acid, which binds at the dinuclear metal center using one carboxylate to form a monodentate bridge between both zinc ions, and the second carboxylate to bridge between Zn
2+
and a conserved Lys residue [
51
]; (iii) trifluoromethyl ketones and alcohols, the tetrazole portion of whose molecule interacts directly with the active-site Zn
2+
ions; (iv) carbapenem analogs; (v) tricyclic natural products; and (vi) penicillin derivatives with C-6-mercaptomethyl substituent [
10
].
Considering that the bacterial resistance is a health care problem, the development of new β-lactamase inhibitors or improvement of already-available BLIs is essential. Meropenem-RPX7009 and Biapenem-RPX7009 by Rempex Pharmaceuticals that are both boronate β-lactamase inhibitors are still in development phase [
42
]. Although the first citation of boronic acids as serine-β-lactamases inhibitors was already reported many years ago, they have recently been explored as the next generation of pan-β-lactamase inhibitors. Trigonal boron (III) compounds behave as Lewis acids and are prone to react with nucleophiles, resulting in tetrahedral covalent adducts able to resist enzymatic hydrolysis [
34
]. Another example is Avibactam, which is a diazabyclooctanone approved by the U.S. Food and Drug Administration (FDA) to be used in combination with Ceftazidime (AstraZeneca Pharmaceuticals, Forest–Cerexa, Actavis–Allergan) [
42
] to treat complicated intra-abdominal infections (cIAI), complicated urinary tract infections (cUTI), and hospital-acquired pneumonia (HAP) [
52
].
The most part of β-lactamase inhibitors considered in the present review and available in the market is produced through synthetic routes. The exception is CA, which is produced by
Streptomyces
strains by fermentation. However, the development of biotechnology/bioprocesses in the last decades has shown a new perspective to develop new pharmaceutical products or improve already-established processes. Thus, we will present old and new panoramas to overcome the question of antibiotic resistance using biotechnology.
5. Producers of β-Lactamases Inhibitors
5.1. Natural Microorganisms
5.2. Genetically-Modified Microorganisms
6. Production of β-Lactamase Inhibitors
6.1. Biosynthesis of Clavulanic Acid
Studies carried out by Higgens and Kastner [
86
] and Brown et al. [
87
] were the first reports on the production of β-lactamase inhibitors by
S. clavuligerus
ATCC27064 and their recovery from the fermented broth. Although more than 40 years have passed since then, their strategy remains one of the most frequently applied to produce important drugs for medicinal use [
88
].
The biosynthetic pathway to produce CA (
Figure 4
) has not been fully elucidated, although many intermediates and enzymes have already been isolated. Nonetheless, isotope studies, purification, and characterization of the enzymes involved in the process, together with genetic studies, have contributed to clarify its biosynthetic pathway. Arginine (C5 precursor) and glutaraldehyde-3-phosphate (C3 precursor) were identified as two important precursors for clavulanic acid in
S. clavuligerus
[
89
,
90
].
6.2. Production Process
After the discovery of β-lactamase inhibitors with antibacterial activity reported by Brown et al. [
87
], many studies have been carried out in recent decades regarding the production processes of β-lactamases inhibitors [
70
]. Usually, the industrial production of CA is almost entirely based on
S. clavuligerus
cultivation in complex medium [
91
]. Because of the clinical importance of this compound, the increase in CA production has been the focus of several studies. Strategies to enhance CA production include optimization of batch or fed-batch operation [
92
,
93
], temperature [
94
,
95
,
96
], agitation and aeration [
60
,
93
], and medium composition [
70
,
94
,
95
], as well as the selection of new microbial strains [
97
].
The productivity of microbial metabolites is closely related to the submerged culture process. The selection of the most suitable medium composition is of primary importance to increase the productivity and decrease the cost of any bioprocess [
7
]. It is well known that extracellular microbial CA production is greatly influenced by medium components, especially carbon and nitrogen sources [
70
,
94
], salts composition [
70
,
91
,
98
], and pH [
93
,
94
,
99
]. However, no single medium has been established to optimize CA production by different strains, because each organism requires different conditions for maximum production, which is mainly controlled by intracellular effectors [
100
].
6.2.3. Amino Acids as Supplements in Basal Medium
Arginine and ornithine exert a concentration-dependent stimulation of CA production, and both amino acids are effectively incorporated into the CA molecule [
117
,
118
,
119
]. The investigation of the role of amino acids as nitrogen sources in CA production began in 1986 [
117
]. Since then, several studies focusing on the effects of amino acids, mainly arginine and ornithine, have been performed.
The incorporation of arginine into the CA molecule does not establish ornithine as a direct precursor, because the enzyme ornithinecarbamoyl transferase of
S. clavuligerus
exhibits arginase activity, which converts arginine to ornithine [
120
]. However, Valentine et al. [
121
] used blocking mutants in the
argF
and
argG
genes, which were unable to convert ornithine into arginine, even though they found a great incorporation of arginine in the CA molecule and a poor incorporation of ornithine. This demonstrates that arginine is the direct precursor of CA and indicates that arginase activity does not produce sufficient ornithine to incorporate into CA.
Townsend and Ho [
119
] suggested arginine and pyruvate as CA precursors. However, studies have demonstrated that exogenous ornithine, rather than arginine, effectively enhances CA production, provided that there is a sufficient amount of C3 precursor [
120
]. A 270% increase in CA production was observed intermittently feeding glycerol and ornithine compared with the batch cultivation in shake flasks, and a 150% increase compared with cultures with glycerol and arginine feeding or when only glycerol was fed [
122
]. Teodoro et al. [
102
], who investigated the influence of glycerol and ornithine feeding on CA production by
S. clavuligerus
in batch bioreactor, observed an increase in CA productivity, but a small decrease in CA concentration, in the presence of ornithine. Rodrigues et al. [
70
] observed that glutamate and ornithine negatively affected CA production, while arginine and threonine had no influence.
6.2.4. Salts in Basal Medium
Compounds containing phosphorus, magnesium, and iron are also included in culture media used for CA production [
70
,
106
]. Rodrigues et al. [
70
] published a study on the nutritional requirements of
S. clavuligerus
for CA production where they demonstrated that ferrous sulfate is an essential ingredient of the fermentation medium because the enzymes involved in CA biosynthesis are Fe
2+
-dependent. A medium containing ferrous sulfate allowed for a CA concentration of 437 mg/L, while a formulation without this salt yielded only 41 mg/L.
Phosphate is a crucial growth-limiting nutrient that regulates the synthesis of antibiotics belonging to different groups; therefore, industrial production of antibiotics is carried out at growth-limiting concentrations of inorganic phosphate [
57
]. Saudagar and Singhal [
98
] observed that the optimum concentration of KH
2
PO
4
for CA production (878 mg/L) was 10 mM. According their results, higher CA values are expected at lower temperatures and KH
2
PO
4
concentrations.
6.2.5. Effect of pH
It has been reported that one of the important characteristics of
S. clavuligerus
is its strong dependence on the extracellular pH for cell growth and CA production [
93
,
94
,
99
]. Viana et al. [
94
], using a fractional factorial design to investigate the influence of the initial medium pH on CA production by
Streptomyces
DAUFPE 3060, observed the highest CA concentration (494 mg/L) at pH 6.0, while Saudagar and Singhal [
93
], using a L
25
orthogonal array, identified pH 7.0 and 7.5 as the optimum pH values for CA production (500 mg/L) and cell growth (140 mg/L nucleic acid), respectively. The marked decrease in the CA yield out of this pH range suggested the occurrence of CA degradation under either acidic or alkaline conditions.
6.2.6. Extractive Fermentation of Clavulanic Acid
7. β-Lactamase Inhibitors in Clinical Practice
Meanwhile, taking into account that Avibactam (and derivatives) are inhibitors of both class A and class C (and some of class D) serine enzymes, new approaches and new targets are essential to diversify treatment options. The approval of Vabomere (meropenem/vaborbactam) or Avycaz (ceftazidime-avibactam) demonstrates that novel combinations could lead to an amenable successful clinical development.
10. Conclusions
This review focused on a general discussion on the production of β-lactamase inhibitors by the members of the genus
Streptomyces
. Antibiotic resistance has been around for some time and has grown quite a bit as a result of increased mutations in genes encoding enzymes such as β-lactamases, which are responsible for inactivation of β-lactams antibiotics. The classification of these enzymes was reorganized because of the appearance of new genes and, consequently, new enzymes. In view of the fact that antibiotics used in clinical practice at the time were no longer very effective, β-lactamase inhibitors have arisen to circumvent the serious problem constituted by the spread of many extended-spectrum β-lactamases.
Clavulanic acid (CA), the first and most important β-lactamase inhibitor used in clinical practice to date, was obtained naturally by
Streptomyces clavuligerus
, while the other two most known inhibitors, Tazobactam and Sulbactam, are of synthetic origin. The CA industrial production has been extensively studied. Several sources of carbon, nitrogen, vitamins, amino acids, and salts were tested in batch or fed-batch and small or large-scale cultivations. The influence of physicochemical parameters such as pH, temperature, agitation, and aeration on fermentation was also investigated for the purpose of improving CA production and reducing time and costs. The most used purification processes are chromatographic methods, aqueous two-phase extraction using polymers and salts, and extraction systems using solvents. Extractive fermentation is a promising emerging technology that integrates the production and extraction stages, thus increasing productivity and reducing time.
Although
Streptomyces
spp. are known to be excellent producers of antibiotics and β-lactamase inhibitors, rapid and global diffusion of the genes of strains with multidrug resistance is a concern; thus, it is still a considerable challenge to improving production and reducing costs. In this respect, genetic engineering may make it possible to construct combinations of genes capable of coding new, hitherto unknown antibiotics; what we might call hybrid antibiotics.
Recently, bacteria named "ESKAPE" by WHO have emerged, which are extremely important pathogens that spread high levels of resistance across the world. Faced with this, the search for new producers of antibiotics and β-lactamase inhibitors and combined drug therapies are emergency alternatives. For this to occur consistently, companies and government must join forces to develop new low-priced antibiotics to solve the problem of antibiotic resistance.
Author Contributions
All authors conceived, drafted and revised the manuscript together.
Funding
This research received no external funding.
Conflicts of Interest
The authors declare no conflict of interest.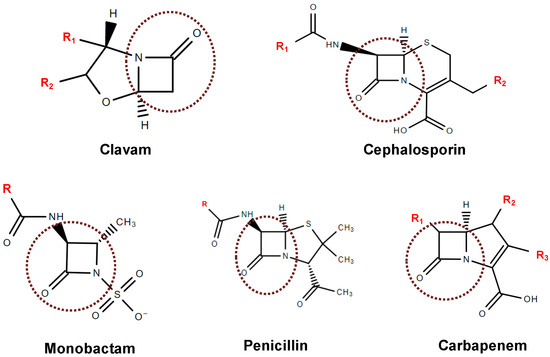 Figure 1. Backbone composition of β-lactam structures with the β-lactam ring highlighted (Structures drawn in ChemSpider).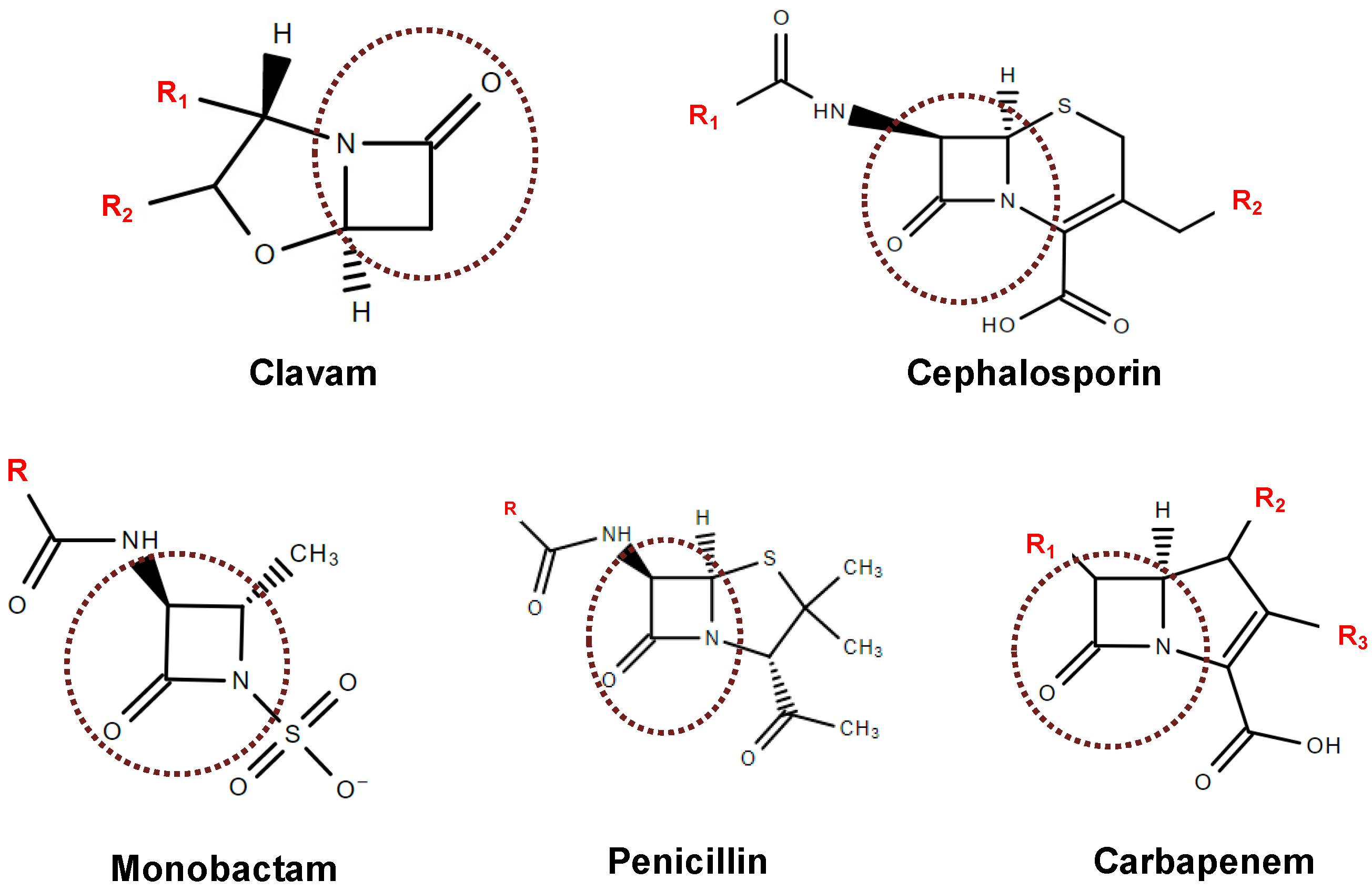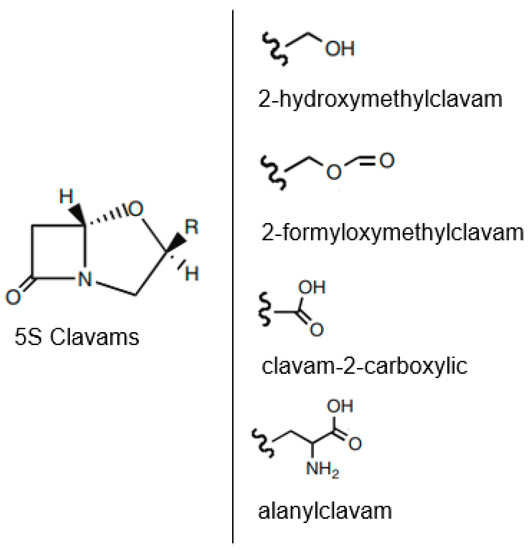 Figure 3.
Chemical structure of 5S clavam compounds obtained from
Streptomyces clavuligerus.
(Adapted from Nobary and Jensen [
61
]).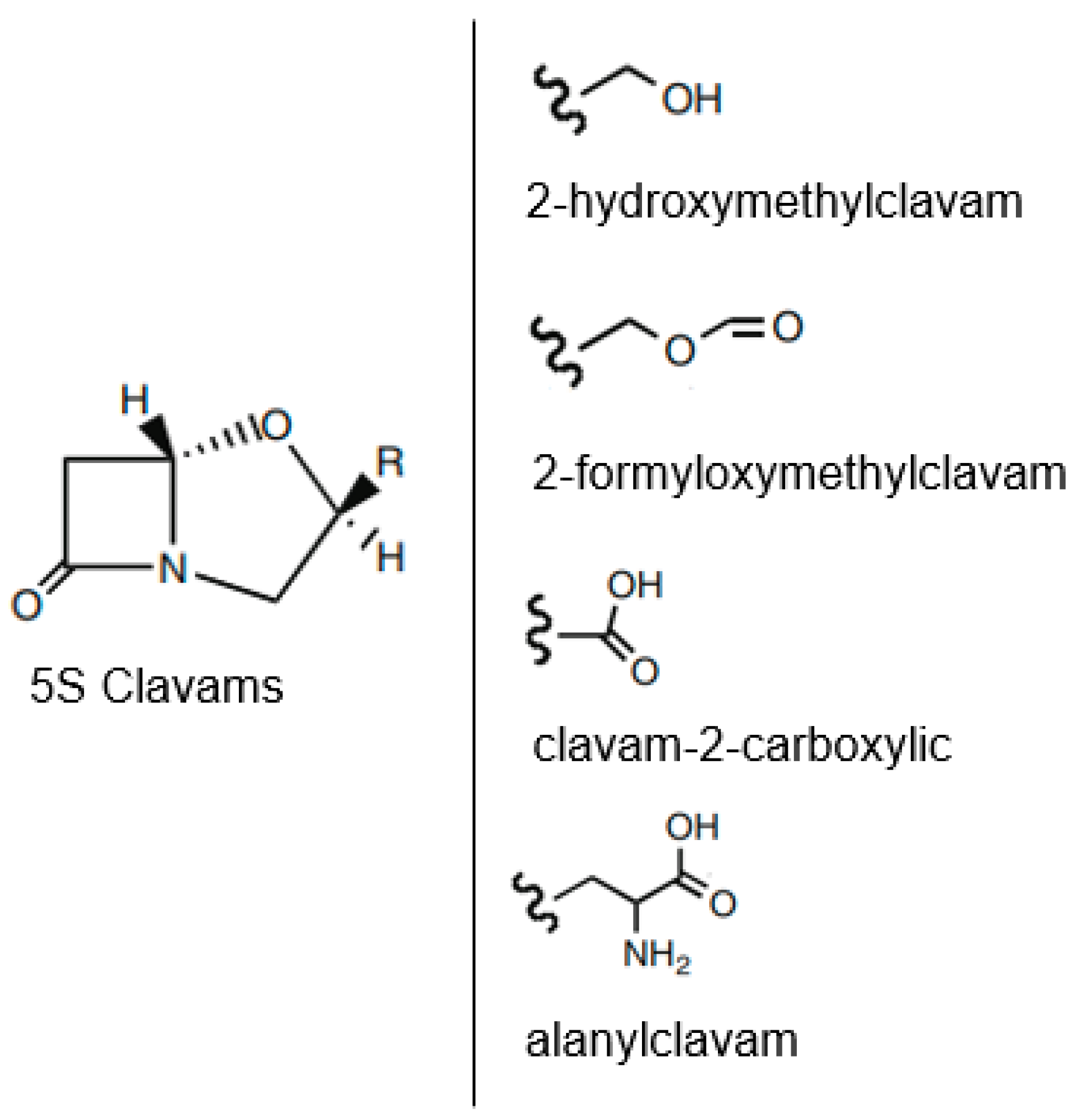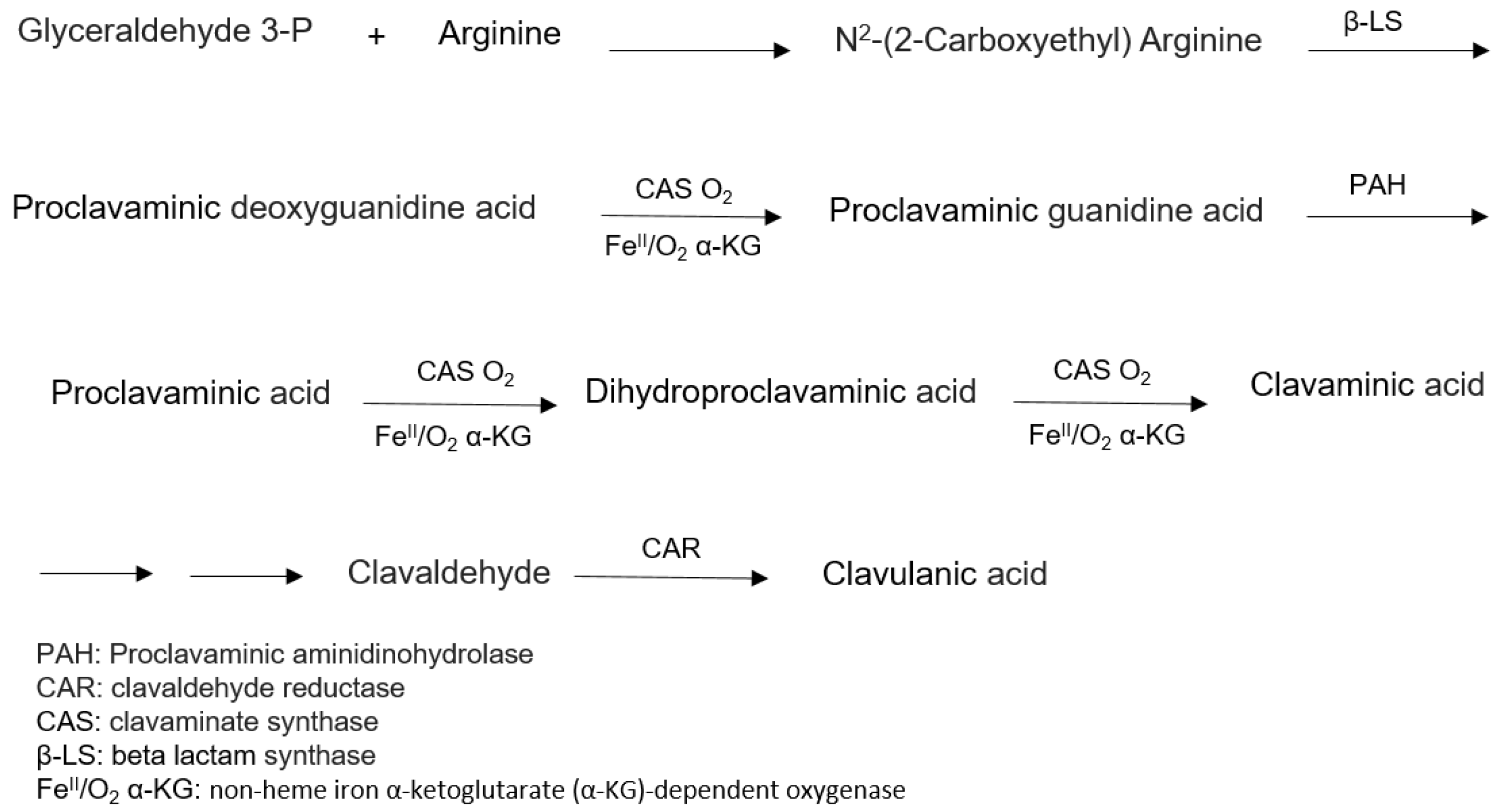 Table 1.
Classification of β-lactamases based on Bush and Jacoby [
44
].
Functional Group According Bush, Jacoby, and Medeiros *
Ambler Class *
Hydrolyzed β-Lactam Antibiotics
1
C
Cephalosporins, benzylpenicillin, cephamycins
1e
C
Ceftazidime and often other oxyimino-β-lactams
2
2a
A
Benzylpenicillin
2b
A
Benzylpenicillin and cephalosporins
2be
A
Cefotaxime, ceftazidime, ceftriaxone, cefepime, aztreonam
2br
A
Resistance to clavulanic acid, sulbactam, and tazobactam
2ber
A
Oxyimino-β-lactams combined with resistance to clavulanic acid, sulbactam, and tazobactam
2c
A
Carbenicillin
2ce
A
Carbenicillin, cefepime, and cefpirome
2d
D
Cloxacillin or oxacillin
2de
D
Cloxacillin or oxacillin, and oxyimino-β-lactams
2df
D
Cloxacillin or oxacillin and carbapenems
2e
A
Cephalosporins inhibited by clavulanic acid
2f
A
Carbapenems, oxyimino-β-lactams, cephamycins
3
B
Carbapenems
4
Unknown
Carbapenems

Table 2.
Genetic methods applied to improve the production of antibiotics and β–lactamase inhibitors (Adapted from Adrio and Demain [
84
]).
| Genetic Method | Secondary Metabolite |
| --- | --- |
| Protoplast fusion | Penicillin G, cephalosporin C, cephamycin C, clavulanic acid, indolizomycin, rifamycins |
| Metabolic engineering | Antibiotics (penicillin G, cephalosporin C, cephamycin C, clavulanic acid, semisynthetic cephalosporins) |
| Transposition | Daptomycin, tylosin |
| Combinatorial biosynthesis | Erythromycins, tetracenomycins, tylosin, spiramycins |
| Genome mining | Echinosporamicin-type antibiotics, antifungal compounds (ECO-02301), and so on |

β–Lactamase Inhibitor
β–Lactam Antibiotic
Development Status
References
Clavulanic acid
Amoxicillin
Approved by FDA, EMA
[139]
Sulbactam
Ampicillin
Approved by FDA, EMA
[140]
ETX2514
Phase 1 trials completed in 2017
[34]
Tazobactam
Piperacillin
Approved by FDA, EMA
[141]
Ceftolozane
Approved in 2014 by FDA and in 2015 by EMA
[34,142,143,144,145,146]
Cefepime
Used in Asia
[147]
Avibactam
Ceftazidime
Approved in 2015 by FDA and in 2016 by EMA
[34,148,149,150,151,152,153,154,155,156,157,158,159]
Aztreonam
Phase 2 in progress
[149,153,160,161]
Ceftaroline
Phase 2 in progress
[149,159,162,163]
Relebactam (MK7655)
Imipenem
(+ cilastatin)
Phase 3, cUTI (in progress)
Phase 2 cIAI (completed)
[164,165]
Vaborbactam (RPX7009)
Meropenem
Approved in 2017 by FDA
[34,166]
AAI101
Cefepime
Phase 2 initiated in 2017
[34,167,168]
RG6080 (OP0595, FPI-1459)
Unknown
Phase 1 complete
[165]
FDA, U.S. Food and Drug Administration; EMA, European Medicines Agency; cUTI, complicated urinary tract infection; cIAI, complicated intra-abdominal infection.

© 2018 by the authors. Licensee MDPI, Basel, Switzerland. This article is an open access article distributed under the terms and conditions of the Creative Commons Attribution (CC BY) license (http://creativecommons.org/licenses/by/4.0/).