Open Access This article is
freely available
re-usable
Review
The Membrane Steps of Bacterial Cell Wall Synthesis as Antibiotic Targets
1
Department of Membrane Biochemistry and Biophysics, Utrecht University, Utrecht 3584 CH, The Netherlands
1
Utrecht University, Utrecht, the Netherlands
*
Author to whom correspondence should be addressed.
Academic Editor: Waldemar Vollmer
Received: 19 June 2016 / Accepted: 19 August 2016 / Published: 26 August 2016
Abstract
:
Peptidoglycan is the major component of the cell envelope of virtually all bacteria. It has structural roles and acts as a selective sieve for molecules from the outer environment. Peptidoglycan synthesis is therefore one of the most important biogenesis pathways in bacteria and has been studied extensively over the last twenty years. The pathway starts in the cytoplasm, continues in the cytoplasmic membrane and finishes in the periplasmic space, where the precursor is polymerized into the peptidoglycan layer. A number of proteins involved in this pathway, such as the Mur enzymes and the penicillin binding proteins (PBPs), have been studied and regarded as good targets for antibiotics. The present review focuses on the membrane steps of peptidoglycan synthesis that involve two enzymes, MraY and MurG, the inhibitors of these enzymes and the inhibition mechanisms. We also discuss the challenges of targeting these two cytoplasmic membrane (associated) proteins in bacterial cells and the perspectives on how to overcome the issues.
Keywords:
peptidoglycan; MraY; MurG; inhibition; antibiotics; mechanism; target
2. MraY
The first evidence of phospho-MurNAc-pentapeptide translocase (MraY) and its function was collected in 1965 when an active membrane fraction was prepared in vitro that could successfully produce Lipid I (
Figure 1
) [
28
]. The enzyme that was responsible for the production of Lipid I was often referred to as translocase I until 1991, when the
MraY
(mra: murein synthesis gene cluster a) gene for the enzyme responsible was identified in
E. coli
[
29
].
2.1. Biochemical Characterization of MraY
2.2. Structural Characterization of MraY
There was almost a 20-year gap between the discovery of the MraY enzyme (from
Staphylococcus aureus
) [
42
] in 1973 and the elucidation of the exact sequence of this protein (from
E. coli
) [
29
] in 1991. Alternating hydrophobic and hydrophilic fragments of amino acid sequences in MraY indicate that the enzyme spans the cytoplasmic membrane several times [
29
]. The topology maps of MraY from two different species, namely the Gram-positive
Staphylococcus aureus
and the Gram-negative
E. coli
, were later reported [
43
]. β-Lactamase fusions to different domains of MraY were constructed and expressed in
E. coli
DH5α cells. The resistance or sensitivity of the cells expressing different hybrids to ampicillin revealed the orientation of the different domains of MraY. It became clear that MraY has 10 transmembrane domains, and both its N- and C-termini are located in the periplasm across species (
Figure 2
). Since the precursors for Lipid I are synthesized in the cytoplasm, it follows that the active site of MraY is exposed to the cytoplasm, as well. It was proposed that cytosolic loops II, III and IV are responsible for the binding to UDP-Mpp, as they contained highly-conserved residues that are common for the polyprenyl-phosphate
N
-acetyl hexosamine 1-phosphate transferase (PNPT) super family, while loops I and V were likely involved in the interaction with other proteins of the peptidoglycan synthesis pathway given that the sequences were strictly specific to MraY orthologues.
As briefly mentioned in the previous section, a number of conserved residues distributed all over the cytoplasmic loops of MraY were proven to be catalytically important taking BsMraY as a model (D98, D99, K116, N171, D174, D231, H289 and H290) (
Figure 2
) [
36
]. This suggests that all of the cytoplasmic loops are involved in maintaining the UDP-Mpp in an efficient configuration for catalysis. Two biochemistry-based catalytic models were proposed. One is a two-step model in which the MraY-p-MurNAc-pentapeptide intermediate is formed very rapidly to account for an exchange reaction [
45
,
46
]; the second is a one-step model that involves a direct attack of the phosphate oxyanion onto UDP-Mpp [
36
]. Unfortunately, as no 3D structure of any MraY isoform or even any member of the PNPT super family was available, it was not possible to be conclusive about by which mechanism this reaction proceeds. Many unanswered questions remained regarding how the other important residues affect the substrate binding and the catalytic process of MraY. Recently, Chung and his co-workers [
8
] reported the crystal structure of MraY from
Aquifex aeolicus
(AaMraY) at 3.3 Å resolution. The observation that the N and C termini are on the periplasmic side is consistent with previous studies of the topology of EcMraY, SaMraY and BsMraY. They also showed that AaMraY was crystallized as a dimer, and a large tunnel formed by the helices of the dimer interface could facilitate positioning of the lipid carrier C55-P. Moreover, the evidence for a cleft formed by the cytoplasmic and inner leaflet regions of transmembrane helices 3, 4, 5, 8 and 9b led to the suggestion that this was the active site of AaMraY. The cleft is deepened by the amphipathic helix TM9b protruding towards the cytoplasmic membrane, which is connected with a highly-conserved HHH motif (amino acid sequence: PXHHHXEXXG) in the fifth cytoplasmic loop, pointing towards the region where Mg
2+
is bound (
Figure 3
). The activity of MraY is highly dependent on the presence of its co-factor Mg
2+
[
27
,
47
]. Mg
2+
binds close to D265 (
Figure 3
), which is a catalytic residue corresponding to D265 of BsMraY, D267 of EcMraY and D229 of SaMraY (
Figure 4
). It was suggested that the cleft is the essential binding site for the nucleotide substrate, UDP-Mpp. Mutagenesis of the residue showed the importance of D117 (corresponding to D98 in BsMraY and D115 in EcMraY) in binding to the lipid substrate, C55-P. Based on these findings, the study of Chung et al. supported the proposal that D117 deprotonates the phosphate moiety of C55-P allowing a direct nucleophile attack on UDP-Mpp. This evidence suggests that a one-step MraY catalysis mechanism is more likely than a two-step mechanism. Chung et al. [
8
] predicted that C55-P with a lipid chain longer than the thickness of the membrane needs to bend sharply to allow the phosphate moiety to reach D117, though there is no direct evidence as to how this is actually achieved. Furthermore, no clear catalytic role was attributed to the highly-conserved H324 (corresponding to H289 in BsMraY). It was proposed that 13 amino acids, including the HHH motif in the cytoplasmic loop, are unique to the MraY family and contribute to the substrate specificity towards UDP-Mpp instead of other nucleotide substrates utilized by the other UDP-d-
N
-acetylhexosamine: polyprenol phosphate d-
N
-acetylhexosamine 1-phosphate transferases [
48
].
Chung et al. used a chemical cross-linking experiment on detergent-solubilized AaMraY and structure-guided disulfide cross-bridge experiments (based on cysteines) on membrane-embedded AaMraY in order to show that AaMraY forms a dimer both in detergent micelles and in the membranes. It was suggested that this finding is in agreement with a previous study where bacterial two-hybrid studies were performed in the Gram-negative
Caulobacter crescentus
cells [
49
]. However, no clear indication in the original paper was found [
49
]. The fact that MraY was crystallized as a dimer and that dimerization of AaMraY was found in micelles and membranes was not given further explanation or analysis. Notably, the Gram-positive BsMraY comprises no cysteine residues. Remaining questions in this area include whether or not MraY always functions as a dimer, and how the oligomeric status influences the enzyme activity in different species would be an interesting topic for further studies on this system.
2.3. MraY Inhibitors and Inhibition Mechanism
MraY is regarded as an ideal target for novel antibiotics both because it is an essential molecular tool for generating the cellular envelope and because it has no counterparts in mammalian cells. A few different classes of MraY inhibitors have been studied to date. However, none of these has entered clinical development, to a large extent ascribed to the difficulties to deliver the compounds across the membranes. MraY inhibitors discovered thus far have come from either screening assays [
50
,
51
] or synthesis of compounds mimicking existing (natural) MraY inhibitors, such as mureidomycin A [
52
]. In this section, the methods for screening MraY inhibitors and the currently documented inhibitory compounds are discussed.
2.3.1. Method Development for MraY Inhibitor Screening
2.3.2. Small Molecules that Inhibit MraY Activity
2.3.3. MraY Inhibition by ΦX174 Protein E
Bacteriophages provide another therapeutic source of antibiotic lead compounds to treat bacterial infections. Early studies have found that protein E of a small single-stranded DNA phage ΦX174 causes
E. coli
cell lysis [
77
]. The exact mechanism was later revealed that protein E interferes with MraY function in
E. coli
and disrupts peptidoglycan synthesis [
78
]. Interestingly, this E-mediated lysis does not occur in Gram-positive bacteria [
79
].
Protein E is a 91-amino acid membrane protein with one transmembrane helix with 35 amino acids followed by a cytoplasmic domain. Both genetic and biochemical studies have found that the 29 amino acids from its N-terminus, which form the transmembrane domain of protein E, are responsible for the inhibition of MraY [
77
,
80
,
81
,
82
,
83
]. E is non-competitive with either substrate of MraY. Site-directed mutagenesis revealed that a proline at the 21 position of the TM domain of E is critical for its lytic activity; moving this proline along the membrane helix resulted in it being unable to inhibit MraY, suggesting that the kink at position 21 in the protein E helix caused by the proline is absolutely crucial [
82
]. It is unclear which binding pocket or helix of MraY binds to protein E because a structural model of MraY bound to protein E has not yet been produced. Genetic screening showed that Phe288 in TM9 of EcMraY (Phe286 on TM9 in AaMraY,
Figure 5
) is essential for its sensitivity towards protein E, as a single site mutation of F288L caused resistance against protein E. However, this phenylalanine residue is however missing in the E-insensitive Gram-positive BsMraY and SaMraY (
Figure 4
). TM9 is a titled helix in the AaMraY structure that breaks into two helices (TM9a and TM9b), while E has a kink caused by a proline [
8
,
82
]. In this respect, it is interesting to note that docking studies of protein E with a structural model of EcMraY suggested that TM9 (near the dimer interface) of MraY is involved in the binding to protein E indicating that this kinking of the helices may be important for their mutual interaction (
Figure 6
[
84
]). In terms of a hypothesis, MraY presents a unique configuration when bound to protein E. In addition, we observed that there was no favored binding of E to the dimer interface when we tried to dock protein E to a structural model of BsMraY. This is an interesting observation given that BsMraY is not inhibited by protein E. Again, it is not clear whether BsMraY functions as a dimer at all in vivo. The reason why protein E does not interact strongly with the Gram-positive MraY homologues remains unresolved. Rodolis et al. [
64
] synthesized small peptides sharing a partial sequence of protein E and explored their inhibition of MraY homologues from both Gram-positive and -negative species. It was reported that an RWXXW motif found in E and other cationic antimicrobial peptides is essential for MraY inhibition. However, the small synthetic peptides reported in this paper all have a much lower inhibition, with an MIC value about 10–20-fold higher than protein E or the synthetic Epep (with the first 37 amino acid residues of protein E) against
E. coli
. Another study from the same group [
63
] presented the hypothesis that some UPAs, which show structural resemblance to the RWXXW motif, may bind to the protein E binding site on MraY near the periplasmic side initially before crossing the membranes and eventually bind to the active sites of MraY. Yet, evidence for this is lacking. Besides, protein E is synthesized in the cytoplasm of bacterial cells, while the other small molecule inhibitors of MraY must penetrate the cell envelope. This may result in a completely different mode of action in terms of how and where the molecules start binding to MraY. Therefore, it may be simplistic to attribute the inhibitory activity of protein E to a short peptide sequence.
MraY remains an interesting target for antibiotic discovery and development, although it still faces many challenges, particularly the penetration of the cell envelope. This holds true for all of the antibiotic targets that reside in the bacterial cytosol. The Lipid I synthesis catalyzed by MraY in vivo is drawn by the subsequent reaction of Lipid II synthesis, for which MurG is the responsible enzyme. Interestingly, these two enzymes interact as was shown by co-immunoprecipitation experiments [
85
]. In the following section, we will review its discovery, characterization and the advances made in inhibiting this important bacterial enzyme.
3. MurG
The earliest work on the
murG
gene indicated that it was involved in the cell envelope biogenesis and, in particular, peptidoglycan metabolism [
86
]. Later, it was identified that
murG
codes for an
N
-acetylglucosamine (GlcNAc) transferase, from then on referred to as MurG [
87
]. This enzyme belongs to the glycosyltransferase family and catalyzes an irreversible essential step on the membrane after MraY. MurG attaches the GlcNAc from UDP-GlcNAc to Lipid I and produces Lipid II [
88
]. MurG is an essential enzyme and is conserved across almost all bacterial species, which makes MurG a great target for novel antibiotics. However, MurG is a paradigm for glycosyltransferases that are present in the vast majority of both prokaryotic and eukaryotic cells. This implies that only inhibitors that compete with Lipid I bear the potential of further clinical development. The structural information regarding the substrate selectivity and the inhibition mechanism of MurG will be discussed in the following sections.
3.1. Biochemical Characterization of MurG
3.2. Structural Characterization of MurG
3.3. MurG Inhibitors
The development on MurG inhibitors has reached a plateau by comparison to MraY. The potential toxicity of MurG inhibitors in vivo that compete with UDP-GlcNAc remains the biggest concern in terms of further clinical development.
4. Conclusions
Recent work has led to a substantial growth in our understanding of the structural and biochemical characteristics of MraY and MurG, which led to the gradual unraveling of the mode of action of these enzymes. It is evident that previous studies have put much effort in investigating the nucleotide substrate of both MraY and MurG, while many questions regarding the lipid substrate for both enzymes have yet to be answered. Once we understand the molecular details of their mutual interaction, novel inhibitors can be designed to block the enzymatic activity. The search for combination therapies that involve a synergistic effect of a cell wall inhibitor with another class of antibiotics, e.g., a β-lactam, might form part of the therapy yet to come.
Supplementary Materials
Supplementary File 1
Acknowledgments
Yao Liu is supported by a ZonMW grant (No. 205.100.008) from The Netherlands Organization for Scientific Research (NWO). The authors are grateful for the language editing and constructive feedback from Samuel Furse, University of Bergen, Norway. The authors also would like to acknowledge Joao Rodrigues (Stanford University) and Alexandre Bonvin (Utrecht University) for their effort in the unpublished docking studies.
Author Contributions
Yao Liu and Eefjan Breukink read, analyzed the literature and wrote the manuscript.
Conflicts of Interest
The authors declare no conflict of interest.
Figure 2.
Topology maps of MraY from
B. subtilis
. Highly-conserved residues (D98, D99, K116, N171, D174, D231, H289 and H290) are highlighted in pink. The figure is rendered with the Protter web service [
44
]. Topology of other MraY species can be found in the
Supplementary Information
.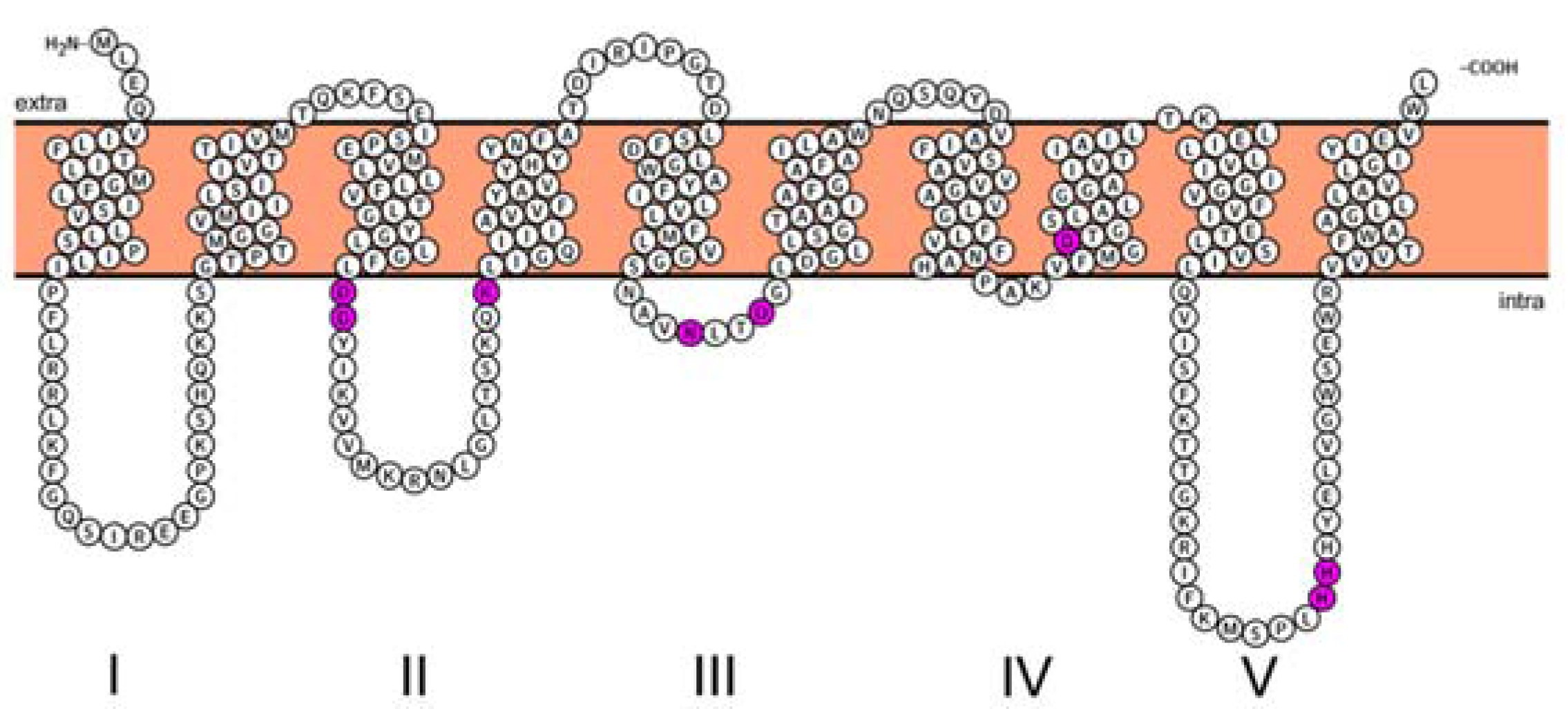 Figure 3. (A) 3D structure of AaMraY; (B) Close-up view of TM5 (helix shown in blue), TM9b (helix shown in cyan), the HHH motif (shown as rainbow sticks) in loop E, the Mg2+ (shown as an orange sphere) and the essential D265 of AaMraY. Images obtained and rendered with Pymol using 4J72.pdb.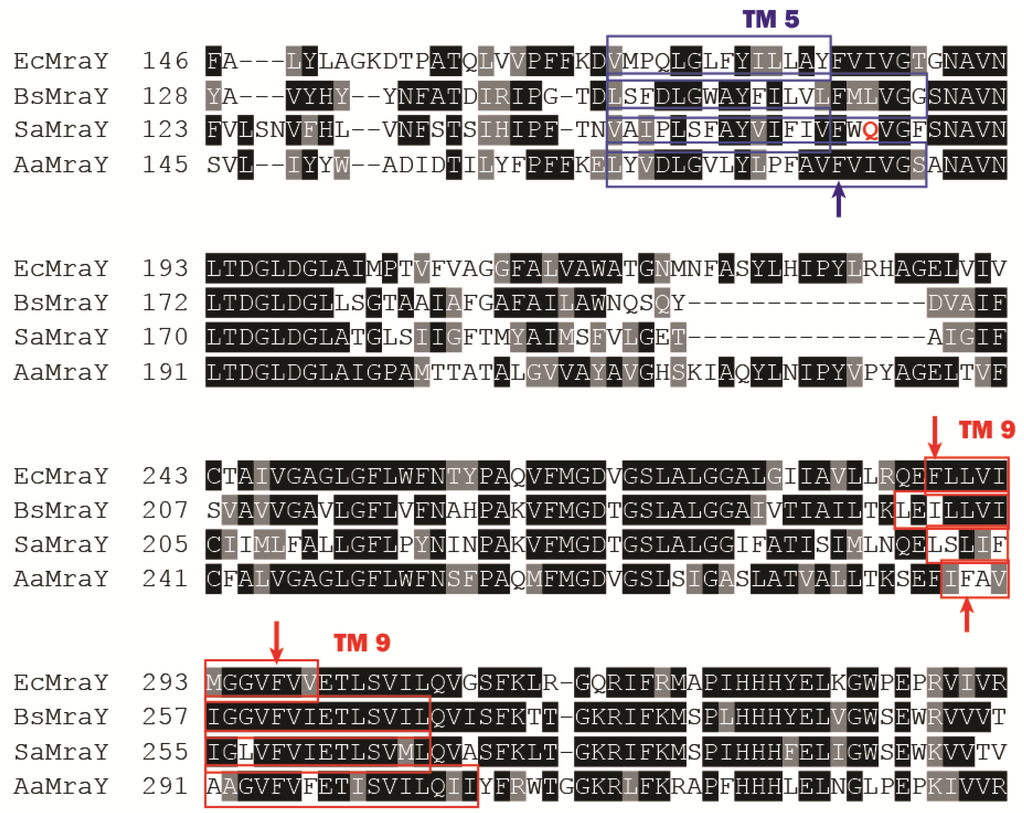 Figure 4.
Partial sequence alignment of MraY from four different species (Ec =
E. coli
; Sa =
S. aureus
; Bs =
B. subtilis
; Aa =
A. aeolicus
). Some essential phenylalanine residues are indicated with an arrow. The polar Gln residue in
S. aureus
MraY is marked in red.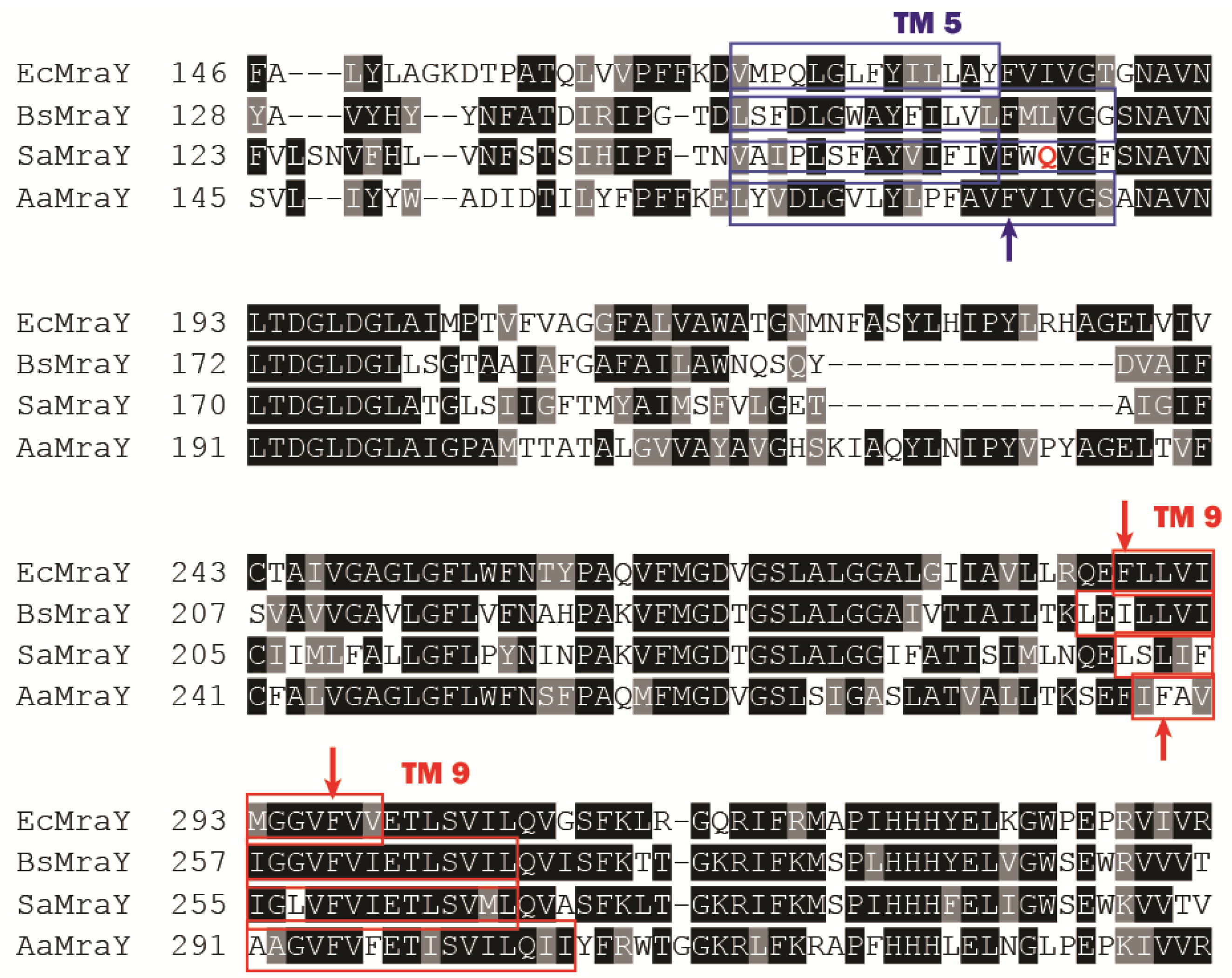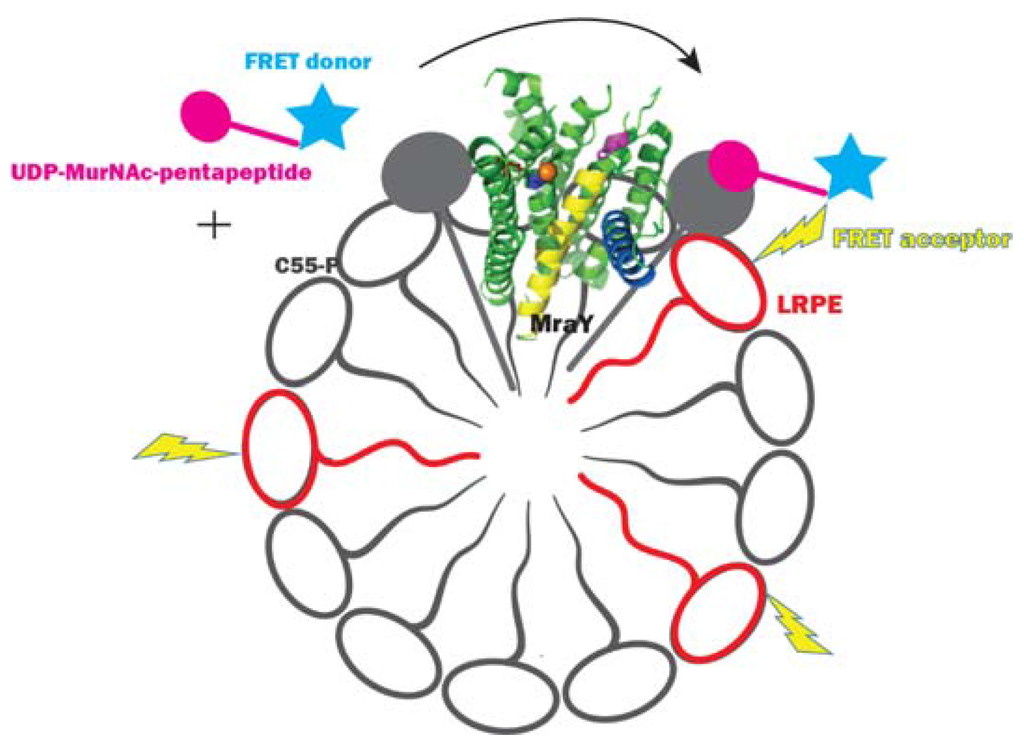 Figure 5.
Fluorescence resonance energy transfer assay for MraY. The figure is adapted from [
56
].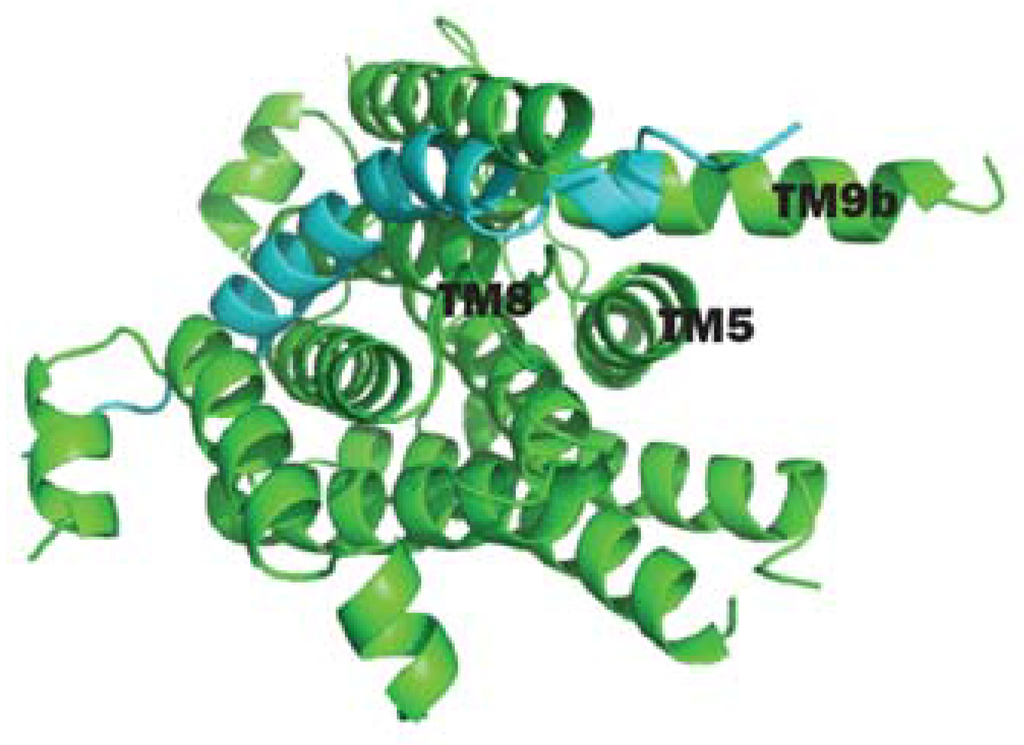 Figure 6.
Cytoplasmic view of the docking model of protein E (the light blue helix) to an
E. coli
MraY structure model (modeled based on 4J72.pdb). The protein E helix binds closely to the hydrophobic groove formed by TM5, TM8 and TM9 and is bent towards the TM9b. The figure is rendered with Pymol.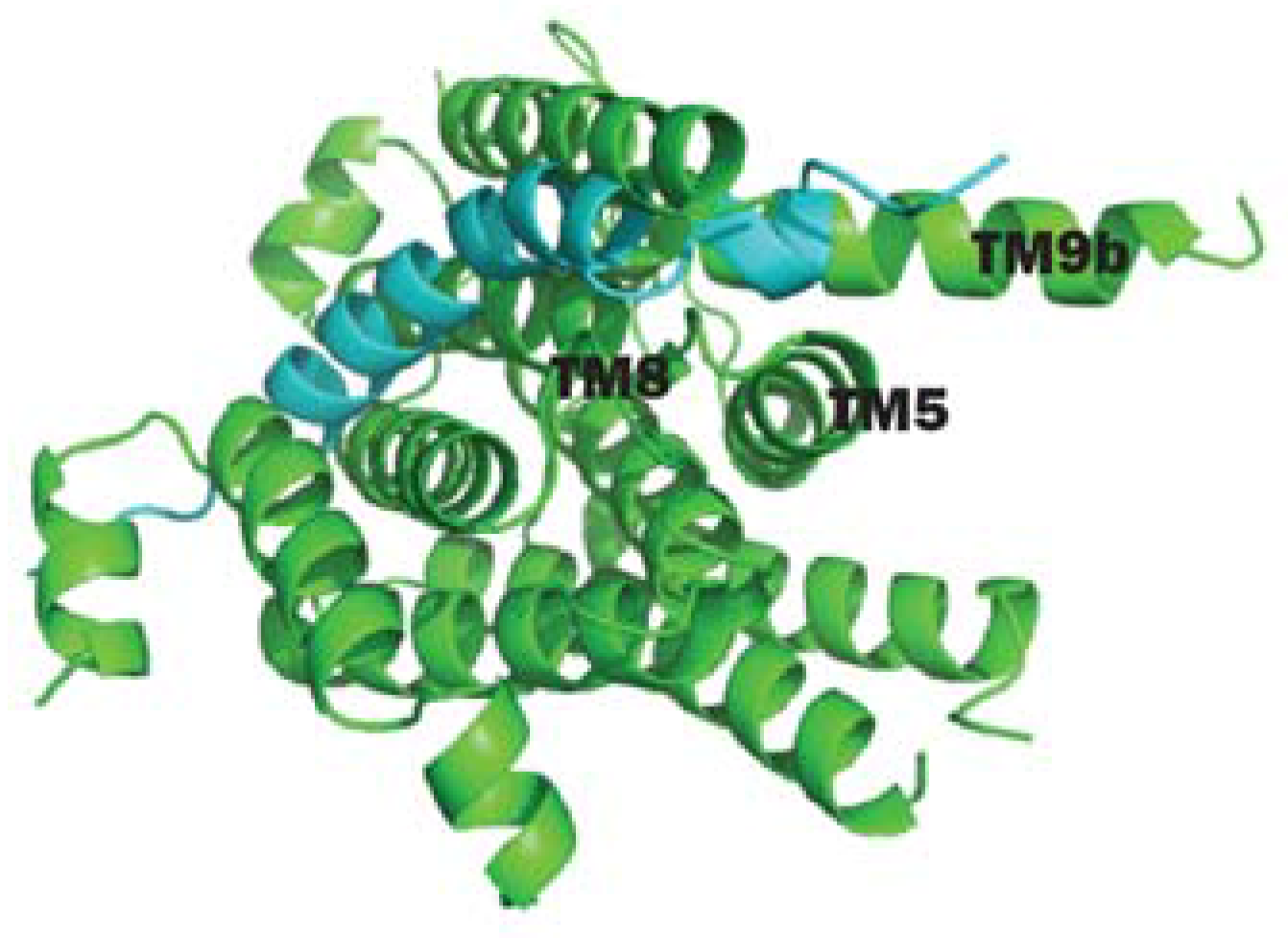 Figure 7.
Schematic illustration of the biotin-capture assay for MurG activity [
91
]. In this assay, MurG catalyzes a reaction between radiolabeled (depicted by a yellow star) UDP-GlcNAc and biotinylated Lipid I analogue, and Lipid II with the radiolabel is synthesized. The avidin resin, which binds to biotin, therefore catches the radioactivity, which can be counted to indicate the MurG activity.


Figure 8.
Fluorescence coupled assay for MurG. The figure is adapted from [
88
].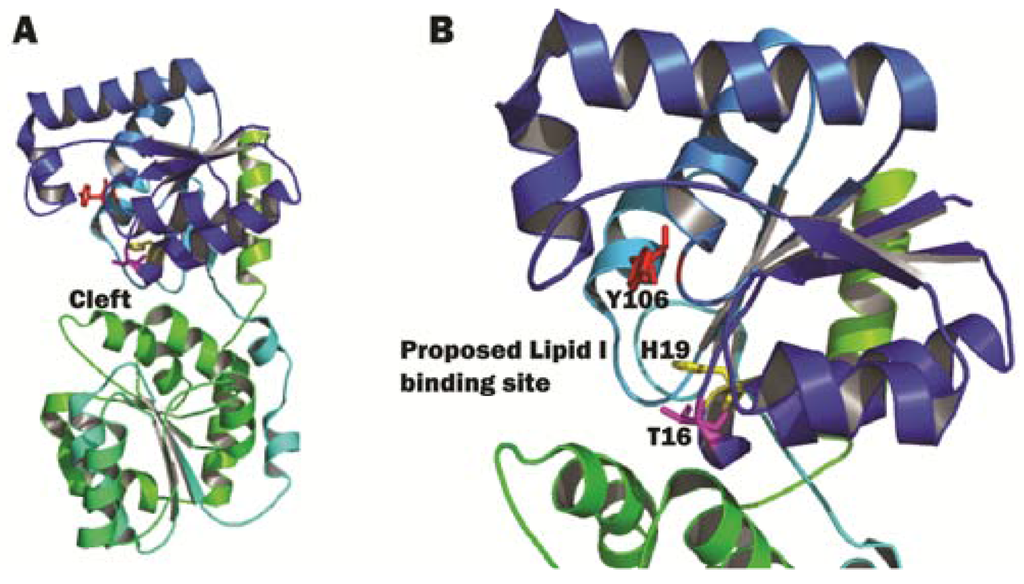 Figure 9.
E. coli
MurG structure. (
A
) The complete view of
E. coli
MurG, N-domain in blue, C-domain in green. The cleft in between the two domains is indicated by an arrow; (
B
) A close-up view of the cleft between the N- and C-domains of MurG. Residues T16 (pink), H19 (yellow) and Y106 (red) are shown as sticks. The proposed Lipid I binding site is indicated by an arrow. The image was obtained and rendered using Pymol.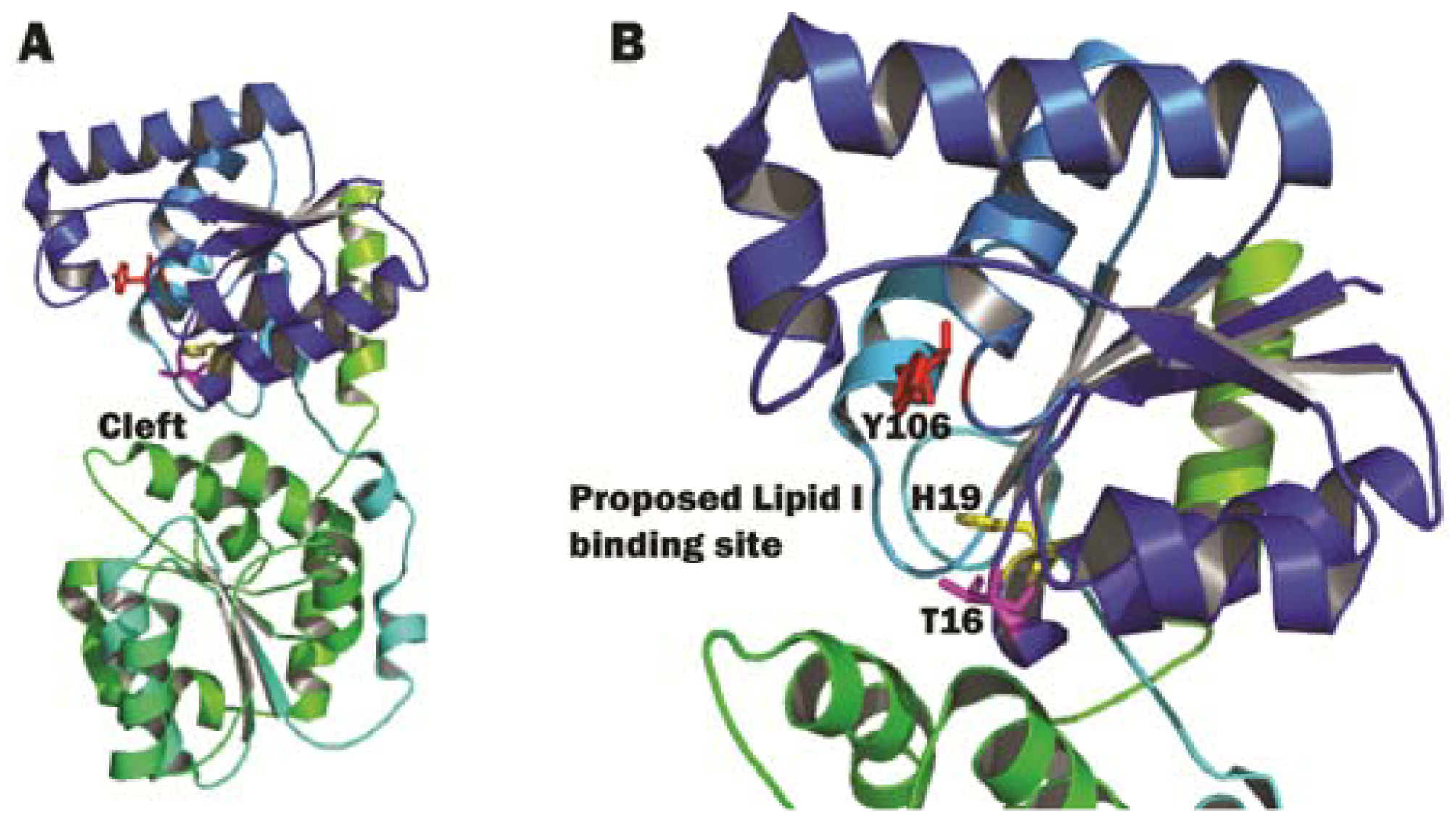 © 2016 by the authors; licensee MDPI, Basel, Switzerland. This article is an open access article distributed under the terms and conditions of the Creative Commons Attribution (CC-BY) license (http://creativecommons.org/licenses/by/4.0/).