2D In-Plane CuS/Bi2WO6 p-n Heterostructures with Promoted Visible-Light-Driven Photo-Fenton Degradation Performance
1
College of Chemistry and Chemical Engineering, Shaanxi Key Laboratory of Chemical Reaction Engineering, Yan'an University, Yanan 716000, China
2
State Key Laboratory of Organic-Inorganic Composites Beijing Key Laboratory of Electrochemical Process and Technology for Materials, Beijing University of Chemical Technology, Beijing 100029, China
*
Authors to whom correspondence should be addressed.
Received: 29 June 2019 / Revised: 6 August 2019 / Accepted: 9 August 2019 / Published: 11 August 2019
Abstract
Photo-Fenton degradation of pollutants in wastewater is an ideal choice for large scale practical applications. Herein, two-dimensional (2D) in-plane CuS/Bi
2
WO
6
p-n heterostructures have been successfully constructed by an in situ assembly strategy and characterized using XRD, XPS, SEM/TEM, EDX, UV-Vis-DRS, PL, TR-PL, ESR, and VB-XPS techniques. The XPS and the TEM results confirm the formation of CuS/Bi
2
WO
6
heterostructures. The as-constructed CuS/Bi
2
WO
6
showed excellent absorption in visible region and superior charge carrier separation efficiency due to the formation of a type-II heterojunctions. Under visible light irradiation, 0.1% CuS/Bi
2
WO
6
heterostructure exhibited the best photo-Fenton-like catalytic performance. The degradation efficiency of Rhodamine B (RhB, 20 mg·L
−1
) can reach nearly 100% within 25 min, the apparent rate constant (k
app
/min
−1
) is approximately 40.06 and 3.87 times higher than that of pure CuS and Bi
2
WO
6
, respectively. The degradation efficiency of tetracycline hydrochloride (TC-HCl, 40mg·L
−1
) can reach 73% in 50 min by employing 0.1% CuS/Bi
2
WO
6
heterostructure as a photo-Fenton-like catalyst. The promoted photo-Fenton catalytic activity of CuS/Bi
2
WO
6
p-n heterostructures is partly ascribed to its low carriers recombination rate. Importantly, CuS in CuS/Bi
2
WO
6
heterostructures is conducive to the formation of heterogeneous photo-Fenton catalytic system, in which Bi
2
WO
6
provides a strong reaction site for CuS to avoid the loss of Cu
2+
in Fenton reaction, resulting in its excellent stability and reusability. The possible photo-Fenton-like catalytic degradation mechanism of RhB and TC-HCl was also elucidated on the basis of energy band structure analysis and radical scavenger experiments. The present study provides strong evidence for CuS/Bi
2
WO
6
heterostructures to be used as promising candidates for photo-Fenton treatment of organic pollutants.
View Full-Text
►

▼

Figures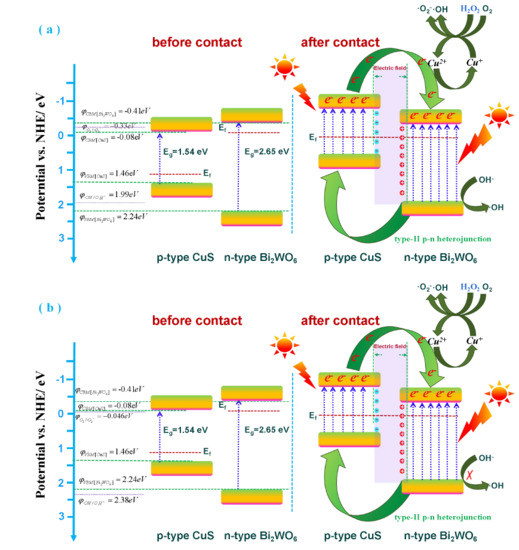 Graphical abstract
This is an open access article distributed under the
Creative Commons Attribution License
which permits unrestricted use, distribution, and reproduction in any medium, provided the original work is properly cited (CC BY 4.0).

Share & Cite This Article
MDPI and ACS Style
Guo, L.; Zhang, K.; Han, X.; Zhao, Q.; Wang, D.; Fu, F. 2D In-Plane CuS/Bi2WO6 p-n Heterostructures with Promoted Visible-Light-Driven Photo-Fenton Degradation Performance. Nanomaterials 2019, 9, 1151.
Note that from the first issue of 2016, MDPI journals use article numbers instead of page numbers. See further details here.
Related Articles
Comments
[Return to top]