Electro-Exfoliation of Graphite to Graphene in an Aqueous Solution of Inorganic Salt and the Stabilization of Its Sponge Structure with Poly(Furfuryl Alcohol)
1
Faculty of Chemistry, Nicolaus Copernicus University, Gagarina 7, 87-100 Torun, Poland
2
Centre for Modern Interdisciplinary Technologies, Nicolaus Copernicus University, Wilenska 4, 87-100 Torun, Poland
*
Author to whom correspondence should be addressed.
Received: 28 May 2019 / Revised: 20 June 2019 / Accepted: 29 June 2019 / Published: 3 July 2019
Abstract
We demonstrate an accessible and effective technique for exfoliating graphite foil and graphite powder into graphene in a water solution of inorganic salt. In our research, we report an electrochemical cathodic exfoliation in an aqueous solution of Na
2
SO
4
. After electro-exfoliation, the resulting graphene was premixed with furfuryl alcohol (FA) and an inorganic template (CaCO
3
and Na
2
CO
3
). Once FA was polymerized to poly(furfuryl alcohol) (PFA), the mixture was carbonized. Carbon bridges originating in thermally-decomposed PFA joined exfoliated graphene flakes and stabilized the whole sponge-type structure after the nano-template was removed. Gases evolved at the graphite electrode (cathode) played an important role in the process of graphene-flake splitting and accelerated the change of graphite into graphene flakes. Starting graphite materials and graphene sponges were characterized using Raman spectroscopy, SEM, high-resolution transmission electron microscopy (HRTEM), elemental analysis, and low-temperature adsorption of nitrogen to determine their structure, morphology, and chemical composition. The discovered manufacturing protocol had a positive influence on the specific surface area and porosity of the sponges. The SEM and HRTEM studies confirmed a high separation degree of graphite and different agglomeration pathways. Raman spectra were analyzed with particular focus on the intensities of I
D
and I
G
peaks; the graphene-type nature of the sponges was confirmed.
View Full-Text
►

▼

Figures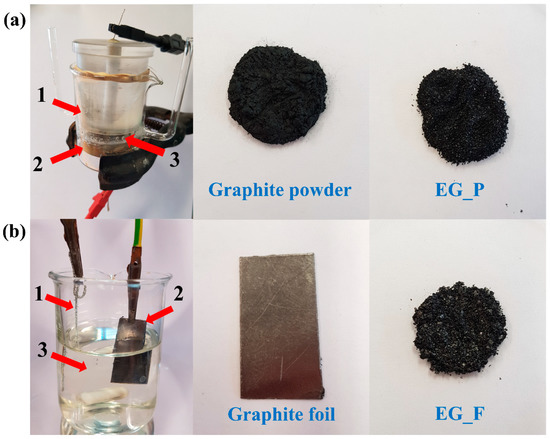 Figure 1
This is an open access article distributed under the
Creative Commons Attribution License
which permits unrestricted use, distribution, and reproduction in any medium, provided the original work is properly cited (CC BY 4.0).

Share & Cite This Article
MDPI and ACS Style
Ilnicka, A.; Skorupska, M.; Kamedulski, P.; Lukaszewicz, J.P. Electro-Exfoliation of Graphite to Graphene in an Aqueous Solution of Inorganic Salt and the Stabilization of Its Sponge Structure with Poly(Furfuryl Alcohol). Nanomaterials 2019, 9, 971.
Note that from the first issue of 2016, MDPI journals use article numbers instead of page numbers. See further details here.
Related Articles
Comments
[Return to top]