Synthesis of Mesoporous TiO2-B Nanobelts with Highly Crystalized Walls toward Efficient H2 Evolution
1
Key Laboratory of Flexible Electronics (KLOFE) and Institute of Advanced Materials (IAM), Jiangsu National Synergetic Innovation Center for Advanced Materials (SICAM), Nanjing Tech University (NanjingTech), 30 South Puzhu Road, Nanjing 211800, China
2
Key Laboratory of Eco-chemical Engineering, College of Chemistry and Molecular Engineering, Qingdao University of Science and Technology (QUST), Qingdao 266042, China
3
State Key Laboratory of Fine Chemicals, Dalian University of Technology, Dalian 116024, China
4
Department of Chemistry, King Abdulaziz University, Jeddah, P.O. Box. 80203, Jeddah 21589, Saudi Arabia
5
School of Chemical Engineering and Australian Institute for Bioengineering and Nanotechnology (AIBN), The University of Queensland, Brisbane, QLD 4072, Australia
6
Department of Plant & Environmental New Resources, Kyung Hee University, 1732 Deogyeong-daero, Giheunggu, Yongin-si, Gyeonggi-do 446-701, Korea
7
International Center for Materials Nanoarchitectonics (WPI-MANA) and International Center for Young Scientists (ICYS), National Institute for Materials Science (NIMS), 1-1 Namiki, Tsukuba, Ibaraki 305-0044, Japan
8
Institute of Molecular Plus, Tianjin University, No. 11 Building, No. 92 Weijin Road, Nankai District, Tianjin 300072, China
9
Australian Institute for Innovative Materials (AIIM), University of Wollongong, Squires Way, North Wollongong, NSW 2500, Australia
*
Authors to whom correspondence should be addressed.
†
These authors contributed equally to this work.
Received: 20 March 2019 / Revised: 11 June 2019 / Accepted: 22 June 2019 / Published: 26 June 2019
Abstract
Mesoporous TiO
2
is attracting increasing interest due to properties suiting a broad range of photocatalytic applications. Here we report the facile synthesis of mesoporous crystalline TiO
2
-B nanobelts possessing a surface area as high as 80.9 m
2
g
−1
and uniformly-sized pores of 6–8 nm. Firstly, P25 powders are dissolved in NaOH solution under hydrothermal conditions, forming sodium titanate (Na
2
Ti
3
O
7
) intermediate precursor phase. Then, H
2
Ti
3
O
7
is successfully obtained by ion exchange through acid washing from Na
2
Ti
3
O
7
via an alkaline hydrothermal treatment. After calcination at 450 °C, the H
2
Ti
3
O
7
is converted to a TiO
2
-B phase. At 600 °C, another anatase phase coexists with TiO
2
-B, which completely converts into anatase when annealed at 750 °C. Mesoporous TiO
2
-B nanobelts obtained after annealing at 450 °C are uniform with up to a few micrometers in length, 50–120 nm in width, and 5–15 nm in thickness. The resulting mesoporous TiO
2
-B nanobelts exhibit efficient H
2
evolution capability, which is almost three times that of anatase TiO
2
nanobelts.
View Full-Text
►

▼

Figures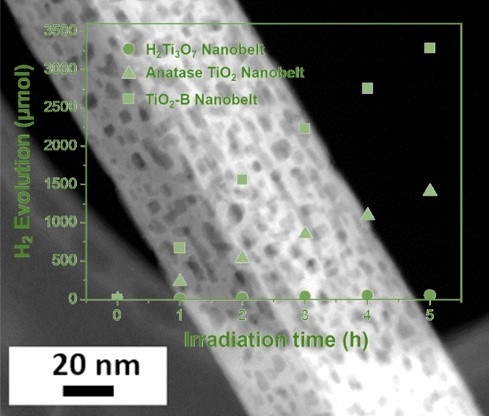 Graphical abstract
This is an open access article distributed under the
Creative Commons Attribution License
which permits unrestricted use, distribution, and reproduction in any medium, provided the original work is properly cited (CC BY 4.0).

Share & Cite This Article
MDPI and ACS Style
Li, P.; Cao, Q.; Zheng, D.; Alshehri, A.A.; Alghamidi, Y.G.; Alzahrani, K.A.; Kim, M.; Hou, J.; Lai, L.; Yamauchi, Y.; Ide, Y.; Bando, Y.; Kim, J.; Malgras, V.; Lin, J. Synthesis of Mesoporous TiO2-B Nanobelts with Highly Crystalized Walls toward Efficient H2 Evolution. Nanomaterials 2019, 9, 919.
Note that from the first issue of 2016, MDPI journals use article numbers instead of page numbers. See further details here.
Related Articles
Comments
[Return to top]