Ecotoxicity Assessment of Fe3O4 Magnetic Nanoparticle Exposure in Adult Zebrafish at an Environmental Pertinent Concentration by Behavioral and Biochemical Testing
1
Department of Biomedical Engineering, Chung Yuan Christian University, Chung-Li 32023, Taiwan
2
Department of Biological Science & Technology, College of Medicine, I-Shou University, Kaohsiung 82445, Taiwan
3
Department of Chemistry, Chung Yuan Christian University, Chung-Li 32023, Taiwan
4
Department of Bioscience Technology, Chung Yuan Christian University, Chung-Li 32023, Taiwan
5
Department of Chemistry, Chinese Culture University, Taipei 11114, Taiwan
6
Laboratory of Marine Biology and Ecology, Third Institute of Oceanography, State Oceanic Administration, Xiamen 361005, China
7
Center for Nanotechnology, Chung Yuan Christian University, Chung-Li 32023, Taiwan
*
Authors to whom correspondence should be addressed.
Received: 30 April 2019 / Revised: 3 June 2019 / Accepted: 5 June 2019 / Published: 9 June 2019
Abstract
Magnetic Nanoparticles (MNPs) are widely being investigated as novel promising multifunctional agents, specifically in the fields of development for theranostics, electronics, waste water treatment, cosmetics, and energy storage devices. Unique, superior, and indispensable properties of magnetization, heat transfer, and melting temperature make MNPs emerge in the field of therapeutics in future healthcare industries. However, MNPs ecotoxicity as well as behavioral toxicity is still unexplored. Ecotoxicity analysis may assist investigate MNPs uptake mechanism and its influence on bioavailability under a given set of environmental factors, which can be followed to investigate the biomagnification of MNPs in the environment and health risk possessed by them in an ecological food chain. In this study, we attempted to determine the behavioral changes in zebrafishes at low (1 ppm) or high (10 ppm) concentration levels of Fe
3
O
4
MNPs. The synthesized Fe
3
O
4
MNPs sized at 15 nm were characterized by the transmission electron microscope (TEM), the superconducting quantum interference device (SQUID) magnetometer, and the multiple behavior tests for novel tank, mirror biting, conspecific social interaction, shoaling, circadian rhythm, and short-term memory of zebrafish under MNPs chronic exposure were demonstrated. Low concentration MNP exposure did not trigger alteration for majority behavioral and biochemical tests in adult zebrafish. However, tight shoal groups were observed at a high concentration of MNPs exposure along with a modest reduction in fish exploratory behavior and a significant reduction in conspecific social interaction behavior. By using enzyme-linked immunosorbent assays (ELISA), we found a high dose of MNPs exposure significantly elevated cortisol, acetylcholine, and catalase levels while reducing serotonin, acetylcholine esterase, and dopamine levels in the brain. Our data demonstrates chronic MNPs exposure at an environmentally-relevant dose is relatively safe by supporting evidence from an array of behavioral and biochemical tests. This combinational approach using behavioral and biochemical tests would be helpful for understanding the MNPs association with anticipated colloids and particles effecting bioavailability and uptake into cells and organisms.
View Full-Text
►

▼

Figures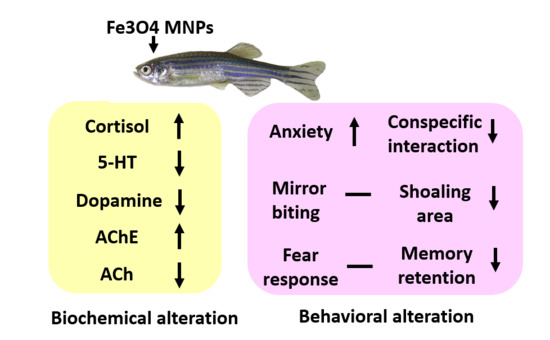 Graphical abstract
This is an open access article distributed under the
Creative Commons Attribution License
which permits unrestricted use, distribution, and reproduction in any medium, provided the original work is properly cited (CC BY 4.0).

Share & Cite This Article
MDPI and ACS Style
Malhotra, N.; Chen, J.-R.; Sarasamma, S.; Audira, G.; Siregar, P.; Liang, S.-T.; Lai, Y.-H.; Lin, G.-M.; Ger, T.-R.; Hsiao, C.-D. Ecotoxicity Assessment of Fe3O4 Magnetic Nanoparticle Exposure in Adult Zebrafish at an Environmental Pertinent Concentration by Behavioral and Biochemical Testing. Nanomaterials 2019, 9, 873.
Note that from the first issue of 2016, MDPI journals use article numbers instead of page numbers. See further details here.
Related Articles
Comments
[Return to top]