Study of Magnetic Properties of Fe100-xNix Nanostructures Using the Mössbauer Spectroscopy Method
1
Engineering Profile Laboratory, L.N. Gumilyov Eurasian National University, Astana 010008, Kazakhstan
2
Department of General Physics, M.V. Lomonosov Moscow State University, Moscow 119991, Russia
3
Laboratory of Solid State Physics, The Institute of Nuclear Physics, Almaty 050032, Kazakhstan
4
Kazakh-Russian International University, Aktobe 030006, Kazakhstan
5
Department of Intelligent Information Technologies, Ural Federal University, Yekaterinburg 620075, Russia
*
Author to whom correspondence should be addressed.
Received: 28 March 2019 / Revised: 11 May 2019 / Accepted: 13 May 2019 / Published: 17 May 2019
Abstract
Hyperfine interactions of
57
Fe nuclei in Fe
100-x
Ni
x
nanostructures synthesized in polymer ion-track membranes were studied by Mössbauer spectroscopy. The main part of obtained nanostructures was Fe
100-x
Ni
x
nanotubes with bcc structure for 0 ≤ x ≤ 40, and with fcc structure for 50 ≤ x ≤ 90. The length, outside diameter and wall thickness of nanotubes were 12 μm, 400 ± 10 nm and 120 ± 5 nm respectively. For the studied nanotubes a magnetic texture is observedalong their axis. The average value of the angle between the direction of the Fe atom magnetic moment and the nanotubes axis decreases with increasing of Ni concentration for nanotubes with bcc structure from ~50° to ~40°, and with fcc structure from ~55° to ~46°. The concentration dependences of the hyperfine parameters of nanotubes Mössbauer spectra are qualitatively consistent with the data for bulk polycrystalline samples. With Ni concentration increasing the average value of the hyperfine magnetic field increases from ~328 kOe to ~335 kOe for the bcc structure and drops to ~303 kOe in the transition to the fcc structure and then decreases to ~290 kOe at x = 90. Replacing the Fe atom with the Ni atom in the nearest environment of Fe atom within nanotubes with bcc structure lead to an increase in the hyperfine magnetic field by "6–9 kOe", and in tubes with fcc structure—to a decrease in the hyperfine magnetic field by "11–16 kOe". The changes of the quadrupole shift and hyperfine magnetic field are linearly correlated with the coefficient −(15 ± 5)·10
−4
mm/s/kOe.
View Full-Text
►

▼

Figures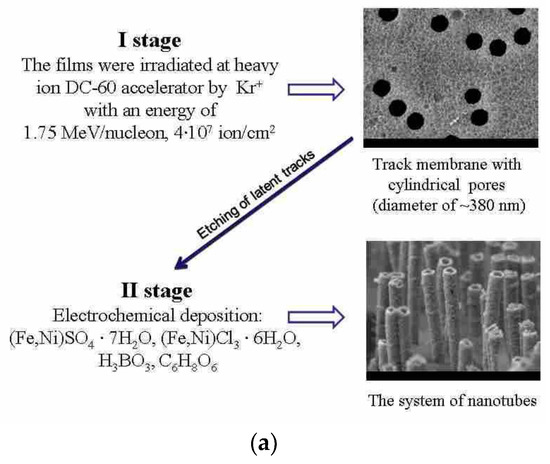 Figure 1
This is an open access article distributed under the
Creative Commons Attribution License
which permits unrestricted use, distribution, and reproduction in any medium, provided the original work is properly cited (CC BY 4.0).

Share & Cite This Article
MDPI and ACS Style
Kadyrzhanov, K.K.; Rusakov, V.S.; Fadeev, M.S.; Kiseleva, T.Y.; Kozlovskiy, A.L.; Kenzhina, I.E.; Zdorovets, M.V. Study of Magnetic Properties of Fe100-xNix Nanostructures Using the Mössbauer Spectroscopy Method. Nanomaterials 2019, 9, 757.
Note that from the first issue of 2016, MDPI journals use article numbers instead of page numbers. See further details here.
Related Articles
Comments
[Return to top]