Highly Efficient Nanostructured Bi2WO6 Thin Film Electrodes for Photoelectrochemical and Environment Remediation
1
Environment and Sustainability Institute (ESI), University of Exeter, Penryn Campus, Penryn, Cornwall TR10 9FE, UK
2
Chemistry Department, Faculty of Science, Albaha University, Albaha 65527, Saudi Arabia
*
Author to whom correspondence should be addressed.
Received: 16 April 2019 / Revised: 9 May 2019 / Accepted: 10 May 2019 / Published: 17 May 2019
Abstract
Nanostructured Bi
2
WO
6
thin film electrodes with enhanced solar energy conversion and photocatalytic properties have been fabricated using Aerosol-Assisted Chemical Vapor Deposition (AACVD). By conveniently controlling the deposition process parameters, Bi
2
WO
6
electrodes were fabricated with nanoplates and hierarchical buckyball-shaped microsphere structures morphology. A detailed study has been conducted to correlate the structure and morphology with the photoelectrochemical (PEC) and photocatalytic dye degradation performance. The PEC investigations revealed that the hierarchical buckyball-shaped microsphere structured Bi
2
WO
6
electrodes have shown the photocurrent density of 220 μAcm
−2
while nanoplates have a photocurrent density of 170 μAcm
−2
at 0.23 V (vs. Ag/AgCl/3M KCl) under AM1.5 illumination. The PEC characterization of Bi
2
WO
6
electrodes also reveals that the photocurrent density and photocurrent onset potential is strongly dependent on the orientation and morphology, hence the deposition parameters. Similarly, the methylene blue (MB) and rhodamine B (RhB) photodegradation performance of Bi
2
WO
6
electrodes also show a strong correlation with morphology. This finding provides an appropriate route to engineer the energetic and interfacial properties of Bi
2
WO
6
electrode to enhance solar energy conversion and the photocatalytic performance of semiconductor materials.
View Full-Text
►

▼

Figures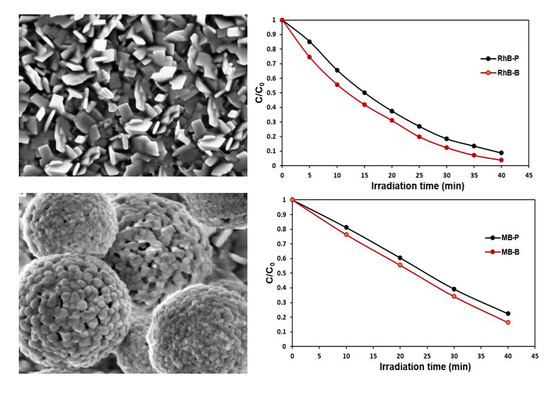 Graphical abstract
This is an open access article distributed under the
Creative Commons Attribution License
which permits unrestricted use, distribution, and reproduction in any medium, provided the original work is properly cited (CC BY 4.0).

Share & Cite This Article
MDPI and ACS Style
Alfaifi, B.Y.; Bayahia, H.; Tahir, A.A. Highly Efficient Nanostructured Bi2WO6 Thin Film Electrodes for Photoelectrochemical and Environment Remediation. Nanomaterials 2019, 9, 755.
Note that from the first issue of 2016, MDPI journals use article numbers instead of page numbers. See further details here.
Related Articles
Comments
[Return to top]