Molecular Responses in THP-1 Macrophage-Like Cells Exposed to Diverse Nanoparticles
1
Department of Genetic Toxicology and Nanotoxicology, Institute of Experimental Medicine of the Czech Academy of Sciences, 14220 Prague, Czech Republic
2
Laboratory for Risk Research and Management, Faculty of Safety Engineering, VSB—Technical University of Ostrava, 70030 Ostrava, Czech Republic
3
Department of Transplantation Immunology, Institute of Experimental Medicine of the Czech Academy of Sciences, 14220 Prague, Czech Republic
4
Microscopy Centre, Institute of Molecular Genetics of the Czech Academy of Sciences, 14220 Prague, Czech Republic
5
Institute for Environmental Studies, Faculty of Science, Charles University, 12801 Prague, Czech Republic
6
Department of Computer Science, Czech Technical University in Prague, 12135 Prague, Czech Republic
*
Author to whom correspondence should be addressed.
Received: 9 April 2019 / Revised: 23 April 2019 / Accepted: 27 April 2019 / Published: 2 May 2019
Abstract
In the body, engineered nanoparticles (NPs) may be recognized and processed by immune cells, among which macrophages play a crucial role. We evaluated the effects of selected NPs [NM-100 (TiO
2
), NM-110 (ZnO), NM-200 (SiO
2
), and NM-300 K (Ag)] on THP-1 macrophage-like cells. The cells were exposed to subcytotoxic concentrations of NPs (1–25 µg/mL) and the expression of immunologically relevant genes (VCAM1, TNFA, CXCL8, ICAM1, CD86, CD192, and IL1B) was analyzed by RT-qPCR. The expression of selected cytokines, growth factors and surface molecules was assessed by flow cytometry or ELISA. Generation of reactive oxygen species and induction of DNA breaks were also analyzed. Exposure to diverse NPs caused substantially different molecular responses. No significant effects were detected for NM-100 treatment. NM-200 induced production of IL-8, a potent attractor and activator of neutrophils, growth factors (VEGF and IGF-1) and superoxide. NM-110 triggered a proinflammatory response, characterized by the activation of transcription factor NF-κB, an enhanced production of proinflammatory cytokines (TNF-α) and chemokines (IL-8). Furthermore, the expression of cell adhesion molecules VCAM-1 and ICAM-1 and hepatocyte growth factor (HGF), as well as superoxide production and DNA breaks, were affected. NM-300 K enhanced IL-8 production and induced DNA breaks, however, it decreased the expression of chemokine receptor (CCR2) and CD86 molecule, indicating potential immunosuppressive activity. The toxicity of ZnO and Ag NPs was probably caused by their intracellular dissolution, as indicated by transmission electron microscopy imaging. The observed effects in macrophages might further influence both innate and adaptive immune responses by promoting neutrophil recruitment via IL-8 release and enhancing the adhesion and stimulation of T cells by VCAM-1 and ICAM-1 expression.
View Full-Text
►

▼

Figures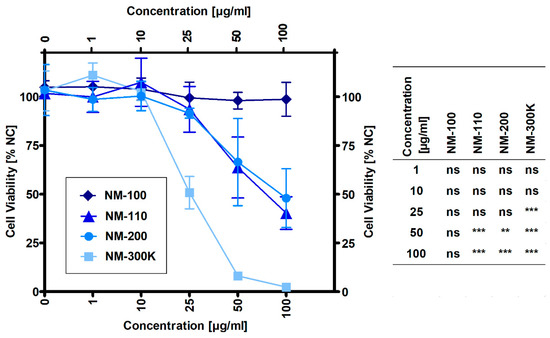 Figure 1
This is an open access article distributed under the
Creative Commons Attribution License
which permits unrestricted use, distribution, and reproduction in any medium, provided the original work is properly cited (CC BY 4.0).

Share & Cite This Article
MDPI and ACS Style
Brzicova, T.; Javorkova, E.; Vrbova, K.; Zajicova, A.; Holan, V.; Pinkas, D.; Philimonenko, V.; Sikorova, J.; Klema, J.; Topinka, J.; Rossner, P., Jr. Molecular Responses in THP-1 Macrophage-Like Cells Exposed to Diverse Nanoparticles. Nanomaterials 2019, 9, 687.
Note that from the first issue of 2016, MDPI journals use article numbers instead of page numbers. See further details here.
Related Articles
Comments
[Return to top]