Transparent Sol-Gel Oxyfluoride Glass-Ceramics with High Crystalline Fraction and Study of RE Incorporation
1
Instituto de Cerámica y Vidrio, CSIC, 28049 Madrid, Spain
2
FunGlass—Centre for Functional and Surface Functionalized Glass, Alexander Dubček University of Trenčín, Trenčín 91150, Slovakia
3
SpLine, Spanish CRG Beamline—European Synchrotron Radiation Facility (ESRF), 38043 Grenoble, France
4
Instituto de Ciencia de Materiales de Madrid, CSIC, 28049 Madrid, Spain
5
Departamento Física de Materiales, Facultad de Ciencias, Universidad Autónoma de Madrid (UAM), 28049 Madrid, Spain
6
Departamento Física Aplica I, Escuela Superior de Ingeniería, Universidad del País Vasco (UPV-EHU), 48013 Bilbao, Spain
7
Centro de Física de Materiales, (UPV/EHU-CSIC), 20018 San Sebastian, Spain
8
Donostia International Physics Center (DIPC), 20018 San Sebastian, Spain
*
Author to whom correspondence should be addressed.
Received: 28 February 2019 / Revised: 20 March 2019 / Accepted: 26 March 2019 / Published: 3 April 2019
Abstract
Transparent oxyfluoride glass-ceramic films and self-supported layers with composition 80SiO
2
-20LaF
3
doped with Er
3+
have been successfully synthesized by sol-gel process for the first time. Crack-free films and self-supported layer with a maximum thickness up to 1.4 µm were obtained after heat treatment at the low temperature of 550 °C for 1 min, resulting in a LaF
3
crystal fraction of 18 wt%, as confirmed by quantitative Rietveld refinement. This is the highest value reported up to now for transparent oxyfluoride glass-ceramics prepared by sol-gel. This work provides a new synthesis strategy and opens the way to a wide range of potential applications of oxyfluoride glass-ceramics. The characterization by a wide range of techniques revealed the homogeneous precipitation of LaF
3
nanocrystals into the glass matrix. X-ray absorption spectroscopy and electron paramagnetic resonance confirmed that the Er
3+
ions are preferentially embedded in the low phonon-energy LaF
3
nanocrystals. Moreover, photoluminescence (PL) measurements confirmed the incorporation of dopants in the LaF
3
nanocrystals. The effective concentration of rare-earth ions in the LaF
3
nanocrystals is also estimated by X-ray absorption spectroscopy.
View Full-Text
►

▼

Figures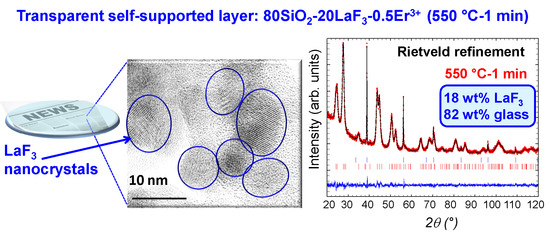 Graphical abstract
This is an open access article distributed under the
Creative Commons Attribution License
which permits unrestricted use, distribution, and reproduction in any medium, provided the original work is properly cited (CC BY 4.0).

Share & Cite This Article
MDPI and ACS Style
Gorni, G.; Velázquez, J.J.; Mosa, J.; Mather, G.C.; Serrano, A.; Vila, M.; Castro, G.R.; Bravo, D.; Balda, R.; Fernández, J.; Durán, A.; Castro, Y. Transparent Sol-Gel Oxyfluoride Glass-Ceramics with High Crystalline Fraction and Study of RE Incorporation. Nanomaterials 2019, 9, 530.
Note that from the first issue of 2016, MDPI journals use article numbers instead of page numbers. See further details here.
Related Articles
Comments
[Return to top]