Synergistic Effect of Oxygen Vacancies and Ni Species on Tuning Selectivity of Ni/ZrO2 Catalyst for Hydrogenation of Maleic Anhydride into Succinic Anhydride and γ-Butyrolacetone
1
Engineering Research Center of Ministry of Education for Fine Chemicals, School of Chemistry and Chemical Engineering, Shanxi University, Taiyuan 030006, China
2
Institute of Coal Chemistry, Chinese Academy of Sciences, Taiyuan 030001, China
3
Inorganic Chemistry Laboratory, Oxford University, Oxford, OX1 3QR, UK
*
Authors to whom correspondence should be addressed.
Received: 26 January 2019 / Revised: 3 March 2019 / Accepted: 5 March 2019 / Published: 11 March 2019
Abstract
ZrO
2
nanoparticles, ZrO
2
(P) and ZrO
2
(H), with different tetragonal phase contents, were prepared. ZrO
2
(P) possessed higher tetragonal phase content than ZrO
2
(H). Ni/ZrO
2
catalysts (10% (
w
/
w
)), using ZrO
2
(P) and ZrO
2
(H) as supports, were prepared using an impregnation method, and were characterized using XRD, Raman, H
2
-TPR, XPS, and H
2
-TPD techniques. Their catalytic performance in maleic anhydride hydrogenation was tested. The Ni/ZrO
2
(P) catalyst exhibited stronger metal-support interactions than the Ni/ZrO
2
(H) catalyst because of its higher number of oxygen vacancies and the low-coordinated oxygen ions on its surface. Consequently, smaller Ni crystallites and a higher C=C hydrogenation activity for maleic anhydride to succinic anhydride were obtained over a Ni/ZrO
2
(P) catalyst. However, the C=O hydrogenation activity of Ni/ZrO
2
(P) catalyst was much lower than that of the Ni/ZrO
2
(H) catalyst. A 43.5% yield of γ-butyrolacetone was obtained over the Ni/ZrO
2
(H) catalyst at 210 °C and 5 MPa of H
2
pressure, while the yield of γ-butyrolactone was only 2.8% over the Ni/ZrO
2
(P) catalyst under the same reaction conditions. In situ FT-IR characterization demonstrated that the high C=O hydrogenation activity for the Ni/ZrO
2
(H) catalyst could be attributed to the surface synergy between active metallic nickel species and relatively electron-deficient oxygen vacancies.
View Full-Text
►

▼

Figures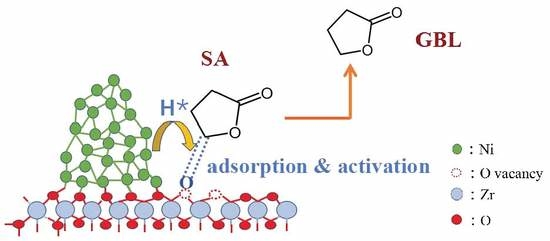 Graphical abstract
This is an open access article distributed under the
Creative Commons Attribution License
which permits unrestricted use, distribution, and reproduction in any medium, provided the original work is properly cited (CC BY 4.0).

Share & Cite This Article
MDPI and ACS Style
Zhao, L.; Zhao, J.; Wu, T.; Zhao, M.; Yan, W.; Zhang, Y.; Li, H.; Wang, Y.; Xiao, T.; Zhao, Y. Synergistic Effect of Oxygen Vacancies and Ni Species on Tuning Selectivity of Ni/ZrO2 Catalyst for Hydrogenation of Maleic Anhydride into Succinic Anhydride and γ-Butyrolacetone. Nanomaterials 2019, 9, 406.
Note that from the first issue of 2016, MDPI journals use article numbers instead of page numbers. See further details here.
Related Articles
Comments
[Return to top]