Open Access This article is
freely available
re-usable
Article
Single-Step Synthesis of Vertically Aligned Carbon Nanotube Forest on Aluminium Foils
1
NIMBE, CEA, CNRS, Université Paris-Saclay, CEA Saclay, 91191 Gif-sur-Yvette, France
2
NAWA Technologies, Chez STMicroelectronics, 190 avenue Célestin Coq, Cedex 13106 Rousset, France
3
Laboratoire de Physicochimie des Polymères et des Interfaces (LPPI, EA 2528), Université de Cergy-Pontoise, Cedex 95031 Neuville-sur-Oise, France
4
LSI, CEA/DRF/IRAMIS, École Polytechnique, CNRS, Institut Polytechnique de Paris, 91128 Palaiseau, France
*
Author to whom correspondence should be addressed.
Received: 17 October 2019 / Accepted: 4 November 2019 / Published: 9 November 2019
Abstract
:
Vertically aligned carbon nanotube (VACNT) forests are promising for supercapacitor electrodes, but their industrialisation requires a large-scale cost-effective synthesis process suitable to commercial aluminium (Al) foils, namely by operating at a low temperature (<660 °C). We show that Aerosol-Assisted Catalytic Chemical Vapour Deposition (CCVD), a single-step roll-to-roll compatible process, can be optimised to meet this industrial requirement. With ferrocene as a catalyst precursor, acetylene as a carbon source and Ar/H2 as a carrier gas, clean and dense forests of VACNTs of about 10 nm in diameter are obtained at 615 °C with a growth rate up to 5 µm/min. Such novel potentiality of this one-step CCVD process is at the state-of-the-art of the multi-step assisted CCVD processes. To produce thick samples, long synthesis durations are required, but growth saturation occurs that is not associated with a diffusion phenomenon of iron in aluminium substrate. Sequential syntheses show that the saturation trend fits a model of catalytic nanoparticle deactivation that can be limited by decreasing acetylene flow, thus obtaining sample thickness up to 200 µm. Cyclic voltammetry measurements on binder-free VACNT/Al electrodes show that the CNT surface is fully accessible to the ionic liquid electrolyte, even in these dense VACNT forests.
Keywords:
vertically aligned carbon nanotubes; aerosol-assisted catalytic chemical vapour deposition; Al foils; energy dispersive X-ray spectrometry; supercapacitors
Supplementary Materials
The following are available online at
https://www.mdpi.com/2079-4991/9/11/1590/s1
. Figure S1: Scheme of aerosol-assisted CCVD device, Figure S2: FIB Preparation of thin samples, Figure S3: TEM images of the Al/VACNT interface, Figure S4: Schematic view of the sample roughness effect on the STEM images, Figure S5: Design of the home-made electrochemical cell, Figure S6: VACNT Raman spectra, Figure S7: Histograms of VACNT diameters.
Author Contributions
M.M.-L., M.P., C.R., H.H. and P.-H.A. conceived the project. F.N. synthesized and characterized the samples and analysed the data, under the supervision of M.P. and M.M.-L. P.-E.C. designed and performed the STEM-EDX analysis. T.V. performed the electrochemical analysis under the supervision of P.B. and P.-H.A., J.D. ensured the transfer of the synthesis process to the industrial pilot line. J.D., T.G.d.M. and H.H. were in charge of the scaling-up. All the authors contributed to the analysis of the results. F.N. prepared the original draft. C.R. completed the manuscript with contributions of P.B. and T.G.d.M. All the authors corrected the manuscript before submission and gave approval to the final version of the paper.
Funding
F.N.'s PhD thesis was supported by a grant from the NAWATechnologies Company (CIFRE N 2014/1485).
Acknowledgments
The authors thank the TEM Team platform of I2BC-DRF (CEA-Saclay) for TEM access. STEM-EDX analysis was performed on NanoTEM equipment that received support from the French National Research Agency under the program "Future Investments" with the reference ANR-10-EQPX-50. The authors are thankful to Laurence Papciak and Alexandre Sangar (NAWATechnologies) for SEM observations.
Conflicts of Interest
The authors declare no conflict of interest.

Figure 1. Scanning electron microscope (SEM) images of carbon nanotube (CNT) synthetized at 580 °C on thin aluminium (Al) discs during 20 min with: (a) high Fe/C ratio (>4 wt.%) and (b) medium Fe/C ratio (between 2 and 4 wt.%) and (c) low Fe/C ratio (<2 wt.%).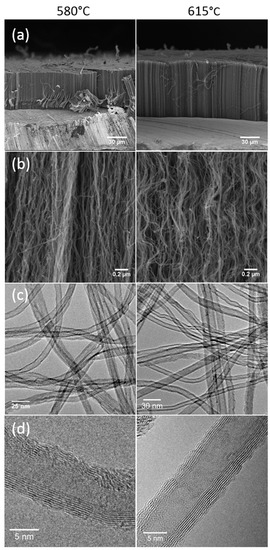 Figure 2. (a,b) SEM, (c) transmission electron microscopy (TEM) and (d) high-resolution TEM (HRTEM) images of VACNT obtained in optimized synthesis conditions at 580 °C (left) and 615 °C (right), respectively.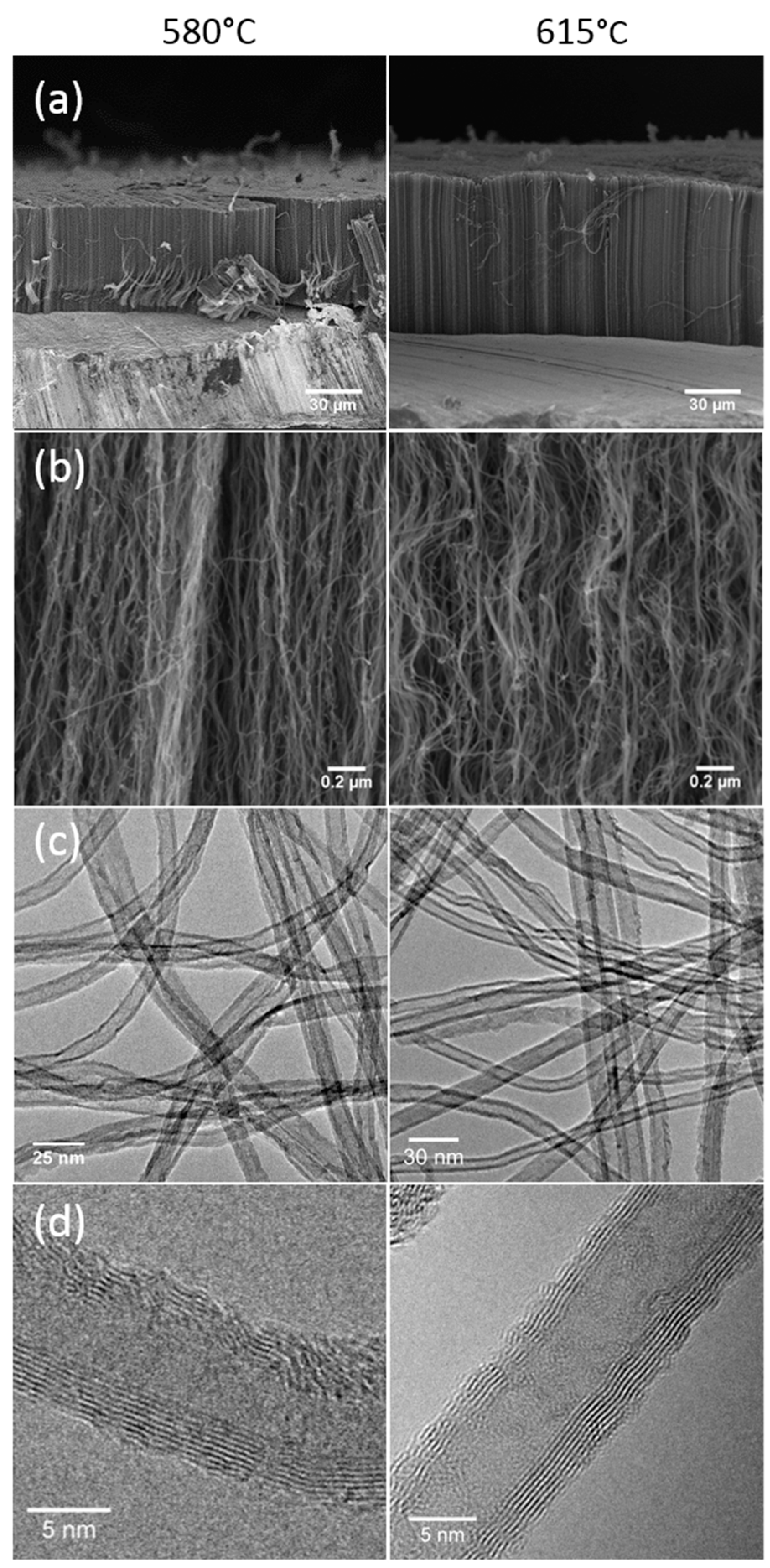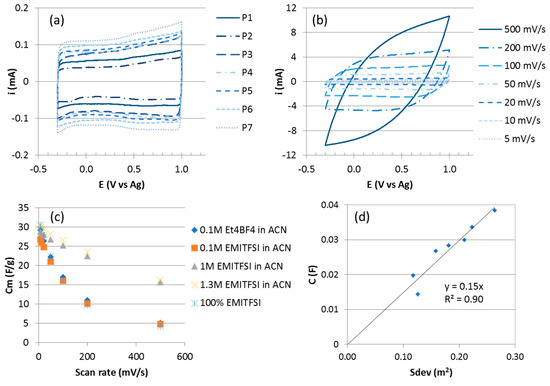 Figure 3. (a) Cyclic voltammograms (CV) curves of the different VACNT carpets in 1-ethyl-3-methylimidazolium bis(trifluoromethanesulfonyl)imide (EMITFSI) 1.3 M in ACN at 5 mV/s. (b) CV of P7 in EMITFSI 1.3 M in ACN at different scan rates. (c) Influence of the electrolyte composition on the capacitance of VACNT electrode. (d) Variation of capacitance with developed surface area.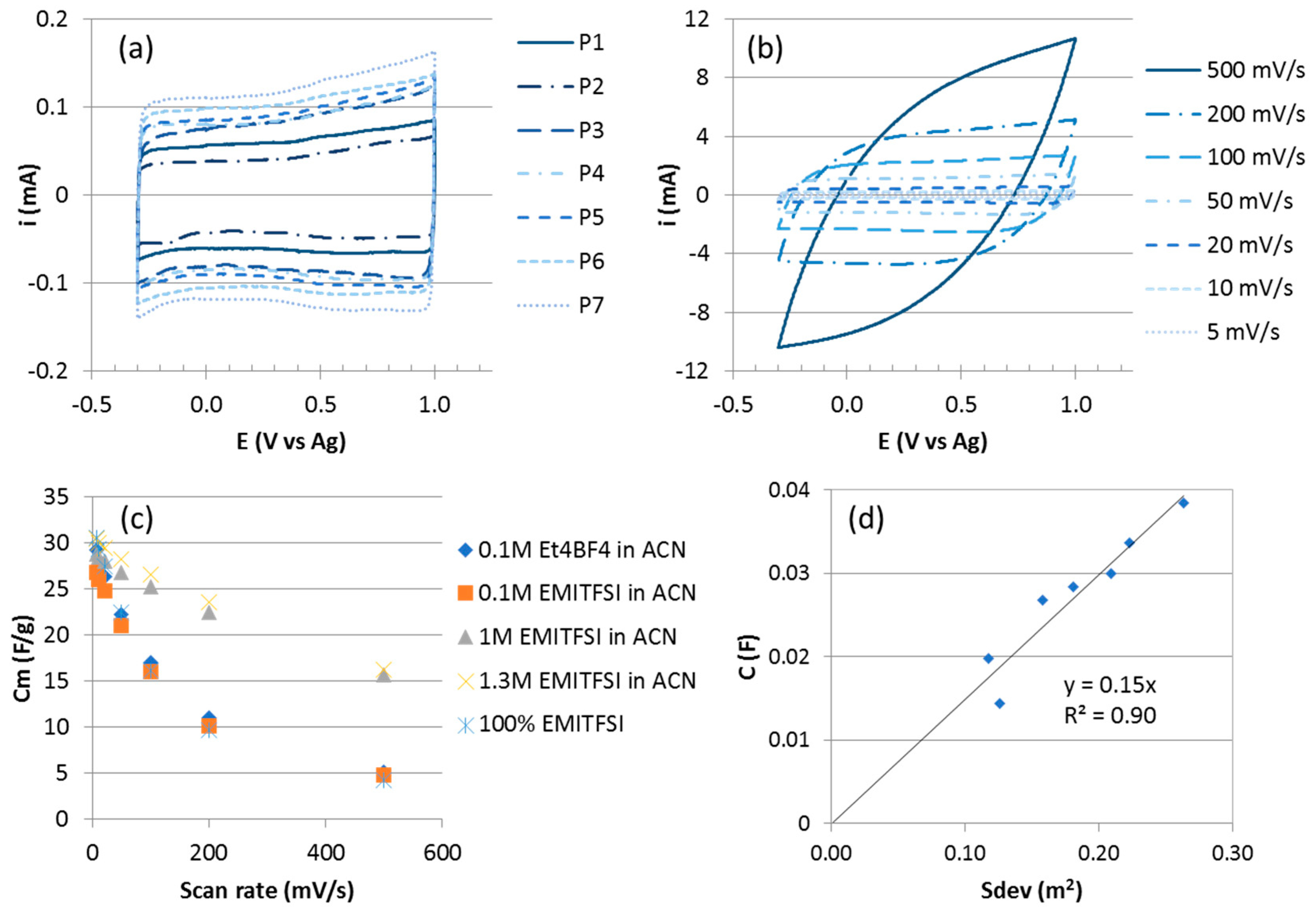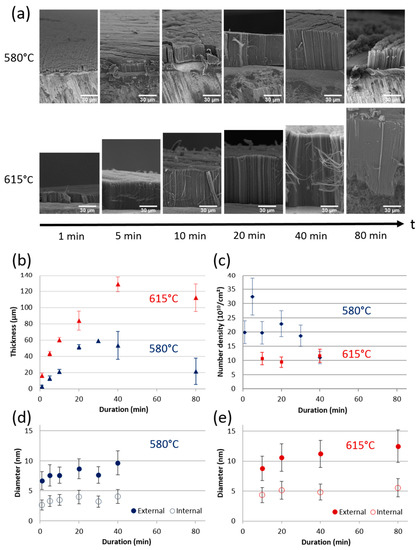 Figure 4. (a) SEM images of VACNT carpets obtained at 580 and 615 °C for increasing synthesis duration. Influence of synthesis duration on (b) carpet thickness, (c) CNT number density and (d,e) external and internal CNT diameters and their standard deviations at 580 and 615 °C, respectively.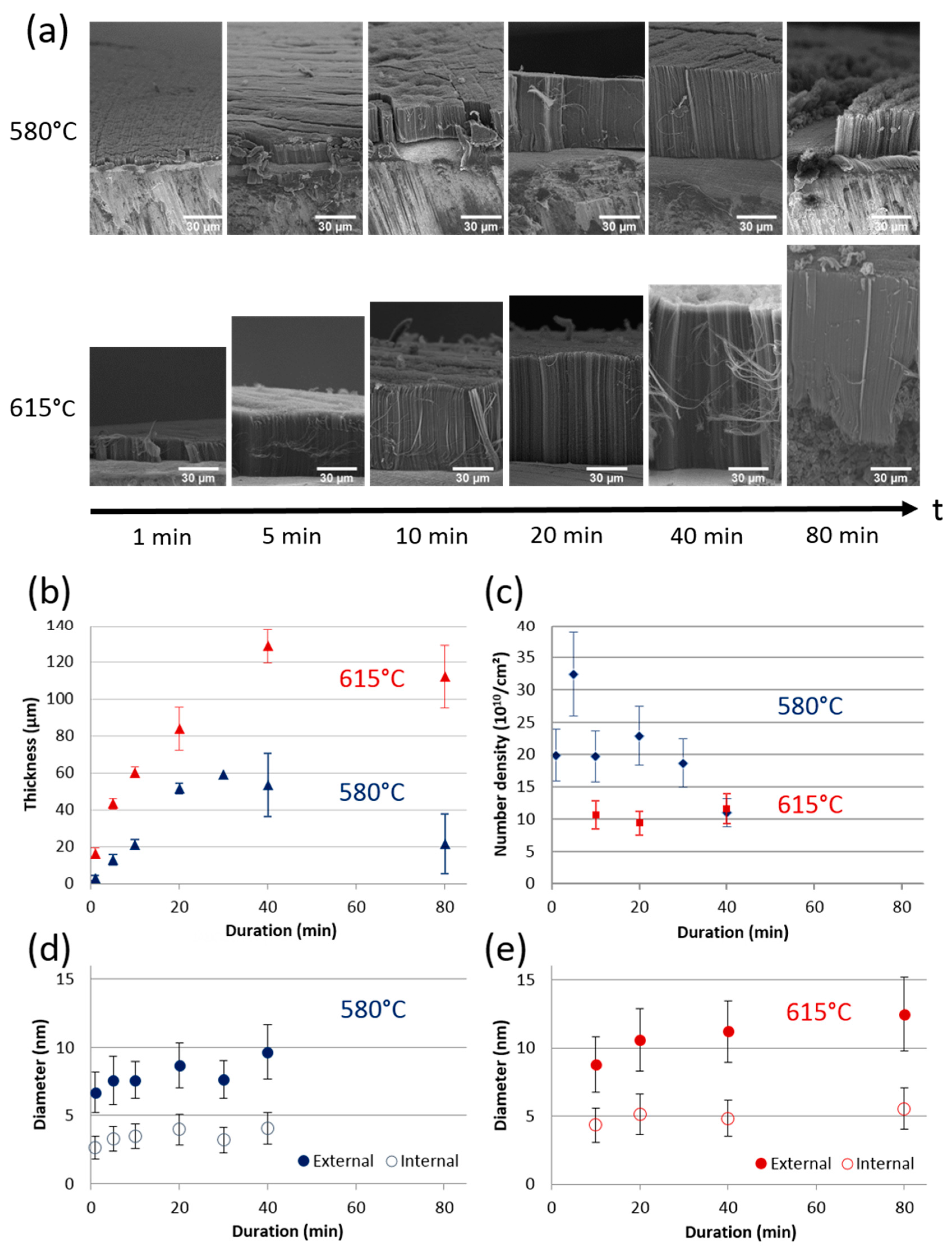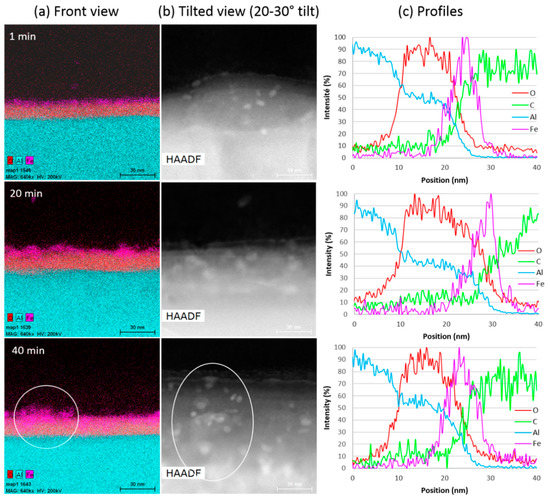 Figure 5. (a) Chemical cartography, (b) STEM images and (c) profiles of the Al/VACNT interface from syntheses at 580 °C of 1, 20 and 40 min duration, respectively (all images are at the same scale).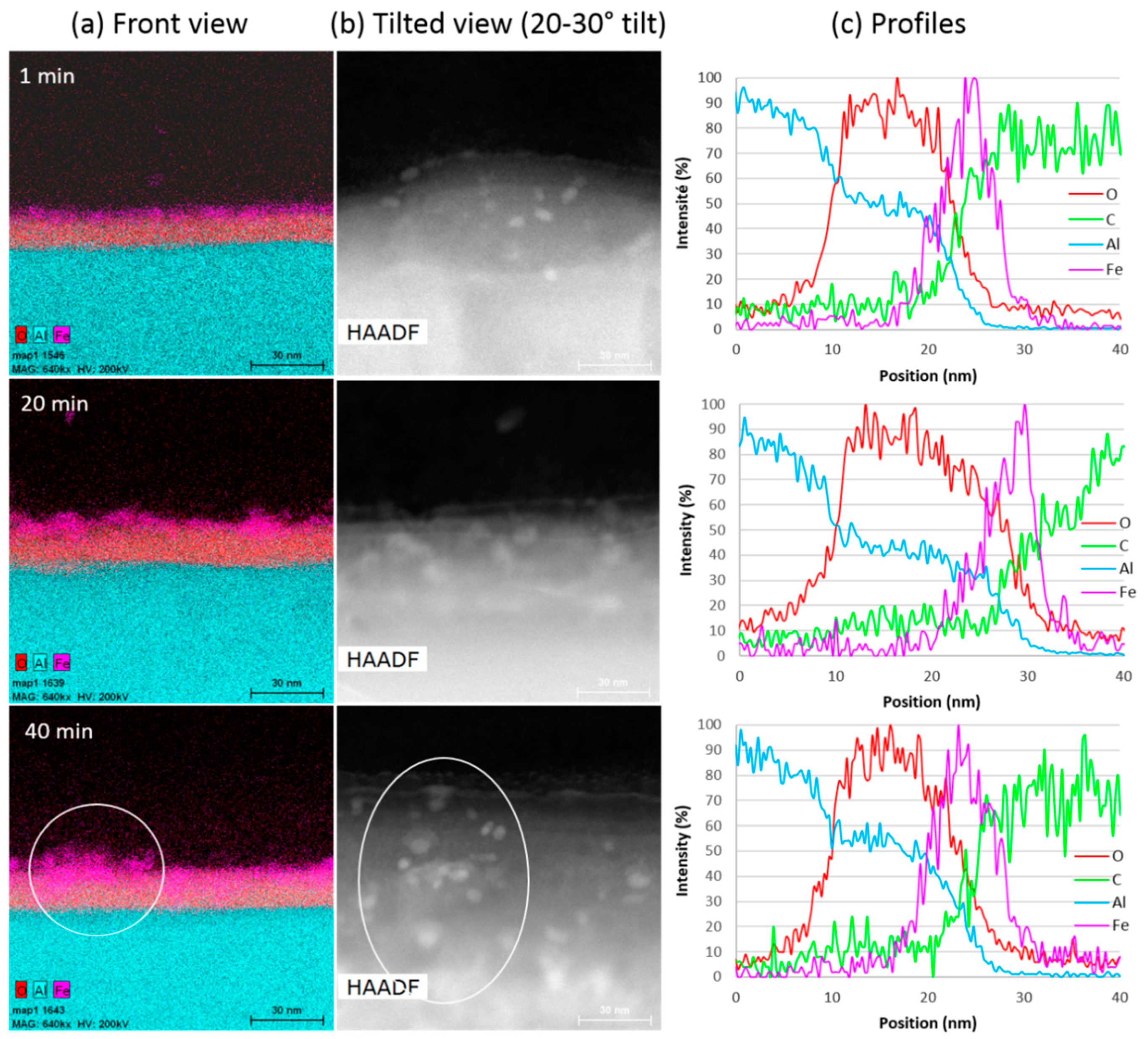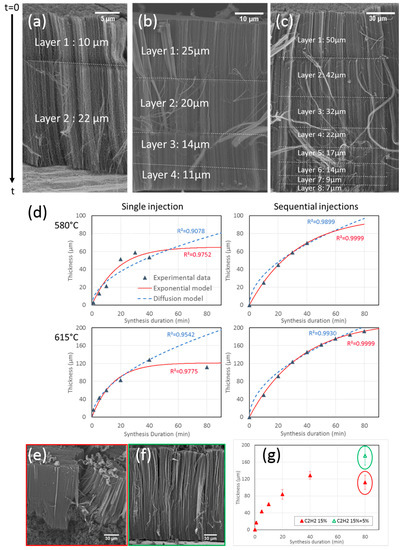 Figure 6. SEM images of carpets obtained with sequences of (a) 5 min then 10 min at 580 °C, (b) 4 × 10 min at 580 °C and (c) 8 × 10 min at 615 °C. (d) Fits of experimental data with exponential model (red) and diffusion model (blue). (e,f) SEM images of carpets obtained at 615 °C for 80 min without (e) or with (f) reduction of C2H2 flow rate after 20 min. (g) Evolution of VACNT thickness with synthesis duration without (red) or with (green) reduction of C2H2 flow rate after 20 min.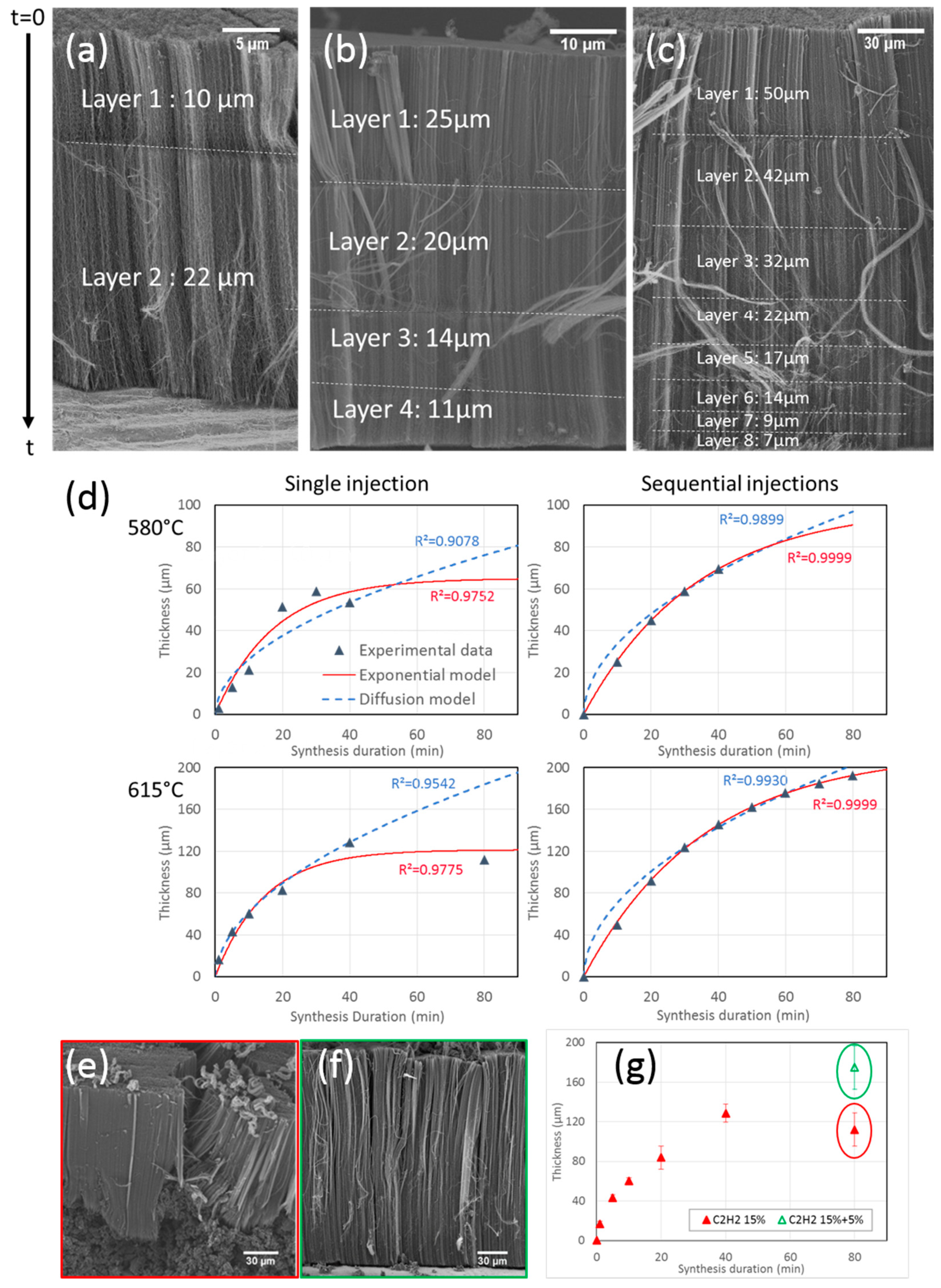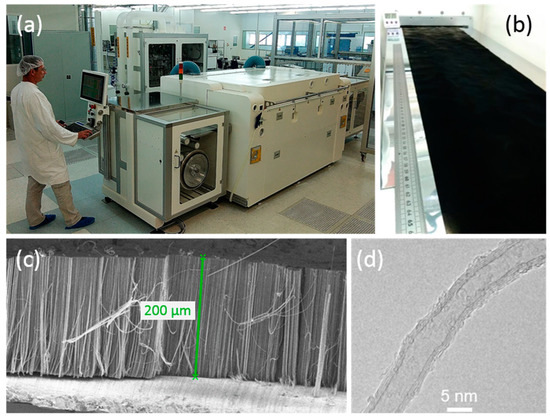 Figure 7. VACNT grown on a 30 cm-wide Al foil at NAWATechnologies' roll-to-roll (R2R) production line (rolling speed of 1 m/h): (a) set-up, (b) Al foils at the oven exit, (c) SEM image of the grown VACNT carpet and (d) HRTEM image of a nanotube.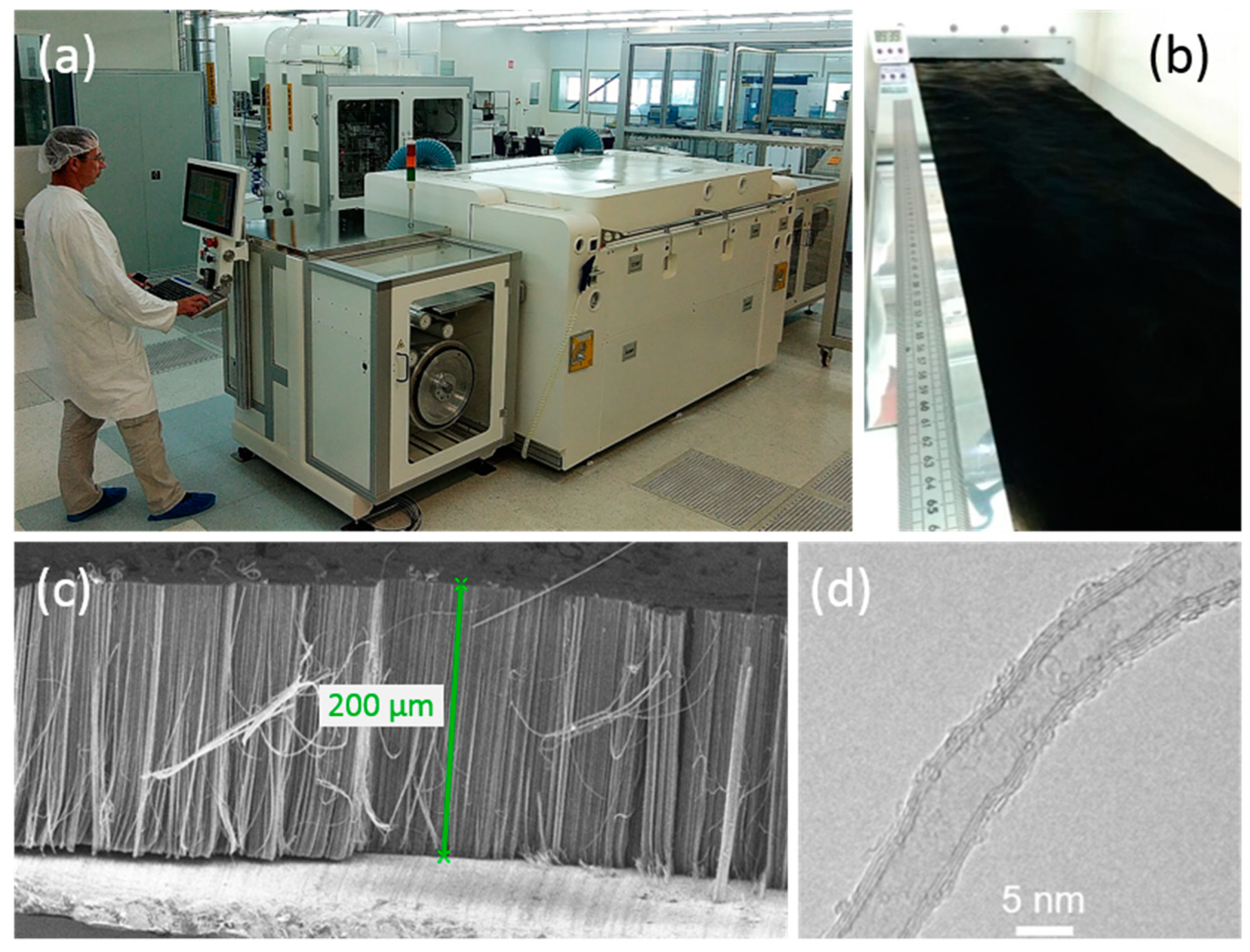 Sample

H

eight (µm)

M

ass (mg)

D

iameter (nm)

D

ensity (1010 CNT/cm2)

S

dev (m2)

C

m (F/g)

C

(mF)
P1
99
0.42
8.1
5.9
0.117
47
19.7
P2
96
0.45
8.1
6.6
0.126
32
14.4
P3
49
0.57
8.3
15.7
0.158
47
26.8
P4
65
0.81
10.6
10.6
0.181
35
28.4
P5
53.5
0.79
8.7
18.2
0.209
38
30.0
P6
56
0.84
8.7
18.5
0.223
40
33.6
P7
125
1.28
11.1
7.7
0.263
30
38.4

Table 2.
Fitted parameters
γ
0
(initial growth rate),
τ
(catalyst lifetime) and corresponding
h
max
with the exponential model.
Coefficient

h

max (µm)

γ

₀ (µm/min)

τ

(min)
Single injection 580 °C
65
3.8
17
Single injection 615 °C
121
8.3
15
Sequential injection 580 °C
100
3.0
33
Sequential injection 615 °C
215
6.0
36

© 2019 by the authors. Licensee MDPI, Basel, Switzerland. This article is an open access article distributed under the terms and conditions of the Creative Commons Attribution (CC BY) license (http://creativecommons.org/licenses/by/4.0/).