Open Access This article is
freely available
re-usable
Article
Creation of Superhydrophobic Coatings Based on MWCNTs Xerogel
Department of Fundamental and Applied Physics, Northern Arctic Federal University named after M. V. Lomonosov, Severnaya Dvina Emb. 17, 163002 Arkhangelsk, Russia
*
Author to whom correspondence should be addressed.
Received: 11 September 2019 / Accepted: 5 November 2019 / Published: 8 November 2019
Abstract
:
The creation of hydrophobic anti-icing and self–cleaning coatings is a relevant task for many industrial sectors. The potential field of application includes production of liquid and gas separators and filters, the field of textiles and clothing, construction and new materials, optical and microelectronic devices, the field of automobile construction and maritime shipping as well as energy and agriculture. The article suggests a new approach to the creation of superhydrophobic anti-icing coatings, by drawing peeled multi-walled carbon nanotubes (MWCNTs) to the sample surface. This method allows you to combine the necessary factors: Low surface energy, micro-nano-roughness and hierarchical multi-scale. The authors investigated the dependence of the wetting angle of such a surface on the model of MWCNT, fractional composition and the polarity of the dissolvent. The suggested approach can be used to create superhydrophobic coatings with the additional function of removing static charge and heating the surface, which can be used in the field of energetics for protection against freezing of wind turbine blades and aircraft surfaces.
Keywords:
multi-walled carbon nanotubes; xerogel; superhydrophobic coatings; water contact angle; electrophysical properties
1. Introduction
Superhydrophobic coatings are a contemporary topic; because such coatings are resistant to pollution, icing and corrosion, their use reduces maintenance and repair costs and thus prolongs product lifetimes. Therefore, successful development of self-cleaning superhydrophobic materials is a very important technological task which should reduce wear and corrosion caused by interaction of a surface with moisture, and increase the service life of the material.
Superhydrophobic coatings have a wide range of applications in such areas as: self-cleaning surfaces, microscale liquid devices, separators, textiles, automotive parts, construction, agriculture, energy (wind generator protection from freezing, self-cleaning solar cells), optical and microelectronic devices (cameras, mobile phones, lenses, optical sensors), and the maritime industry (anti-fractional and anticorrosion protection of propeller screws).
Currently three methods are known to increase the hydrophobicity of a surface: the chemical method, the application of the lotus effect, and the SLIP effect. It is possible to use various combinations of the above-listed methods.
Note that despite the abundance of methods of obtaining superhydrophobic surfaces, few among those using carbon nanomaterials receive industrial implementation. This is the reason for finding a simple method of application of superhydrophobic coatings with a low cost of production costs.
2. Materials and Methods
Carbon nanotubes (CNTs) are non–polar hydrophobic structures with a high aspect ratio. They are strong, wear–resistant objects, have high thermal and electrical conductivity, as well as prone to the formation of porous agglomerates with a developed surface. Such characteristics allow to provide the required hydrophobic properties of the object and open up a wide field for experiments. Note that today the lowest cost, and, therefore, the most popular (in the applied sense) method for the synthesis of CNT is the CVD method. The cost of the MWCNT obtained by this method today may be less than one dollar per gram, which in turn opens the opportunities to the applied aspect of their use and the commercialization of materials with their participation. To prepare and study the properties of superhydrophobic surfaces, the authors used the MWCNTs obtained by the CVD method CNTs were manufactured by the «NanoTechCenter» company, Tambov, Russia. Characteristics are shown in
Table 1
.
2.1. Xerogel Preparation
To study the dependence of the wetting angle on the size of the CNT agglomerate, powder was prepared from milled xerogel based on CNTs. The advantage of this kind of approach is due to the good strength of its micrograins and the constancy of the morphology, which is weakly dependent on external influences.
The xerogel was prepared from Taunit–M and Taunit–MD nanotubes. Xerogel based on Taunit CNTs has not been studied due to its high brittleness. The high aspect ratio of CNTs allows the production a xerogel even without the use of a binder polymer. For this purpose, a dispersed solution of MWCNT in isopropyl/ethanol alcohol was prepared in a ratio of 1:1 by volume. Next, the nanotubes were subjected to ultrasonic dispersion with constant stirring for an hour. The resulting mass was dried for 5–6 days at room temperature under vacuum. At the final stage, the xerogel was cut into small pieces and dried at 80 degrees for about 5 h. To obtain crumbs of fractions, the xerogel was milled in a mortar and sieved through a set of sieves.
2.2. Obtaining the Coating
The coating was applied the following way: portions of powder (milled xerogel) were sprinkled over two steel samples covered with carbon adhesive tape, then the samples were pressed to each other, and the powder was milled in smooth movements until a uniform coating was formed.
Moreover, a series of samples was obtained through sticking CNT agglomerate to the carbon adhesive tape without grinding in order to identify the main factors determining the properties of the coating. The agglomerate powder was sprinkled over the viscous coating over and over; agglomerates that remained unstuck deflated. The process was repeated until a uniform layer was formed. Another series of samples made of CNT agglomerates was obtained similarly to the xerogel coating. For visual reference,
Figure 1
shows both methods of applying.
The coated sample was a 3 cm by 3 cm. Similar samples with a steel base were used to measure superhydrophobic and anti-icing properties. A polyacrylic insulator was used as a basis of the sample to determine the resistivity of the coating.
2.3. Wetting Angle Measurements
The hydrophobicity of the final product surface was measured on a Drop Shape Analyzer—DSA20E (KRÜSS GmbH, Hamburg, Germany). The measuring method of the water contact angle and slip start angle is sessile drop method. For that purpose, we measured the characteristics in 10 random spots of 3 similar samples, and after that the obtained data were averaged. Distilled water served as a liquid. The volume of the droplet was 10 microliters.
2.4. Icing
Figure 2
demonstrates schematic illustration of the facility for measuring icing speed. Two samples (regular stainless steel and stainless steel with a superhydrophobic coating) were fixed on a Peltier element and inclined to the horizon at an angle of 55°. The samples were cooled down to the temperatures of −5 °C and −15 °C. A series of droplets with a total volume of 0.1 ± 0.05 mL of water was put in the center of a sample using a microburet. The droplets rolled off the surface of a sample into a special cuvette, their mass was measured to within 0.002 g. Then the next portion of water was put on the sample. The cycle was repeated multiple times, the mass of the water in the cuvette determined the mass of the liquid frozen on the surface of the sample. The experiment was repeated twice, and then the dependence of the icing mass on the mass of poured droplets was averaged. The coating for the study of anti-icing properties was obtained from xerogel based on "Taunit-MD" CNTs and ethanol.
2.5. SLIPS Effect
The samples were moistened by lubricant (perfluorodecalin), and then the water contact angle and the slip start angle on the processed surface were measured. The amount of lubricant was x g per cm2. This procedure was applied both to qualitative samples based on Taunit-MD and ethanol and to several samples with defective coatings. "Defective" samples signify samples with various mechanical surface damage that caused a sharp increase of the slip start angle. As a result, the samples lost superhydrophobicity. The damage was inflicted because of a violation sample production method or appeared during its handlingThe slip start angle on defective samples was measured in 10 different spots of each sample and after that the data were averaged.
2.6. Conductivity of the Samples
The surface resistivity of the samples was measured through direct evaluation using an OA 3201 laboratory ohmmeter (ElectronPribor ltd, Fryazino, Russia). Electrodes were pressed against the opposite sides of the coating. The measurements were carried out 10 times for various samples of the same type and after that the data were averaged. The coating was obtained from xerogel based on "Taunit-MD" CNTs and ethanol.
2.7. Scanning Electron Microscopy
A Tescan VEGA 3 SBH scanning electron microscope (TESCAN orsay holding, a.s., Brno, Czech Republic) was used for obtaining pictures. The microscope is equipped with a tungsten thermoemission cathode. The pictures were obtained with a voltage of 5 kV and an Everhart-Thornley detector of secondary electrons (YAG crystal) in a high-vacuum mode (9 × 10−3 Pa).
3. Results and Discussion
4. Conclusions
In this study, a simple approach was proposed to obtain a superhydrophobic surface by applying CNT agglomerates from milled xerogel. Hierarchical multiscale was formed by means of both CNT agglomerates at the microscale and MWCNTs themselves at the nanoscale. This allowed us to obtain a superhydrophobic coating with a water contact angle of approximately 156° at the droplet inclination angle of 3.6°. During tests the coating held a droplet for nearly 4 h before its drying.
According to its characteristics, the proposed approach to create a superhydrophobic coating based on carbon nanoparticles is competitive with most of the methods presented in the review. Moreover, the suggested method of application (sticking prepared xerogel particles with a specific morphology to the prepared surface) is very different from others and gives a complex effect.
Growing a nanotube forest is a complex task requiring specialist equipment, high temperatures, and it can be done with a limited amount of materials. Transferring the completed "CNT forest" to the protected surface is also a difficult task. Moreover, vertically-oriented CNTs rarely touch each other and, as a result, the conductivity and sorption properties of the coating are not as high as desired. In the case of condensation of moisture or frost on the side surface of the CNT, the array also loses superhydrophobic or anti-icing properties.
Our approach allows you to work with any type of surface (you only need to choose an adhesive layer with an acceptable level of adhesion) and does not require special conditions for the growth of CNTs. The complexity of the approach does not significantly exceed the methods based on the application of CNT dispersions, but it allows to obtain a higher level of conductivity and sorption capacity.
An analysis of the experimental data allows to make the following conclusions:
Good conductivity will allow to remove a static charge and to carry out induction heating of the surface. This effect can be applied, for example, to wind generators blades working under icing conditions. The resulting material based on CNT can provide superhydrophobic properties. No special conditions are required for its application to protected objects, and the possibility of applying the coating to a certain material itself is determined by the existence of a viscous glue for this material with good adhesion to carbon.
Author Contributions
M.E., A.G. and S.K. conceived and designed the experiments. A.G., Y.T. and S.K. conducted the experiments. M.E., A.G. and S.K. analyzed and interpreted the data. All authors contributed to the writing and editing of the manuscript.
Funding
This research was funded by the Ministry of Education and Science of the Arkhangelsk region as part of the "Young scientists of Pomorya" science project competition, grant number 16-2019-02a and by Russian Foundation for Basic Research, project number 17-42-290138.
Acknowledgments
We express gratitude to Ekaterina Shusherina for providing advice regarding graphic material presentation.
Conflicts of Interest
The authors declare no conflict of interest.

Figure 1. Two application methods: on the left is the method of dipping the sample into agglomerates (Stage A—applying the adhesive layer to the surface, B—dipping the sample into agglomerates, C—blowing off non-fixed CNTs), on the right is the xerogel grinding method (Stage A—applying xerogel powder to the prepared sample, stage B—grinding the powder until a homogeneous layer is formed).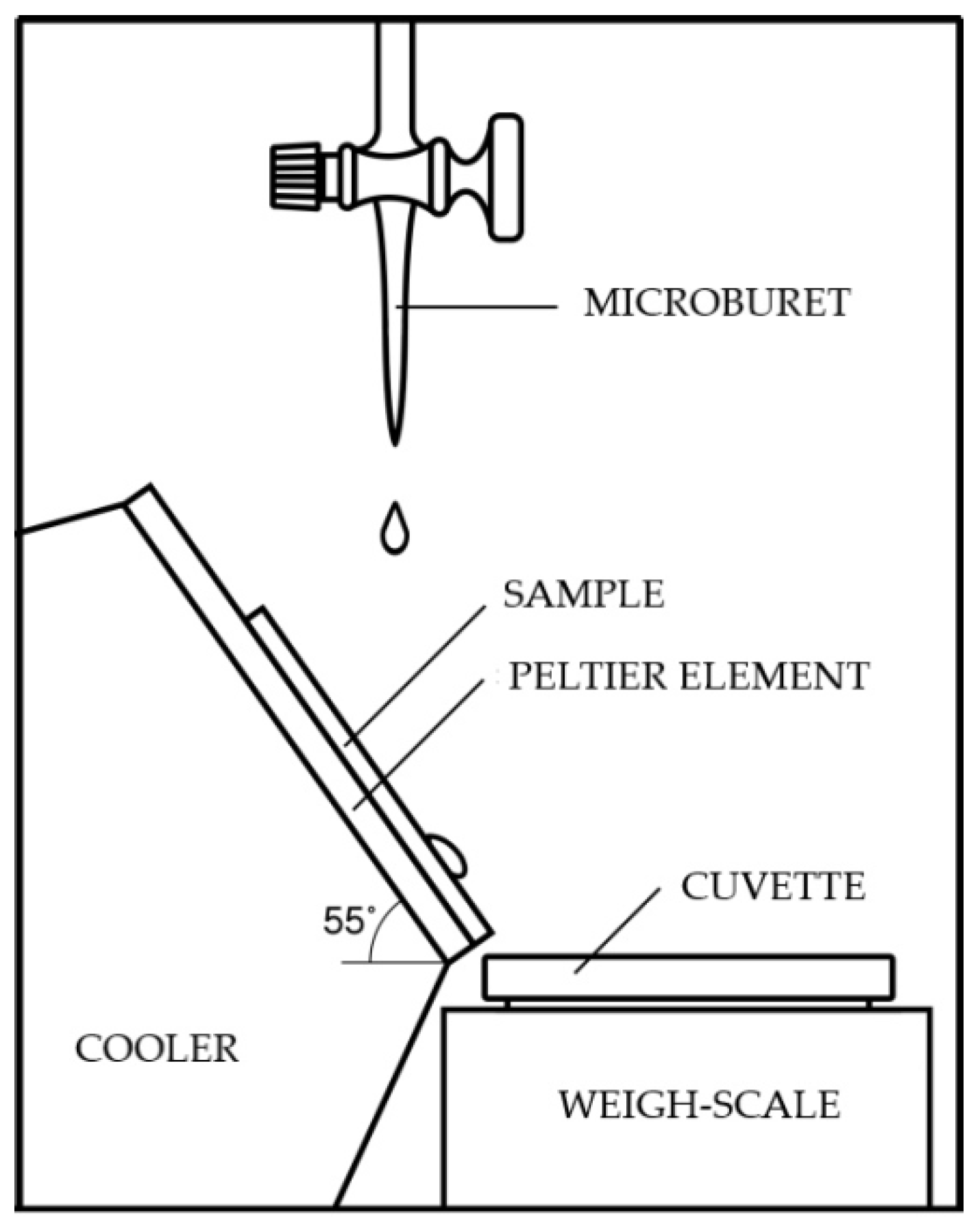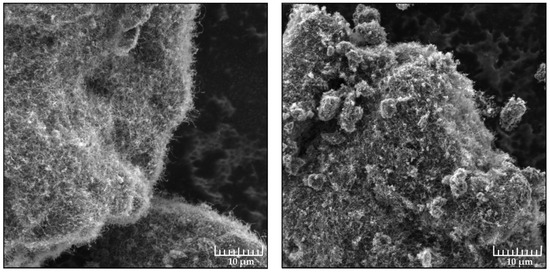 Figure 3. Hydrophobic coating based on Taunit CNT agglomerates. Left side shows application through sticking, right side demonstrates application through grinding. The image was obtained through a Tescan Vega 3 scanning electron microscope.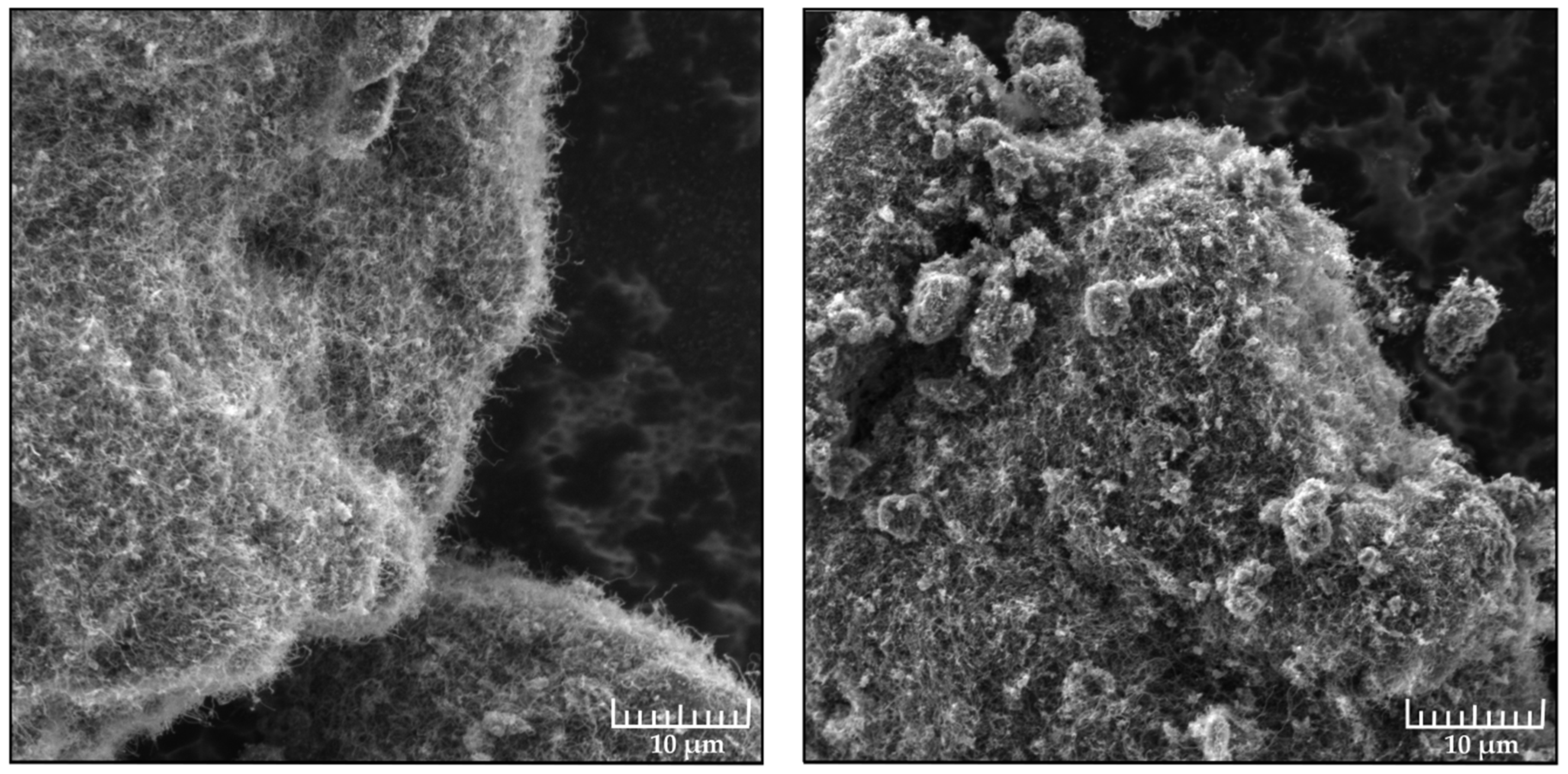 Figure 4. On the left is the image of drop on the best sample (water contact angle 159 degrees), on the right is the xerogel applied on the metal plate.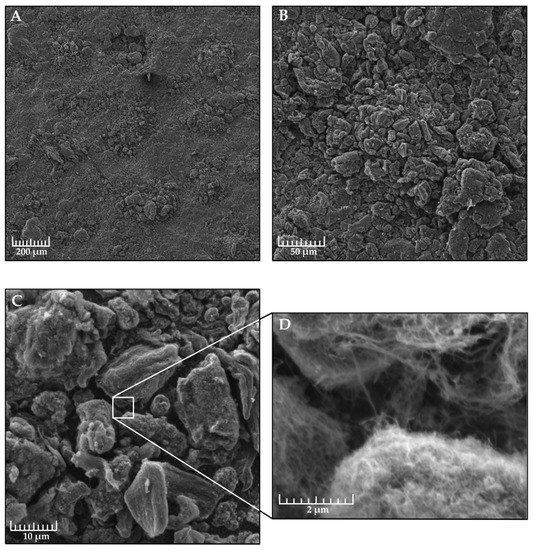 Figure 5. Superhydrophobic surface at various zoom degrees. The sample is made of xerogel based on Taunit-MD CNTs and ethanol, the fraction size equals 0.125–0.100 mm. Section A—200 times magnification, a coating defect is visible at the top. At these points, the development of icing begins. Section B—magnification 1000 times. Section C—10,000 times. Section D—an increase of 40,000 times, individual CNTs are visible. The image was obtained through a Tescan Vega 3 scanning electron microscope.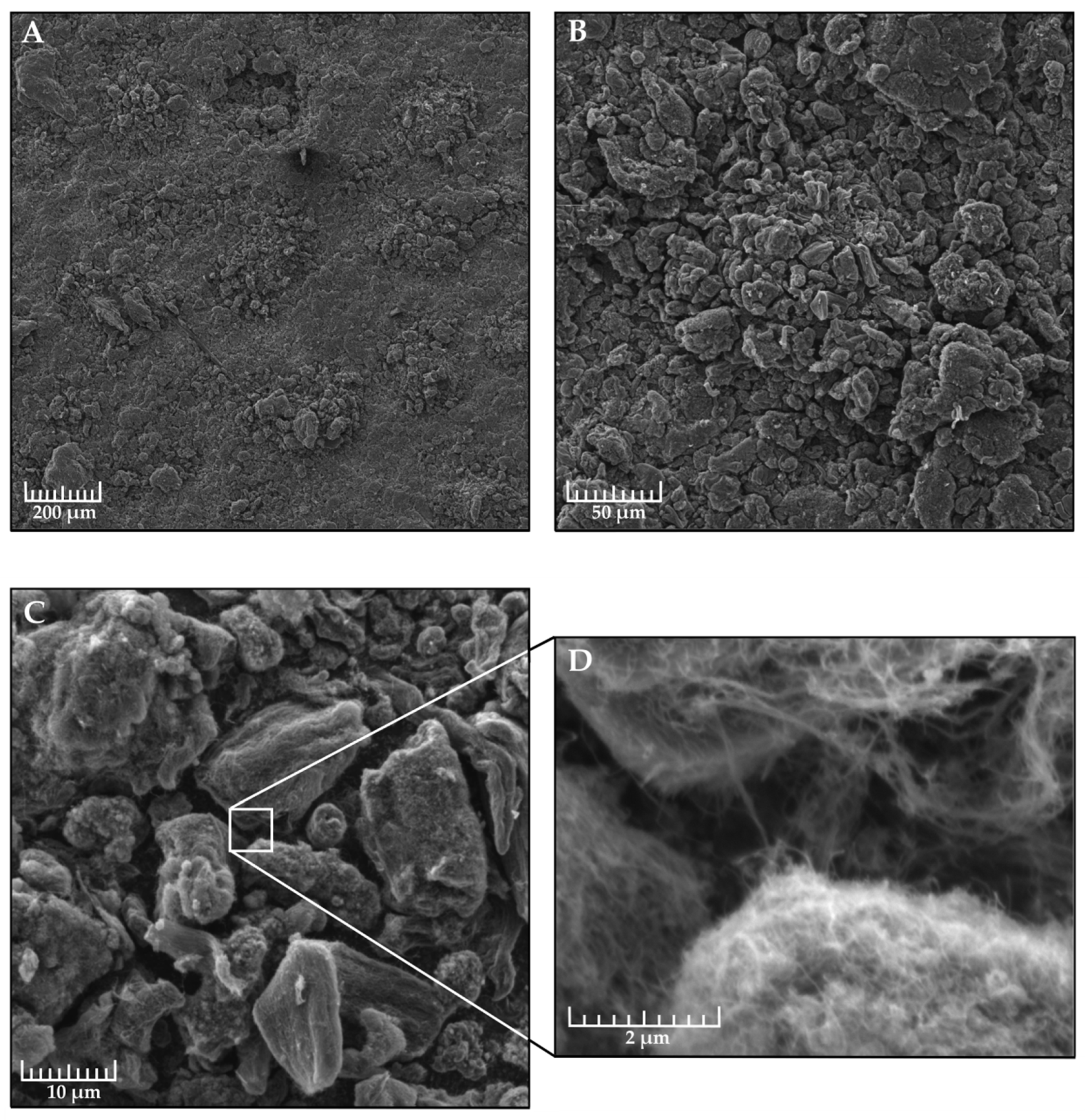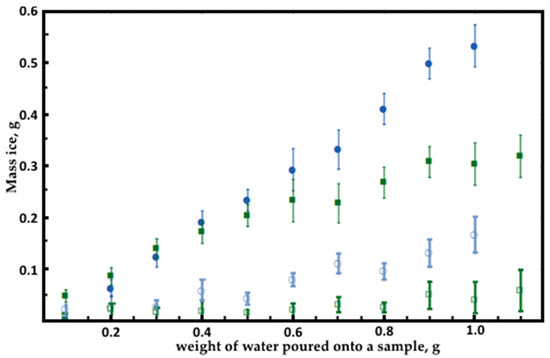 Figure 6. Icing mass on samples depending on the amount of water poured onto them. Filled marks signify steel samples; empty marks denote samples with coatings of xerogel based on Taunit-MD and ethanol (with a fraction of 0.125–0.100 mm). Blue marks correspond to samples cooled down to −15 °C, green marks represent samples cooled down to −5 °C. The data presented are an average of three measurements.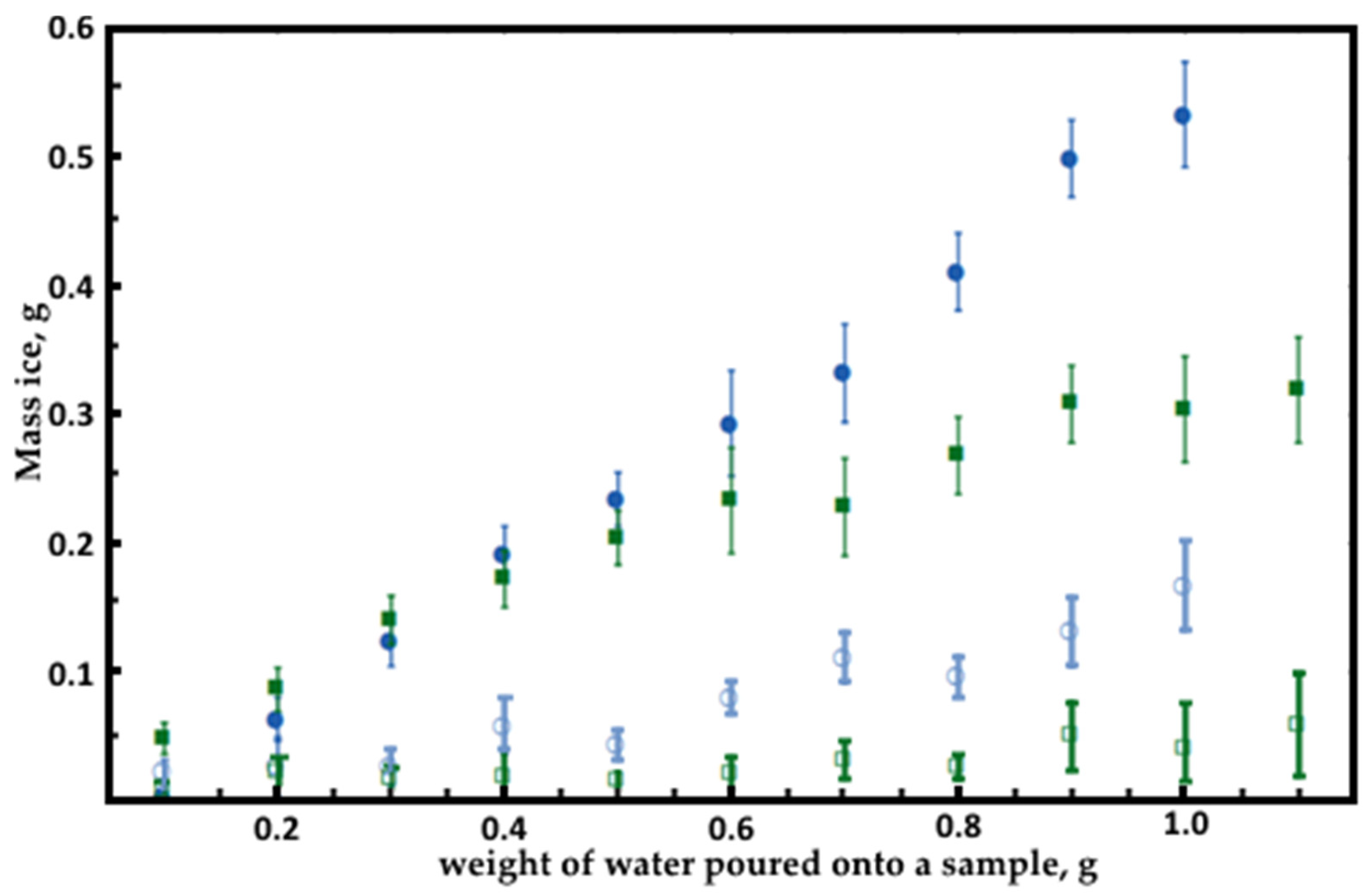 | Characteristic | Taunit | Taunit–M | Taunit–MD |
| --- | --- | --- | --- |
| Outer diameter, nm | 20–50 | 10–30 | 8–30 |
| Internal diameter, nm | 10–20 | 5–15 | 5–15 |
| Length, μm  | ≥2 | ≥2 | ≥20 |
| The total amount of impurities, % | ≤10 | ≤5 | ≤5 |
| Specific surface, m2/g | ≥160 | ≥270 | ≥270 |
| Bulk density, g/cm3 | 0.3–0.6 | 0.025–0.06 | 0.025–0.06 |
| Cost, dollar per gram | 0.2 | 1.5 | 1.5 |
| Model | Application through Sticking | Application through Grinding |
| --- | --- | --- |
| Taunit | 110.7° ± 10.8° | 135.1° ± 4.8° |
| Taunit-М | 121.1° ± 8.3° | 143.7° ± 4.1° |
| Taunit-МD | 127.0° ± 6.4° | 146.0° ± 3.4° |

Table 3. Influence of the fraction size and the dissolvent type on the hydrophobic properties of the coating.
Xerogel Material
Taunit-M and Isopropanol
Taunit-MD and Isopropanol
Taunit-M and Ethanol
Fraction Size, mm
Water Contact Angle, °
Slip Start Angle, °
Water Contact Angle, °
Slip Start Angle, °
Water Contact Angle, °
Slip Start Angle, °
0.350–0.250
143.5 ± 3.3
15.0 ± 8.5
144.8 ± 2.1
10.5 ± 5.0
151.5 ± 2.2
12.6 ± 5.6
0.250–0.140
145.9 ± 1.9
12.7 ± 6.2
147.2 ± 1.9
9.1 ± 5.2
153.8 ± 2.8
5.1 ± 1.5
0.140–0.125
146.3 ± 1.2
9.3 ± 4.4
148.3 ± 1.7
8.0 ± 1.0
155.9 ± 1.5
3.7 ± 1.8
0.125–0.100
147.2 ± 0.5
5.1 ± 2.2
150.5 ± 0.6
4.4 ± 0.4
155.6 ± 1.1
3.6 ± 1.2
0.100–0.071
146.3 ± 1.1
5.3 ± 2.8
148.8 ± 0.9
4.7 ± 1.5
155.6 ± 1.0
3.7 ± 1.1

Table 4. Slip start angle of mechanically damaged samples before and after applying the perfluorodecalin as a lubricant.
Slip Start angle, °
Before Applying the Lubricant
The droplet doesn't slide
88.2 ± 12.5
41.9 ± 15.7
36.2 ± 13.2
25.2 ± 15.1
19.9 ± 5.7
14.3 ± 4.5
After Applying the Lubricant
6.4 ± 2.5
6.3 ± 1.2
4.5 ± 1.4
2.5 ± 1.1
6.3 ± 2.1
7.0 ± 1.8
3.4 ± 1.7

Table 5. Properties of a sample with a hydrophobic coating of Taunit-MD and ethanol (a fraction of 0.100–0.125 mm) before and after applying the lubricant and after drying the lubricant.
| Sample | Water Contact Angle | Slip Start Angle |
| --- | --- | --- |
| Before applying perfluorodecalin | 157.7 ± 1.4 | 4.7 ± 1.8 |
| With perfluorodecalin | 102.0 ± 0.9 | 2.5 ± 0.6 |
| After drying perfluorodecalin | 154.5 ± 2.7 | 5.6 ± 1.9 |
| | | | | | |
| --- | --- | --- | --- | --- | --- |
| Fraction size, mm | 0.100–0.071 | 0.125–0.100 | 0.140–0.125 | 0.250–0.140 | 0.350–0.250 |
| Resistance, kOhm/sm2 | 0.47 ± 0.03 | 0.44 ± 0.05 | 0.35 ± 0.03 | 0.34 ± 0.01 | 0.29 ± 0.02 |

© 2019 by the authors. Licensee MDPI, Basel, Switzerland. This article is an open access article distributed under the terms and conditions of the Creative Commons Attribution (CC BY) license (http://creativecommons.org/licenses/by/4.0/).