Open Access This article is
freely available
re-usable
Communication
New Polymers for Needleless Electrospinning from Low-Toxic Solvents
1
Faculty of Engineering and Mathematics, Bielefeld University of Applied Sciences, 33619 Bielefeld, Germany
2
Faculty of Physics, Bielefeld University, 33615 Bielefeld, Germany
3
Faculty of Mechanical Engineering, Paderborn University, 33098 Paderborn, Germany
*
Author to whom correspondence should be addressed.
Received: 29 November 2018 / Accepted: 27 December 2018 / Published: 2 January 2019
Abstract
:
Electrospinning is a new technology whose scope is gradually being developed. For this reason, the number of known polymer–solvent combinations for electrospinning is still very low despite the enormous variety of substances that are potentially available. In particular, electrospinning from low-toxic solvents, such as the use of dimethyl sulfoxide (DMSO) in medical technology, is rare in the relevant scientific literature. Therefore, we present in this work a series of new polymers that are applicable for electrospinning from DMSO. From a wide range of synthetic polymers tested, poly(vinyl alcohol) (PVOH), poly(2ethyl2oxazolene) (PEOZ), and poly(vinylpyrrolidone) (PVP) as water-soluble polymers and poly(styrene-co-acrylonitrile) (SAN), poly(vinyl alcohol-co-ethylene) (EVOH), and acrylonitrile butadiene styrene (ABS) as water-insoluble polymers were found to be suitable for the production of nanofibers. Furthermore, the influence of acetone as a volatile solvent additive in DMSO on the fiber morphology of these polymers was investigated. Analyses of the fiber morphology by helium ion microscopy (HIM) showed significantly different fiber diameters for different polymers and a reduction in beads and branches with increasing acetone content.
Keywords:
electrospinning; nanofiber; polymer solution; acetone; DMSO; water-soluble polymers
1. Introduction
Here, we report on the first electrospinning experiments on these polymers, indicating that most of them can be electrospun from DMSO solutions as a low-toxic alternative to the aforementioned solvents or water.
2. Materials and Methods
Electrospinning was performed using the wire-based electrospinning machine Nanospider Lab (Elmarco, Liberec, Czech Republic). Depending on the polymer used, a voltage between 60 and 80 kV and a carriage speed between 50 and 150 mm/s was applied. Nozzle diameter of 0.8 mm, spinning time of 20 min, and distance between the electrode wires of 240 mm were kept the same for all experiments. The relative humidity in the spinning chamber was 34%, and the temperature during spinning was 23 °C.
3. Results and Discussion
The investigated polymers that could not be easily electrospun from DMSO were acrylonitrile styrene acrylate (ASA), polyamide (PA, amorphous copolyamide from ε-caprolactam, hexane-1,6-diamine, hexanedioic acid, and 4,4-diaminodicyclohexylmethane), polycarbonate (PC, based on bisphenol A and phosgene), poly(vinyl chloride) (PVC), and poly(methyl methacrylate) (PMMA). This is not to say that these polymers are fundamentally not applicable for electrospinning from DMSO. It has been found that some of the tested polymers, such as PVC or PA, although soluble at higher temperatures, thicken or jelly at room temperature. A heated solvent container, for example, could solve this problem. It is also possible that the specific brands used here are not soluble in sufficiently high concentrations to be electrospun. As has already been shown by various publications, the spinnability and the morphology of the fibers depend strongly on the molecular weight and the solvent used. As the name of the polymers does not in itself say anything about properties such as molecular weight distribution, crystallinity (even most amorphous polymers have some degree of crystallinity), degree of branching and crosslinking, or moisture content, it is quite possible that the polymers mentioned here are applicable under other conditions. However, extensive investigations would be required for each individual polymer to determine this, and as this work focuses on providing a rough overview of new, applicable polymers to encourage new studies in the field, this will not be discussed any further.
The measured values are essentially consistent with literature values for these or similar polymers. What is common to all polymers used here is their high polar content of surface free energy. As the polarity of the polymers determines the orientation in the electric field, it is not surprising that polar polymers are the most suitable for use in the electrospinning process. The values measured here are rather high compared to most other industrially used polymers.
The morphology of the water-insoluble polymers, i.e., ABS, EVOH, and SAN, turned out to be much more difficult to characterize compared to the water-soluble polymers, i.e., PEOZ, PVOH, and PVP. The reason for this is because it has been found that the resulting nanofiber mats are very inhomogeneous in small scales, which makes it difficult to genuinely generate representative mappings. A potential reason for this could be a broader molecular weight distribution of the polymers, which could not be further investigated in this work. To address this issue, further investigations of the process parameters and solution compositions will be necessary.
4. Conclusions
From a variety of tested polymers, several polymers that can be spun from DMSO have been presented in this paper. Some of these polymers have already been tested in other studies for the production of nanofibers from toxic solvents. Finding new polymers or new solvents for known polymers opens up many possibilities for further studies. The solvent not only has a significant influence on spinnability and fiber morphology but also has the potential for future application in medicine and food technology.
Moreover, it has been found that the critical minimum concentration,
c
e
, of a polymer solution for producing nanofibers can be reduced by the addition of a volatile solvent, resulting in an increased average fiber diameter. In addition, the results suggest that the supplementation of acetone has a positive effect on the homogeneity of the fiber morphology, reducing the number of beads and branches. As this effect could be observed in all polymers studied, it is quite conceivable that the addition of a volatile solvent, such as acetone, has a positive effect on nanofibers from other polymers too. A further increase in acetone, however, is not permitted, at least with the system used here, for safety reasons because the flashpoint of the solvent must not be further reduced to values near room temperature.
There are countless applications for different nanofiber materials that are currently being discussed. In particular, water-soluble nanofibers are gaining increasingly more attention. To name just a few possible applications, as demonstrated in Reference [
25
], nanofibers from polymer blends can be used to make highly porous nanofibers by selectively removing a component of the blend; as examined in Reference [
37
], amongst others, nanofibers are used as removable core templates for various nanotubes; and as described in Reference [
38
], they are used as oral, fast-dissolving drug delivery membranes for medical use.
In future investigations, it will be necessary to carry out detailed parameter studies for the new polymer/solvent combinations to examine the correlation between process parameters and fiber morphology. For further investigations it is planned to determine the exact
c
e
values of the respective polymers as well as their correlation with the acetone content.
Author Contributions
Conceptualization, M.W. and N.F.; methodology, M.W. and N.F.; formal analysis, M.W. and N.F.; investigation, M.W., N.F., L.S., and R.P.; resources, A.G., E.M., B.H., A.E.; writing—original draft preparation, M.W. and A.E.; writing—review and editing, all authors; visualization, M.W., N.F., and A.E.; supervision, M.W.
Funding
This research was partly funded by the Ministry of Culture and Science of the German State of North Rhine-Westphalia, grant number 005-1703-0034, and the European Regional Development Fund (EFRE), project "Tredico".
Acknowledgments
We acknowledge the financial support of the German Research Foundation (DFG) and the Open Access Publication Fund of Bielefeld University of Applied Sciences for the Article Processing Charge.
Conflicts of Interest
The authors declare no conflict of interest.
Figure 1. Helium ion microscope (HIM) images of acrylonitrile butadiene styrene (ABS), poly(vinyl alcohol-co-ethylene) (EVOH), and poly(styrene-co-acrylonitrile) (SAN) nanofibers spun from different DSMO:acetone weight proportion of (a,d,g) 100:0, (b,e,h) 90:10, and (c,f,i) 80:20, with respective histograms of fiber diameter distributions.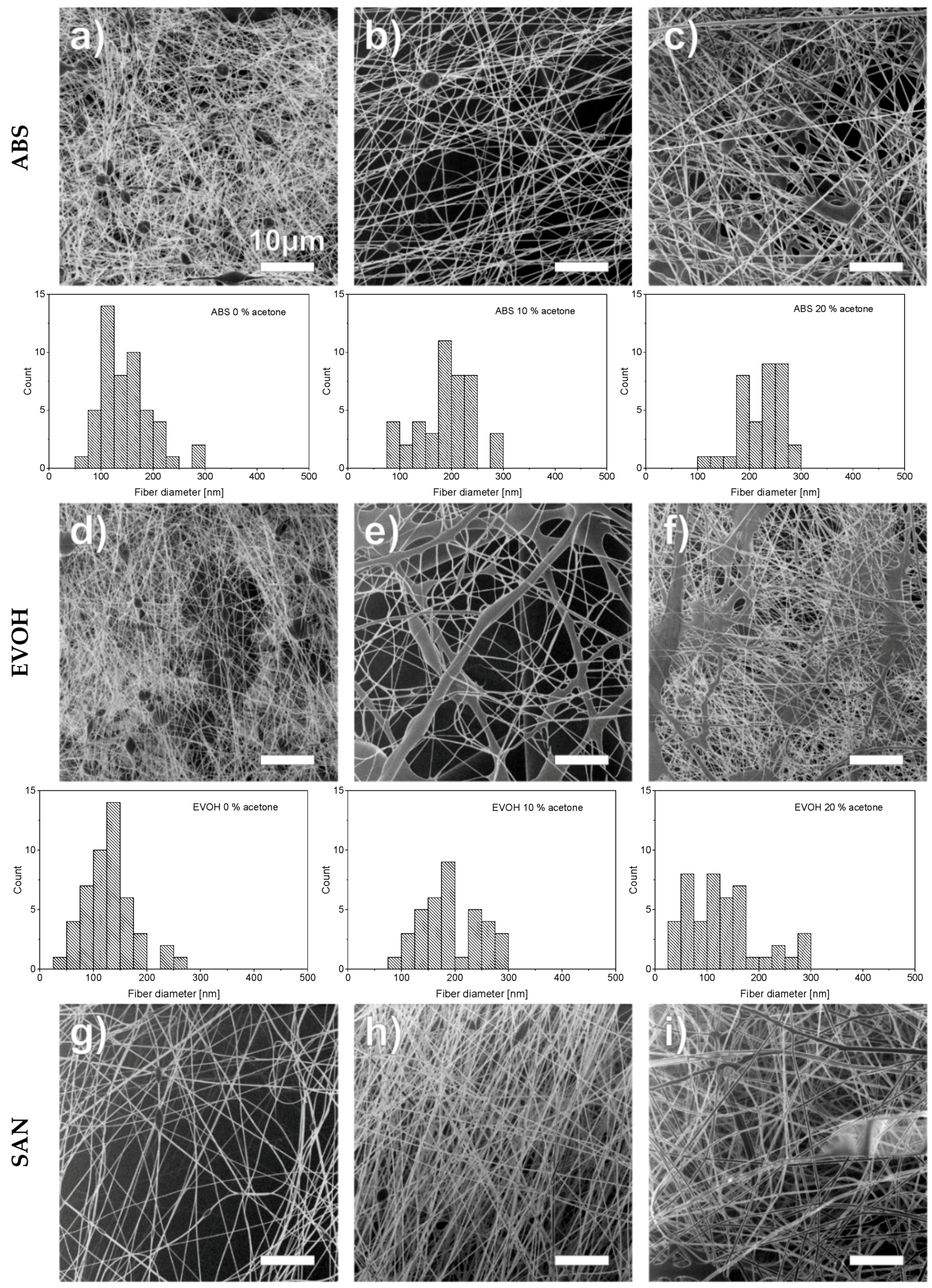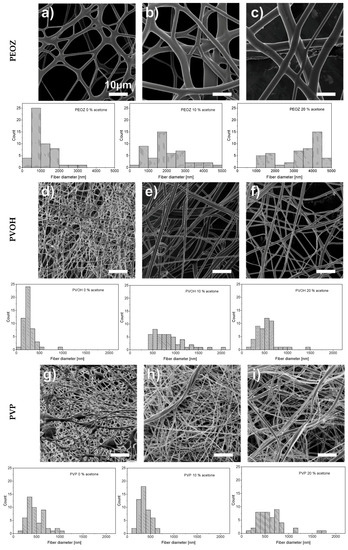 Figure 2. HIM images of poly(2ethyl2oxazolene) (PEOZ), poly(vinyl alcohol) (PVOH), and poly(vinylpyrrolidone) (PVP) nanofibers spun from different DSMO:acetone weight proportion of (a,d,g) 100:0, (b,e,h) 90:10, and (c,f,i) 80:20, with respective histograms of fiber diameter distributions.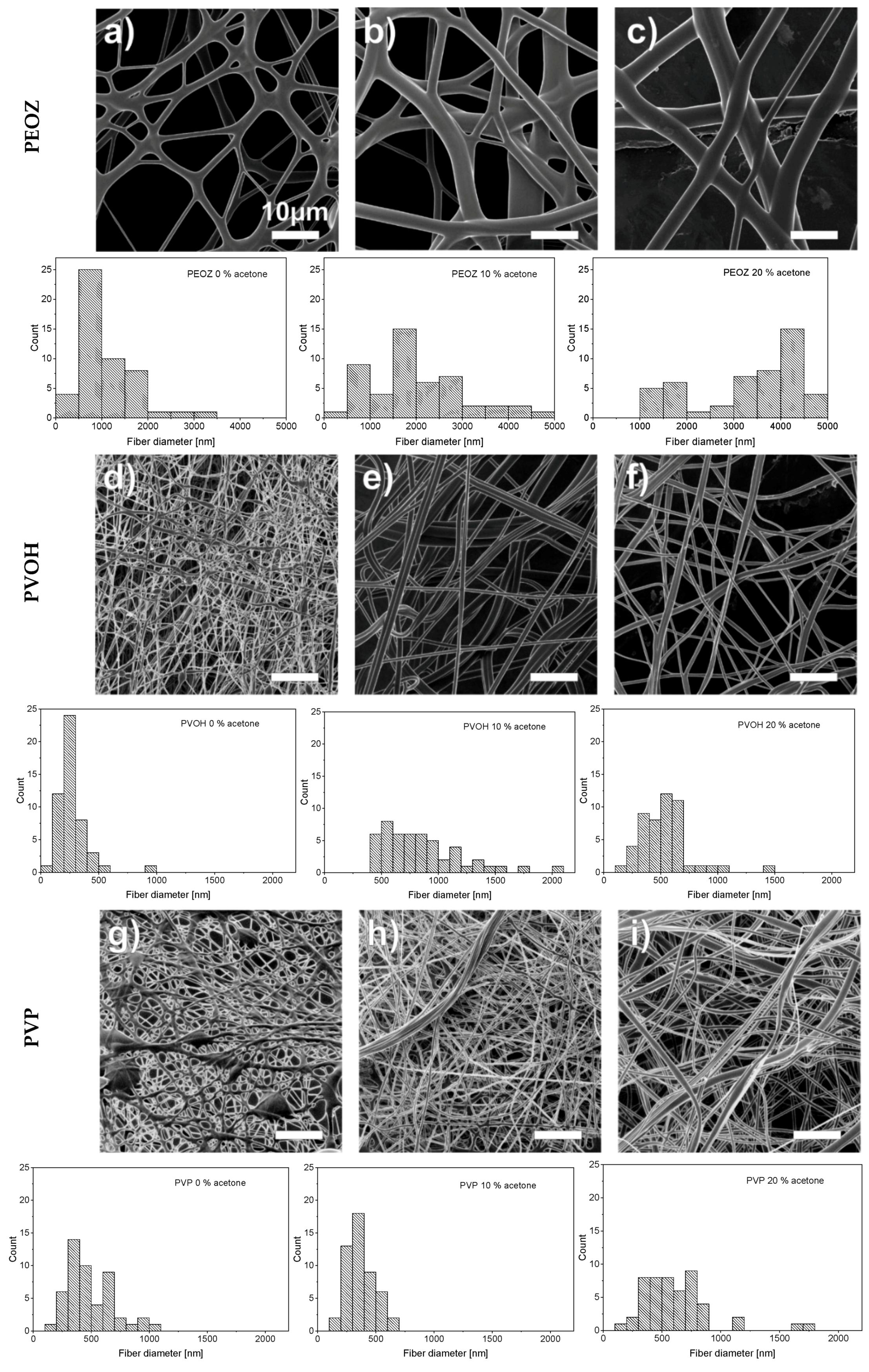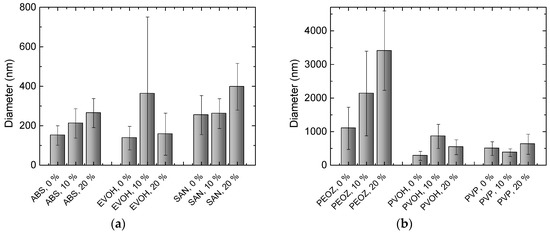 Figure 3. Average diameters of nanofibers electrospun (a) from different water-insoluble polymers; (b) from different water-soluble polymers.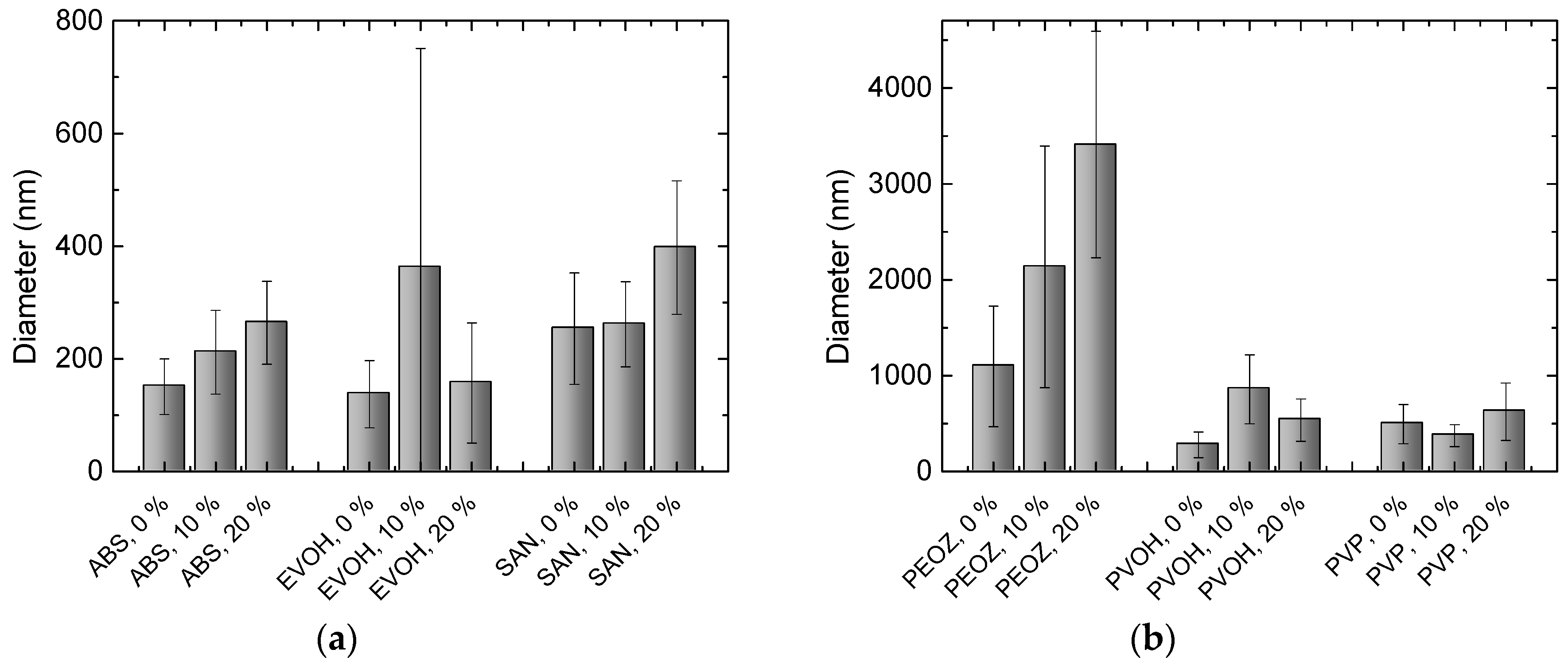 Table 1. Polymers used for electrospinning and their respective molecular weight and concentration in the polymer solution.
| Abbreviation | Polymer | Supplier | MW (g/mol) | Concentration (wt%) |
| --- | --- | --- | --- | --- |
| PVOH | poly(vinyl alcohol) | Nippon Gohsei | 20,000 | 30 |
| PEOZ | poly(2ethyl2oxazolene) | Kremer Pigmente | 200,000 | 40 |
| PVP | poly(vinylpyrrolidone) | Sigma Aldrich | 360,000 | 20 |
| SAN | poly(styrene-co-acrylonitrile) | Sigma Aldrich | 165,000 | 22 |
| EVOH | poly(vinyl alcohol-co-ethylene) | Sigma Aldrich | n/a 1 | 20 |
| ABS | acrylonitrile butadiene styrene | INEOS | n/a | 25 |
Polymers
Total Surface Free Energy (mN/m)
Polar (mN/m)
Disperse (mN/m)
M 1
SD 2
PVOH *
37 [32]
n/a
n/a
n/a
PEOZ
41.86
0.80
15.21
26.65
PVP
44.72
0.81
16.25
28.47
SAN
42.82
0.76
4.07
38.75
EVOH
38.57
0.90
9.65
28.92
ABS
41.51
0.65
7.06
34.45
1 M = Mean, 2 SD = Standard Deviation; * PVOH could not be measured with the given test liquids due to the immediate interactions between the surface and the droplet.

© 2019 by the authors. Licensee MDPI, Basel, Switzerland. This article is an open access article distributed under the terms and conditions of the Creative Commons Attribution (CC BY) license (http://creativecommons.org/licenses/by/4.0/).