Engineering Charge Transfer Characteristics in Hierarchical Cu2S QDs @ ZnO Nanoneedles with p–n Heterojunctions: Towards Highly Efficient and Recyclable Photocatalysts
1
School of Materials Science and Engineering, Changchun University of Science and Technology, Changchun 130022, China
2
Engineering Research Center of Optoelectronic Functional Materials, Ministry of Education, Changchun 130022, China
3
Changchun Institute of Optics, Fine Mechanics and Physics, Chinese Academy of Sciences, Changchun 130033, China
4
School of Engineering and Architecture, Northeast Electric Power University, Jilin City 132012, China
5
School of Materials Science and Engineering, Jilin University, Changchun 130025, China
6
Quality and Reliability Assurance Department, GLOBALFOUNDRIES (Singapore) Pte. Ltd., 60 Woodlands Industrial Park D, Street 2, Singapore 738406, Singapore
*
Authors to whom correspondence should be addressed.
Received: 21 November 2018 / Revised: 18 December 2018 / Accepted: 19 December 2018 / Published: 23 December 2018
Abstract
Equipped with staggered gap p-n heterojunctions, a new paradigm of photocatalysts based on hierarchically structured nano-match-shaped heterojunctions (NMSHs) Cu
2
S quantum dots (QDs)@ZnO nanoneedles (NNs) are successfully developed via engineering the successive ionic layer adsorption and reaction (SILAR). Under UV and visible light illumination, the photocatalytic characteristics of Cu
2
[email protected]
heterojunctions with different loading amounts of Cu
2
S QDs are evaluated by the corresponding photocatalytic degradation of rhodamine B (RhB) aqueous solution. The results elaborate that the optimized samples (S3 serial specimens with six cycles of SILAR reaction) by means of tailored the band diagram exhibit appreciable improvement of photocatalytic activities among all synthesized samples, attributing to the sensitization of a proper amount of Cu
2
S QDs. Such developed architecture not only could form p–n junctions with ZnO nanoneedles to facilitate the separation of photo-generated carries but also interact with the surface defects of ZnO NNs to reduce the electron and hole recombination probability. Moreover, the existence of Cu
2
S QDs could also extend the light absorption to improve the utilization rate of sunlight. Importantly, under UV light S3 samples demonstrate the remarkably enhanced RhB degradation efficiency, which is clearly testified upon the charge transfer mechanism discussions and evaluations in the present work. Further supplementary investigations illustrate that the developed nanoscale Cu
2
[email protected]
heterostructures also possess an excellent photo-stability during our extensive recycling photocatalytic experiments, promising for a wide range of highly efficient and sustainably recyclable photocatalysts applications.
View Full-Text
►

▼

Figures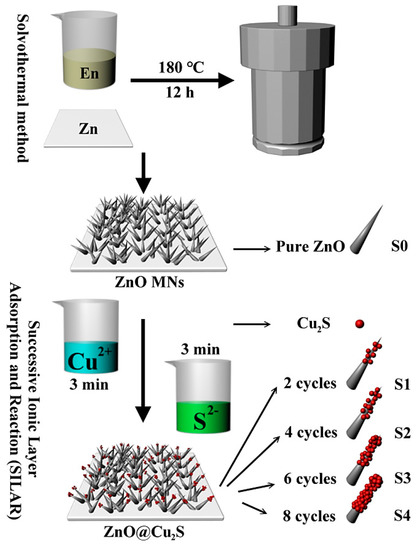 Figure 1
This is an open access article distributed under the
Creative Commons Attribution License
which permits unrestricted use, distribution, and reproduction in any medium, provided the original work is properly cited (CC BY 4.0).

Share & Cite This Article
MDPI and ACS Style
Han, D.; Li, B.; Yang, S.; Wang, X.; Gao, W.; Si, Z.; Zuo, Q.; Li, Y.; Li, Y.; Duan, Q.; Wang, D. Engineering Charge Transfer Characteristics in Hierarchical Cu2S QDs @ ZnO Nanoneedles with p–n Heterojunctions: Towards Highly Efficient and Recyclable Photocatalysts. Nanomaterials 2019, 9, 16.
Note that from the first issue of 2016, MDPI journals use article numbers instead of page numbers. See further details here.
Related Articles
Comments
[Return to top]