Enhanced Photodynamic Anticancer Activities of Multifunctional Magnetic Nanoparticles (Fe3O4) Conjugated with Chlorin e6 and Folic Acid in Prostate and Breast Cancer Cells
1
Institute of Biomaterials, Kwangwoon University, Nowon-gu, Seoul 01897, Korea
2
Department of Medical Engineering, Dongguk University College of Medicine, Gyeonggi-do 10326, Korea
3
Department of Electrical & Biological Physics, Kwangwoon University, Nowon-gu, Seoul 01897, Korea
4
Department of Chemistry, Gangneung-Wonju National University, Gangneung 25457, Korea
*
Authors to whom correspondence should be addressed.
Received: 29 August 2018 / Revised: 10 September 2018 / Accepted: 12 September 2018 / Published: 13 September 2018
Abstract
Photodynamic therapy (PDT) is a promising alternative to conventional cancer treatment methods. Nonetheless, improvement of in vivo light penetration and cancer cell-targeting efficiency remain major challenges in clinical photodynamic therapy. This study aimed to develop multifunctional magnetic nanoparticles conjugated with a photosensitizer (PS) and cancer-targeting molecules via a simple surface modification process for PDT. To selectively target cancer cells and PDT functionality, core magnetic (Fe
3
O
4
) nanoparticles were covalently bound with chlorin e6 (Ce6) as a PS and folic acid (FA). When irradiated with a 660-nm long-wavelength light source, the Fe
3
O
4
-Ce6-FA nanoparticles with good biocompatibility exerted marked anticancer effects via apoptosis, as confirmed by analyzing the translocation of the plasma membrane, nuclear fragmentation, activities of caspase-3/7 in prostate (PC-3) and breast (MCF-7) cancer cells. Ce6, used herein as a PS, is thus more useful for PDT because of its ability to produce a high singlet oxygen quantum yield, which is owed to deep penetration by virtue of its long-wavelength absorption band; however, further in vivo studies are required to verify its biological effects for clinical applications.
View Full-Text
►

▼

Figures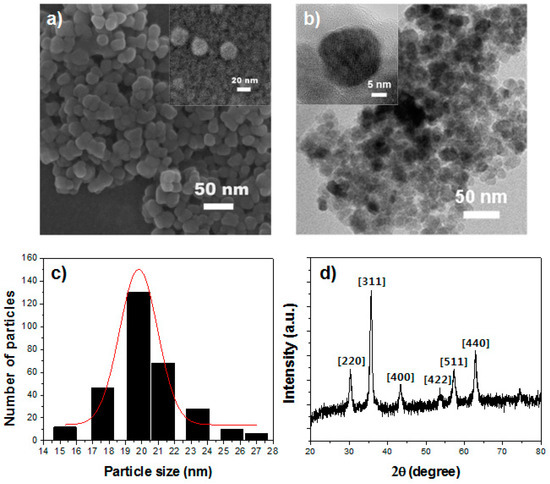 Figure 1
This is an open access article distributed under the
Creative Commons Attribution License
which permits unrestricted use, distribution, and reproduction in any medium, provided the original work is properly cited (CC BY 4.0).

Share & Cite This Article
MDPI and ACS Style
Choi, K.-H.; Nam, K.C.; Cho, G.; Jung, J.-S.; Park, B.J. Enhanced Photodynamic Anticancer Activities of Multifunctional Magnetic Nanoparticles (Fe3O4) Conjugated with Chlorin e6 and Folic Acid in Prostate and Breast Cancer Cells. Nanomaterials 2018, 8, 722.
Note that from the first issue of 2016, MDPI journals use article numbers instead of page numbers. See further details here.
Related Articles
Comments
[Return to top]