Self-Cleaning Properties of Electrospun PVA/TiO2 and PVA/ZnO Nanofibers Composites
1
Nano Fusion Technology Research Group, Division of Frontier Fibers, Institute for Fiber Engineering IFES- Interdisciplinary Cluster for Cutting Edge Research ICCER, Shinshu University, Tokida 3-15-1, Ueda, Nagano 386-8567, Japan
2
Faculty of Textile Engineering, National Textile University, Sheikhupura Road, Faisalabad 37610, Pakistan
3
Department of Textile Engineering, Faculty of Engineering, BUITEMS, Quetta 87300, Pakistan
4
Faculty of Textile Science and Technology, Shinshu University, Ueda Campus 386-8567, Japan
*
Author to whom correspondence should be addressed.
Received: 31 July 2018 / Revised: 7 August 2018 / Accepted: 19 August 2018 / Published: 22 August 2018
Abstract
In this report, polyvinyl alcohol/zinoxide (PVA/ZnO) & polyvinyl alcohol/titanium dioxide (PVA/TiO
2
) nanofibers were manufactured in three different concentrations of ZnO and TiO
2
NPs for the application of self-cleaning properties because metallic oxides, specifically ZnO & TiO
2
, have the properties to remove the contaminants by hydroxyl radical (OH
−1
), which degrades the contaminants into small molecules and finally into CO
2
and H
2
O. Therefore, these composites were manufactured by electrospinning. The resultant nanofibers were characterized for morphology by scan electron microscopy (SEM) & transmission electron microscopy (TEM), chemical interactions by Fourier-transform infrared (FT-IR) spectra, crystalline structure by X-ray diffraction (XRD) spectra water absorbency was evaluated by water contact angle, self-cleaning by solar simulator, and thermal degradation was done by thermogravimetric analysis (TGA) for the sake of nanoparticles the content. On the base of the characterization results it was concluded that these PVA/ZnO & PVA/TiO
2
nanofibers have self cleaning properties, but PVA/ZnO nanofibers have higher self-cleaning properties than PVA/TiO
2
nanofibers because PVA/ZnO nanofibers have 95% self-cleaning properties, which is higher than PVA/TiO
2
nanofibers.
View Full-Text
►

▼

Figures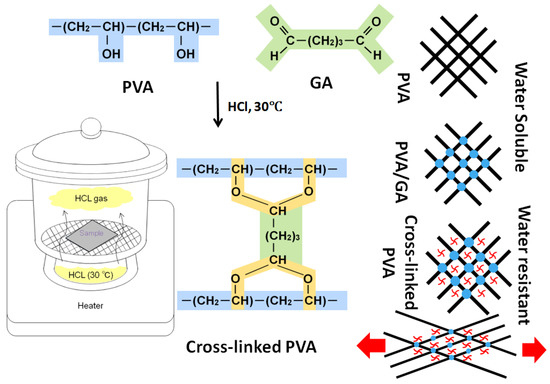 Figure 1
This is an open access article distributed under the
Creative Commons Attribution License
which permits unrestricted use, distribution, and reproduction in any medium, provided the original work is properly cited (CC BY 4.0).

Share & Cite This Article
MDPI and ACS Style
Khan, M.Q.; Kharaghani, D.; Ullah, S.; Waqas, M.; Abbasi, A.M.R.; Saito, Y.; Zhu, C.; Kim, I.S. Self-Cleaning Properties of Electrospun PVA/TiO2 and PVA/ZnO Nanofibers Composites. Nanomaterials 2018, 8, 644.
Note that from the first issue of 2016, MDPI journals use article numbers instead of page numbers. See further details here.
Related Articles
Comments
[Return to top]