Neurogenic Differentiation of Human Dental Pulp Stem Cells on Graphene-Polycaprolactone Hybrid Nanofibers
1
Department of Industrial Machinery Engineering, College of Life Science and Natural Resources, Sunchon National University, Sunchon 57922, Korea
2
Department of Biosystems & Biomaterials Science and Engineering, Seoul National University, Seoul 151-742, Korea
3
Department of Rural and Biosystems Engineering, Chonnam National University, Gwangju 61186, Korea
4
Department of Biosystems Engineering, Kangwon National University, Chuncheon 24341, Korea
5
Research Institute of Agriculture and Life Sciences, Seoul National University, Seoul 151742, Korea
*
Authors to whom correspondence should be addressed.
†
These authors contributed equally to this work.
Received: 27 June 2018 / Revised: 15 July 2018 / Accepted: 16 July 2018 / Published: 21 July 2018
Abstract
Stem cells derived from dental tissues—dental stem cells—are favored due to their easy acquisition. Among them, dental pulp stem cells (DPSCs) extracted from the dental pulp have many advantages, such as high proliferation and a highly purified population. Although their ability for neurogenic differentiation has been highlighted and neurogenic differentiation using electrospun nanofibers (NFs) has been performed, graphene-incorporated NFs have never been applied for DPSC neurogenic differentiation. Here, reduced graphene oxide (RGO)-polycaprolactone (PCL) hybrid electrospun NFs were developed and applied for enhanced neurogenesis of DPSCs. First, RGO-PCL NFs were fabricated by electrospinning with incorporation of RGO and alignments, and their chemical and morphological characteristics were evaluated. Furthermore, in vitro NF properties, such as influence on the cellular alignments and cell viability of DPSCs, were also analyzed. The influences of NFs on DPSCs neurogenesis were also analyzed. The results confirmed that an appropriate concentration of RGO promoted better DPSC neurogenesis. Furthermore, the use of random NFs facilitated contiguous junctions of differentiated cells, whereas the use of aligned NFs facilitated an aligned junction of differentiated cells along the direction of NF alignments. Our findings showed that RGO-PCL NFs can be a useful tool for DPSC neurogenesis, which will help regeneration in neurodegenerative and neurodefective diseases.
View Full-Text
►

▼

Figures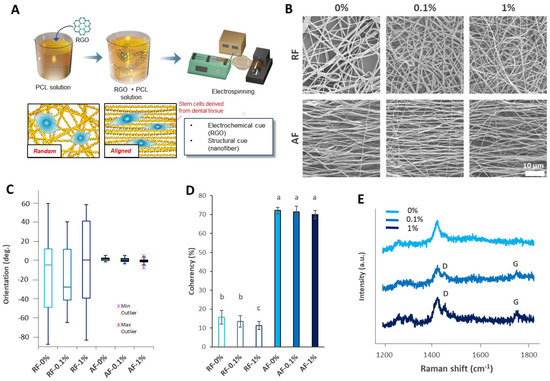 Figure 1
This is an open access article distributed under the
Creative Commons Attribution License
which permits unrestricted use, distribution, and reproduction in any medium, provided the original work is properly cited (CC BY 4.0).

Share & Cite This Article
MDPI and ACS Style
Seonwoo, H.; Jang, K.-J.; Lee, D.; Park, S.; Lee, M.; Park, S.; Lim, K.-T.; Kim, J.; Chung, J.H. Neurogenic Differentiation of Human Dental Pulp Stem Cells on Graphene-Polycaprolactone Hybrid Nanofibers. Nanomaterials 2018, 8, 554.
Note that from the first issue of 2016, MDPI journals use article numbers instead of page numbers. See further details here.
Related Articles
Comments
[Return to top]