Open Access This article is
freely available
re-usable
Communication
A Microfluidic Platform to Study Astrocyte Adhesion on Nanoporous Gold Thin Films
1
Department of Biomedical Engineering, University of California—Davis, Davis, CA 95616, USA
2
Department of Molecular Biosciences, University of California—Davis, Davis, CA 95616, USA
3
Department of Electrical and Computer Engineering, University of California—Davis, Davis, CA 95616, USA
*
Author to whom correspondence should be addressed.
Received: 14 May 2018 / Accepted: 16 June 2018 / Published: 21 June 2018
Abstract
:
Nanoporous gold (np-Au) electrode coatings have shown improved neural electrophysiological recording fidelity in vitro, in part due to reduced surface coverage by astrocytes. This reduction in astrocytic spreading has been attributed to the influence of electrode nanostructure on focal adhesion (FA) formation. This study describes the development and use of a microfluidic flow cell for imposing controllable hydrodynamic shear on astrocytes cultured on gold surfaces of different morphologies, in order to study the influence of nanostructure on astrocyte adhesion strength as a function of np-Au electrode morphology. Astrocyte detachment (a surrogate for adhesion strength) monotonically increased as feature size was reduced from planar surfaces to np-Au, demonstrating that adhesion strength is dependent on nanostructure. Putative mechanisms responsible for this nanostructure-driven detachment phenomenon are also discussed.
Keywords:
nanostructure; cell-material interaction; nanoporous gold; adhesion strength; astrocyte; focal adhesion; microfluidic flow-cell
Author Contributions
A.E.H. designed and performed the experiments. A.E.H. and Z.L. co-designed and fabricated the microfluidic platform. S.S. provided the primary cortical cells used in all experiments as well as the astrocyte isolation protocol. P.J.L. and E.S. advised and oversaw the experiments. A.E.H. and E.S. wrote the manuscript, and P.J.L. and S.S. edited the manuscript.
Funding
We gratefully acknowledge support from National Science Foundation [CBET-1512745 and CBET&DMR-1454426] grants and National Institutes of Health grants [R21 EB024635], [T32 ES007059, predoctoral fellowship to SS]. Support was also provided by the CounterACT Program, National Institutes of Health Office of the Director and the National Institute of Neurological Disorders and Stroke [U54 NS079202].
Acknowledgments
We thank Chris Chapman for his assistance with cell culture, morphology library generation, and imaging.
Conflicts of Interest
The authors declare no conflict of interest.
Appendix A
Figure A1. Simulation results for shear stress distribution across the cell membrane. The model assumes symmetry and simulates only half of the cell membrane. Shear stress (dyne/cm2) is plotted only on the cell membrane area and is maximized at the top of the dome. Cell dimensions: 18 µm radius, 5 µm height.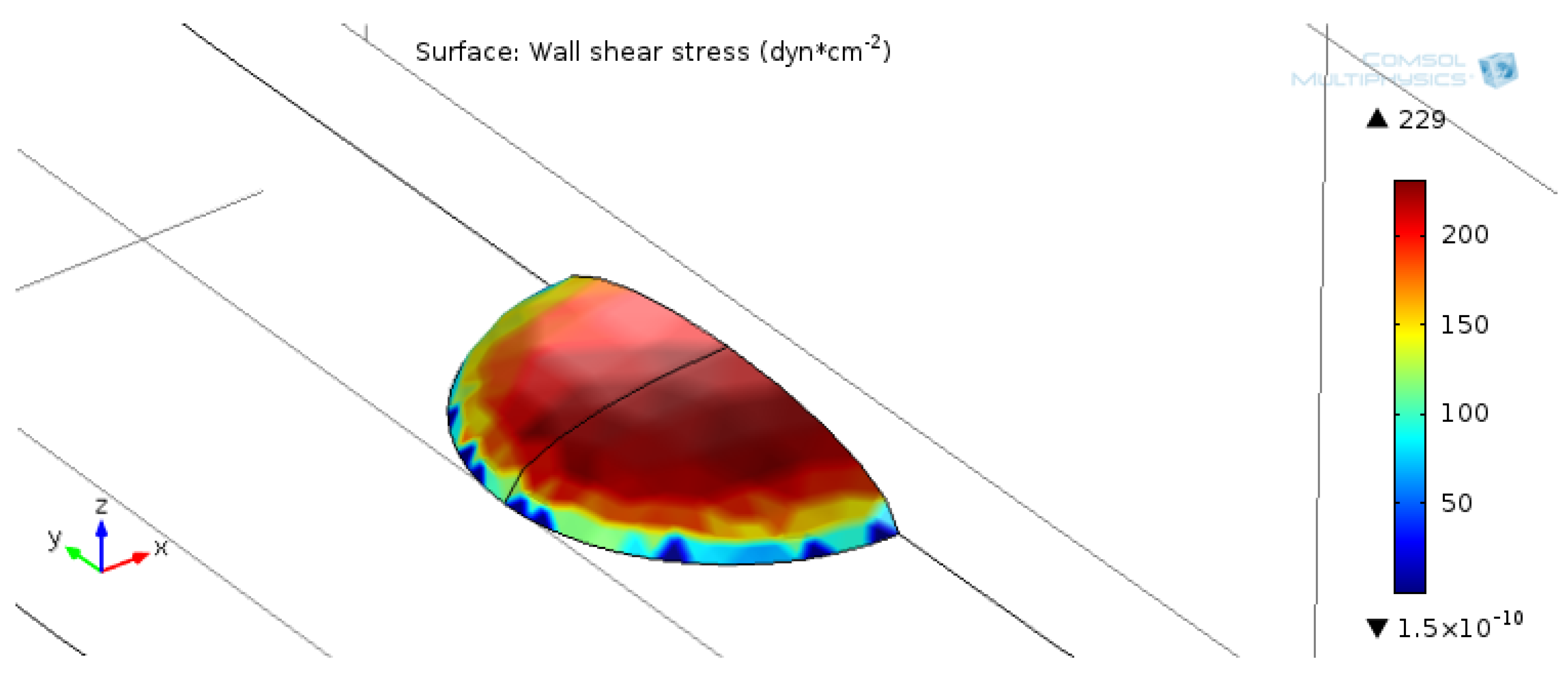 Figure A2. Representative images of pre- and post-experiment cell counting. (a) Pre-experiment image of cells seeded for 4 h, stained with NucBlue Live Reagent, with threshold mask shown to the right. The threshold method was chosen to minimize the number of (dim, low-contrast) floating cells in the count. An example of out-of-plane cells absent from the thresholded image are circled in red. (b) Fluorescence microscopy images of fixed cells, showing nuclei (DAPI) in blue and f-actin (phalloidin) in green. Thresholds were computed only for the DAPI channel.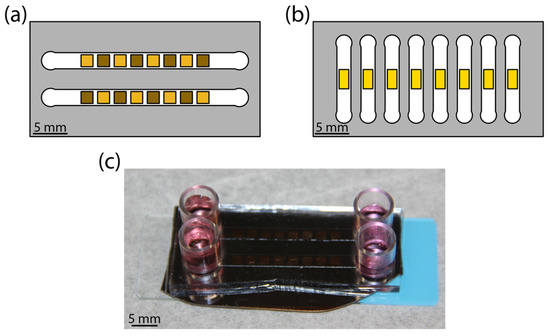 Figure 1. Illustration of the microfluidic flow cell. (a) Colorized schematic of high-throughput chip with nanoporous gold (np-Au) morphology library. Gold color patterns reflect the extent of annealing, where lighter squares represent annealed np-Au and darker squares representing unannealed np-Au. (b) Colorized schematic of real-time experiment chip with planar gold (pl-Au) substrate. (c) Photograph of a representative assembled np-Au chip with culture media in reservoirs.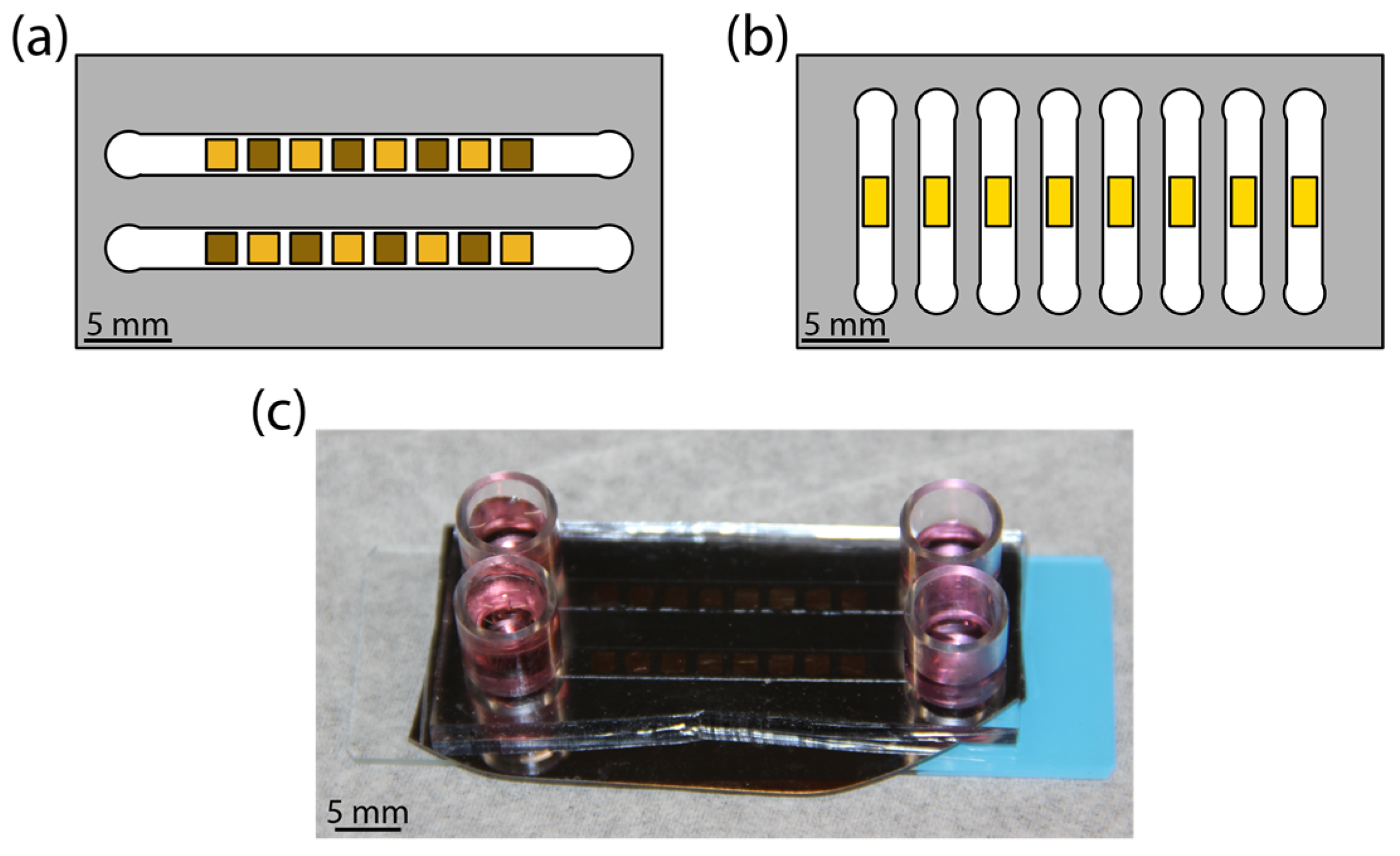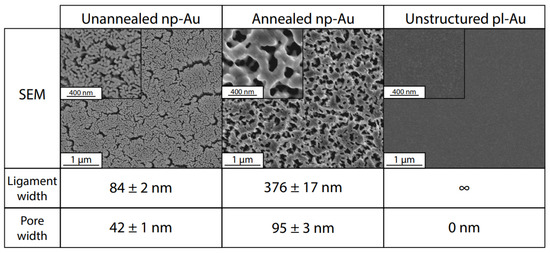 Figure 2. Comparison of morphology of annealed and unannealed nanoporous gold (np-Au) and planar gold (pl-Au). Scanning electron microscopy (SEM) images are shown at 50,000× magnification (inset: 100,000× magnification). Ligament and pore widths are reported as averages ± standard error.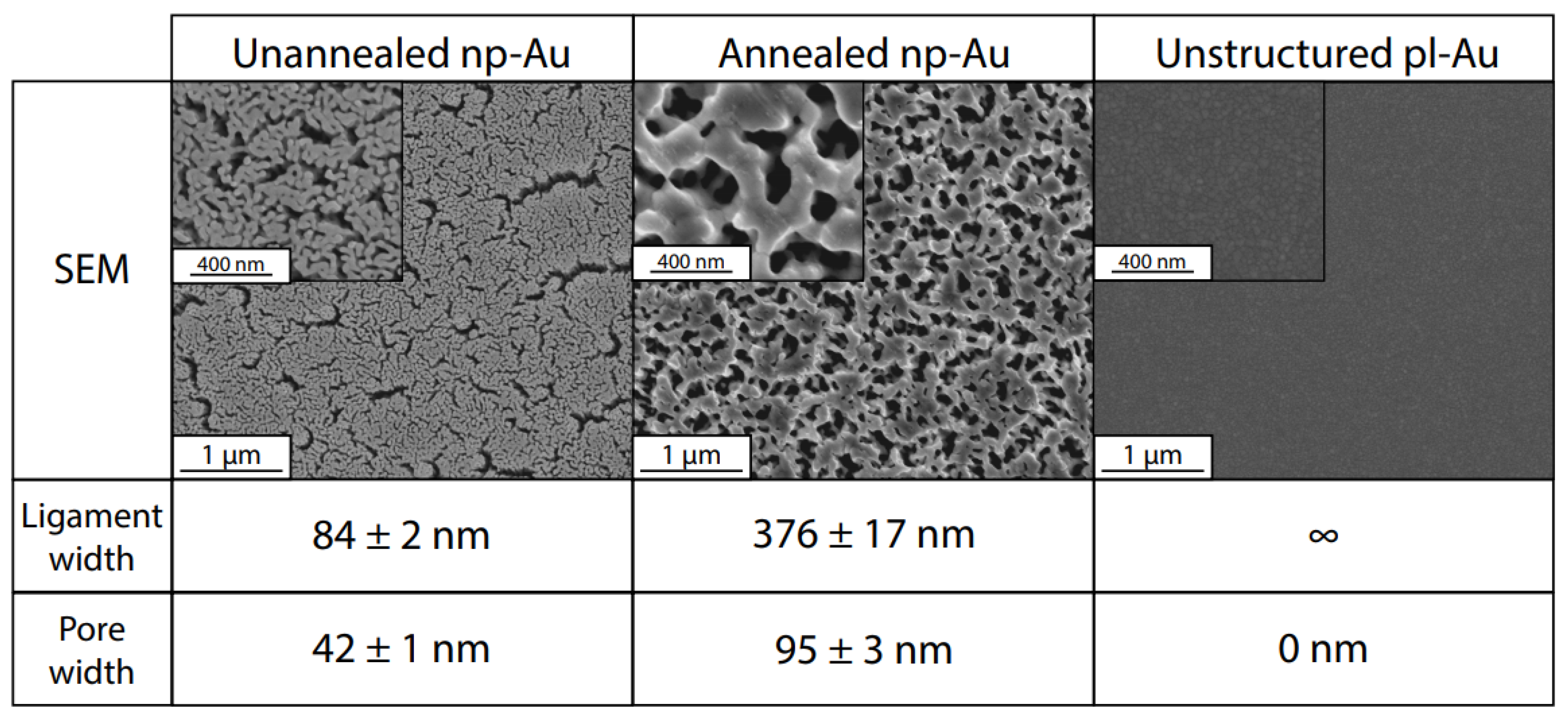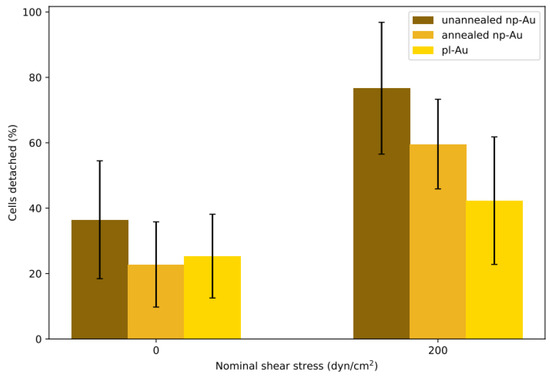 Figure 3. Detachment results for batch experiments. Two min of hydrodynamic shear flow detached cells seeded in the channels for 6 h. The no-shear control group at 0 dyne/cm2 was only gently washed with phosphate buffered saline (PBS) before fixation. Percent detachments are reported as averages ± one standard deviation. Sample sizes (n) for each group, from left to right: 24, 24, 47, 11, 7, 28 coating patterns.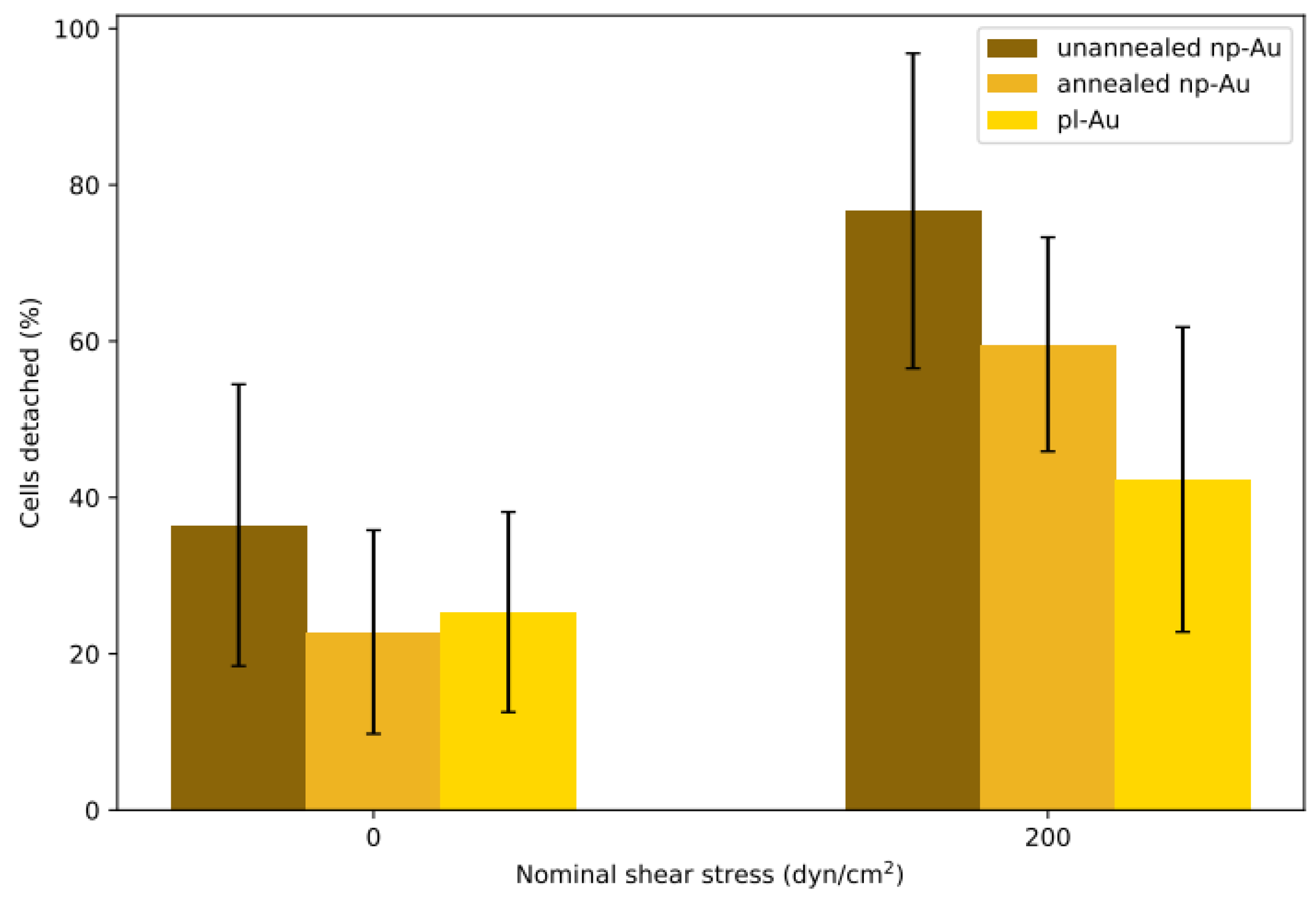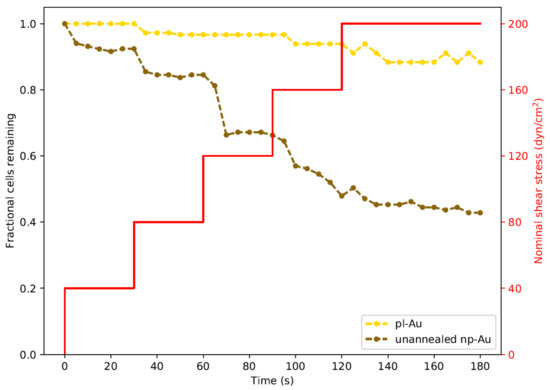 Figure 4. Real-time monitoring of cell detachment (surrogate for adhesion strength) as a function of increasing shear stress. Cells were subjected to increasing levels of shear stress as shown by the red staircase curve. Images were taken every 5 s. Two trials were performed for each morphology and were plotted as averages. Each data point for fractional cells remaining was normalized to the cell count at the start of each experiment.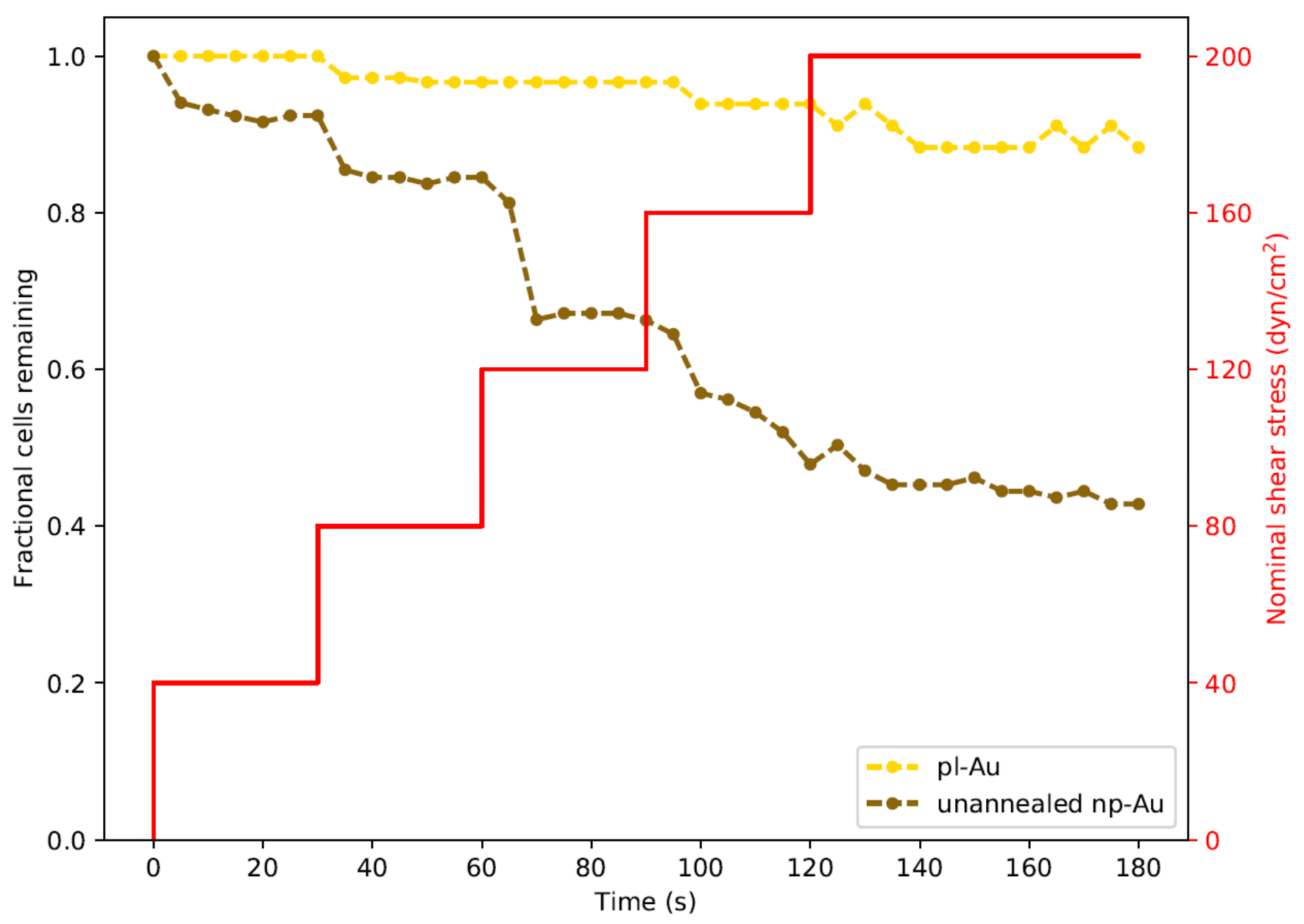 Figure 5. Illustration of different putative mechanisms of cellular adhesion onto coatings of various morphology. (a) On unannealed np-Au, integrin clusters may bridge multiple ligaments due to smaller pore widths but adhesive complexes cannot mature due to small ligament width (red arrows). (b) On annealed np-Au, integrin clustering is limited by the larger pore widths (blue arrows), limiting focal adhesion (FA) formation to individual ligaments. (c) On planar gold, FA maturation is uninhibited and FA size is large.


© 2018 by the authors. Licensee MDPI, Basel, Switzerland. This article is an open access article distributed under the terms and conditions of the Creative Commons Attribution (CC BY) license (http://creativecommons.org/licenses/by/4.0/).