Open Access This article is
freely available
re-usable
Article
High Temperature Flow Behavior of Ultra-Strong Nanoporous Au assessed by Spherical Nanoindentation
1
Department Materials Physics, Montanuniversität Leoben, Jahnstraße 12, A-8700 Leoben, Austria
2
Department Physical Metallurgy and Materials Testing, Montanuniversität Leoben, Roseggerstraße 12, A-8700 Leoben, Austria; verena.maier
[email protected]
*
Author to whom correspondence should be addressed.
Received: 30 April 2018 / Accepted: 18 May 2018 / Published: 24 May 2018
Abstract
:
Nanoporous metals have attracted attention in various research fields in the past years since their unique microstructures make them favorable for catalytic, sensory or microelectronic applications. Moreover, the refinement of the ligaments down to the nanoscale leads to an exceptionally high strength. To guarantee a smooth implementation of nanoporous metals into modern devices their thermo-mechanical behavior must be properly understood. Within this study the mechanical flow properties of nanoporous Au were investigated at elevated temperatures up to 300 °C. In contrast to the conventional synthesis by dealloying of AuAg precursors, the present foam was fabricated via severe plastic deformation of an AuFe nanocomposite and subsequent selective etching of iron, resulting in Au ligaments consisting of nanocrystalline grains, while remaining Fe impurities excessively stabilize the microstructure. A recently developed spherical nanoindentation protocol was used to extract the stress-strain curves of nanoporous Au. A tremendous increase of yield strength due to ligament and grain refinement was observed, which is largely maintained at high temperatures. Reviewing literature will evidence that the combined nanocrystalline and nanoporous structure leads to remarkable mechanical properties. Furthermore, comparison to a previous Berkovich nanoindentation study outlines the conformity of different indentation techniques.
Keywords:
spherical nanoindentation; nanoporous Au; high temperature testing; mechanical properties
Author Contributions
Conceptualization, V.M.-K. and D.K.; Methodology, A.L. and V.M.-K.; Validation, A.L., V.M.-K and D.K.; Formal Analysis, A.L.; Investigation, A.L.; Resources, V.M.-K. and D.K.; Data Curation, A.L.; Writing Original Draft Preparation, A.L.; Writing-Review & Editing, V.M.-K and D.K.; Visualization, A.L.; Supervision, D.K.; Project Administration, D.K.; Funding Acquisition, D.K.
Acknowledgments
This research was funded by the Austrian Federal Government (837900), in particular from the Bundesministerium für Verkehr, Innovationund Technologie and the Bundesministerium für Wirtschaft, Familie und Jugend, represented by Österreichische Forschungsförderungsgesellschaft mbH and the Styrian and Tyrolean Provincial Government, represented by Steirische Wirtschaftsförderungsgesellschaft mbH and Standortagentur Tirol, within the framework of the COMET Funding Programme (MPPE, A7.19) and by the Austrian Science Fund (FWF) via the project P25325-N20.
Conflicts of Interest
The authors declare no conflicts of interest.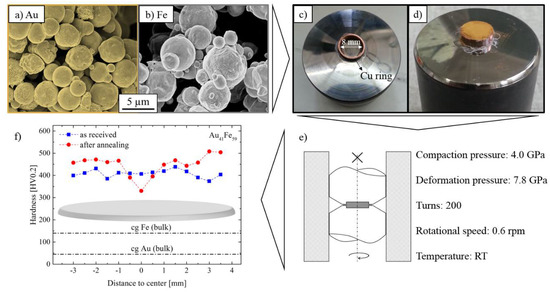 Figure 1. Scanning electron microscope (SEM) images of (a) Au powder (image colored ex post) and (b) Fe powder used as a base material for the composite precursor; (c) Lower anvil of the HPT setup with affixed Cu ring used (d) as powder container; (e) Scheme of HPT with used compaction and deformation parameters; (f) Microhardness measurements of the deformed Au41Fe59 composites show a softening in the center and hardening closer to the edge upon annealing.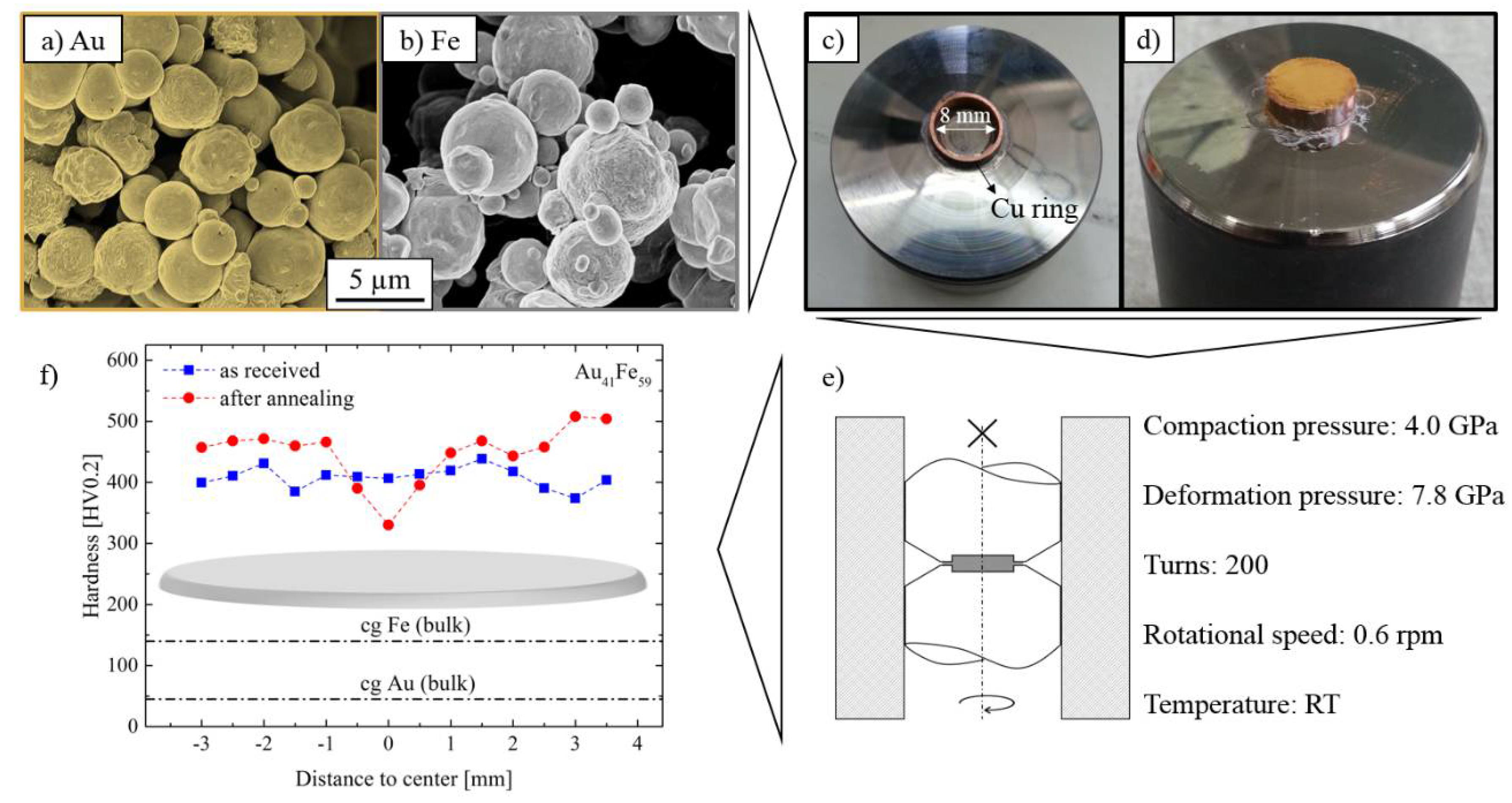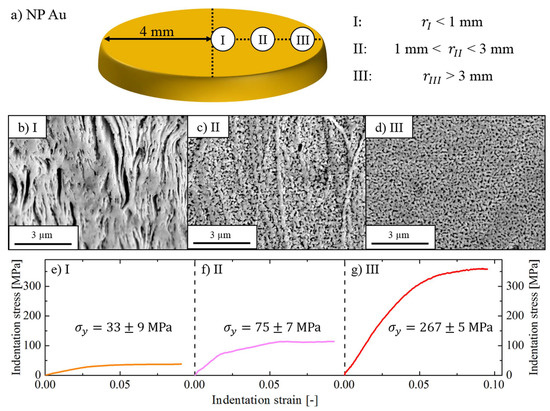 Figure 2. (a) Schematic overview of the HPT disk with investigated areas; (b–d) SEM images of microstructural features of NP Au in dependence of the disk radius; (e–g) Corresponding spherical indentation stress-strain curves of the selected regions.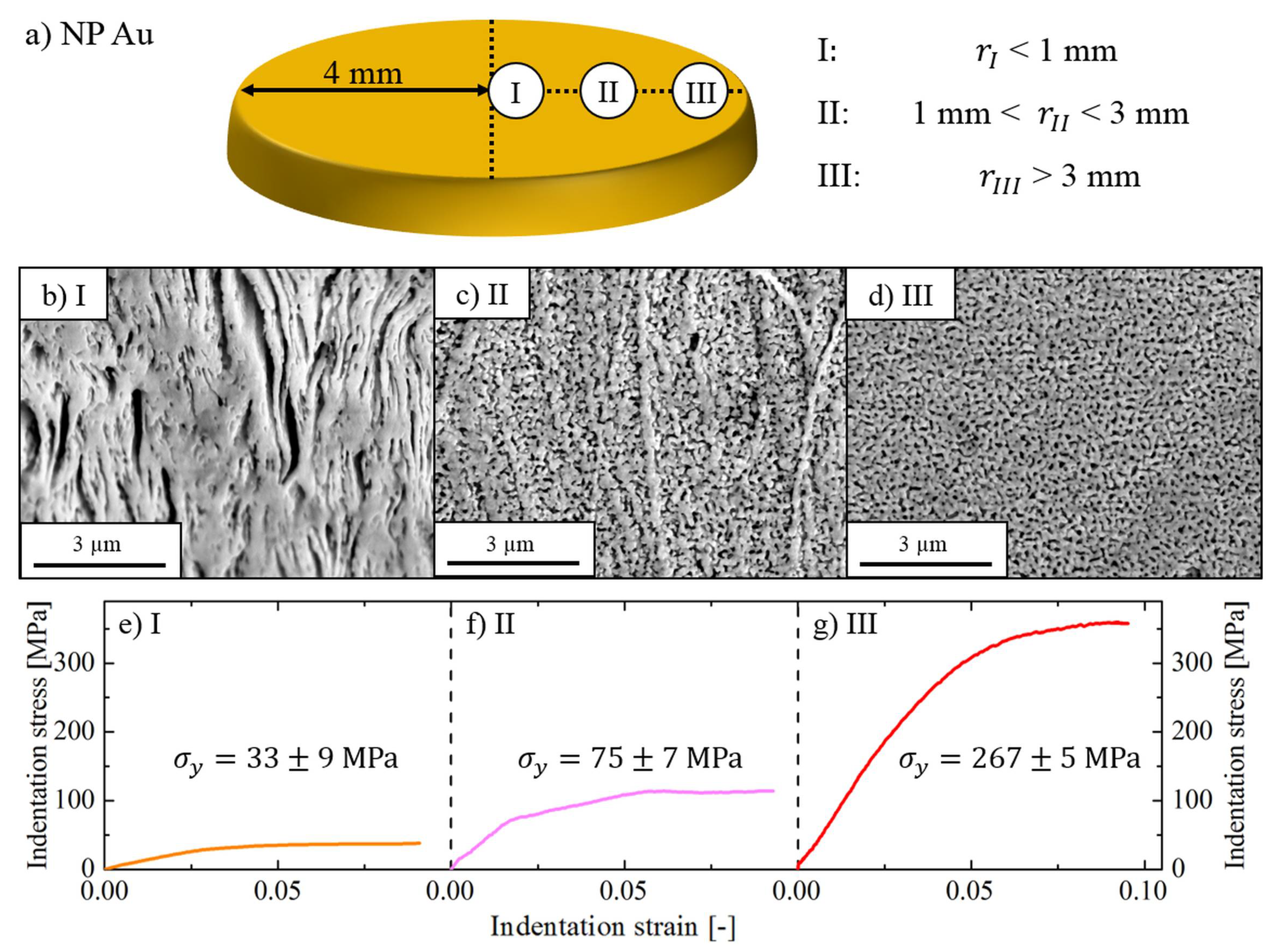 Figure 3.
(
a
) Young's modulus profiles of spherical HT nanoindentation tests up to 300 °C. The absence of significant gradients indicates reliable measurements at all temperatures; (
b
) The linear decrease of
E
over temperature is in excellent agreement with Berkovich measurements of a previous study (red data) [
15
]. Furthermore, the relative decrease of
E
over
T,
related to the room temperature value of each material, coincides well with data from ultra-fine grained Au (blue data) [
57
].


Figure 4. (a) Indentation flow curves with according deviations of NP Au at room and elevated temperatures. Except the data measured at 300 °C Berkovich indentation tests of previous studies coincide well with spherical measurements; (b) Comparison of measurements conducted prior and after HT exposure does not reveal any changes of the mechanical properties. The elastic modulus (inset) remains unaffected by re-annealing.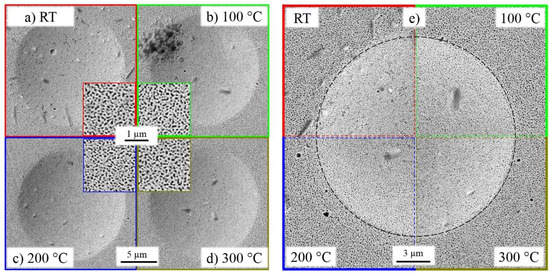 Figure 5. (a–d) Residual impressions of HT indentation experiments on NP Au do not show any distinctive features; (e) Direct comparison of indentations for each temperature condition verifies that no major drift influences or tip changes were occurring.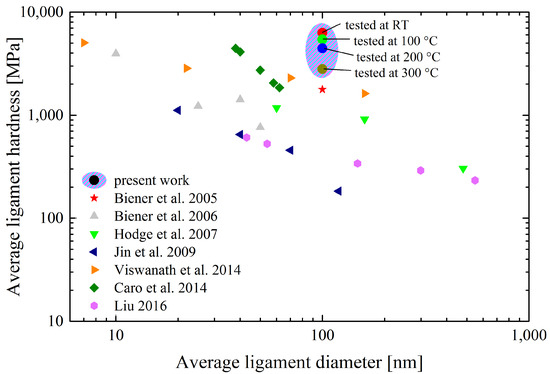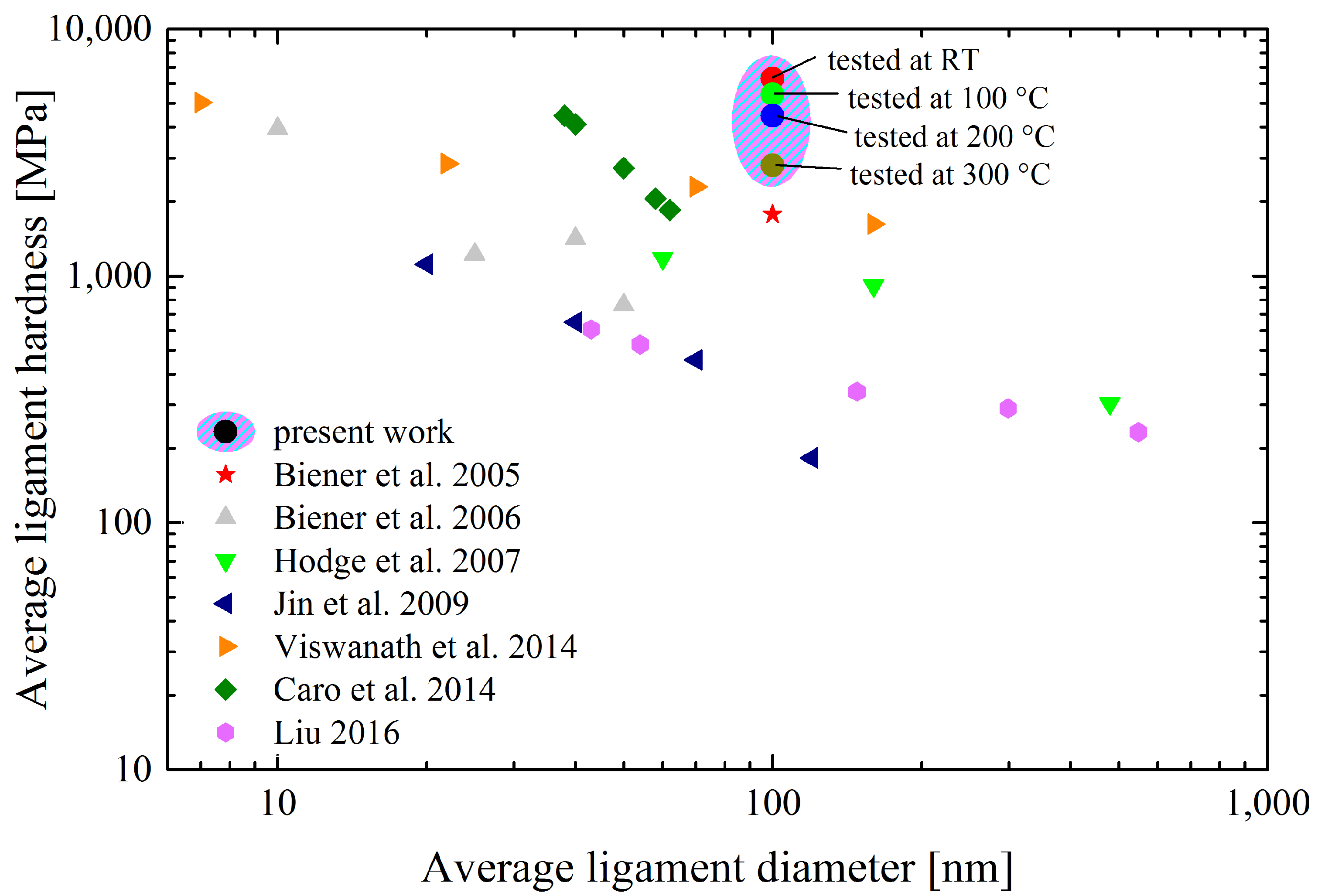 © 2018 by the authors. Licensee MDPI, Basel, Switzerland. This article is an open access article distributed under the terms and conditions of the Creative Commons Attribution (CC BY) license (http://creativecommons.org/licenses/by/4.0/).