Open Access This article is
freely available
re-usable
Review
Periodontal Tissues, Maxillary Jaw Bone, and Tooth Regeneration Approaches: From Animal Models Analyses to Clinical Applications
1
INSERM (French National Institute of Health and Medical Research), UMR 1260, Regenerative NanoMedicine (RNM), FMTS, 67000 Strasbourg, France
2
Faculty of Dentistry, University of Strasbourg (UDS), 8 rue Ste Elisabeth, 67000 Strasbourg, France
3
Departement of Pediatric Dentistry, Pôle de Médecine et Chirurgie Bucco-Dentaires, Hôpitaux Universitaires de Strasbourg (HUS), 1 place de l'Hôpital, 67000 Strasbourg, France
4
Department of Periodontology, Pôle de Médecine et Chirurgie Bucco-Dentaires, Hôpitaux Universitaires de Strasbourg (HUS), 1 place de l'Hôpital, 67000 Strasbourg, France
5
Department of Oral Surgery, Pôle de Médecine et Chirurgie Bucco-Dentaires, Hôpitaux Universitaires de Strasbourg (HUS), 1 place de l'Hôpital, 67000 Strasbourg, France
†
Those authors contributed equally to this work.

Received: 24 April 2018 / Accepted: 15 May 2018 / Published: 16 May 2018
Abstract
:
This review encompasses different pre-clinical bioengineering approaches for periodontal tissues, maxillary jaw bone, and the entire tooth. Moreover, it sheds light on their potential clinical therapeutic applications in the field of regenerative medicine. Herein, the electrospinning method for the synthesis of polycaprolactone (PCL) membranes, that are capable of mimicking the extracellular matrix (ECM), has been described. Furthermore, their functionalization with cyclosporine A (CsA), bone morphogenetic protein-2 (BMP-2), or anti-inflammatory drugs' nanoreservoirs has been demonstrated to induce a localized and targeted action of these molecules after implantation in the maxillary jaw bone. Firstly, periodontal wound healing has been studied in an induced periodontal lesion in mice using an ibuprofen-functionalized PCL membrane. Thereafter, the kinetics of maxillary bone regeneration in a pre-clinical mouse model of surgical bone lesion treated with BMP-2 or BMP-2/Ibuprofen functionalized PCL membranes have been analyzed by histology, immunology, and micro-computed tomography (micro-CT). Furthermore, the achievement of innervation in bioengineered teeth has also been demonstrated after the co-implantation of cultured dental cell reassociations with a trigeminal ganglia (TG) and the cyclosporine A (CsA)-loaded poly(lactic-co-glycolic acid) (PLGA) scaffold in the jaw bone. The prospective clinical applications of these different tissue engineering approaches could be instrumental in the treatment of various periodontal diseases, congenital dental or cranio-facial bone anomalies, and post-surgical complications.
Keywords:
bioengineered tooth; BMP-2; cyclosporine A; electrospun polycaprolactone; ibuprofen; innervation; nanoreservoirs; periodontitis
1. Introduction
The objective of this review is to present new regenerative strategies based on controlled local delivery of active anti-inflammatory drugs and growth factors through functionalized membranes targeting each component of tooth and its supporting tissues.
5. Conclusions
The development of regenerative nanomedicine illustrated by the synthesis and characterization of bioactive scaffolds such as membranes will open new therapeutic conservative approaches aiming to maintain, at long-term, the existing teeth and also, when required, to restore esthetics and function of missing teeth without exogenous devices such as dental implants.
Author Contributions
F.C., O.H. and S.K.-B. conceived and designed the experiments; F.Ba., M.S. and I.M.B. performed the experiments; F.Bo., O.H., and N.B.-J. analyzed the data; F.C., C.P., O.H. and S.K.-B. wrote the paper.
Funding
This research was funded by the INSERM, the Fondation des Gueules Cassées (grant number 55-2017) and the ANR-14-CE16-0025-01.
Acknowledgments
The authors thank Hervé Gegout for histology and Georg Schulz (University of Basel) for the micro-CT acquisitions.
Conflicts of Interest
The authors declare no conflict of interest with respect to the authorship and/or publications of this article. The founding sponsors had no role in the design of the study; in the collection, analyses, or interpretation of data; in the writing of the manuscript, or in the decision to publish the results.

Figure 1. Scanning electron microscopy (SEM) observations of non-functionalized PCL scaffolds consisting of non-woven electrospun nanofibers (A), PCL scaffolds grafted with CsA-loaded PLGA nanoparticles (chitosan/PLGA/CsA)5 (B), with BMP-2/Ibuprofen (PCL/(BMP-2)3/(Ibu)3) nanoreservoirs (C) or with Ibuprofen (D). For the morphological study by SEM, the different scaffolds were fixed with 4% paraformaldehyde, dehydrated in successive baths of ethanol (25, 50, 75, 90, 100%) and treated with hexamethyldisilazane (HDMS). They were mounted on a supporting sample holder using carbon conductive adhesive, then, silver-coated and observed with a Philips XL-30 ESEM scanning electron microscope in conventional mode (high vacuum) with a Everhart-Thornley secondary electron detector.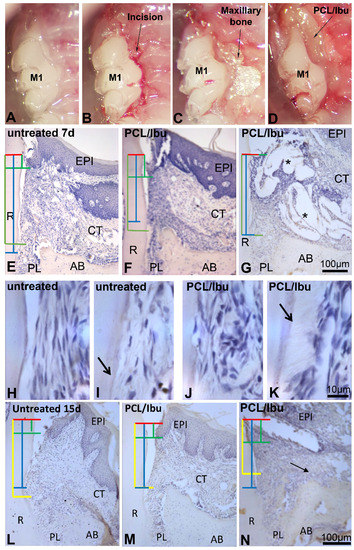 Figure 2.
Periodontitis induced with
Porphyromonas gingivalis
-infected ligatures and treatment with PCL/Ibu membrane (
A
–
D
). (
B
) sulcular incision along the first and second maxillary molars, (
C
) raising the flaps for exposure and access, (
D
) surgical placement of PCL/Ibu membrane on the periodontal lesion, (
E
–
N
) histological view at 7 and 15 days. (
E
–
K
) histology of periodontal wound healing at 7 days and (
L
–
N
) at 15 days. Red line = cementoenamel junction, blue line = fibrous connective tissue attachment, green line = epithelial attachment, yellow line = bone level. After anesthesia, a slight incision to the bone crest contact was made to facilitate the first ligature placement at the junction between the gum and the tooth along the first and second molars (M1-M2) as previously described [
16
]. The thread was then blocked with a drop of glass ionomer (Fuji IIGC, GC, France, Bonneuil sur Marne, France). Sterilized black braided 6.0 silk threads (Ethicon, Auneau, France) were incubated in culture medium containing
P.gingivalis
in an anaerobic chamber for one day.
P.gingivalis
-soaked ligatures were placed around maxillary first and second molars. The ligatures were inspected and replaced (with freshly infected ones) thrice a week for a period of 40 days. An incision was performed along the sulcular margins of the first and second molars and extended anteriorly on the mesial aspect of the first molar to efficiently raise the flap to gain access. Ibuprofen-functionalized PCL membrane was punched with a 3 mm diameter cutter. The circular pieces of membrane were further divided into half to achieve a size appropriate enough to cover the lesion. The cut membrane was then placed into the periodontal pocket after raising the flap such that the membrane stays flat beneath the flap covering the lesion fully and the necks of the crowns (molars) partially, entering the inter-dental area as well. The flap was nicely repositioned to perform a suture on the flap while maintaining the membrane underneath [
16
]. AB: alveolar bone, CT: connective tissue, EPI: epithelium, PL: periodontal ligament, R: root. Stars showing PCL/Ibu membrane.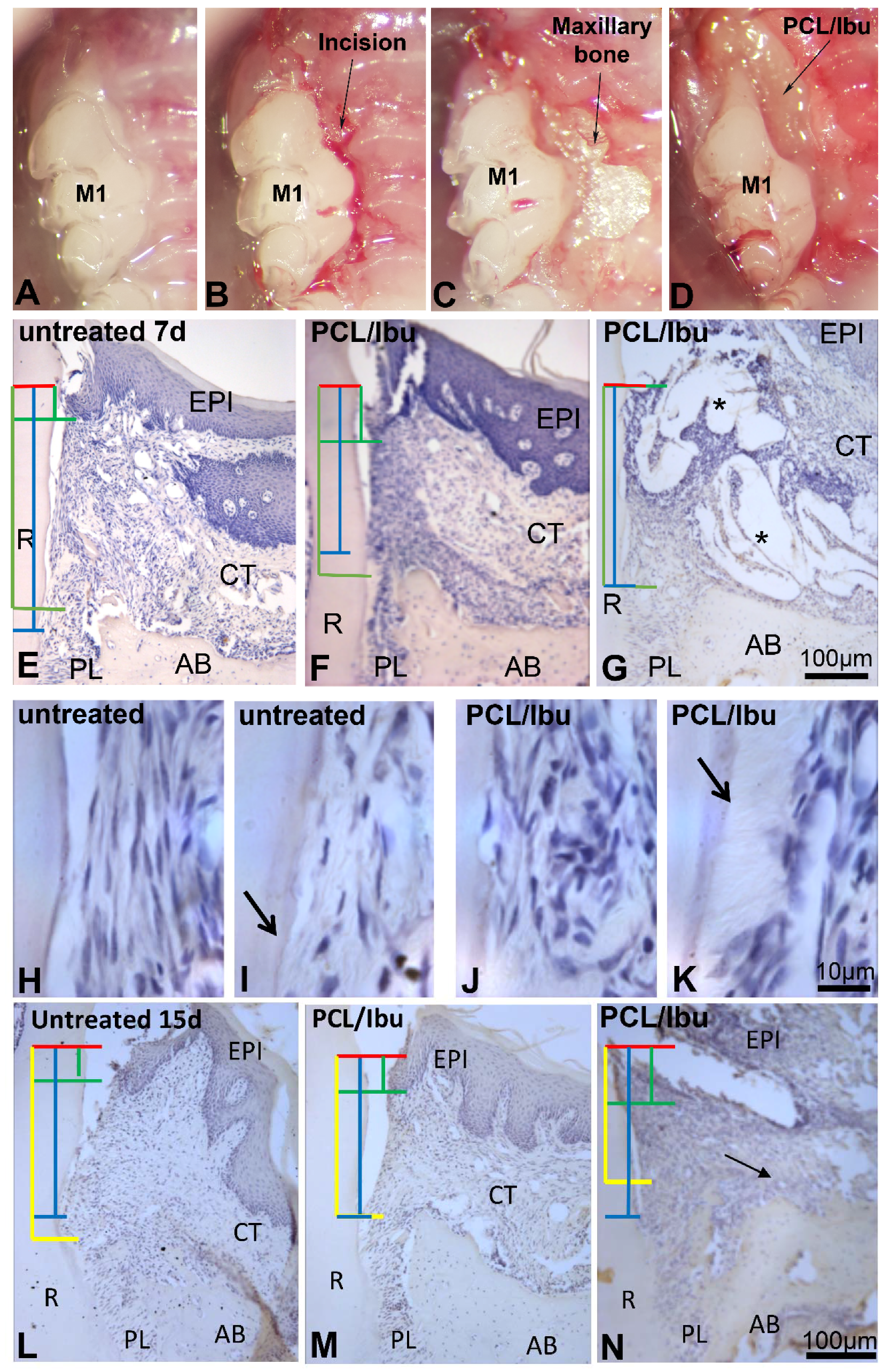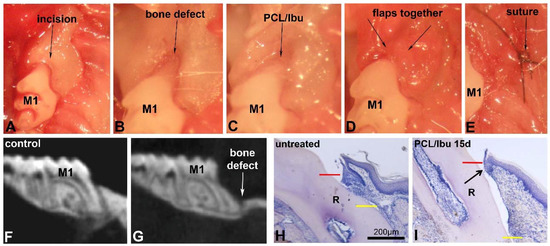 Figure 3. Surgical bone defect model and treatment with PCL/Ibu membrane (A–I). (A–E) demonstrate the surgical procedure for creating the mesial bone defect. After anesthesia, sulcular incision (A) was given along maxillary first molar and extended anteriorly on the mesial aspect of the first molar for efficient raising of palatal and vestibular flaps so that they do not hinder the bone drilling procedure. The exposed bone was drilled to create the intrabony defect (B). The bone over and around the mesial root of the first molar was removed. Constant irrigation with physiological saline was maintained to avoid overheating of the bur and the bone area concerned. The drilled bone was, later, nicely irrigated, cleaned, and dried to remove all the bone chips and debris. PCL/Ibu functionalized membrane was placed on the created bone lesion (C) in such a manner that its ends could be blocked beneath the vestibular and palatal flaps. Palatal and vestibular flaps were approximated covering the PCL/Ibu membrane underneath and sutured (9-0 ETHILON* Polyamide 6/6) or glued to retain the membrane underneath (D,E). (F) micro-CT view before the bony defect and (G) after bony defect. (H,I) Histology of periodontal wound healing at 15 days. Red line = cementoenamel junction, yellow line = bone level. (I) Arrow showing short epithelial attachment in test. M1: first upper molar, R: root.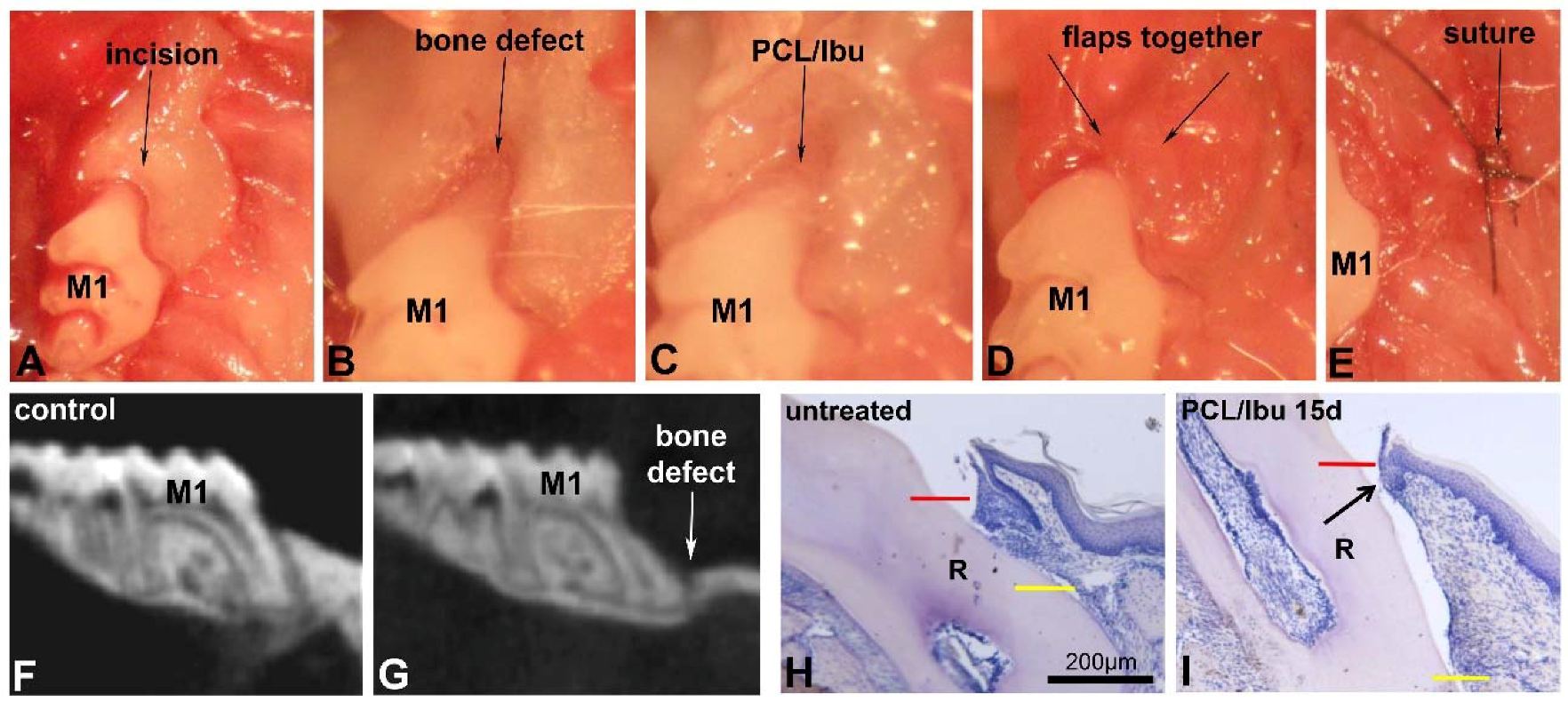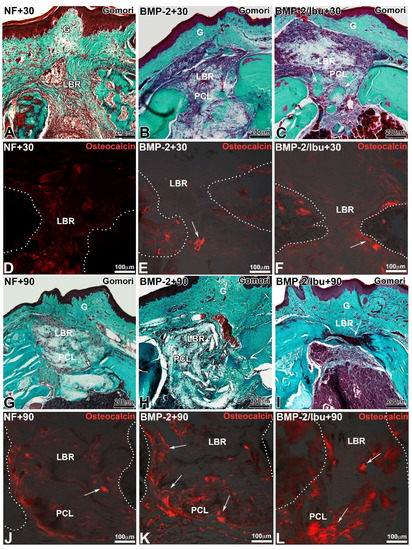 Figure 4.
Trichrome of Gomori staining (
A
–
C
,
G
–
I
) and immunofluorescence for osteocalcin (
D
–
F
,
J
–
L
) after 30 (
A
–
F
) and 90 days (
G
–
L
) implantation of PCL (
A
,
D
,
G
,
J
), PCL/(BMP-2)
10
(
B
,
E
,
H
,
K
) and PCL/(BMP-2)
10
/(Ibu)
3
(
C
,
F
,
I
,
L
). Arrows indicated neoformed bone positive for osteocalcin. White dots indicate the limit of the maxillary bone. For the immunofluorescence, samples were embedded in Tissue-Tek, frozen at −20 °C and sectioned (10 μm) using a cryostat (Leica, CM3000). Serial sections were rinsed with PBS, fixed for 10 min with 4% paraformaldehyde at 4 °C and treated as previously described [
27
] using the rabbit anti-osteocalcin antibodies (Santa Cruz Biotechnology, dilution 1/200). Sections were observed with a fluorescence microscope (Leica DM4000B). G: gingiva, LBR: lesion with bone regeneration, PCL: scaffold.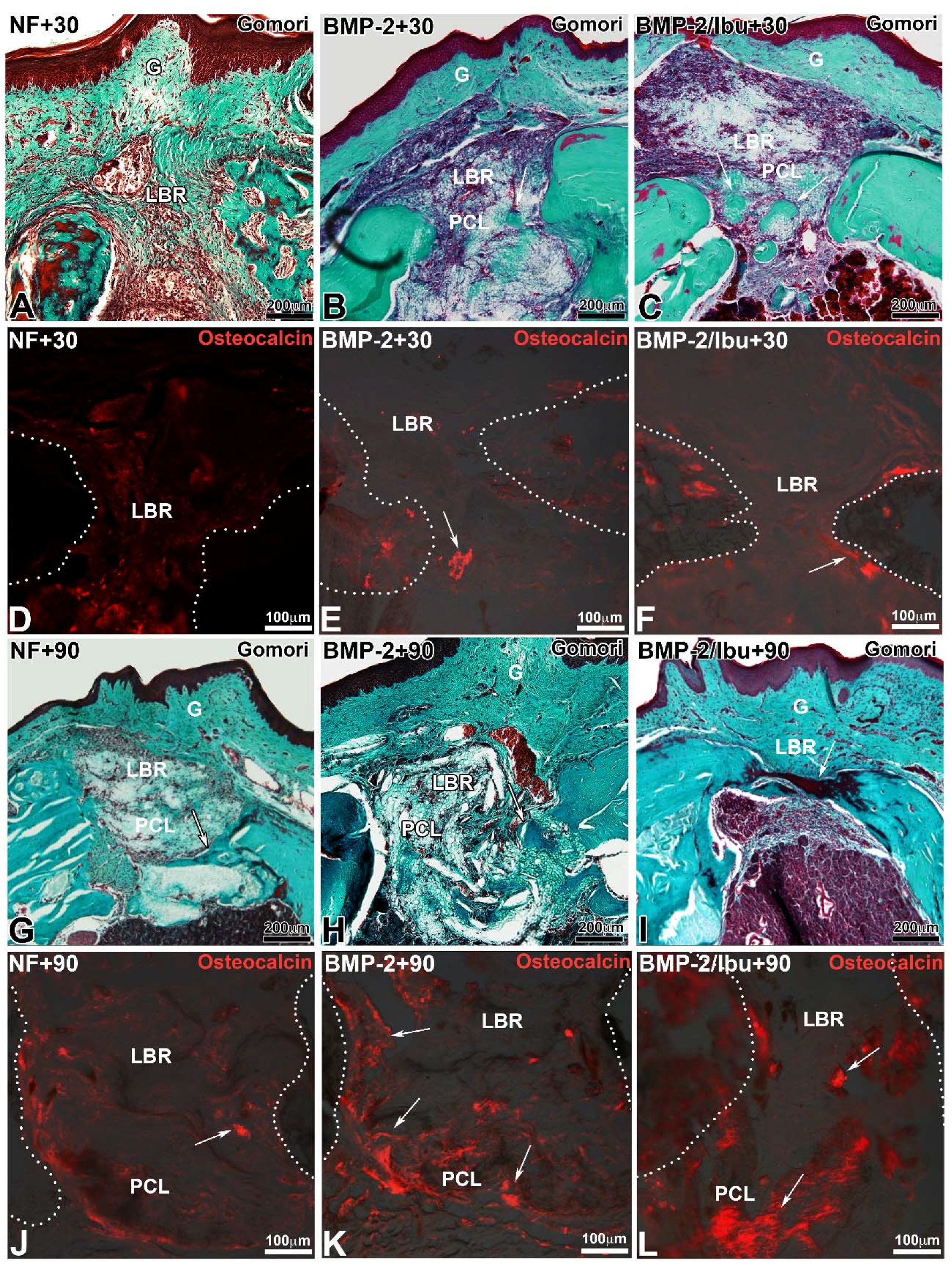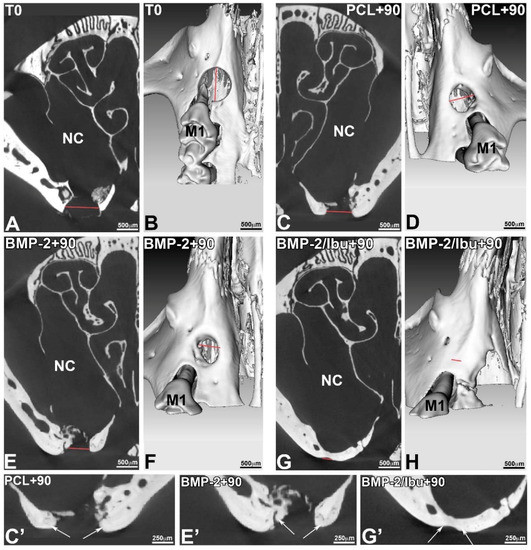 Figure 5. Micro-CT sections (A,C,E,G,C',E',G') and 3D reconstructions (B,D,F,H) at T0 (A,B) and after 90 days of implantation of PCL (C,D,C'), PCL/BMP-2 (E,F,E'), and PCL/BMP-2/Ibu (G,H,G'). To study the evolution of bone response, we conducted an ex vivo longitudinal post-operative follow-up using micro-CT. The X-ray microtomography acquisitions were performed after 0 and 90 days. The size of the reconstructed isotropic voxel was 8 μm. M1: first upper molar, NC: nasal cavity.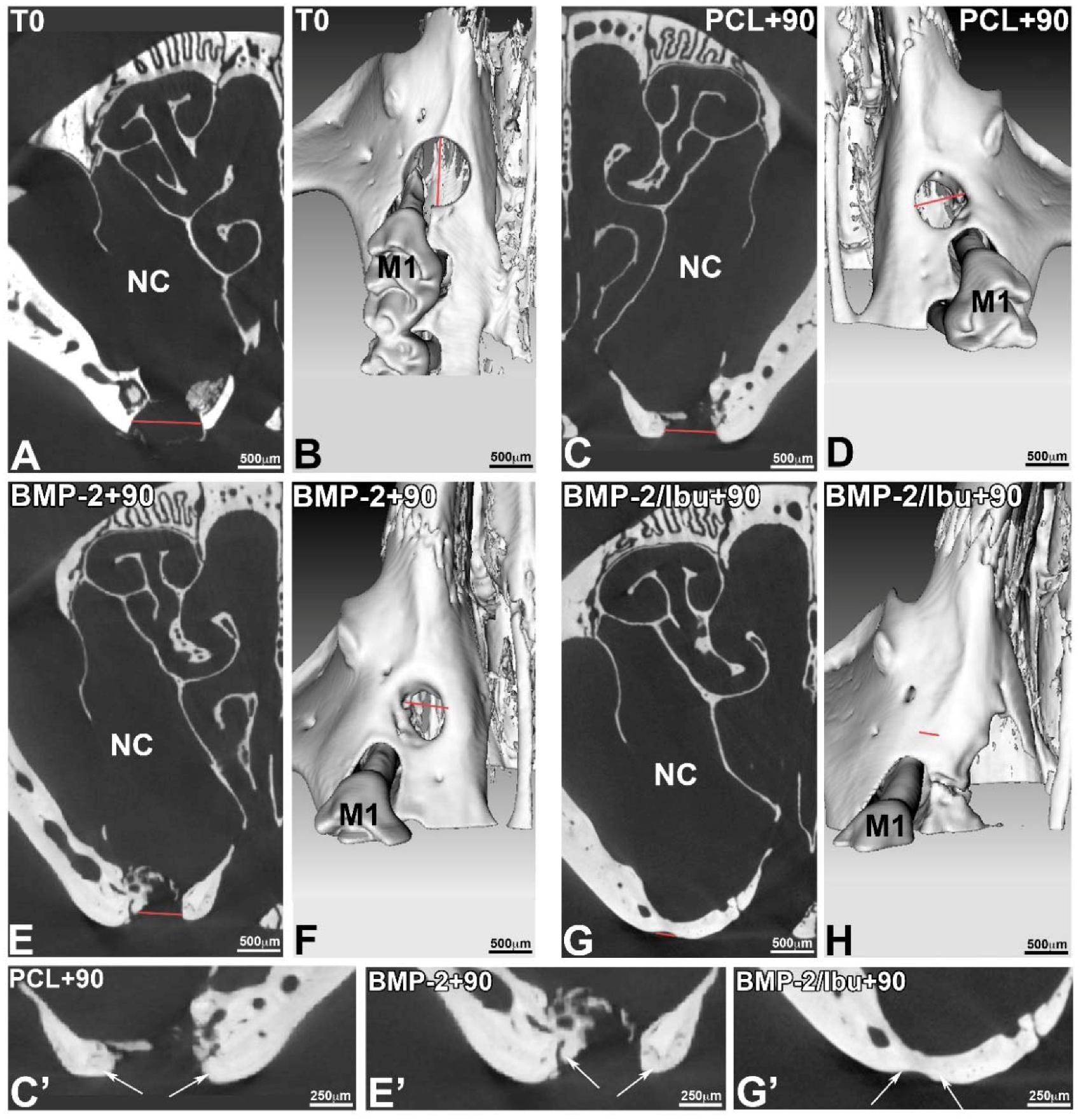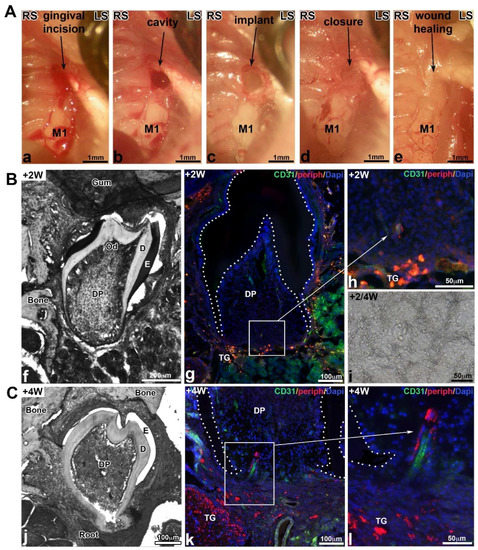 Figure 6.
(
A
) Different stages of the microsurgery: incision of the gingiva (
Aa
), maxillary bone lesion obtained with a dental bur (500 μm) (
Ab
), implantation of the membrane with the bioengineered tooth and TG (
Ac
), closing of the gingiva with biological glue (
Ad
), and wound healing of the mucosa two weeks after implantation (
Ae
). (
B
,
C
) Histology, vascularization and innervation of bioengineered tooth implanted on PCL scaffolds functionalized with CsA-loaded PLGA nanoparticles (chitosan/PLGA/CsA)
5
after two (
B
) or four (
C
) weeks of implantation. Samples were embedded in Tissue-Tek, frozen at −20 °C and sectioned (10μm) using a cryostat (Leica, CM3000). Serial sections were rinsed with PBS, fixed for 10 min with 4% paraformaldehyde at 4 °C. Some were stained with hematoxylin/eosin ((
Cf
),(
Ci
),(
Cj
)) or for the immunofluorescence as previously described using rabbit anti-peripherin (Abcam, dilution 1/600) and rat anti-CD31 (BD Pharmingen, dilution 1/100) antibodies [
22
] ((
Bg
),(
Bh
),(
Ck
),(
Ci
)). Cell nuclei were stained with 200 nM DAPI (Sigma-Aldrich Co, Darmstadt, Germany). D: dentin, DP: dental pulp, E: enamel, M1: first upper molar, Od: odontoblasts, TG: trigeminal ganglion.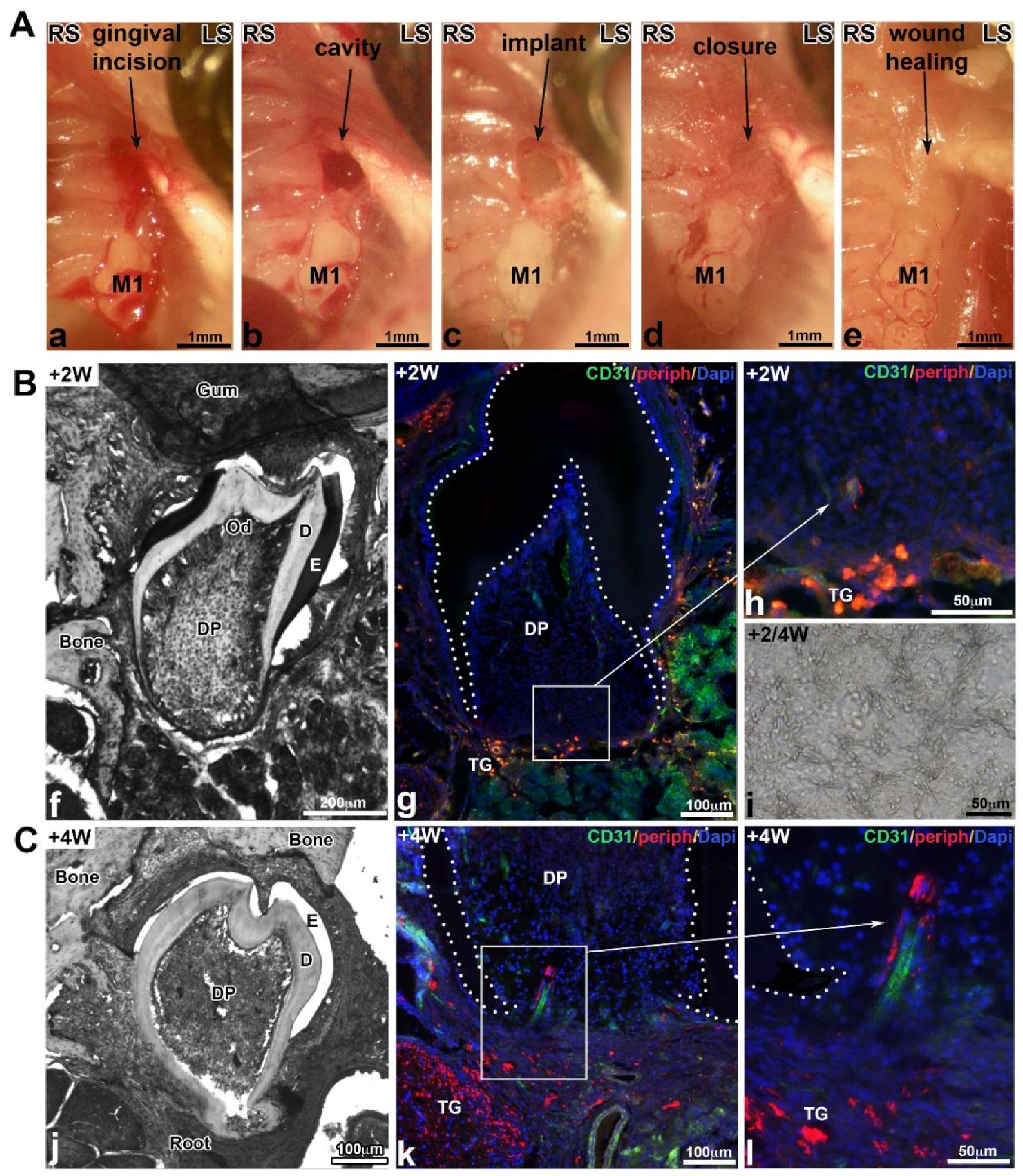 © 2018 by the authors. Licensee MDPI, Basel, Switzerland. This article is an open access article distributed under the terms and conditions of the Creative Commons Attribution (CC BY) license (http://creativecommons.org/licenses/by/4.0/).