Open Access This article is
freely available
re-usable
Article
Magnesium and Nitrogen Co-Doped Mesoporous Carbon with Enhanced Microporosity for CO2 Adsorption
1
Qingdao Key Laboratory of Functional Membrane Material and Membrane Technology, Qingdao Institute of Bioenergy and Bioprocess Technology, Chinese Academy of Sciences, No. 189 Songling Road, Qingdao 266101, China
2
University of Chinese Academy of Sciences, Beijing 100049, China
*
Author to whom correspondence should be addressed.
Received: 29 March 2018 / Accepted: 23 April 2018 / Published: 25 April 2018
Abstract
:
Mesoporous carbons (MC) have attracted a tremendous amount of interest due to their efficient molecular transport properties. However, the limited number of active sites and low microporosity generally impede their use for practical applications. Herein, we have fabricated Mg and N co-doped mesoporous carbon (Mg-NMC) with high microporosity via one-pot synthetic route followed by further steam activation. In comparison with the parent N-doped mesoporous carbon, Mg-NMC shows partially ordered mesostructure and improved CO2 adsorption capacity attributed to the introduction of basic site after Mg doping. Upon further steam activation, the microporosity is enhanced to 37.3%, while the CO2 adsorption capacity is also increased by 70.4% at 273 K and 1.0 bar.
Keywords:
mesoporous carbon; Mg doping; steam activation; basic site; microporosity; CO
2
adsorption
1. Introduction
Mesoporous carbons (pore size 2–50 nm) have attracted a great deal of attention in diverse areas including gas adsorption, catalysis and energy storage [
1
], owing to their unique physicochemical properties such as good chemical inertness and mesostructured channels. Compared to microporous carbon materials, the channels of mesoporous carbons facilitate fast mass transfer [
2
]. However, mesoporous carbon materials generally possess a limited number of active sites, which hinders their use for practical applications. Incorporation of heteroatoms such as B, N, P, S and F into carbon framework has been widely explored to increase the number of active sites of carbon materials [
3
,
4
,
5
,
6
]. In particular, the incorporation of N atoms not only increases number of basic sites but also improves surface polarity, which would significantly enhance the catalytic and adsorption properties of carbon materials [
7
]. For instance, Zhao et al. introduced N atoms into carbon framework to obtain N-doped mesoporous carbon with a high N content and a CO
2
adsorption capacity of 2.8–3.2 mmol g
−1
at 298 K and 1.0 bar [
8
]. However, most mesoporous carbons have a low N content or mesopore structure with low thermal stability [
9
], mainly due to the decomposition of N-containing precursors during self-assembly process and N-containing carbon framework during the carbonization at high temperature [
8
].
Recently, different metal species have been dispersed into N-containing carbon frameworks for improving adsorption and catalytic properties [
10
,
11
]. Some of these metal species may stabilize the preformed nitrogen sites [
12
]. In addition, previous literatures have suggested that MgO nanoparticles embedded into mesoporous carbon can provide a large number of basic O
2−
sites which are beneficial for CO
2
adsorption, and restrict further shrinkage of carbon framework [
13
,
14
]. On the other hand, Mg
2+
can accelerate the polycondensation process, and improve the cure rate of phenolic resin [
15
].
In addition to basic active sites, microporosity is also one of the most important factors governing CO
2
adsorption properties. It has been demonstrated that micropores with pore size less than 1 nm have strong adsorption affinity for CO
2
molecules. Based on previous literature, microporosity of carbon materials can be easily enhanced by physical as well as chemical activation [
16
]. Currently, KOH, CO
2
, NH
3
and steam have been widely explored as common activation agents for the development of microporosity [
17
]. In contrast to other activation agents, steam has attracted intensive attention on account of being readily available, cost effective and environmentally benign. Han et al. reported that graphene aerogel with steam activation exhibited a higher CO
2
adsorption capacity (2.5 mmol g
−1
at 273 K and 1.0 bar) than sample without steam activation. In addition, the Langmuir specific surface area of graphene aerogel without steam activation was 820 m
2
g
−1
, which was increased to 1690 m
2
g
−1
after steam treatment [
18
]. The enhanced surface area and CO
2
adsorption performance were attributed to high microporosity resulting from steam activation.
The above discussion implies that the introduction of basic sites by doping heteroatoms or metal species coupled with enhanced microporosity by physicochemical activation play an important role in manipulating the adsorption properties of mesoporous carbon materials. However, the work reported so far mainly emphasized on how to increase the adsorption capacity either by tunable surface modification or adjustable microporosity. In this study, we combine these two strategies to enhance the CO2 adsorption properties of mesoporous carbon. At first, basic N and Mg species were incorporated into carbon framework using 3-aminophenol and hexamethylentetramine as nitrogen source and Mg(NO3)2·6H2O as magnesium source, resulting in partially ordered mesostructure with two types of basic sites. In the second step, the as-synthesized Mg and N co-doped mesoporous carbon was etched by steam at elevated temperature to generate a large number of micropores in the carbon framework. As expected, after steam activation, the Mg and N co-doped material exhibited a much higher CO2 uptake capacity.
2. Materials and Methods
2.1. Materials
All chemicals were utilized as received without further purification: Pluronic F127 (Mw = 12,600 EO106-PO70-EO106, Sigma-Aldrich, Co., St. Louis, MO, USA), Magnesium nitrate hexahydrate (Sinopharm Chemical Regent Co., Ltd., Shanghai, China), 3-aminophenol (3-AP, Aladdin Industrial Corporation, Shanghai, China) and hexamethylentetramine (HMT, Aladdin Industrial Corporation, Shanghai, China).
2.2. Synthesis of N-Containing Mesoporous Carbon and Mg and N Co-Doped Mesoporous Carbon
N-containing mesoporous carbon (NMC) and Mg and N co-doped mesoporous carbon (Mg-NMC) were prepared via a procedure similar to that reported by Wang et al. [
19
]. In a typical synthesis, 0.654 g of 3-AP, 0.42 g of HMT and 0.534 g of Mg(NO
3
)
2
·6H
2
O were dissolved in 75 mL of deionized water at room temperature. Then, 5 mL of deionized water containing 0.47 g of Pluronic F127 was slowly added into the above solution with stirring. The resulting mixture was further stirred at room temperature for 30 min to obtain a homogeneous solution. After that, it was transferred to a thermostated oil bath to continue stirring at 50 °C for 16 h, followed by stirring at 80 °C for 8 h to ensure complete polymerization. The obtained polymer was collected by filtration, washed with deionized water and dried at 50 °C under vacuum. The dried sample was further calcined at 350 °C for 2 h followed by calcination at 700 °C for 3 h with a heating rate of 1 °C min
−1
under argon flow.
2.3. Steam Activation
Steam activation was performed in a quartz tube furnace, wherein Mg-NMC was heated from room temperature to 700 °C at a ramp rate of 5 °C min−1 under a flow of argon. After the furnace temperature reached at 700 °C, the carrier gas was bubbled through water before entering into the tube furnace and the furnace temperature was maintained at 700 °C for 4 h. Finally, the carrier gas was switched back to pure argon in order to prevent uncontrolled activation during the cool down process. The final sample was denoted as Mg-NMC-H2O.
2.4. Characterization
X-ray photoelectron spectroscopy (XPS) measurements were performed on an ESCALAB 250Xi with Mg Kα (hν = 1253.6 eV) X-ray source (Thermo Fisher Scientific, Waltham, MA, USA). Fourier-transform infrared (FT-IR) spectra were recorded on a Nicolet iN10 IR microscope (Thermo Nicolet Corporation, Madison, WI, USA). Transmission electron microscopy (TEM) analyses were carried out using an H-7650 microscope (Hitachi High-Technologies Corporation, Tokyo, Japan) and a G2 microscope (FEI Co., Hillsboro, OR, USA) operated at an accelerate voltage of 120 kV. Nitrogen adsorption and desorption isotherms and CO2 adsorption isotherms were carried out on an Autosorb-iQ analyzer (Quantachrome Instruments, Boynton Beach, FL, USA ) at 77 K and 273 K, respectively. Prior to measurements, all samples were degassed under vacuum at 200 °C for 8 h. Surface areas were calculated using Brunauer-Emmett-Teller (BET) method. Pore size distributions were calculated via the nonlocal density functional theory (NLDFT) algorithm. Microporosity was calculated from the relation X% = Vmico/Vtotal × 100%. XRD patterns were obtained with a Bruker D8 Advance diffractometer (Bruker AXS GmbH, Karlsruhe, Germany) using Cu Kα radiation source. Scanning electron microscopy (SEM) studies were conducted with Hitachi S-4800 microscopes (Hitachi, Tokyo, Japan). CO2 temperature programmed desorption (CO2-TPD) experiment was carried out on an AutoChem II 2920 chemisorption analyser (Micromeritics Instrument Corporation, Norcross, GA, USA). Before experiment, the sample was degassed at 700 °C for 2 h under helium flow, and then cooled down to room temperature. The sample was exposed to flowing 10% CO2/He for 2 h, and heated from room temperature to 900 °C under helium flow with a heating rate of 10 °C min−1.
3. Results and Discussion
4. Conclusions
In summary, Mg and N co-doped mesoporous carbon with high microporosity was successfully prepared via one-pot self-assembly method followed by steam activation. In contrast to N-doped mesoporous carbon, Mg and N co-doped mesoporous carbon showed two types of basic sites and partially ordered mesostructure. Upon further steam activation, the microporosity was enhanced to 37.3%, while the specific surface area was increased from 385 to 541 m2 g−1. Moreover, the Mg and N co-doped mesoporous carbon exhibited a good CO2 adsorption capacity of 3.68 mmol g−1 at 273 K and 1.0 bar. The present strategy paves the way towards synthesizing heteroatom and metal oxide co-doped mesoporous carbons with high porosity for potential applications in gas adsorption and catalysis.
Author Contributions
Heqing Jiang and Chengli Jiao designed the experiments and revised the paper; Jingting Lu performed the experiments, analyzed the data and wrote the paper; Zeeshan Majeed wrote the paper.
Acknowledgments
The authors acknowledge the financial support from the National Natural Science Foundation of China (21403267 and 21650110459), Qingdao Applied Basic Research Projects (17-1-1-75-jch), and CAS President's International Fellowship Initiative (2016PT015).
Conflicts of Interest
There are no conflicts of interest to declare.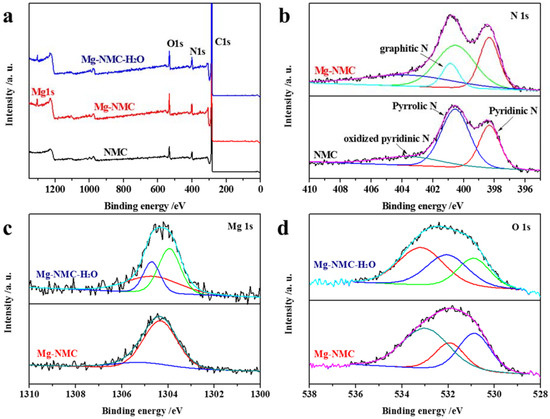 Figure 1. (a) XPS survey spectra for NMC, Mg-NMC and Mg-NMC-H2O; (b) XPS N 1s spectra of NMC and Mg-NMC; (c) XPS Mg 1s and (d) O 1s spectra of Mg-NMC and Mg-NMC-H2O.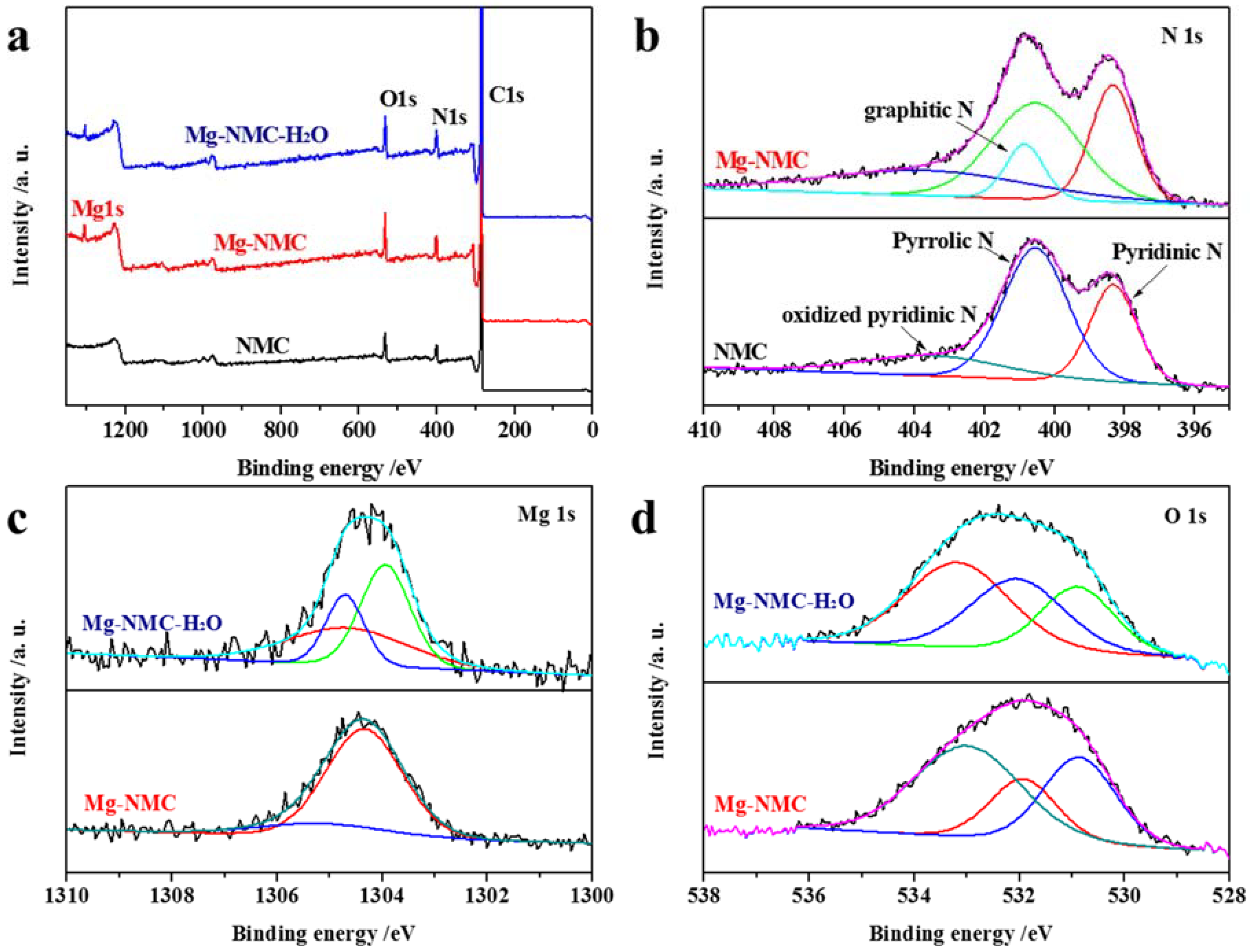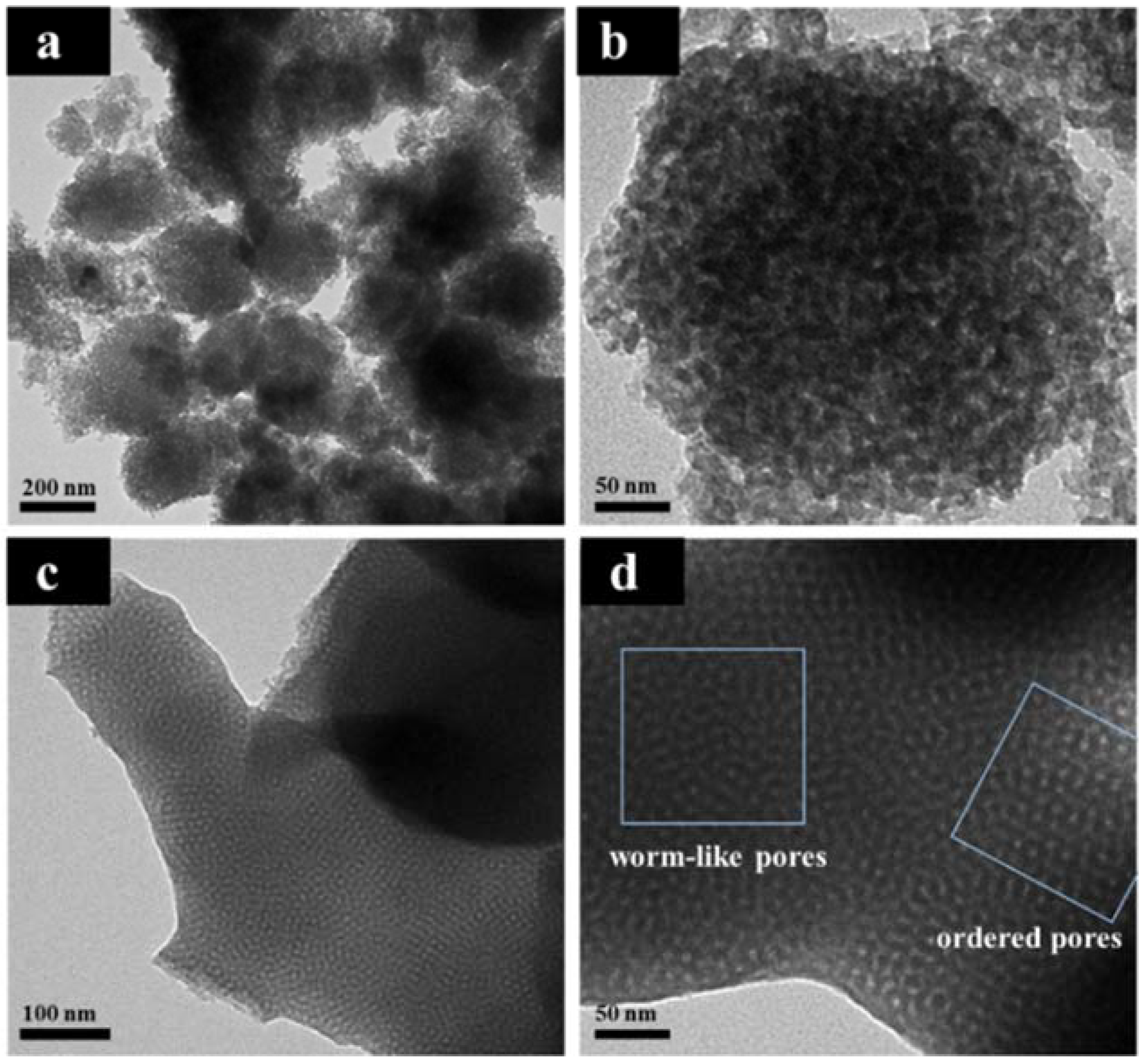 Figure 4. (a) Wide-angle XRD patterns of MgO, Mg-NMC and Mg-NMC-H2O; (b) Small-angle XRD patterns of NMC and Mg-NMC.


Figure 5. N2 sorption isotherms (a) and pore size distribution plots (b) of NMC (solid triangles), Mg-NMC (solid circles) and Mg-NMC-H2O (open circles).


Figure 6. (a) CO2 adsorption isotherms for NMC, Mg-NMC and Mg-NMC-H2O at 273 K; (b) CO2-TPD profile of Mg-NMC.

| Sample | SBET/m2 g−1 | Vtotal/cm3 g−1 | Vmicro/cm3 g−1 | Vmeso/cm3 g−1 | Microporosity/% |
| --- | --- | --- | --- | --- | --- |
| NMC | 457 | 0.58 | 0.106 | 0.476 | 18.3 |
| Mg-NMC | 385 | 0.30 | 0.088 | 0.212 | 29.8 |
| Mg-NMC-H2O | 541 | 0.36 | 0.136 | 0.224 | 37.3 |

© 2018 by the authors. Licensee MDPI, Basel, Switzerland. This article is an open access article distributed under the terms and conditions of the Creative Commons Attribution (CC BY) license (http://creativecommons.org/licenses/by/4.0/).