Low Dose Carbon Black Nanoparticle Exposure Does Not Aggravate Allergic Airway Inflammation in Mice Irrespective of the Presence of Surface Polycyclic Aromatic Hydrocarbons
1
Institut für Anatomie, Zentrum für medizinische Struktur- und Zellbiologie, Universität zu Lübeck (UzL), Airway Research Center North (ARCN), Member of the German Center for Lung Research (DZL), 23562 Lübeck, Germany
2
Forschungszentrum Borstel, Leibniz Lungen-Zentrum, Experimentelle Pneumologie, Airway Research Center North (ARCN), Member of the German Center for Lung Research (DZL), 23845 Borstel, Germany
3
Karlsruher Institut für Technologie, Engler-Bunte-Institut, Bereich Verbrennungstechnik, 76313 Karlsruhe, Germany
4
Fraunhofer Institut für Toxikologie und Experimentelle Medizin ITEM, Hannover, Biomedical Research in Endstage and Obstructive Lung Disease Hannover (BREATH), Member of the German Center for Lung Research (DZL), 30625 Hannover, Germany
*
Author to whom correspondence should be addressed.
†
These authors contributed equally to the work described herein.
Received: 18 February 2018 / Revised: 21 March 2018 / Accepted: 29 March 2018 / Published: 31 March 2018
Abstract
Exposure to exogenous noxae, such as particulate matter, can trigger acute aggravations of allergic asthma—a chronic inflammatory airway disease. We tested whether Carbon Black nanoparticles (CBNP) with or without surface polycyclic aromatic hydrocarbons (PAH) aggravate an established allergic airway inflammation in mice. In an ovalbumin mouse model, Printex
®
90 (P90), P90 coated with benzo[a]pyrene (P90-BaP) or 9-nitroanthracene (P90-9NA), or acetylene soot exhibiting a mixture of surface PAH (AS-PAH) was administered twice (70 µL, 100 µg/mL) during an established allergic airway inflammation. We analyzed the immune cell numbers and chemokine/cytokine profiles in bronchoalveolar lavages, the mRNA expressions of markers for PAH metabolism (Cyp1a1, 1b1), oxidative stress (HO-1, Gr, Gpx-3), inflammation (KC, Mcp-1, IL-6, IL-13, IL-17a), mucin synthesis (Muc5ac, Muc5b), the histology of mucus-producing goblet cells, ciliary beat frequency (CBF), and the particle transport speed. CBNP had a comparable primary particle size, hydrodynamic diameter, and ζ-potential, but differed in the specific surface area (P90 > P90-BaP = P90-9NA = AS-PAH) and surface chemistry. None of the CBNP tested increased any parameter related to inflammation. The unmodified P90, however, decreased the tracheal CBF, decreased the Muc5b in intrapulmonary airways, but increased the tracheal Muc5ac. Our results demonstrated that irrespective of the surface PAH, a low dose of CBNP does not acutely aggravate an established allergic airway inflammation in mice.
View Full-Text
►

▼

Figures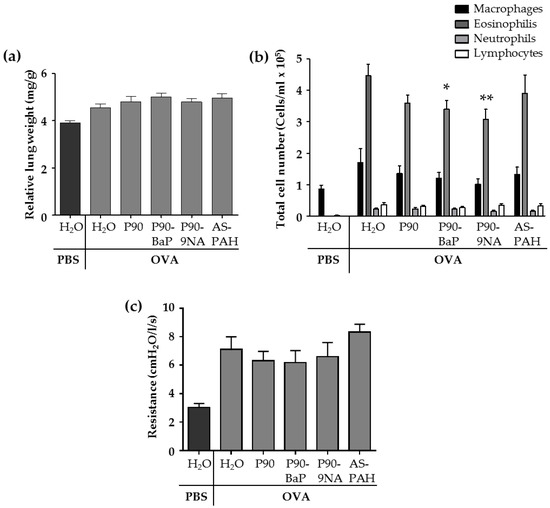 Figure 1
This is an open access article distributed under the
Creative Commons Attribution License
which permits unrestricted use, distribution, and reproduction in any medium, provided the original work is properly cited (CC BY 4.0).

Share & Cite This Article
MDPI and ACS Style
Lindner, K.; Webering, S.; Stroebele, M.; Bockhorn, H.; Hansen, T.; König, P.; Fehrenbach, H. Low Dose Carbon Black Nanoparticle Exposure Does Not Aggravate Allergic Airway Inflammation in Mice Irrespective of the Presence of Surface Polycyclic Aromatic Hydrocarbons. Nanomaterials 2018, 8, 213.
Note that from the first issue of 2016, MDPI journals use article numbers instead of page numbers. See further details here.
Related Articles
Comments
[Return to top]