Open Access This article is
freely available
re-usable
Article
The DaNa2.0 Knowledge Base Nanomaterials—An Important Measure Accompanying Nanomaterials Development
1
NanoCASE GmbH, St. Gallerstr. 58, 9032 Engelburg, Switzerland
2
Society for Chemical Engineering and Biotechnology (DECHEMA), Theodor-Heuss-Allee 25, 60486 Frankfurt am Main, Germany
3
Department Bioanalytical Ecotoxicology (BIOTOX), Helmholtz Centre for Environmental Research GmbH—UFZ, Permoserstraße 15, 04318 Leipzig, Germany
4
Institute for Automation and Applied Informatics (IAI), Karlsruhe Institute of Technology (KIT), Hermann-von-Helmholtz-Platz 1, 76344 Eggenstein-Leopoldshafen, Germany
*
Author to whom correspondence should be addressed.
Received: 5 March 2018 / Accepted: 27 March 2018 / Published: 29 March 2018
Abstract
:
Nanotechnology is closely related to the tailored manufacturing of nanomaterials for a huge variety of applications. However, such applications with newly developed materials are also a reason for concern. The DaNa2.0 project provides information and support for these issues on the web in condensed and easy-to-understand wording. Thus, a key challenge in the field of advanced materials safety research is access to correct and reliable studies and validated results. For nanomaterials, there is currently a continuously increasing amount of publications on toxicological issues, but criteria to evaluate the quality of these studies are necessary to use them e.g., for regulatory purposes. DaNa2.0 discusses scientific results regarding 26 nanomaterials based on actual literature that has been selected after careful evaluation following a literature criteria checklist. This checklist is publicly available, along with a selection of standardized operating protocols (SOPs) established by different projects. The spectrum of information is rounded off by further articles concerning basics or crosscutting topics in nanosafety research. This article is intended to give an overview on DaNa2.0 activities to support reliable toxicity testing and science communication alike.
Keywords:
nanomaterials; nanotoxicology; safety; basic information; literature criteria checklist
Acknowledgments
DaNa2.0 is a German umbrella project funded by the German Federal Ministry of Education and Research (FKZ 03X0131) and is supported by Swiss Federal Authorities, namely the Swiss Federal Office of Public Health and the Swiss Federal Office for the Environment.
Author Contributions
All authors contributed to the main text: Human toxicology parts were written by Harald F. Krug, Katja Nau, Clarissa Marquardt and Nils Bohmer; Ecotoxicology was written by Dana Kühnel; material related and politics parts by Christoph Steinbach. Statistics and analysis of the visitor's activities in context of the nanoparticle.info website including
Figure 1
and
Figure 2
as well as
Table 2
were written by Clarissa Marquardt and Katja Nau Global nanotoxicology issues and table 1 were written by Harald F. Krug.
Conflicts of Interest
The authors declare no conflict of interest.
Appendix A

Table A1.
Nanomaterials and applications included in the DaNa
2.0
knowledge base [
34
].
Sector
Application in
Nanomaterials Involved
Estimated Exposure Potential Human
Estimated Exposure Potential Environment
Medical products & food
Bone cement
Cancer therapy
Contrast agent
Dental prosthesis
Dietary supplement
Drugs
Food additive
Implants
Pregnancy test
Rapid diagnostics
Vaccination
Wound dressing
Barium sulphate
Cellulose
Gold
Iron and Iron oxides
Silicon dioxide
Silver
Titanium dioxide
Zirconium dioxide
Zeolite
High (exposure intended)
Medium (mainly via waste water)
Electronic goods
Color television tube
Display
Electrode
Electronics
LED
Nano Wires
Photovoltaic cell
Processor
RAM (Random-Access Memory)
Touch screens
Carbon Nanotubes (CNT)
Copper and copper oxides
Diamond
Gold
Indium tin oxide (ITO)
Quantum Dots
Strontium carbonate
Titanium dioxide
Low
Low (medium at end-of-life)
Construction and building
Abrasive and polishing agents
Anti-fogging agents
Cement
Cobblestones
Glass
Glue
Heated coatings
Lacquer and plastics additive
Lightweight construction
Rubber
Tools
Aluminum oxides
Carbon Black
Carbon Nanotubes (CNT)
Cerium dioxide
Diamond
Gold
Indium tin oxide (ITO)
Silicon dioxide
Titanium dioxide
Tungsten carbide
Tungsten carbide-Cobalt
Zinc oxide
Zirconium dioxide
Medium to low
low
House hold
Anti-fogging agents
Cat litter
Cleaning agent
PET bottles
Soft Toy
Sports equipment
Tennis racket
Textiles
Wallpaper
Carbon Nanotubes (CNT)
Fullerenes
Graphene
Nanoclays
Silicon dioxide
Silver
Titanium dioxide
Titanium nitride
Zeolite
Zinc oxide
High to medium
Medium
Personal care products
Cosmetics
Skin care
Soap
Suncream
Tooth paste
Carbon Black
Fullerenes
Silicon dioxide
Silver
Titanium dioxide
Zinc oxide
High (exposure intended)
Medium (mainly via waste water)
Pigments
Black pigments
Facade and wall color
Printing inkToner
Carbon Black
Iron and Iron oxides
Silicon dioxide
Silver
Titanium dioxide
High (when exposure intended, e.g., Tattoos) Medium for others
Medium to low (mainly via waste)
Automotive sector
Catalytic exhaust converter
Diesel additive
Fuel cell
Lubricant
Tires
Barium sulphate
Carbon Black
Cerium dioxide
Copper and copper oxides
Fullerenes
Gold
Platinum
Silicon dioxide
Zirconium dioxide
High to medium
High to medium
Agriculture and environmental sector
Environmental remediation
Fertilizer
Filtration
Water softener
Water treatment
Wood preservatives
Aluminum oxides
Copper and copper oxides
Diamond
Gold
Iron and Iron oxides
Zeolite
Medium to low
High to medium
Miscellaneous
Chemical catalyst
Coating
Film
Pyrotechnics
Gold
NanoClays
Silicon dioxide
Silver
Strontium carbonate
Titanium dioxide
Zeolite
Low (Event related)
Medium to low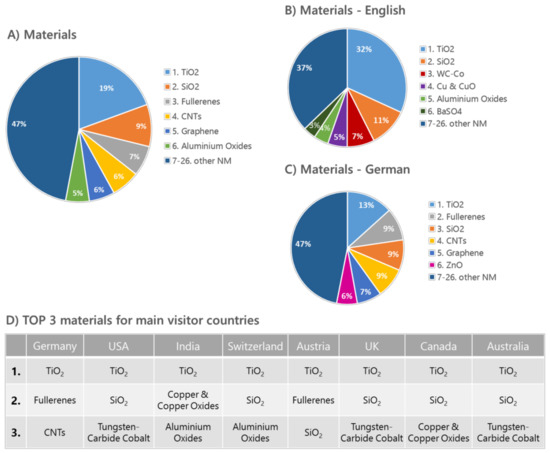 Figure 1.
DaNa
2.0
Website Access Statistics 2016 generated using Webanalytic Tools PIWIK [
35
] and Google Analytics [
36
], showing access-data for the most popular six materials. (
A
) Total access of all ENM; access-data sorted by website language in: (
B
) English and (
C
) German. (
D
) shows an overview of the three most accessed nanomaterials 2016 in correlation with the respective visitor countries.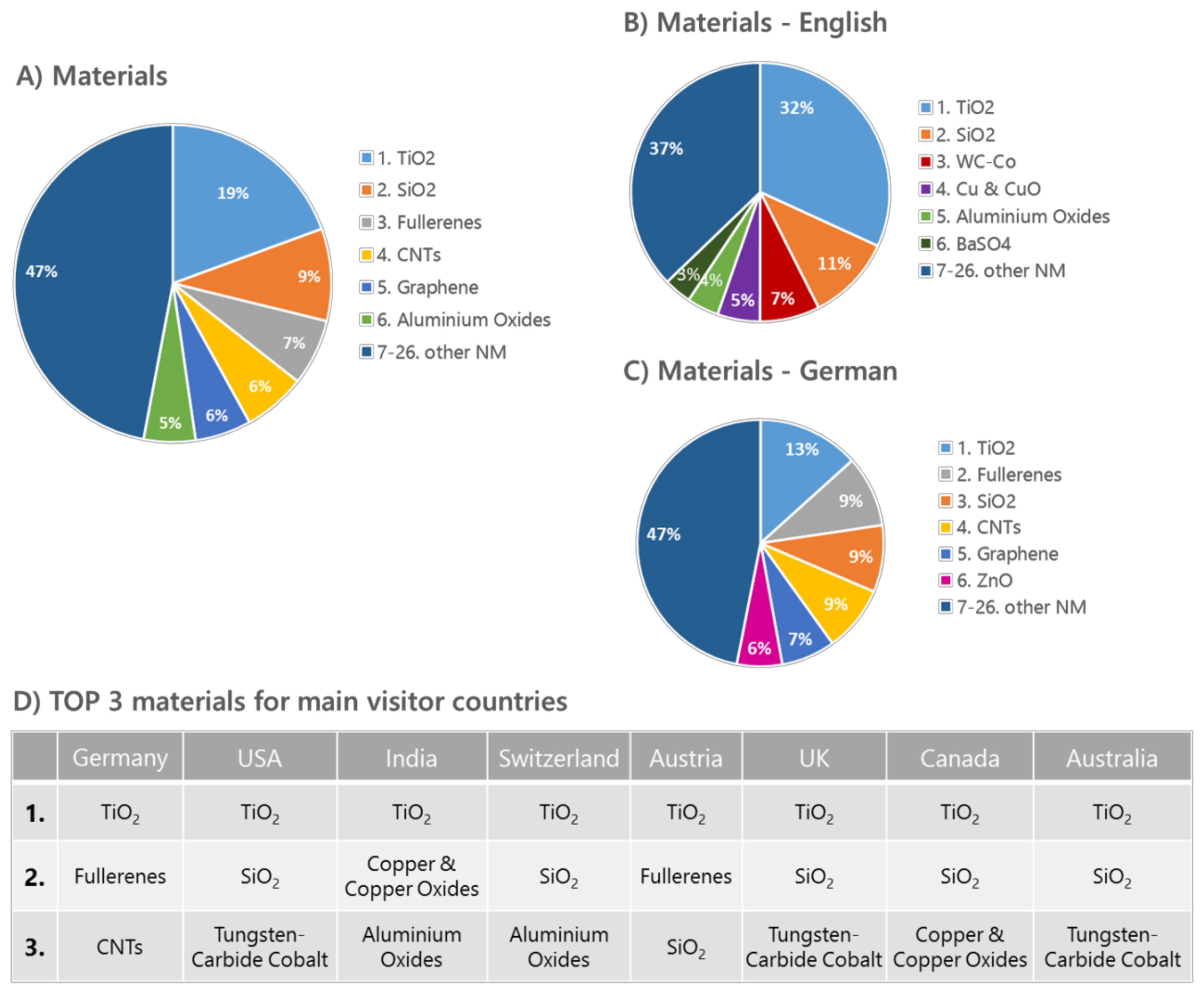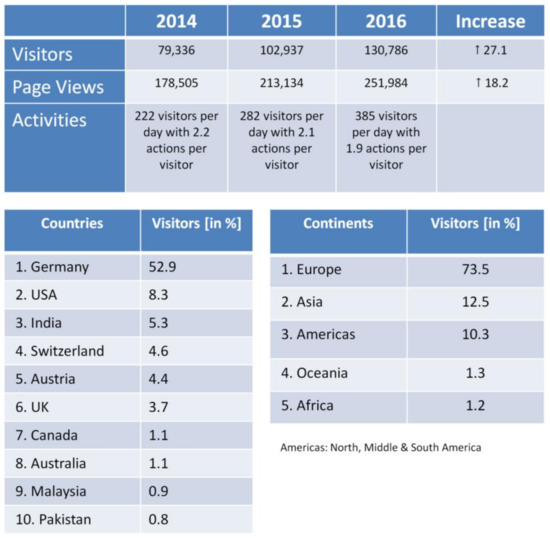 Figure 2.
Website Access Statistics 2016 generated using the same tools as for
Figure 1
, showing the development of visitor numbers & page views from 2014 to 2016 (top); ranking of visitor numbers in 2016 sorted by country and continent of origin.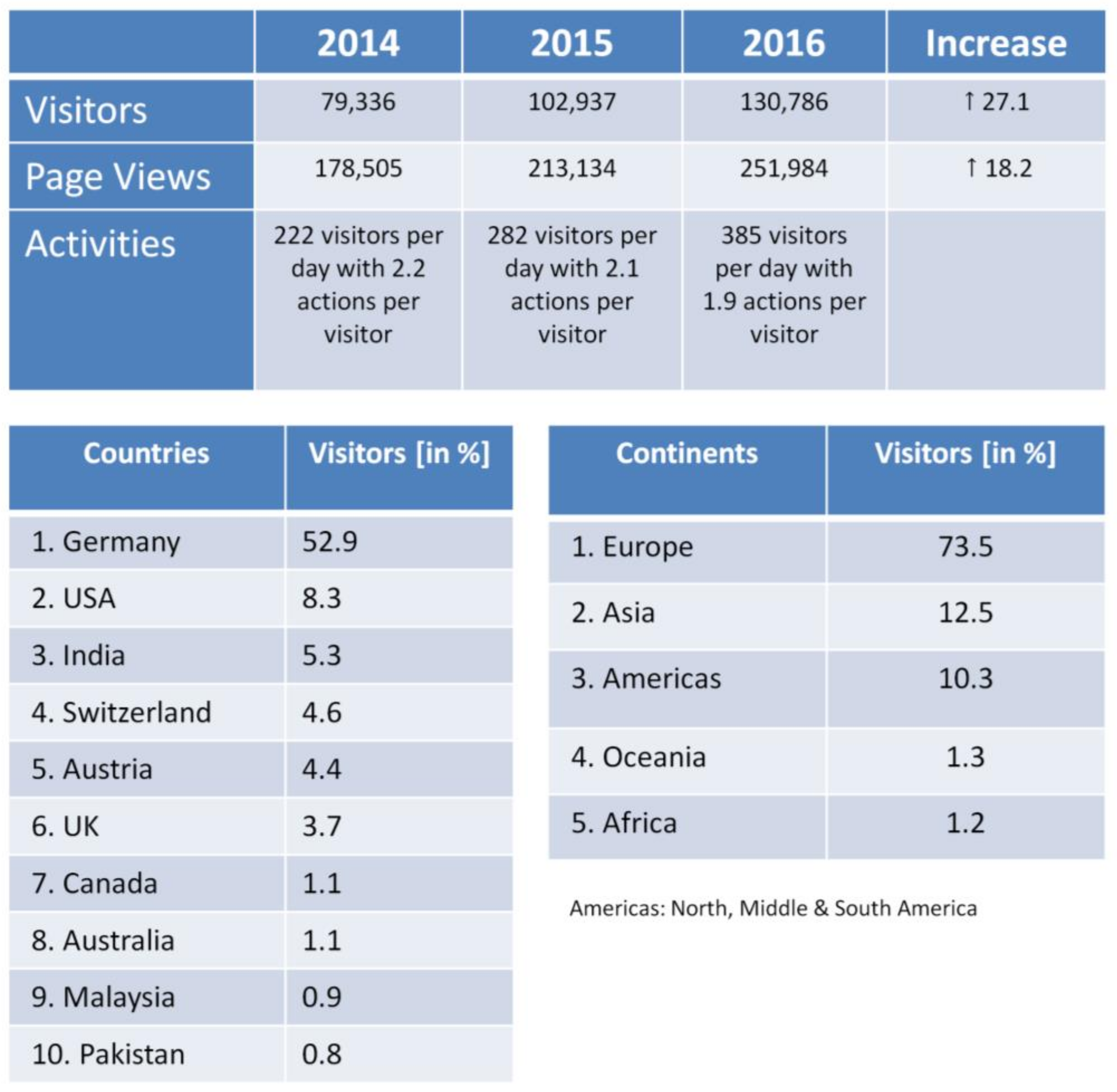 Table 2. Download numbers 2016 for various documents provided on the DaNa2.0-website (SOPs, literature checklist, Safety Data Sheets). These documents from our knowledge base are important sources for the safe development of new ENM/applications or products (statistical data collected by using the Webanalytics tool PIWIK, January–December 2016).
| Documents | Downloads | % of Total Downloads |
| --- | --- | --- |
| Overall download activities | 6129 | 100% |
| DaNa SOP template | 139 | 2% |
| SOPs from Projects | 302 | 5% |
| Literature Criteria Checklist | 149 | 2% |
| NanoCare Datasheets | | |
| TiO2 | 3590 | 59% |
| ZrO2 | 403 | 7% |
| Carbon Black | 256 | 4% |
| CeO2 | 248 | 4% |
| ZnO | 226 | 4% |
| BaSO4 | 194 | 3% |

© 2018 by the authors. Licensee MDPI, Basel, Switzerland. This article is an open access article distributed under the terms and conditions of the Creative Commons Attribution (CC BY) license (http://creativecommons.org/licenses/by/4.0/).