A Raman Imaging Approach Using CD47 Antibody-Labeled SERS Nanoparticles for Identifying Breast Cancer and Its Potential to Guide Surgical Resection
1
Department of Radiology, Stanford University, 1201 Welch Road, Stanford, CA 94305, USA
2
Department of Biomedical Engineering, University of Southern California, 1002 Child's Way, Los Angeles, CA 90089, USA
3
Department of Biomedical Engineering, Michigan State University, 775 Woodlot Drive, East Lansing, MI 48823, USA
4
Department of Mechanical Engineering, University of Washington, 3900 East Stevens Way NE, Seattle, WA 98195, USA
5
Department of Pathology, University of Washington, 1959 NE Pacific St, Seattle, WA 98195, USA
*
Author to whom correspondence should be addressed.
†
These authors contributed equally to this work.
Received: 18 October 2018 / Revised: 10 November 2018 / Accepted: 15 November 2018 / Published: 20 November 2018
Abstract
Raman spectroscopic imaging has shown great promise for improved cancer detection and localization with the use of tumor targeting surface enhanced Raman scattering (SERS) nanoparticles. With the ultrasensitive detection and multiplexing capabilities that SERS imaging has to offer, scientists have been investigating several clinical applications that could benefit from this unique imaging strategy. Recently, there has been a push to develop new image-guidance tools for surgical resection to help surgeons sensitively and specifically identify tumor margins in real time. We hypothesized that SERS nanoparticles (NPs) topically applied to breast cancer resection margins have the potential to provide real-time feedback on the presence of residual cancer in the resection margins during lumpectomy. Here, we explore the ability of SERS nanoparticles conjugated with a cluster of differentiation-47 (CD47) antibody to target breast cancer. CD47 is a cell surface receptor that has recently been shown to be overexpressed on several solid tumor types. The binding potential of our CD47-labeled SERS nanoparticles was assessed using fluorescence assisted cell sorting (FACS) on seven different human breast cancer cell lines, some of which were triple negative (negative expression of estrogen receptor (ER), progesterone receptor (PR), and human epidermal growth factor receptor-2 (HER2)). Xenograft mouse models were also used to assess the ability of our Raman imaging system to identify tumor from normal tissue. A ratiometric imaging strategy was used to quantify specific vs. nonspecific probe binding, resulting in improved tumor-to-background ratios. FACS analysis showed that CD47-labeled SERS nanoparticles bound to seven different breast cancer cell lines at levels 12-fold to 70-fold higher than isotype control-labeled nanoparticles (
p
< 0.01), suggesting that our CD47-targeted nanoparticles actively bind to CD47 on breast cancer cells. In a mouse xenograft model of human breast cancer, topical application of CD47-targeted nanoparticles to excised normal and cancer tissue revealed increased binding of CD47-targeted nanoparticles on tumor relative to normal adjacent tissue. The findings of this study support further investigation and suggest that SERS nanoparticles topically applied to breast cancer could guide more complete surgical resection during lumpectomy.
View Full-Text
►

▼

Figures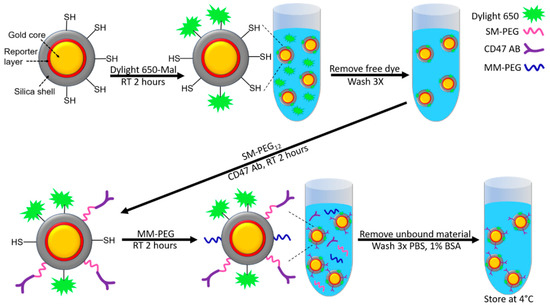 Figure 1
This is an open access article distributed under the
Creative Commons Attribution License
which permits unrestricted use, distribution, and reproduction in any medium, provided the original work is properly cited (CC BY 4.0).

Share & Cite This Article
MDPI and ACS Style
Davis, R.M.; Campbell, J.L.; Burkitt, S.; Qiu, Z.; Kang, S.; Mehraein, M.; Miyasato, D.; Salinas, H.; Liu, J.T.C.; Zavaleta, C. A Raman Imaging Approach Using CD47 Antibody-Labeled SERS Nanoparticles for Identifying Breast Cancer and Its Potential to Guide Surgical Resection. Nanomaterials 2018, 8, 953.
Note that from the first issue of 2016, MDPI journals use article numbers instead of page numbers. See further details here.
Related Articles
Comments
[Return to top]