Open Access This article is
freely available
re-usable
Article
One-Step Synthesis Heterostructured g-C3N4/TiO2 Composite for Rapid Degradation of Pollutants in Utilizing Visible Light
1
Collaborative Innovation Center for Nanomaterials & Devices, College of Physics, Qingdao University, Qingdao 266071, China
2
College of Science & Information, Qingdao Agricultural University, Qingdao 266109, China
3
Industrial Research Institute of Nonwovens & Technical Textiles, College of Textiles and Clothing, Qingdao University, Qingdao, 266071, China
4
Center for Nanofibers & Nanotechnology, Faculty of Engineering, National University of Singapore, Singapore
†
These authors contributed equally to this work.

Received: 19 September 2018 / Accepted: 12 October 2018 / Published: 16 October 2018
Abstract
:
To meet the urgent need of society for advanced photocatalytic materials, novel visible light driven heterostructured composite was constructed based on graphitic carbon nitride (g-C3N4) and fibrous TiO2. The g-C3N4/TiO2 (CNT) composite was prepared through electrospinning technology and followed calcination process. The state of the g-C3N4 and fibrous TiO2 was tightly coupled. The photocatalytic performance was measured by degrading the Rhodamine B. Compared to commercial TiO2 (P25®) and electrospun TiO2 nanofibers, the photocatalytic performance of CNT composite was higher than them. The formation of CNT heterostructures and the enlarged specific surface area enhanced the photocatalytic performance, suppressing the recombination rate of photogenerated carriers while broadening the absorption range of light spectrum. Our studies have demonstrated that heterostructured CNT composite with an appropriate proportion can rational use of visible light and can significantly promote the photogenerated charges transferred at the contact interface between g-C3N4 and TiO2.
Keywords:
electrospinning; g-C
3
N
4
/TiO
2
; heterostructures; visible light; photocatalyst
Supplementary Materials
The following are available online at
https://www.mdpi.com/2079-4991/8/10/842/s1
, Figure S1: SEM images of (a) g-C
3
N
4
, (b) TiO
2
nanofibers, (c,d) CNT6 composite, Figure S2: XPS survey spectra of CNT6, Figure S3: The pore size distribution of TiO
2
nanofibers and CNT6 composite, Figure S4: Optical images of different products: (a) bare TiO
2
nanofibers, (b) g-C
3
N
4
, (c) CNT2, (d) CNT4, (e) CNT6, and (f) CNT7, Figure S5: The curves of (hν·F(R))
1/2
versus hν originated from the diffuse reflectance spectra, Figure S6: PL spectra of commercial TiO
2
P25 and the enlarged view of partial curves in
Figure 6
, Figure S7: (a) Photocatalytic degradation RhB curves under visible light irradiation over different samples, (b) kinetic curves of degradation RhB over different as-prepared photocatalysts.
Author Contributions
Conceptualization, H.L. and Z.-G.Z.; Software, H.L.; Validation, H.-W.H. and H.L.; Formal Analysis, Z.-G.Z. and X.-X.W.; Investigation, Q.-Q.Z. and Y.-F.T.; Resources, S.R., S.-Y.Y. and Y.-Z.L.; Data Curation, H.L. and H.-L.L; Writing-Original Draft Preparation, H.L.; Writing-Review & Editing, H.L., Z.-G.Z. and Y.-Z.L.; Supervision, S.R., J.Z. and Y.-Z.L.
Funding
Our work was supported by the National Natural Science Foundation of China (51673103), Shandong Provincial Natural Science Foundation, China (ZR2017BA013), China Postdoctoral Science Foundation (2017M612200) and the Postdoctoral Scientific Research Foundation of Qingdao (2016014).
Acknowledgments
All results were obtained at the Qingdao University. We thank two anonymous reviewers for positive and instructive comments.
Conflicts of Interest
The authors declare no conflict of interest.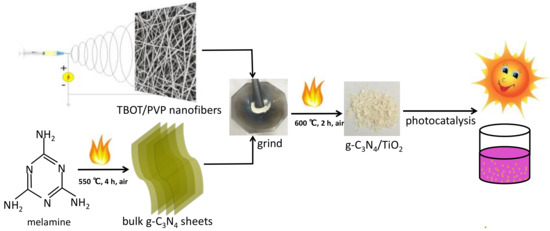 Figure 1. Schematic illustration for the synthesis and visible light photocatalytic application of the CNT composite.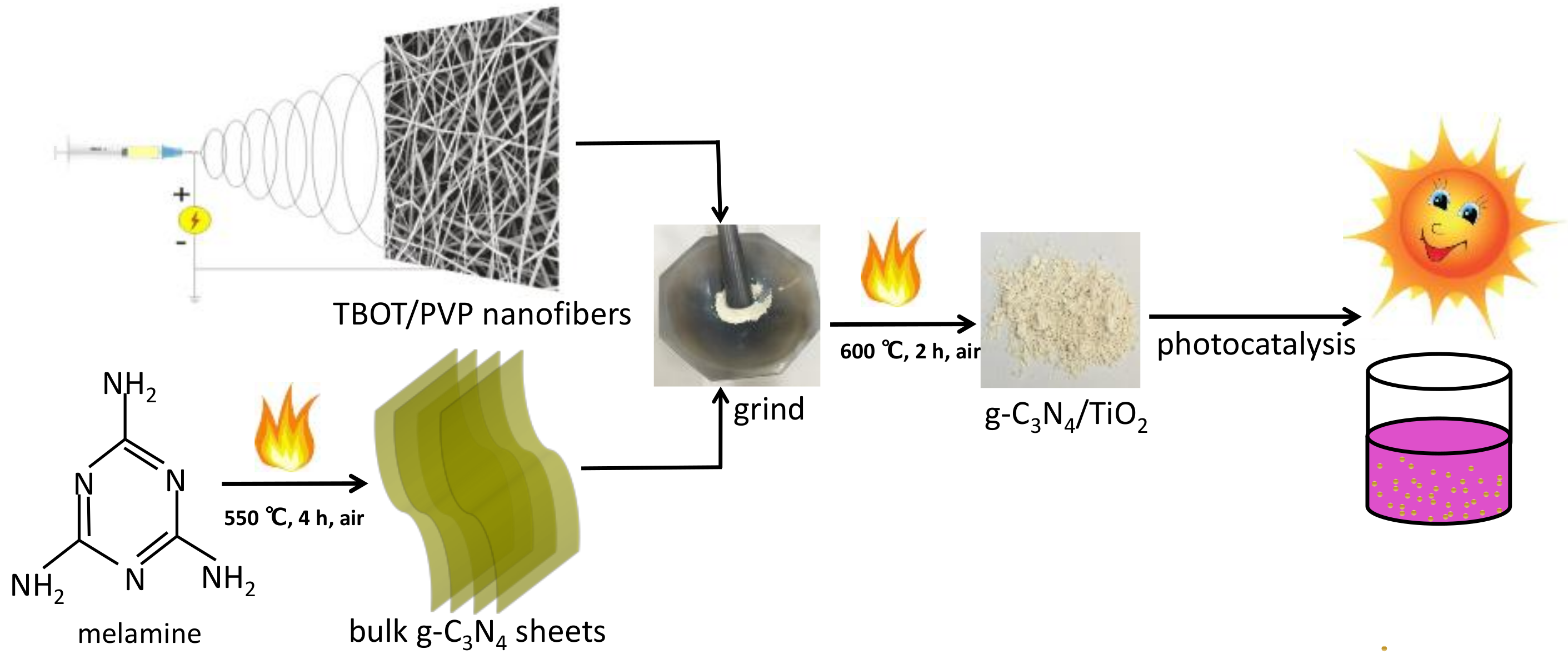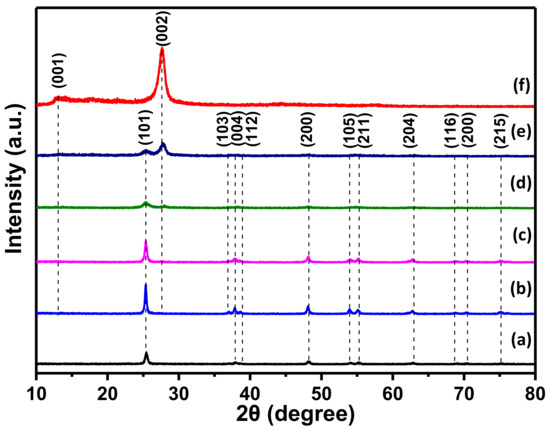 Figure 2. XRD patterns of (a) TiO2 nanofibers; (b) CNT1; (c) CNT3; (d) CNT5; (e) CNT6 and (f) g-C3N4 synthesized at 550 °C.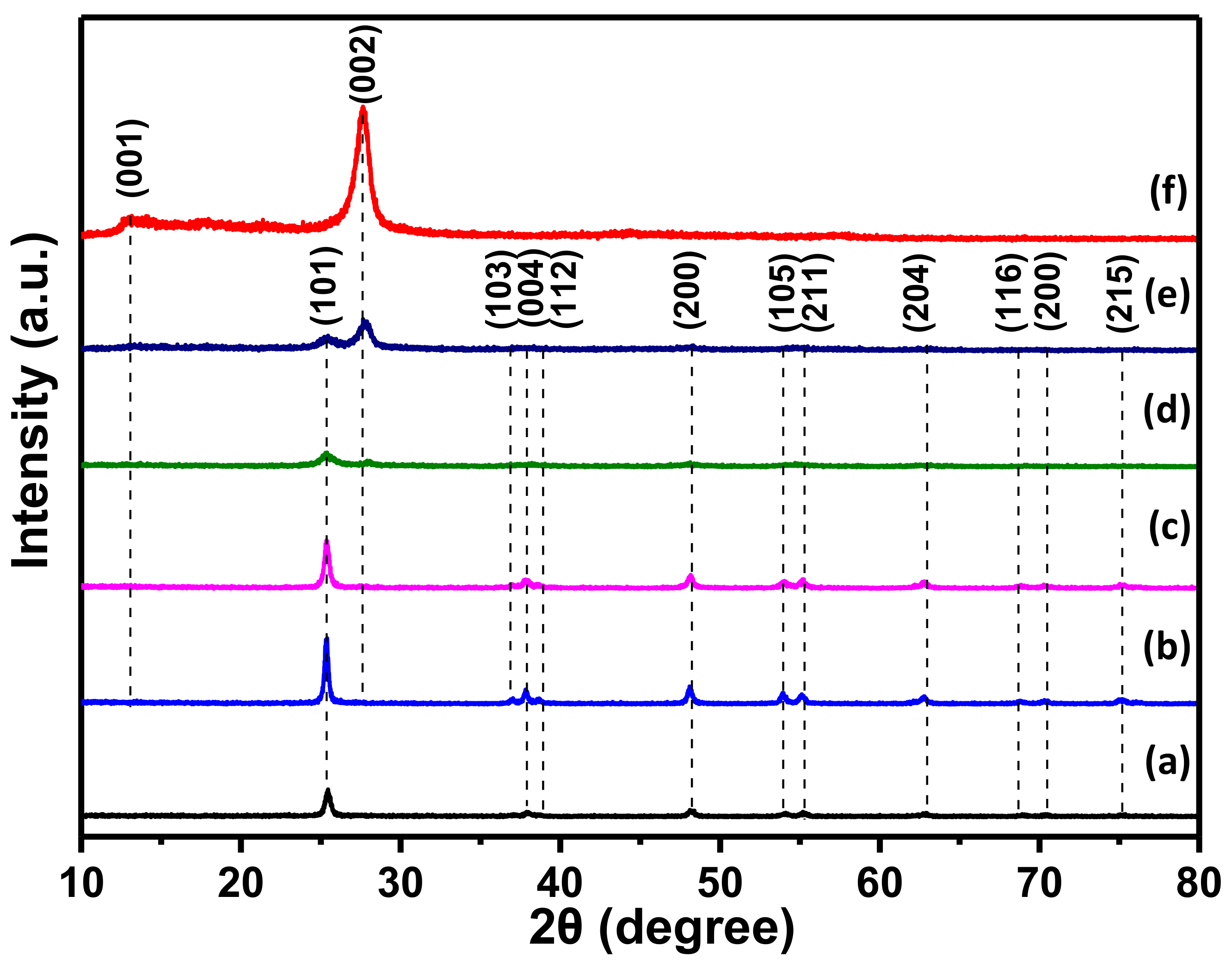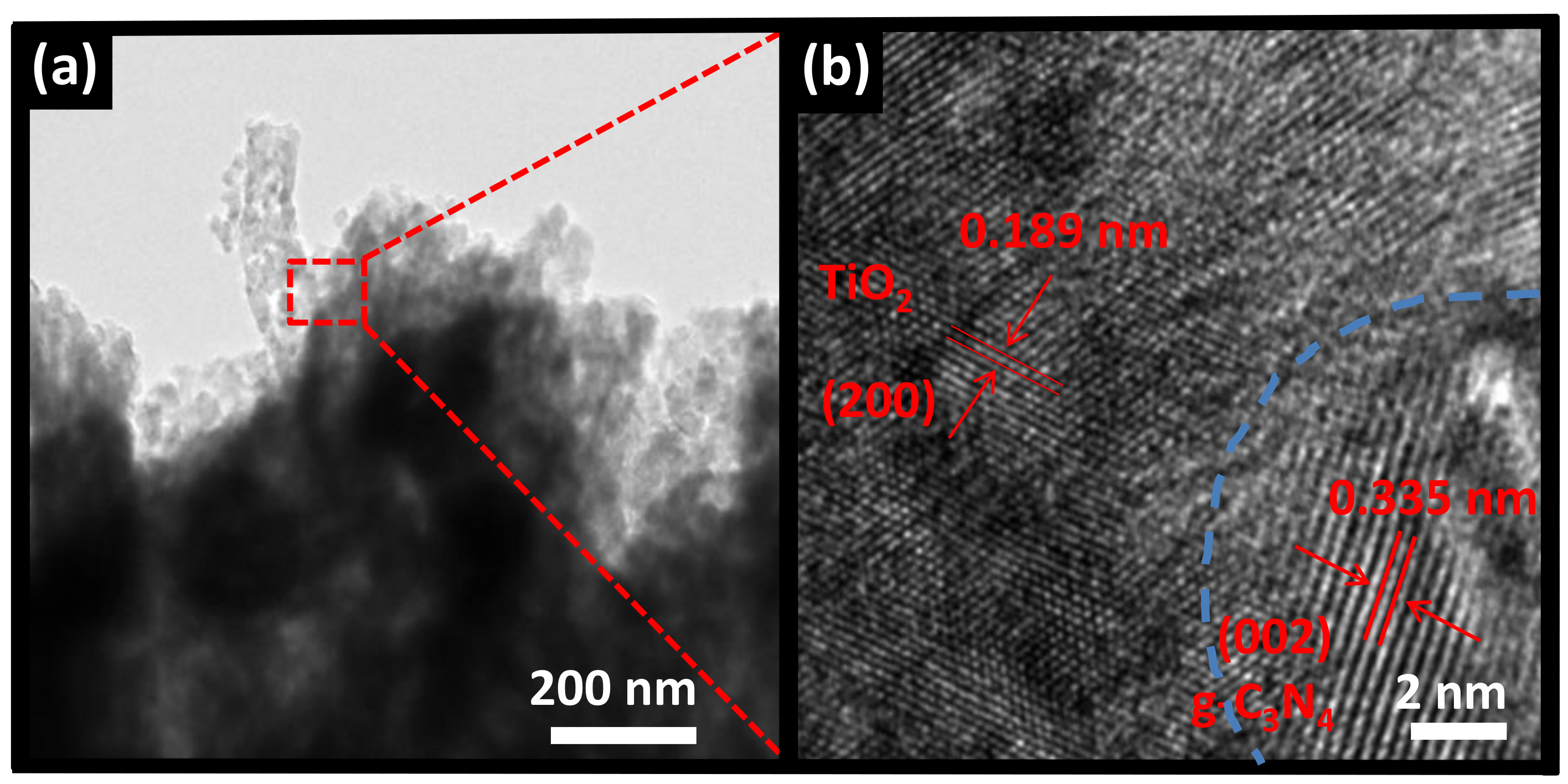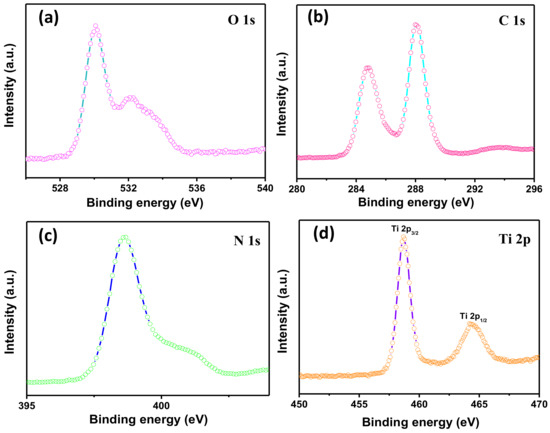 Figure 4. XPS spectra of CNT6: (a) O 1s region; (b) C 1s region; (c) N 1s region and (d) Ti 2p region.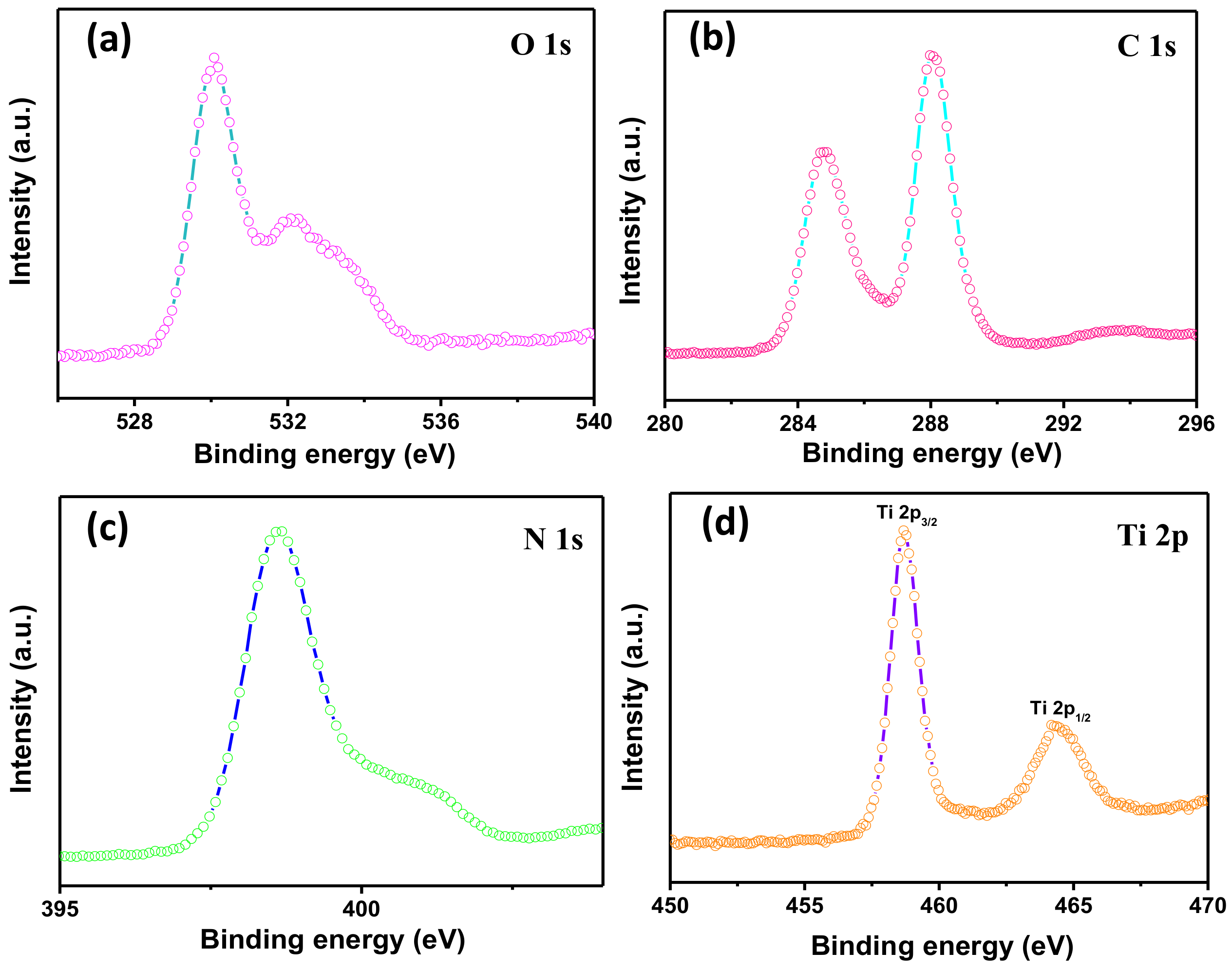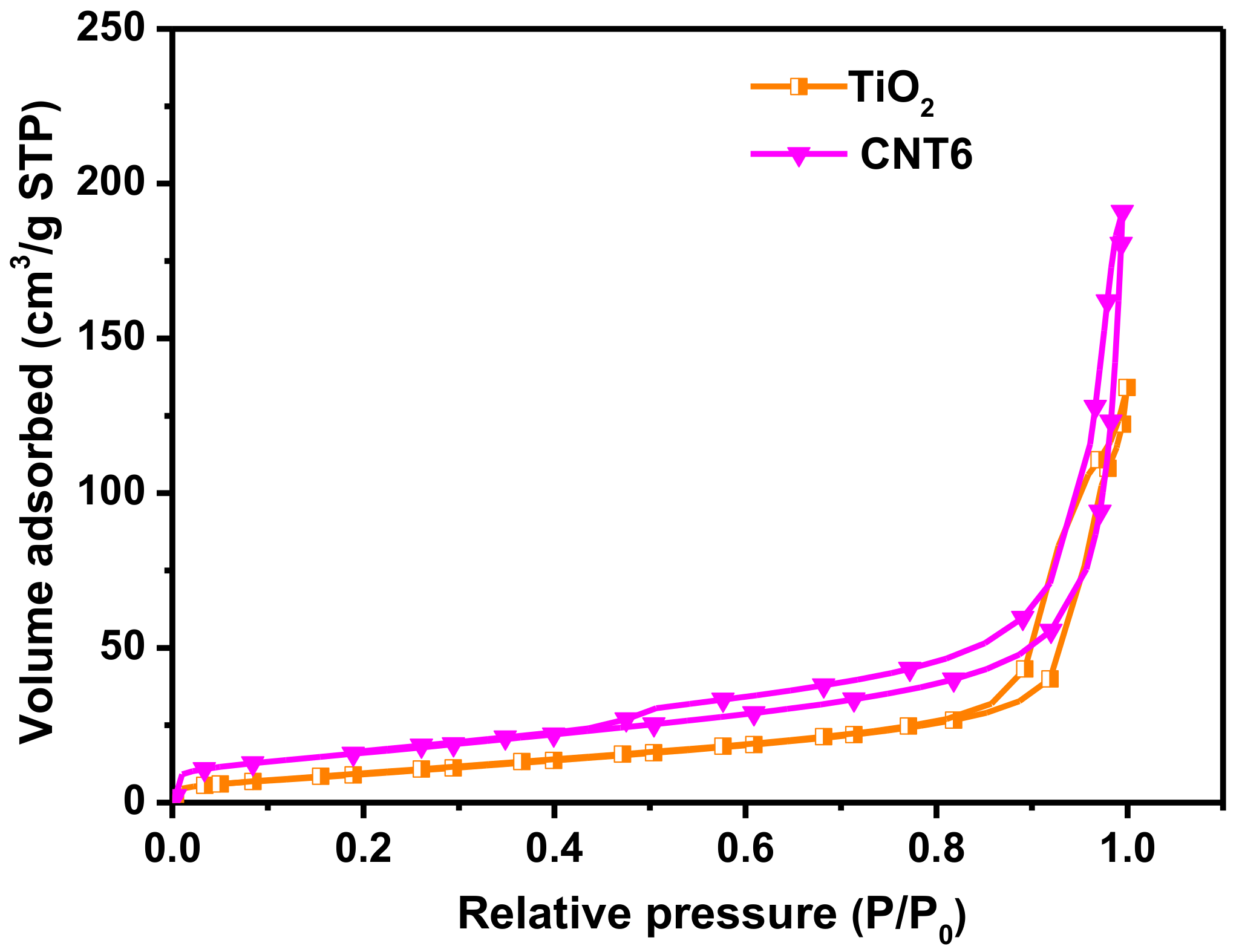 Figure 6. (a) UV-vis diffuses reflectance spectra of g-C3N4, TiO2 nanofibers and various CNT composites; (b) The curve of band gap energy in various samples.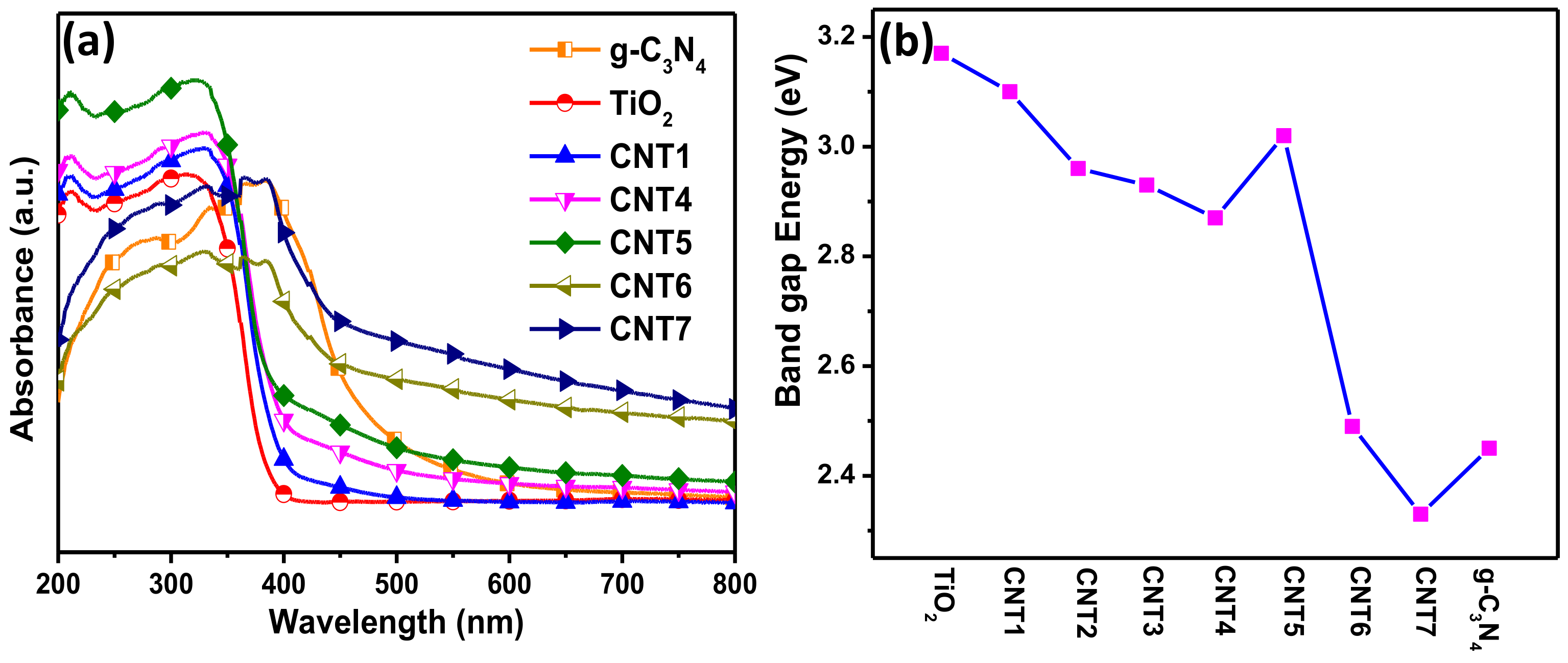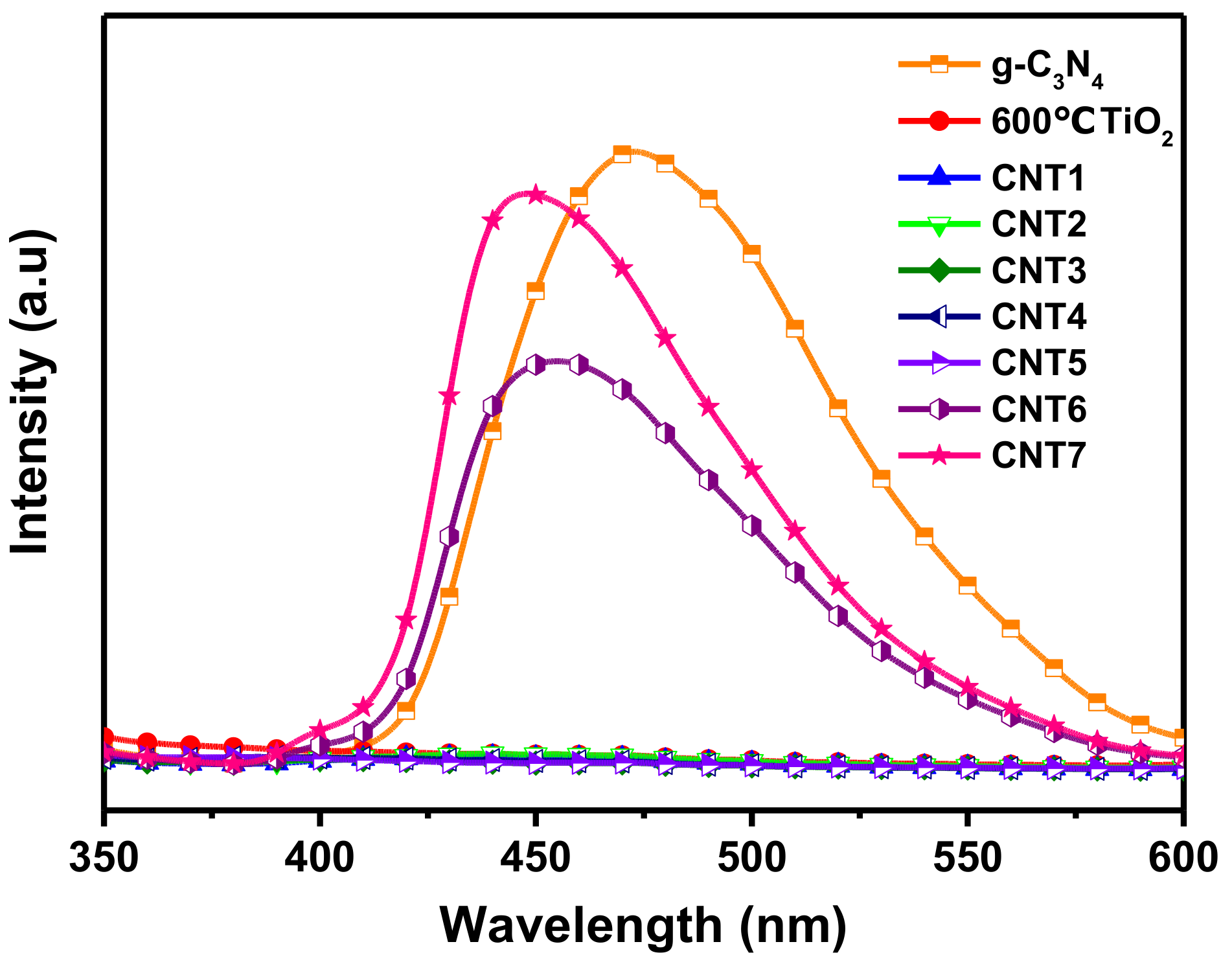 Figure 8. (a) Photocatalytic degradation RhB curves under visible light irradiation over different samples; (b) reaction rate constant for degradation RhB over different as-prepared photocatalysts.


Figure 9. (a) Effects on photocatalytic performance by adding different kinds of scavengers; (b) Schematic illustration for the separation and recombination process of photogenerated carriers between TiO2 and g-C3N4 under visible light irradiation.

| Samples | CNT1 | CNT2 | CNT3 | CNT4 | CNT5 | CNT6 | CNT7 |
| --- | --- | --- | --- | --- | --- | --- | --- |
| g-C3N4 (g) | 0.25 | 0.3 | 0.5 | 1 | 2 | 3 | 4 |
| TBOT/PVP (g) | 1 | 1 | 1 | 1 | 1 | 1 | 1 |

© 2018 by the authors. Licensee MDPI, Basel, Switzerland. This article is an open access article distributed under the terms and conditions of the Creative Commons Attribution (CC BY) license (http://creativecommons.org/licenses/by/4.0/).