Graphene Oxide–PEG–Protocatechuic Acid Nanocomposite Formulation with Improved Anticancer Properties
1
Laboratory for Vaccine and Immunotherapeutics, Institute of Biosciences, Universiti Putra Malaysia (UPM), Serdang 43400, Selangor, Malaysia
2
Material Synthesis and Characterization Laboratory, Institute of Advanced Technology (ITMA), Universiti Putra Malaysia (UPM), Serdang 43400, Selangor, Malaysia
3
Department of Human Anatomy Faculty of Medicine and Health Sciences, Universiti Putra Malaysia (UPM), Serdang 43400, Selangor, Malaysia
4
Education Department, Sukkur IBA University, Sukkur 65200, Sindh, Pakistan
5
Faculty of Industry and Mining, University of Sistan and Baluchestan, Zahedan 98167, Sistan and Bauchetan, Iran
*
Author to whom correspondence should be addressed.
†
These authors contributed equally to this work.
Received: 20 September 2018 / Revised: 6 October 2018 / Accepted: 6 October 2018 / Published: 11 October 2018
Abstract
The treatment of cancer through chemotherapy is limited by its toxicity to healthy tissues and organs, and its inability to target the cancer site. In this study, we have designed an anticancer nanocomposite delivery system for protocatechuic acid (PCA) using graphene oxide–polyethylene glycol as the nanocarrier, and coated with folic acid (GO–PEG–PCA–FA) for targeting the cancer cells. The designed anticancer delivery system was found to show much better anticancer activity than the free drug PCA against liver cancer HEP-G2 cells and human colon cancer HT-29 cells; at same time, it was found to be less toxic to normal fibroblast 3T3 cells. The folate-coated anticancer delivery system was found to show better activity then the free drug and the uncoated anticancer delivery system. The in vitro release of the PCA was found to be sustained in human physiological pHs, i.e., blood pH 7.4 and intracellular lysosomal pH 4.8. These in vitro findings are highly encouraging for further in vivo evaluation studies.
View Full-Text
►

▼

Figures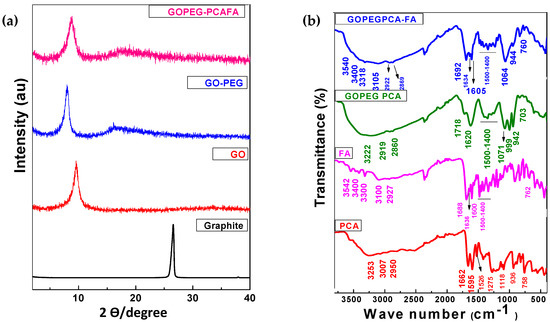 Figure 1
This is an open access article distributed under the
Creative Commons Attribution License
which permits unrestricted use, distribution, and reproduction in any medium, provided the original work is properly cited (CC BY 4.0).

Share & Cite This Article
MDPI and ACS Style
Saifullah, B.; Buskaran, K.; Shaikh, R.B.; Barahuie, F.; Fakurazi, S.; Mohd Moklas, M.A.; Hussein, M.Z. Graphene Oxide–PEG–Protocatechuic Acid Nanocomposite Formulation with Improved Anticancer Properties. Nanomaterials 2018, 8, 820.
Note that from the first issue of 2016, MDPI journals use article numbers instead of page numbers. See further details here.
Related Articles
Comments
[Return to top]