Nanoporous Anodic Alumina Photonic Crystals for Optical Chemo- and Biosensing: Fundamentals, Advances, and Perspectives
1
School of Chemical Engineering, The University of Adelaide, Adelaide SA 5005, Australia
2
Institute for Photonics and Advanced Sensing (IPAS), The University of Adelaide, Adelaide SA 5005, Australia
3
ARC Centre of Excellence for Nanoscale BioPhotonics (CNBP), The University of Adelaide, Adelaide SA 5005, Australia
4
Department of Chemistry, The University of Adelaide, Adelaide SA 5005, Australia
5
Melbourne Centre for Nanofabrication, Victorian Node of the Australian National Fabrication Facility, Melbourne 3168, Australia
6
Drug Delivery, Disposition and Dynamics, Monash Institute of Pharmaceutical Sciences, Monash University, Melbourne 3052, Australia
7
Commonwealth Scientific and Industrial Research Organisation (CSIRO), Melbourne 3168, Australia
8
INM-Leibniz Institute for New Materials, Campus D2 2, 66123 Saarbrücken, Germany
*
Authors to whom correspondence should be addressed.
Received: 15 September 2018 / Revised: 1 October 2018 / Accepted: 1 October 2018 / Published: 4 October 2018
Abstract
Optical sensors are a class of devices that enable the identification and/or quantification of analyte molecules across multiple fields and disciplines such as environmental protection, medical diagnosis, security, food technology, biotechnology, and animal welfare. Nanoporous photonic crystal (PC) structures provide excellent platforms to develop such systems for a plethora of applications since these engineered materials enable precise and versatile control of light–matter interactions at the nanoscale. Nanoporous PCs provide both high sensitivity to monitor in real-time molecular binding events and a nanoporous matrix for selective immobilization of molecules of interest over increased surface areas. Nanoporous anodic alumina (NAA), a nanomaterial long envisaged as a PC, is an outstanding platform material to develop optical sensing systems in combination with multiple photonic technologies. Nanoporous anodic alumina photonic crystals (NAA-PCs) provide a versatile nanoporous structure that can be engineered in a multidimensional fashion to create unique PC sensing platforms such as Fabry–Pérot interferometers, distributed Bragg reflectors, gradient-index filters, optical microcavities, and others. The effective medium of NAA-PCs undergoes changes upon interactions with analyte molecules. These changes modify the NAA-PCs' spectral fingerprints, which can be readily quantified to develop different sensing systems. This review introduces the fundamental development of NAA-PCs, compiling the most significant advances in the use of these optical materials for chemo- and biosensing applications, with a final prospective outlook about this exciting and dynamic field.
View Full-Text
►

▼

Figures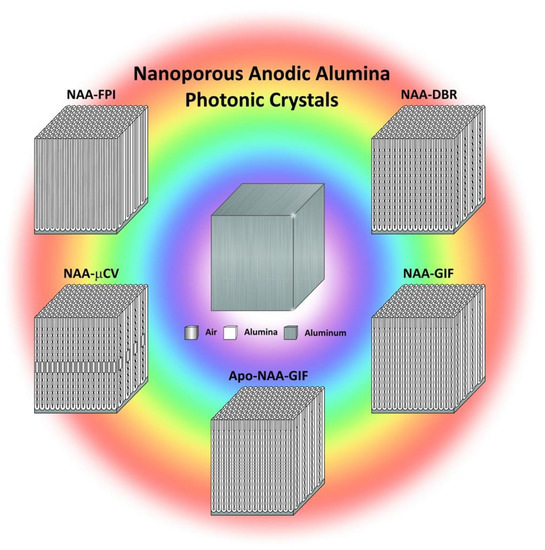 Figure 1
This is an open access article distributed under the
Creative Commons Attribution License
which permits unrestricted use, distribution, and reproduction in any medium, provided the original work is properly cited (CC BY 4.0).

Share & Cite This Article
MDPI and ACS Style
Law, C.S.; Lim, S.Y.; Abell, A.D.; Voelcker, N.H.; Santos, A. Nanoporous Anodic Alumina Photonic Crystals for Optical Chemo- and Biosensing: Fundamentals, Advances, and Perspectives. Nanomaterials 2018, 8, 788.
Note that from the first issue of 2016, MDPI journals use article numbers instead of page numbers. See further details here.
Related Articles
Comments
[Return to top]