Open Access This article is
freely available
re-usable
Article
Highly-Ordered PdIn Intermetallic Nanostructures Obtained from Heterobimetallic Acetate Complex: Formation and Catalytic Properties in Diphenylacetylene Hydrogenation
1
N. D. Zelinsky Institute of Organic Chemistry, Russian Academy of Sciences, Leninsky Prospect 47, 119991 Moscow, Russia
2
N. S. Kurnakov Institute of General and Inorganic Chemistry, Russian Academy of Sciences, Leninsky Prospect 31, 119991 Moscow, Russia
*
Author to whom correspondence should be addressed.
Received: 31 August 2018 / Accepted: 27 September 2018 / Published: 28 September 2018
Abstract
:
Formation of PdIn intermetallic nanoparticles supported on α-Al2O3 was investigated by X-ray powder diffraction (XRD), transmission electron microscopy (TEM), and hydrogen temperature-programmed desorption (H2-TPD) methods. The metals were loaded as heterobimetallic Pd(μ-O2CMe)4In(O2CMe) complex to ensure intimate contact between Pd and In. Reduction in H2 at 200 °C resulted in Pd-rich PdIn alloy as evidenced by XRD and the disappearance of Pd hydride. A minor amount of Pd1In1 intermetallic phase appeared after reduction at 200 °C and its formation was accomplished at 400 °C. Neither monometallic Pd or in nor other intermetallic structures were found after reduction at 400–600 °C. Catalytic performance of Pd1In1/α-Al2O3 was studied in the selective liquid-phase diphenylacetylene (DPA) hydrogenation. It was found that the reaction rate of undesired alkene hydrogenation is strongly reduced on Pd1In1 nanoparticles enabling effective kinetic control of the hydrogenation, and the catalyst demonstrated excellent selectivity to alkene.
Keywords:
Pd
1
In
1
; intermetallic nanoparticles; selective hydrogenation; diphenylacetylene; heterobimetallic complex
Author Contributions
I.S.M. analyzed the experimental data, contributed to the interpretation of the results and wrote the paper. G.N.B. synthesized the catalysts. G.O.B. performed the catalytic tests. P.V.M. supported the experimental activity related to the characterization of the materials by TEM and XRD. A.V.R. performed TPHD measurements. I.A.Y. and M.N.V. synthesized the initial PdIn acetate complex being used as the precursor for the catalyst preparation. A.Y.S. conceived and designed the experiments, gave advice on the experimental procedures, and contributed to the interpretation of the results and writing the paper. All the authors discussed the results, and read and approved the manuscript prior to submission.
Funding
This work was performed at the N.D. Zelinsky Institute of Organic Chemistry RAS and was supported by the Russian Science Foundation (grant No. 16-13-10530).
Acknowledgments
The authors are grateful to the Department of Structural Studies of the N. D. Zelinsky Institute of Organic Chemistry RAS for the characterization of the catalysts by electron microscopy.
Conflicts of Interest
The authors declare no conflict of interest.
Figure 1. Typical kinetic profiles of H2 uptake on the reaction time in the course of the liquid-phase hydrogenation of DPA on the Pd/Al2O3 and PdIn/Al2O3 reduced at 200 °C.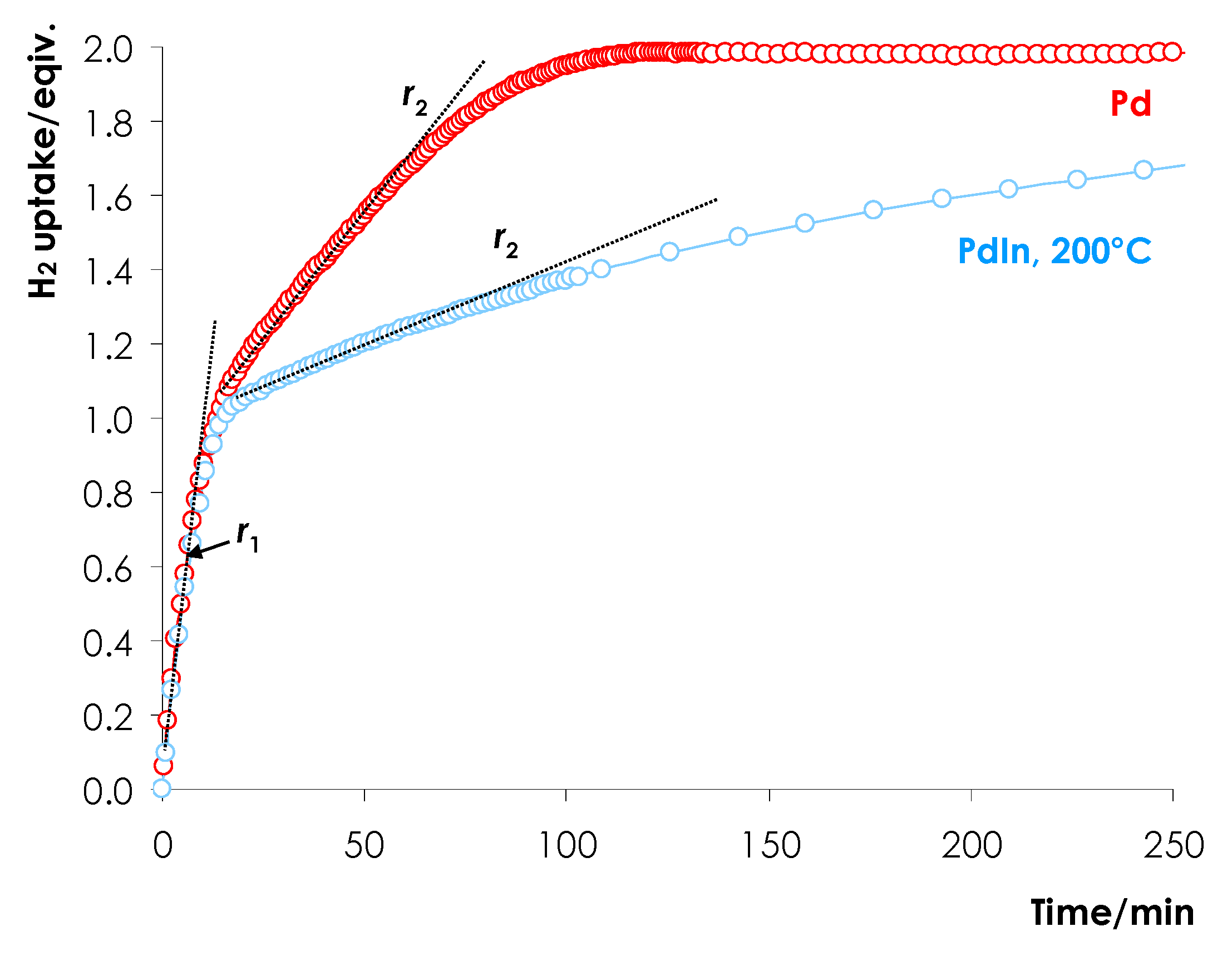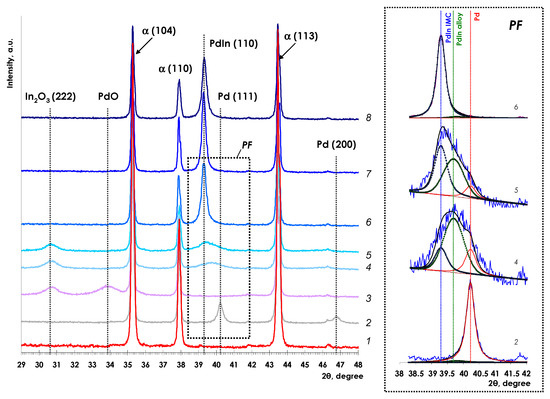 Figure 2. Comparison of XRD patterns for pure α-Al2O3 (1), monometallic Pd/α-Al2O3 (2), and PdIn/α-Al2O3 catalysts unreduced (3) and reduced t 200 °C (4), 300 °C (5), 400 °C (6), 500 °C (7), and 600 °C (8). Insert on the right demonstrates peak fitting (PF) performed for the profiles 2, 4, 5, and 6.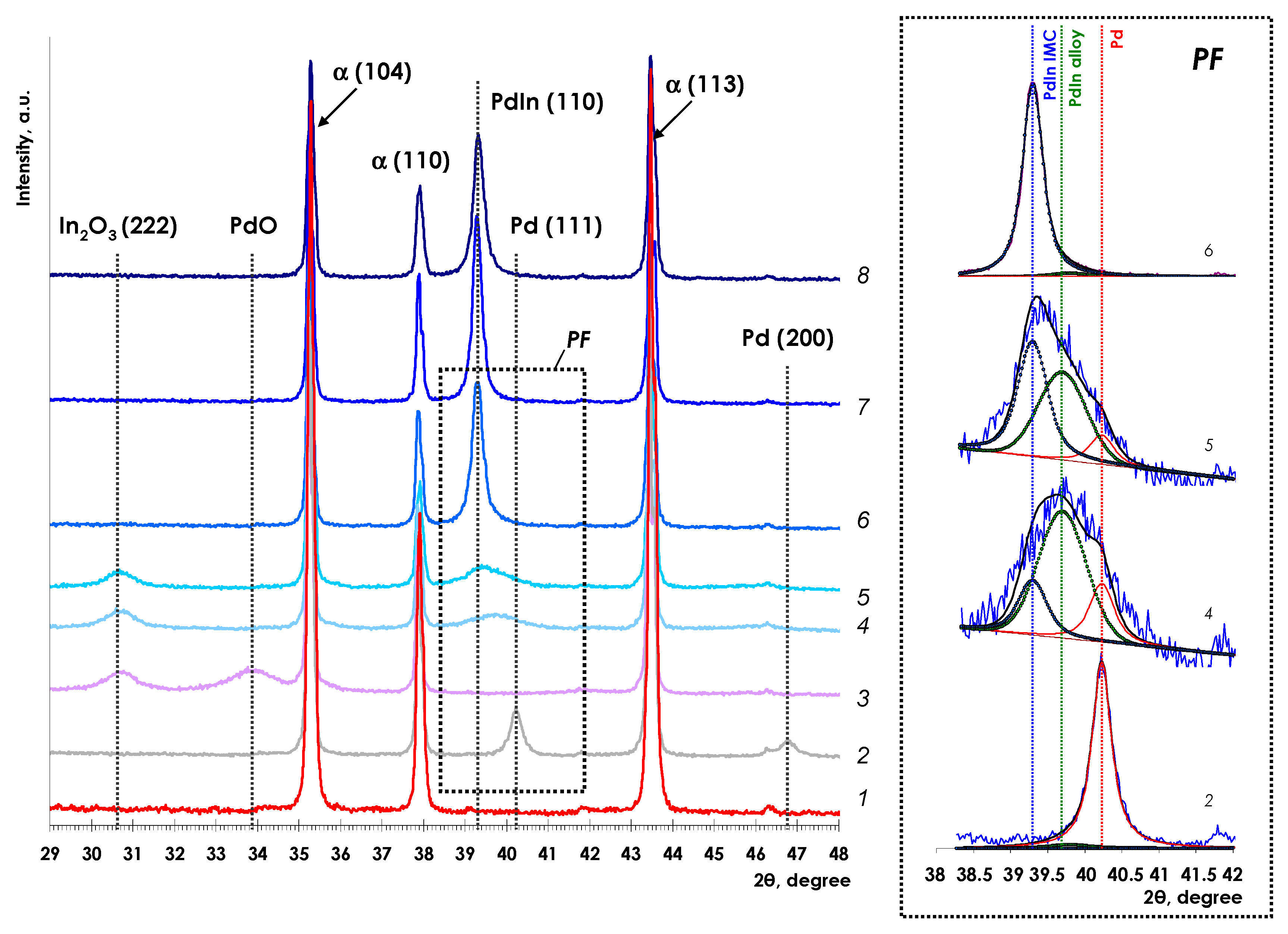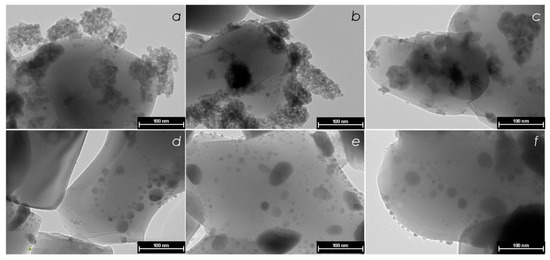 Figure 4. TEM images of the calcined Pd-In/α-Al2O3 (a) and the catalyst reduced at 200 °C (b), 300 °C (c), 400 °C (d), 500 °C (e), and 600 °C (f).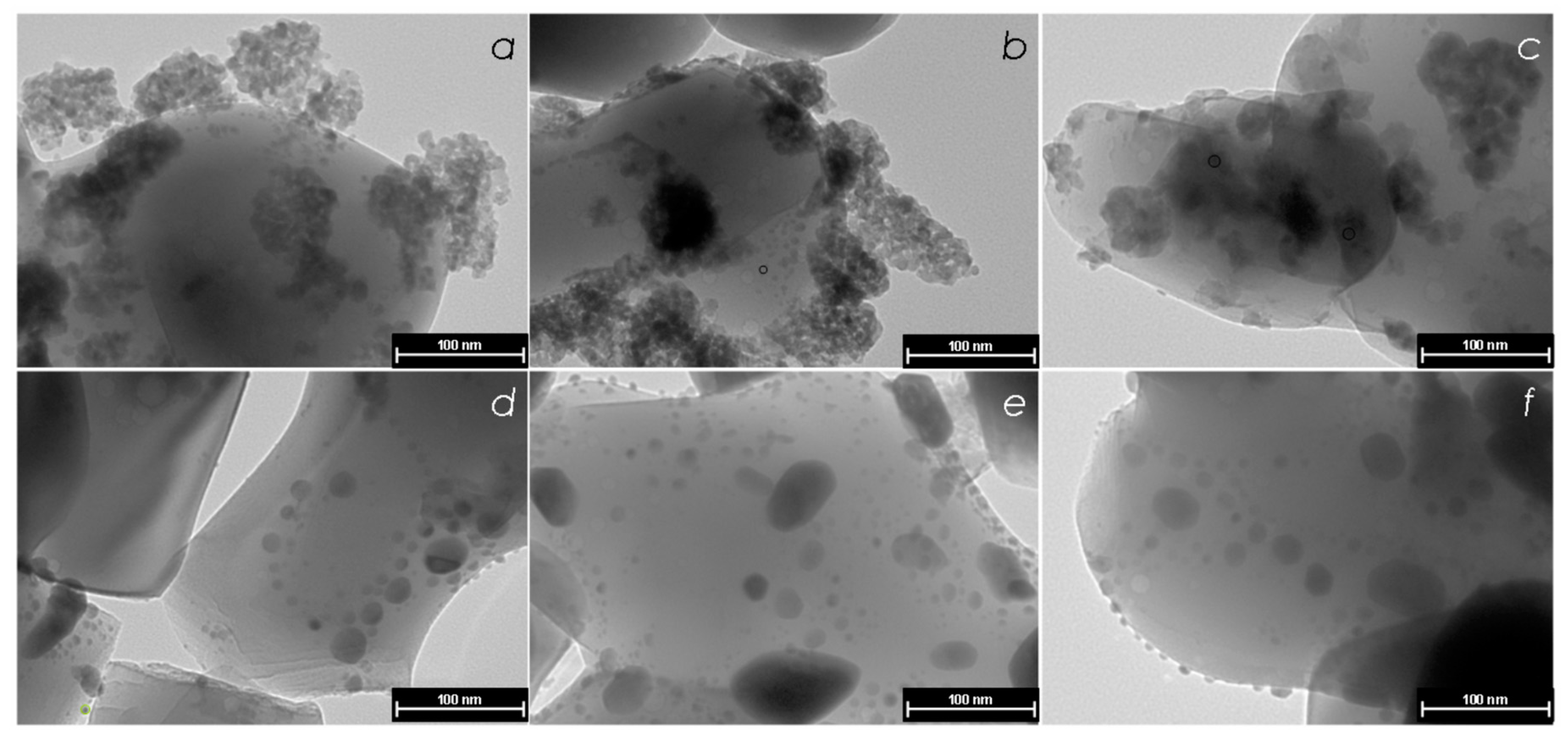 Figure 5. Temperature-programmed hydride decomposition of Pd/α-Al2O3 (1) and Pd-In/α-Al2O3 catalysts reduced at 200 °C (2) and 300 °C (3).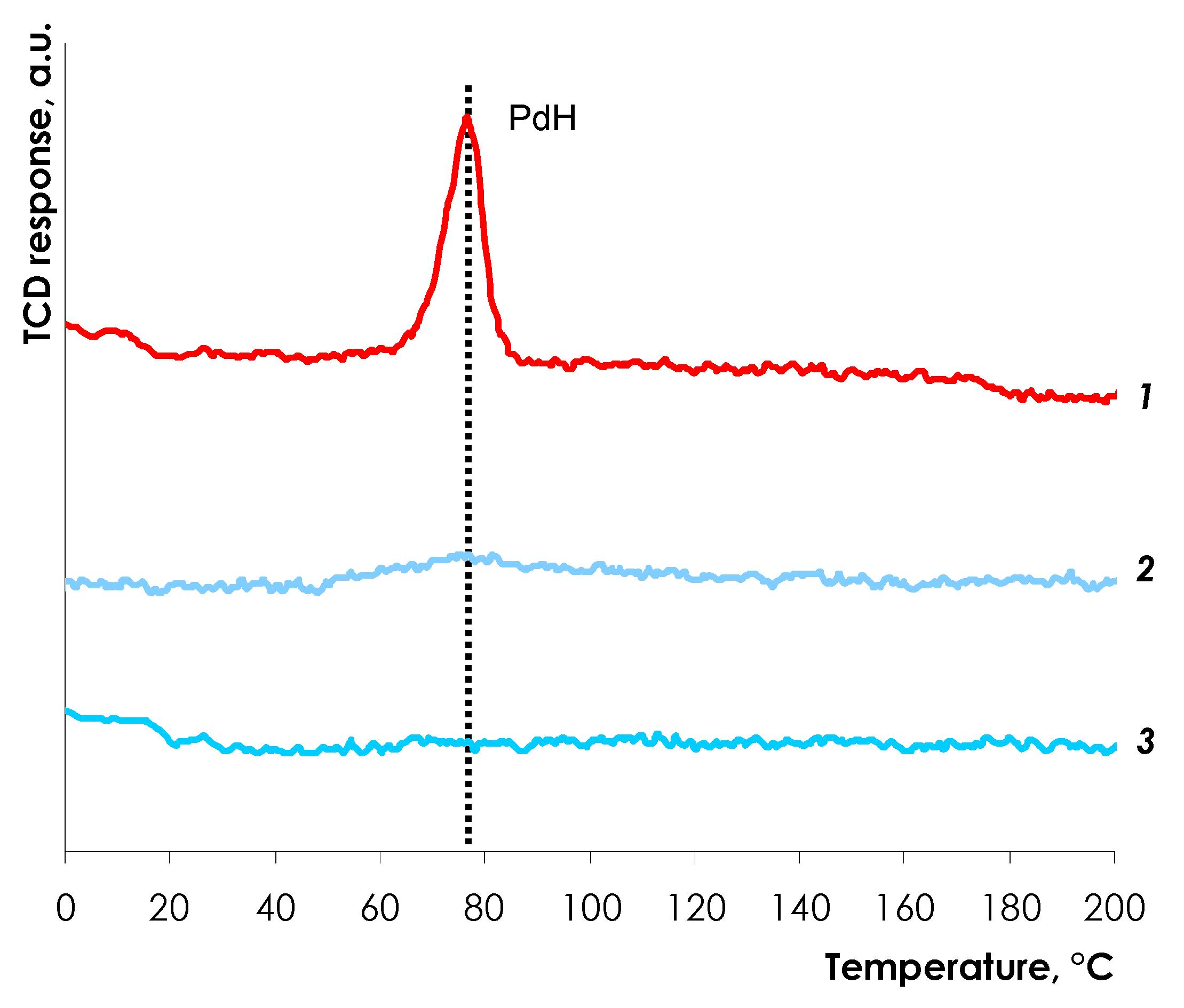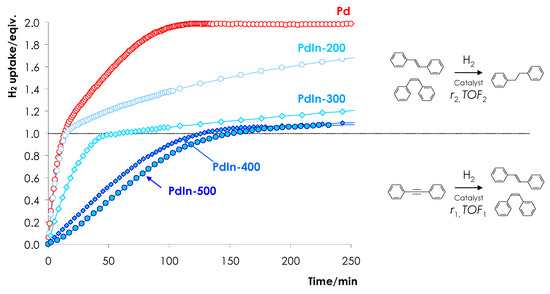 Figure 6. Effect of reduction temperature on the kinetics of DPA hydrogenation for Pd/α-Al2O3 and PdIn/α-Al2O3 catalysts reduced at 200–500 °C.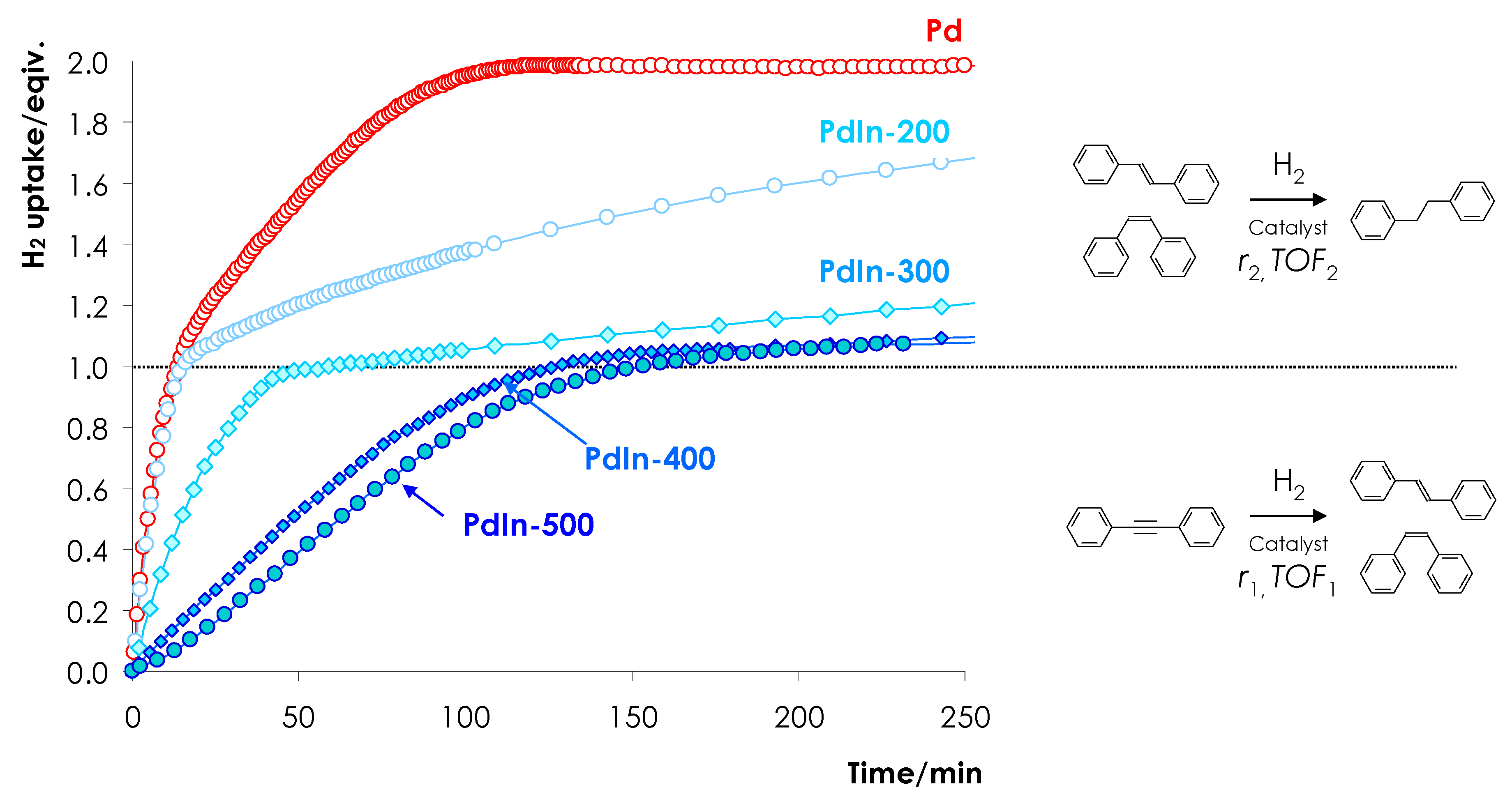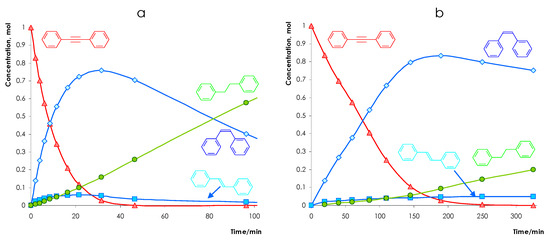 Figure 7. Reaction profiles for the competitive DPA hydrogenation over Pd/α-Al2O3 (a) and PdIn/α-Al2O3 catalysts reduced at 500 °C (b).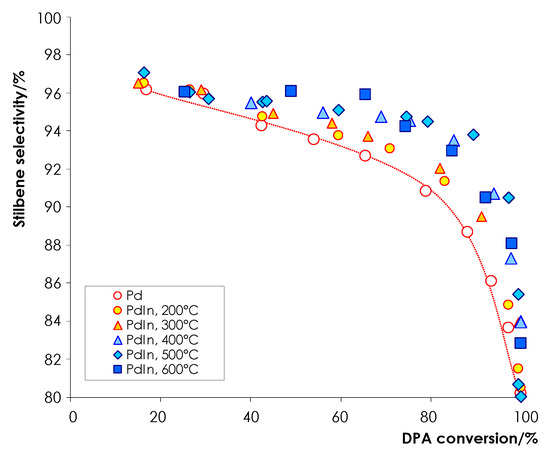 Figure 8.
Stilbene selectivity as a function of DPA conversion over mono- and bimetallic catalysts in the selective DPA hydrogenation.
P
H2
= 10 bar,
T
= 25 °C, [
CDPA
] = 0.160 mol L
−1
,
m
cat
= 5.0 mg; n-hexane as a solvent.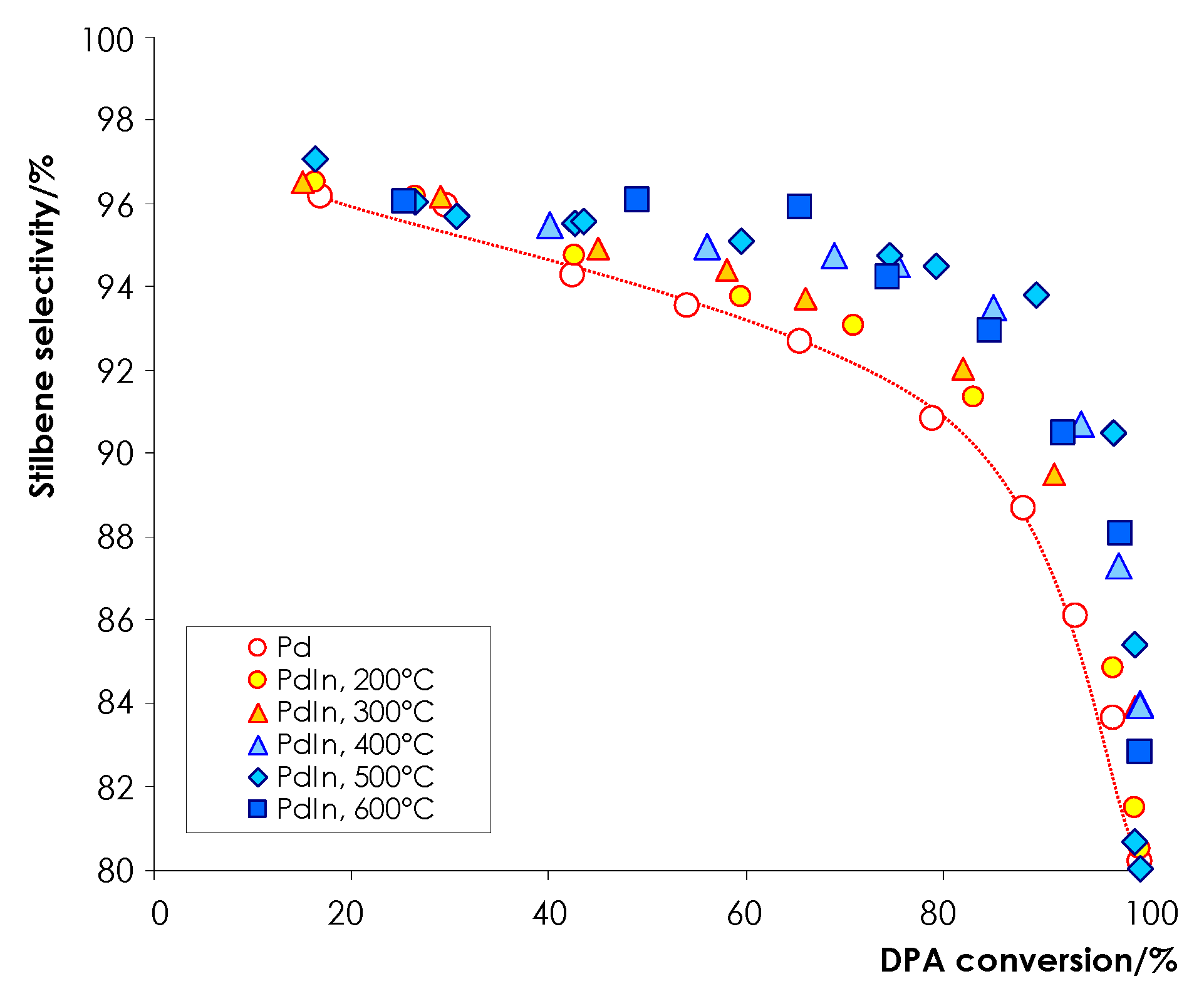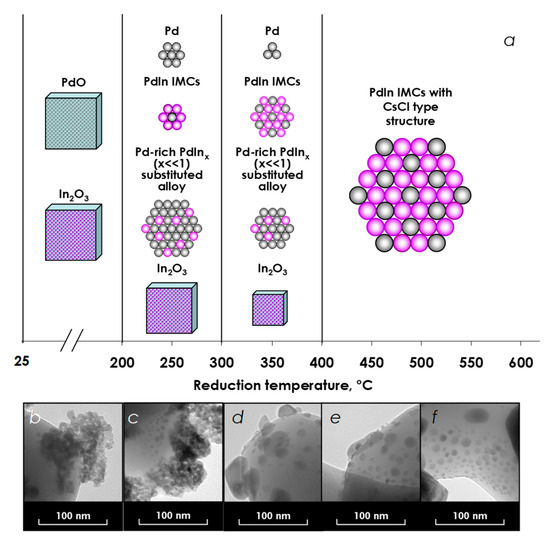 Figure 9. Transformation of the PdIn/α-Al2O3 catalyst structure upon stepwise increase of reduction temperature (a). Corresponding TEM micrographs, collected for unreduced PdIn/α-Al2O3 (b) andPdIn/α-Al2O3 reduced at 200 °C (c); 300 °C (d); 400 °C (e); and 500 °C (f).
Catalyst

r

1

r

2

r

1/

r

2
mmol/(gcat min)
Pd
4.39
0.621
7.1
PdIn-200
4.02
0.194
20.7
PdIn-300
1.40
0.040
35.0
PdIn-400
0.46
0.0103
44.7
PdIn-500
0.42
0.0088
47.7
PdIn-600
0.45
0.0095
47.4
P

H2 = 10 bar, T = 25 °C, mcat = 5 mg,

n

-hexane as solvent.

© 2018 by the authors. Licensee MDPI, Basel, Switzerland. This article is an open access article distributed under the terms and conditions of the Creative Commons Attribution (CC BY) license (http://creativecommons.org/licenses/by/4.0/).