Open Access This article is
freely available
re-usable
Article
Liposome-Coated Iron Fumarate Metal-Organic Framework Nanoparticles for Combination Therapy
1
Department of Chemistry and Center for NanoScience (CeNS), LMU Munich, Butenandtstraße 11 (E), 81377 Munich, Germany
2
School of Chemistry, Joseph Banks Laboratories, University of Lincoln, Lincoln LN67TS, UK
*
Authors to whom correspondence should be addressed.
Received: 17 August 2017 / Accepted: 20 October 2017 / Published: 26 October 2017
Abstract
:
One of the main problems for effective treatment of cancer is resistances, which often require combination therapy—for effective treatment. While there are already some potential drug carriers—e.g., liposomes, available for treatment—the effective loading and retention of the desired drug ratio can be challenging. To address this challenge, we propose a new type of drug carrier: liposome-coated metal-organic framework (MOF) nanoparticles. They combine the advantages of liposomes with an easy and efficient loading process. In this work, we present the successful synthesis of liposome-coated MOF nanoparticles via the fusion method. The resulting particles, once loaded, show no premature leakage and an efficient release. Their successful loading with both single and multiple drugs at the same time makes them an interesting candidate for use in combination therapy.
Keywords:
metal-organic framework; nanoparticles; drug delivery; combination therapy
2. Results and Discussion
3. Conclusions
In conclusion, the Lip-MIL-88A platform is a promising tool for use as a platform for combination therapy. It could readily take up a significant amount of biologically active agents (20 wt %) and showed a promising release of its cargo. Due to the liposome coating, no leakage of the cargo could be observed. In cell experiments, Lip-MIL-88A nanoparticles were readily taken up by cells and showed a significant intracellular release after three to four days of incubation. Different drugs (SBHA, irinotecan and floxuridine) were successfully loaded into the particles, and the drug delivery system enables intracellular release profiles. The successful and uncomplicated loading, as well as the effective intracellular release of drugs compared to normal liposome loading procedures, is a promising start for future applications in combination therapy and could as such contribute to improve cancer chemotherapy.
4. Materials and Methods
All chemicals were purchased from Sigma Aldritch (St. Louis, MO, USA) unless noted otherwise.
4.1. UV/Vis Measurements
The UV/Vis measurements were performed on a Lambda 1050 UV/Vis/NIR spectrometer form Perkin Elmer (Waltham, MA, USA). The software used to record the measured spectra was Perkin Elmer UVWinLab (Waltham, MA, USA). For the measurements, the loaded coated particles were dissolved in ALF to facilitate the release of all their cargo. 1 mL of this solution was then diluted with 2 mL H2O yielding a total of 3 mL and measured in a quartz cuvette. For the pure drugs, 1 mL of the aqueous solution was diluted with 1 mL H2O and 1 mL ALF.
4.2. Fluorescence Microscopy
The fluorescence microscope images were recorded with a Zeiss Observer SD (Jena, Germany) spinning disk confocal microscope using a Yokogawa (Musashino, Japan) CSU-X1 spinning disc unit and an oil objective with 63× magnification and BP 525/50 and LP 690/50 filters. The setup was heated to 37 °C and a CO2 source was provided to keep the atmosphere at 5% CO2. For both excitation of the calcein and the cell marker a laser with a wavelength λ = 488 nm was used. The images were processed with the Zen software by Zeiss to optimize contrast.
4.3. Fluorescence Spectroscopy
The fluorescence spectroscopy experiments were recorded with a MD-5020 setup from PTI Photon Technology International (Birmingham, UK). The software Felix32 was used for recording and evaluating the measured data. For the experiments hollow caps were filled with 50 µL of a 1 mg/mL particle stock solution. Depending on the experiment, 100 µL of water or ALF or 90 µL water and 10 µL 20% triton X-100 solution were added, before the caps were sealed with a dialysis membrane and placed into cuvettes filled with water together with a stirring rod. The measurement temperature was 37 °C, with an excitation wavelength of 495 nm and an emission wavelength of 512 nm.
4.4. Cell Culture
All cell experiments were prepared in a Hera-Safe cell culture unit from Heraeus (Hanau, Germany). The cells were incubated at 37 °C/5% CO2 in Hera Cell incubators also from Heraeus. Cells were grown in Dulbecco's modified eagle medium (DMEM) with 10% fetal bovine serum (FBS) and 1% PenStrep. These chemicals were purchased from Thermofisher Scientific (Waltham, MA, USA).
4.5. MTT Assays
The MTT-assays were performed with a Spectra Fluor Plus from Tecan (Männedorf, Switzerland) and were then evaluated with Excel 2010 and Origin. 5000 cells were seeded per well and incubated together with 100 µL DMEM (10%FBS, 1% PenStrep) for 1 day before the particles were added. Each concentration was tested on three different days and on each day in triplicate. After the allotted incubation time the plates were washed with Hank's Balanced Salt solution (HBSS) to remove dead cells, before the MTT reagent diluted in DMEM (0.5 mg/mL) was added. After two hours of incubation the MTT reagent solution was removed from the cells, and the cells were frozen at −80 °C for 0.5 h. Before the measurement 100 µL dimethyl sulfoxide (DMSO) were added to each well.
4.6. Synthesis of the Uncoated and Coated MIL-88A Nanoparticles
4.6.1. Synthesis of MIL-88A NPs
MIL-88A nanoparticles were synthesized in a microwave assisted approach based on the results of Chalati et al. [
38
]. In this synthesis route, an aqueous solution of FeCl
3
·6H
2
O (1.084 g, 4.01 mmol) and fumaric acid (485 mg, 4.18 mmol) are given to water (20 mL, Milli-Q). The reaction mixture was stirred until the metal salt was completely dissolved. The reaction mixture was then given into a Teflon tube (80 mL) and placed into a microwave oven (Synthos 3000, Anton-Paar, (Graz, Austria)) along with 3 additional vessels. Two of these vessels are filled with water (20 mL, Milli-Q), the third vessel is filled with an aqueous FeCl
3
(20 mL, 1.084 g, 4.01 mmol) and is used to monitor the reaction progress. The vessels were heated under stirring with the sequence shown in
Table 2
.
To remove residual reactants, the sample was subsequently washed via centrifugation (7840 rpm, 20 min) and redispersion of the pellet in ethanol (20 mL). This washing cycle was repeated 3 additional times. To also remove bulk material formed during the reaction, the dispersion was then centrifuged 3 times (3 min, 3000 rpm) and the pellet fraction of the product discarded.
4.6.2. Preparation of the Liposome Coating Solution
A 1 mg/mL PBS solution of DOPC was prepared and extruded through an extruder with a 100 nm pore sized membrane 11 times for cleaning.
4.6.3. Preparation of the Loaded and Coated Particles
1 mg of MIL-88A NPs were suspended in 1 mL of a 1 mM solution of calcein, suberohydroxamic acid (SBHA), irinotecan or floxuridine and incubated overnight for loading. Next, they were centrifuged for 5 min at 14,000 rpm, to discard the supernatant and the pellet was dissolved in 0.2 mL of the liposome coating solution and 0.2 mL water and incubated for 2 h. The particles were then centrifuged (5 min at 14,000 rpm) and redispersed in 1 mL PBS after washing several times.
For the preparation of the particles loaded with both irinotecan and floxuridine the MIL-88A particles were immersed in mixtures of 1 mM irinotecan and floxuridine solutions in the desired ratios, before following the same coating and washing procedure as outlined above.
Acknowledgments
We thank Martin Hossann (Thermosome GmbH) for fruitful discussions. We acknowledge funding from the Center for Nanoscience (CeNS) and from the Deutsche Forschungsgemeinschaft (DFG) WU 622/4-1 to S.W. and SFB1032(B11) to H.E.
Author Contributions
B.I. performed all practical work described in this article. S.W. and H.E. designed the project and led it. All authors contributed equally to the first and final version of the manuscript.
Conflicts of Interest
The authors declare no conflict of interest.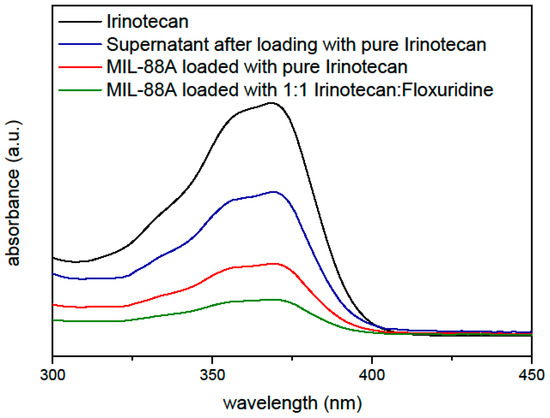 Figure 1. UV/Vis measurements to determine the loading capacity of Lip-MIL-88A nanoparticles for Irinotecan.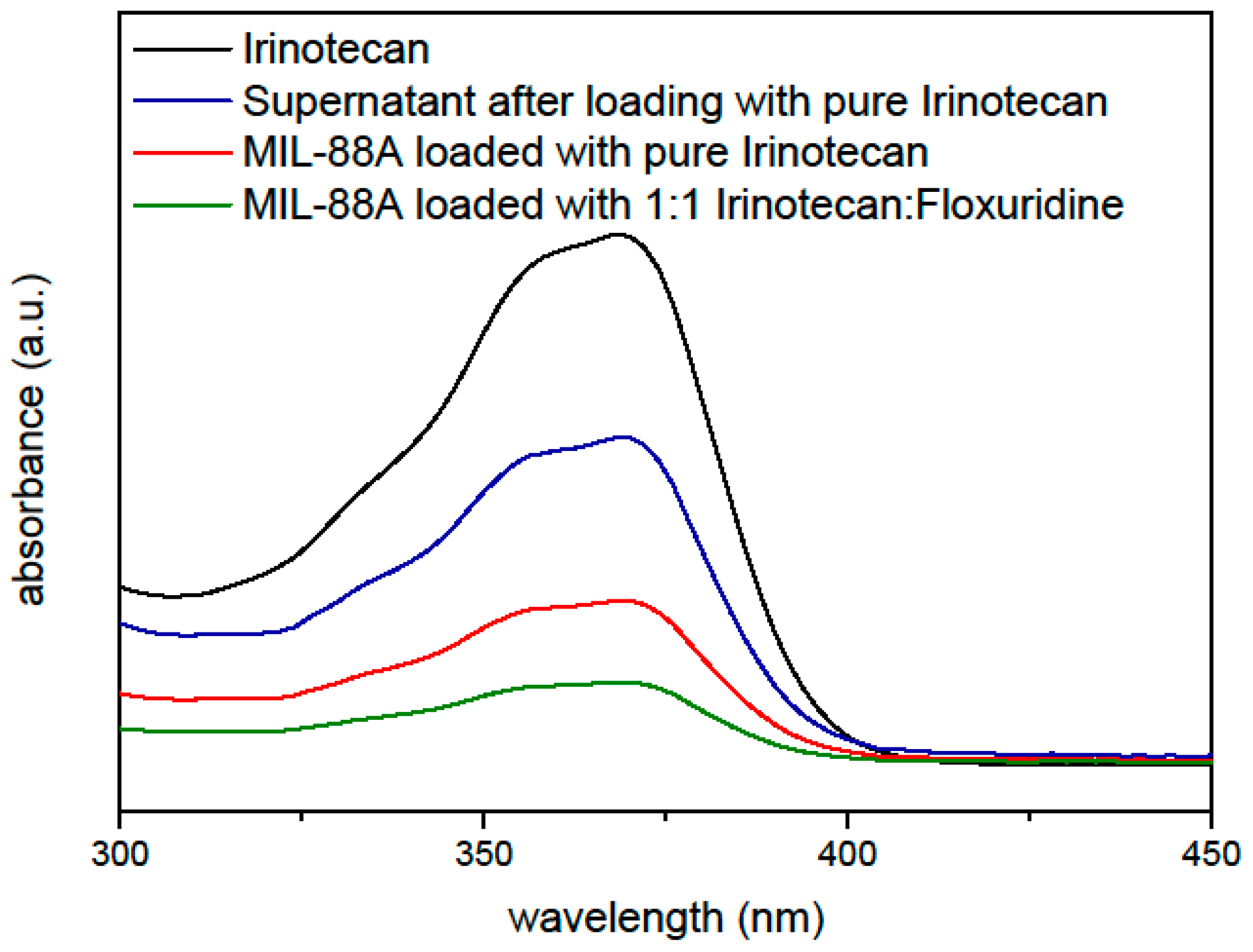 Figure 2. Fluorescence release measurement of Lip-MIL-88A in various solvents. Water (blue) and water with addition of Triton X-100 (red), as an additional control, as well as ALF (black), to simulate the environment of the lysosome. As proof that the liposomes prevent the leakage of the cargo, uncoated particles (green) were also measured.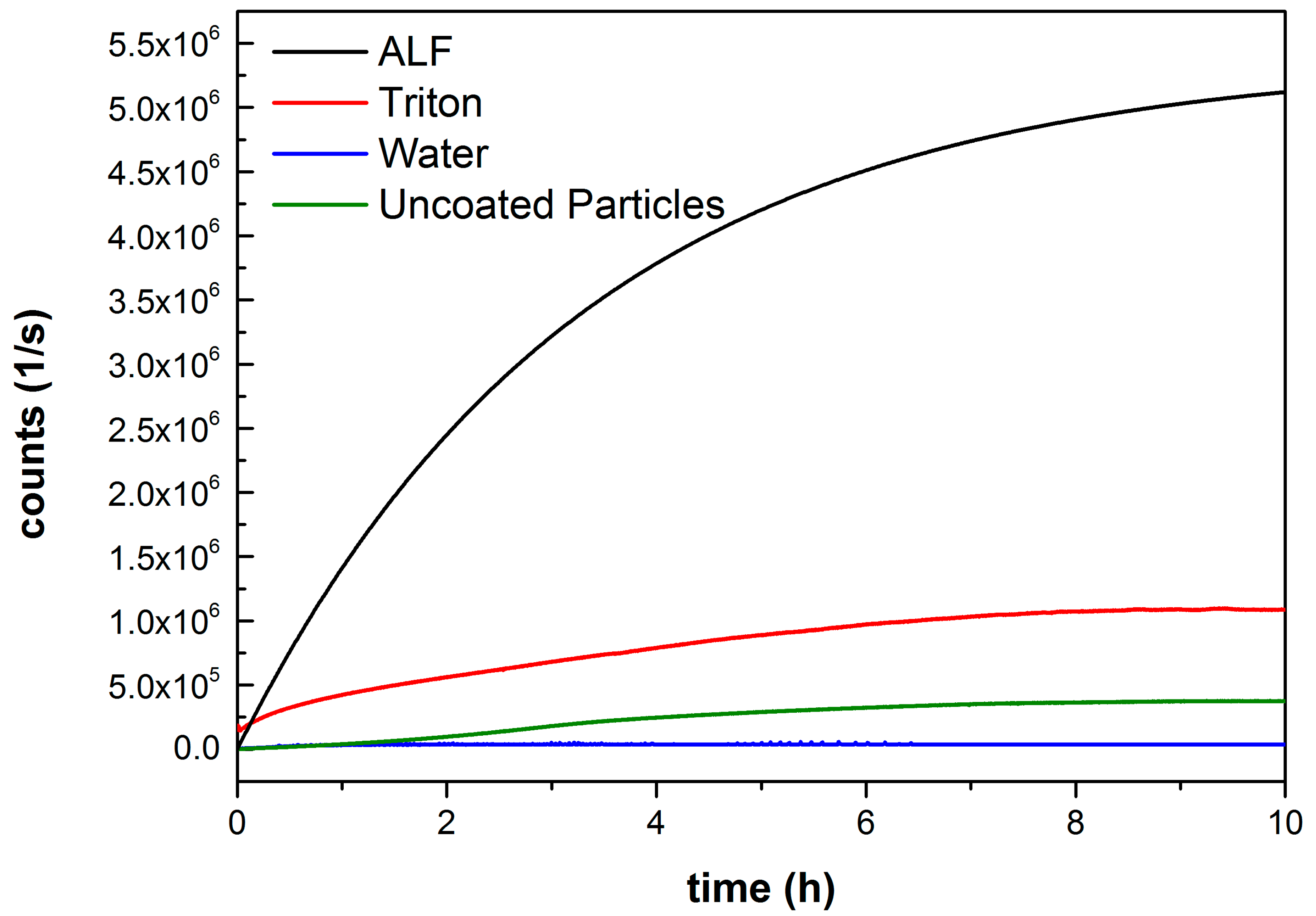 Figure 3. Liposome-coated MIL-88A nanoparticles loaded with calcein after two (a) and three (b) days of incubation with HeLa cells. The cells have been marked with CellMask Orange. The scale bars correspond to 30 µm (a) and 20 µm (b).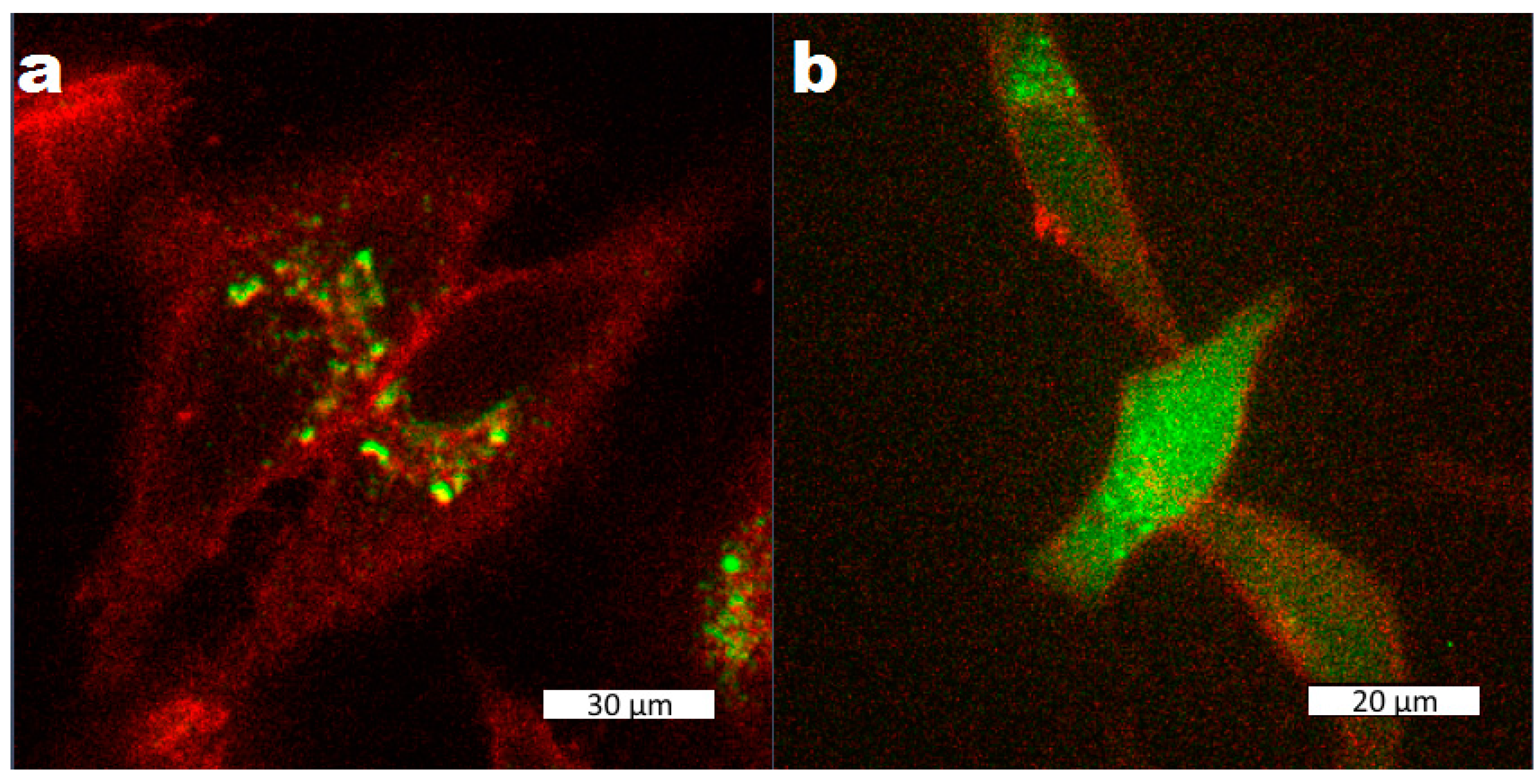 Figure 4. (a) MTT assay of HeLa cells incubated with Lip-MIL-88A nanoparticles loaded with SBHA after three and four days of incubation. (b) MTT assay of HeLa cells incubated with the supernatant of the Lip-MIL-88A suspension after four days. The error bars represent the standard deviation.

Figure 5. (a) MTT-assay of Lip-MIL-88A particles loaded with different ratios of irinotecan/floxuridine incubated in HeLa cells for three days. The error bars represent the standard deviation. (b) MTT-assay of the supernatant of Lip-MIL-88A particles loaded with different ratios of irinotecan/floxuridine after incubation in HeLa cells for three days. The error bars represent standard deviations.
| | Irinotecan | 3:1 Iri Floxu | 1:1 | 1:3 Iri Floxu | Floxuridine |
| --- | --- | --- | --- | --- | --- |
| Cell viability at 140 µg/mL (%) | 34.6 | 28.6 | 30.6 | 37.9 | 60.5 |
| Ic 50 (µg/mL) | 40 | 80 | 80 | 80 | 120 |
| Heating | Dwelling | Cooling |
| --- | --- | --- |
| 30 s | 5 min | 45 min |
| To 80 °C | 80 °C | To room temperature |

© 2017 by the authors. Licensee MDPI, Basel, Switzerland. This article is an open access article distributed under the terms and conditions of the Creative Commons Attribution (CC BY) license (http://creativecommons.org/licenses/by/4.0/).