Open Access This article is
freely available
re-usable
Article
Nanometric MIL-125-NH2 Metal–Organic Framework as a Potential Nerve Agent Antidote Carrier
1
APMU, IMDEA Energy Institute, Avda. Ramón de la Sagra 3, E-28935 Móstoles, Madrid, Spain
2
Institut Lavoisier de Versailles, Université de Versailles St Quentin, UMR CNRS 8180, 45 Avenue des Etats-Unis, University Paris Saclay, 78035 Versailles, France
3
Institut Charles Gerhardt Montpellier UMR 5253 CNRS UM, Université Montpellier, Place E. Bataillon, 34095 Montpellier CEDEX 05, France
4
TNO, Lange Kleiweg 137, NL-2288GJ Rijswijk, The Netherlands
5
Institut des Matériaux Poreux de Paris, Ecole Normale Supérieure, Ecole Supérieure de Physique et de Chimie Industrielles de Paris, FRE CNRS 2000, PSL Research University, Paris 75005, France
†
These authors contributed equally to this work.

Received: 21 July 2017 / Accepted: 6 October 2017 / Published: 12 October 2017
Abstract
:
The three-dimensional (3D) microporous titanium aminoterephthalate MIL-125-NH2 (MIL: Material of Institut Lavoisier) was successfully isolated as monodispersed nanoparticles, which are compatible with intravenous administration, by using a simple, safe and low-cost synthetic approach (100 °C/32 h under atmospheric pressure) so that for the first time it could be considered for encapsulation and the release of drugs. The nerve agent antidote 2-[(hydroxyimino)methyl]-1-methyl-pyridinium chloride (2-PAM or pralidoxime) was effectively encapsulated into the pores of MIL-125-NH2 as a result of the interactions between 2-PAM and the pore walls being mediated by π-stacking and hydrogen bonds, as deduced from infrared spectroscopy and Monte Carlo simulation studies. Finally, colloidal solutions of MIL-125-NH2 nanoparticles exhibited remarkable stability in different organic media, aqueous solutions at different pH and under relevant physiological conditions over time (24 h). 2-PAM was rapidly released from the pores of MIL-125-NH2 in vitro.
Keywords:
MIL-125-NH
2
; metal–organic frameworks; nanoparticles; colloidal stability; drug delivery; pralidoxime
Acknowledgments
This work was partially supported by the CNRS, Université de Versailles, IMDEA Energy Institute and EU funding through the ERC-2007-209241-BioMOFs ERC. PH acknowledges the Spanish Ramon y Cajal Programme (grant agreement n° 2014-16823) and the People Programme (Marie Curie Actions) of the European Union's Seventh Framework Programme (FP7/2007-2013) under REA grant agreement n° 291803. M.C.d.K. and M.J.A.J. acknowledge funding from the Dutch Ministry of Defense (CBRN Program V1408). Authors are also grateful to Gisela Orcajo (Universidad Rey Juan Carlos, Spain) for the Ar adsorption measurements.
Author Contributions
P.S.-A. performed the synthesis of MIL-125-NH
2
NPs, as well as the physicochemical characterization of MIL-125-NH
2
NPs and
[email protected]
MIL-125-NH
2
NPs, including the colloidal stability studies. S.M.F.V. analyzed the data and wrote the full paper. I.C. carried out the 2-PAM encapsulation and a part of its characterization. M.C.d.K. and M.J.A.J. performed the in vitro delivery tests. F.S. performed the molecular simulations. C.S. supervised the 2-PAM encapsulation tests. P.H. conceived and designed the overall project and the writing of the paper.
Conflicts of Interest
The authors declare no conflict of interest.
Figure 1. Representation of the structure of (a) 2-pyridinium aldoxime methyl chloride (2-PAM) and (b) reaction scheme for the preparation of MIL-125-NH2 (MIL = Material of Institut Lavoisier), highlighting its cavities of 6.1 (green sphere) and 12.5 Å (yellow sphere) from 2-aminoterephthalic acid (H2BDC-NH2) and Ti4+. Titanium polyhedra, oxygen and carbon are represented in blue, red and clear grey, respectively. Hydrogen atoms were omitted for the sake of clarity.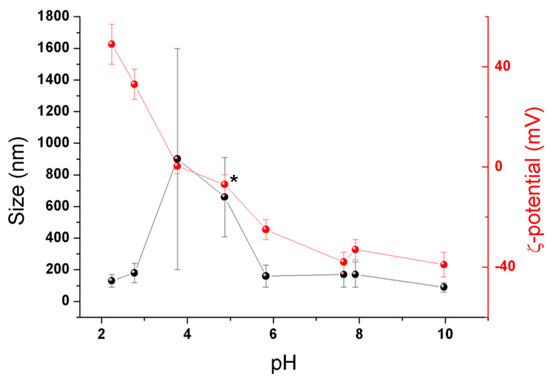 Figure 2. Particle size (black) and ζ-potential (red) of MIL-125-NH2 NPs in water as a function of pH; the autogenous pH (ca. 4.9) is identified in the plot with an asterisk (*).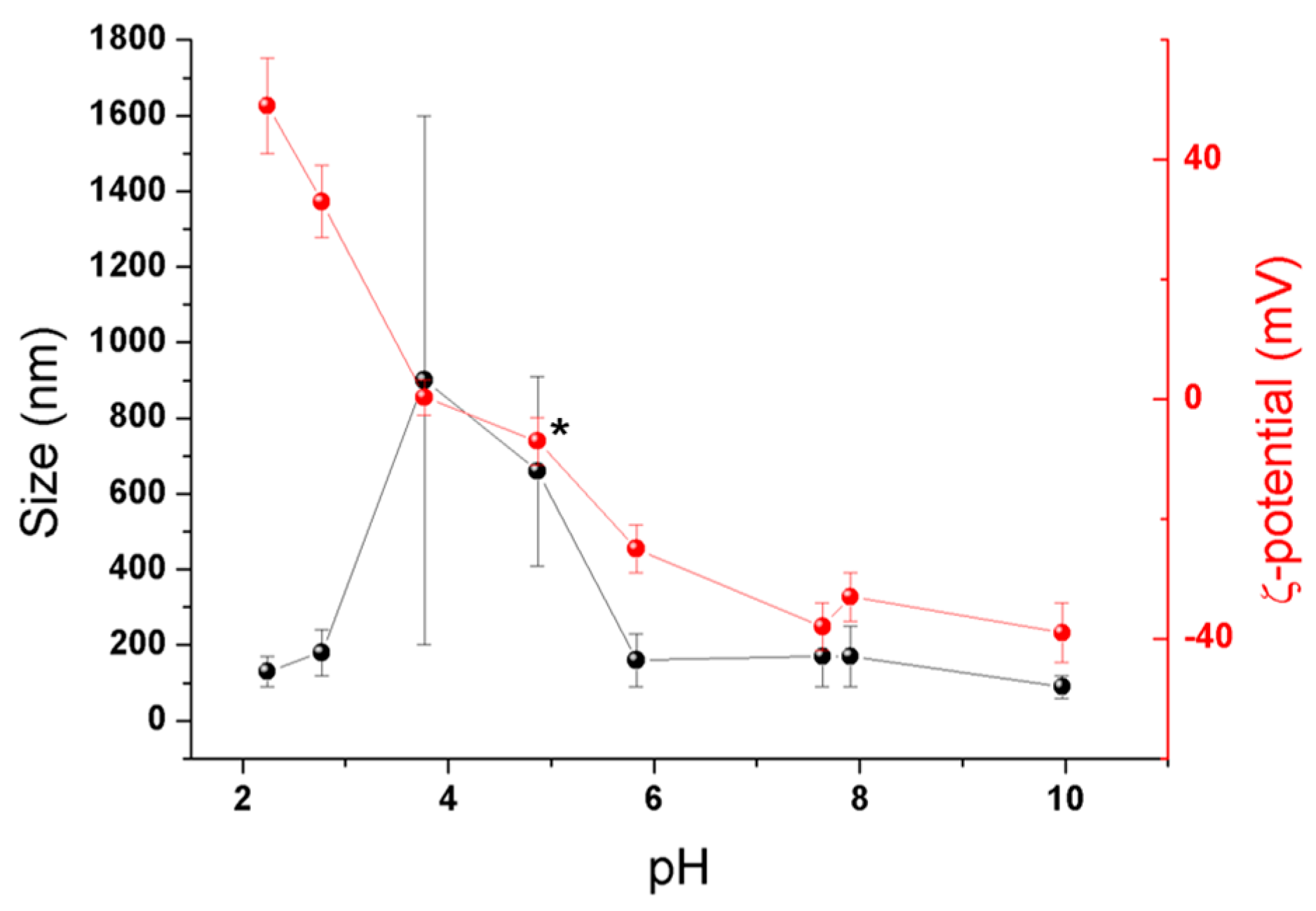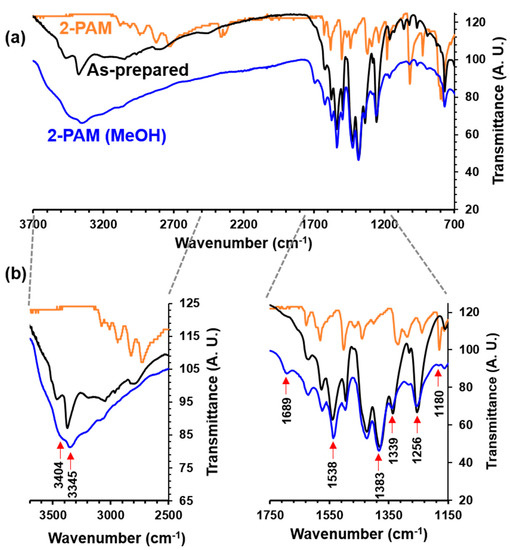 Figure 3.
(
a
) FTIR spectra after drying at 100 °C for 2 h of the MIL-125-NH
2
NPs,
[email protected]
2
and the free 2-PAM drug; and (
b
) Selected spectral regions highlighting the main differences between MIL-125-NH
2
and
[email protected]
2
.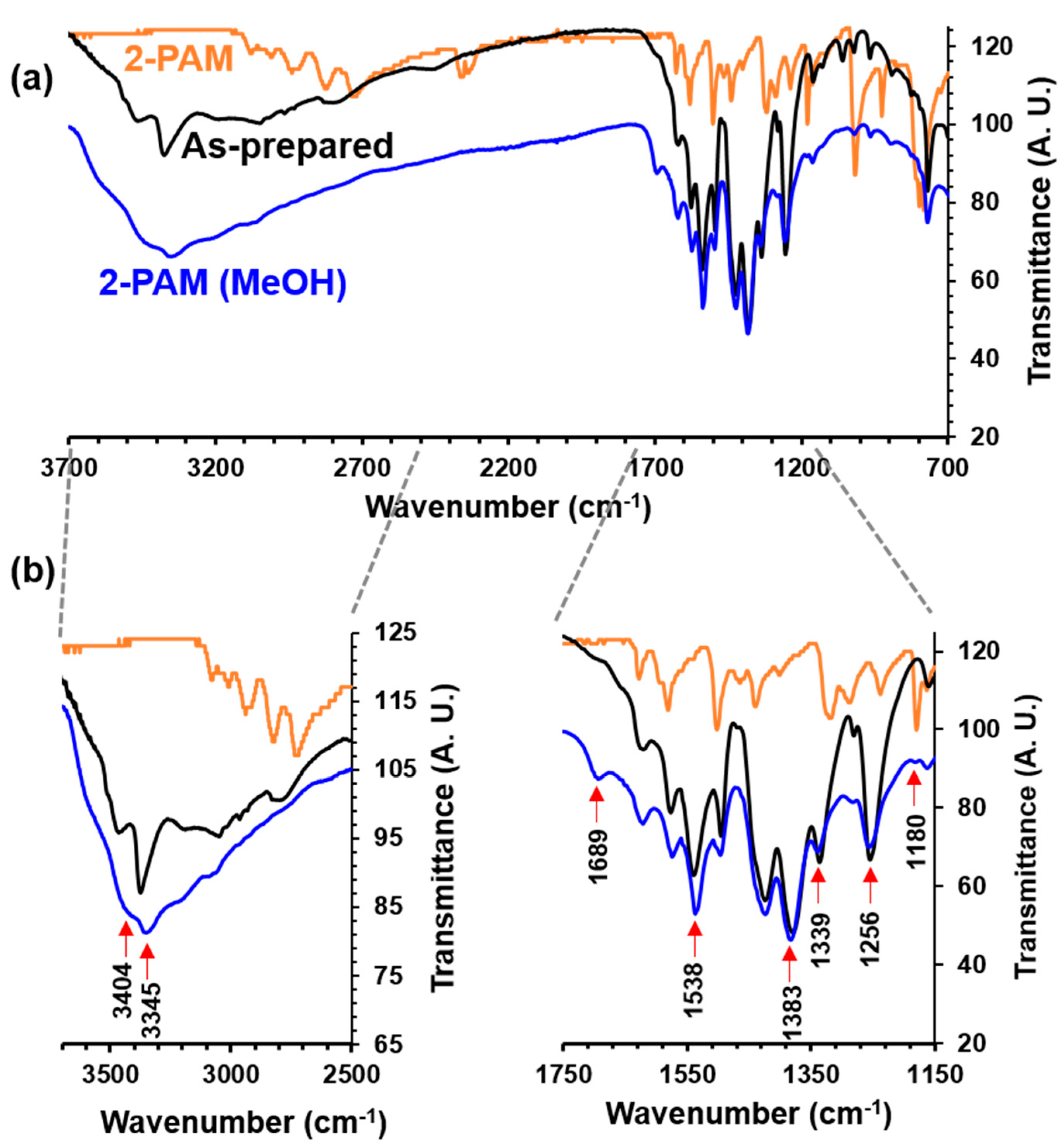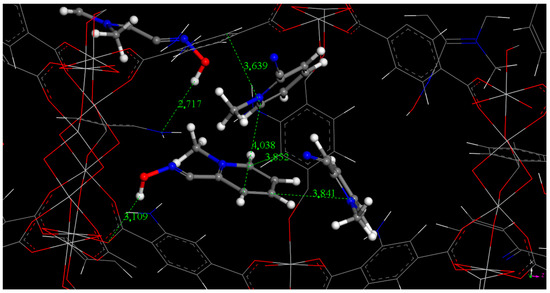 Figure 4. Main interaction sites existing between 2-PAM and MIL-125-NH2 framework from GCMC simulations: (white atoms: H, blue atoms: N, red atoms: O, clear grey atoms: Ti, dark grey atoms: C; for the sake of clarity Cl atoms are not shown).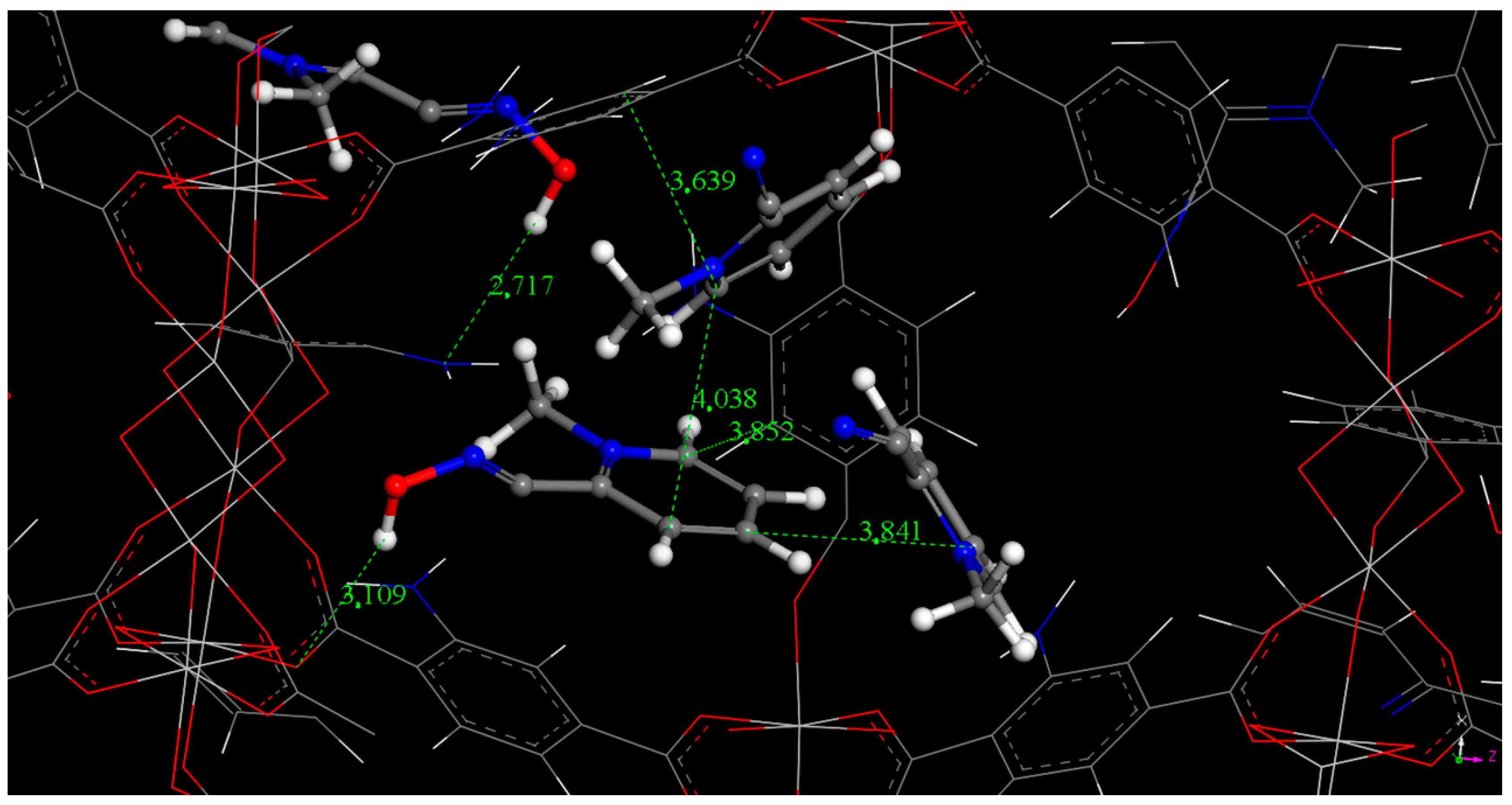 Figure 5.
Variation of the particle size of MIL-125-NH
2
and
[email protected]
2
in fetal bovine serum (FBS) supplemented with phosphate buffered saline (PBS) as a function of time.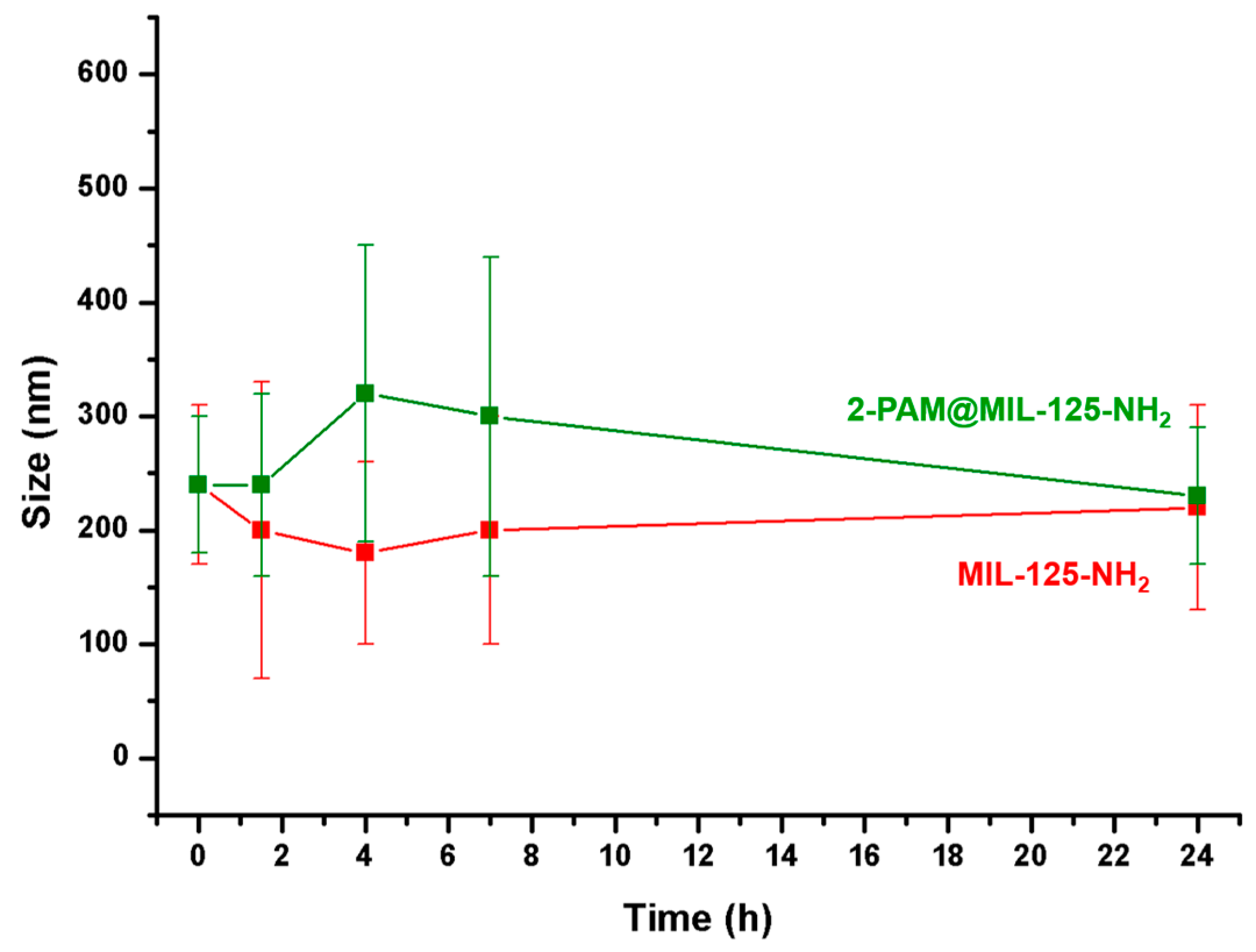 Figure 6. Release of 2-PAM from MIL-125-NH2 in PBS at 37 °C as a function of time. The concentration at 90 min was 240 μg mL−1. The error bars represent the coefficient of variation on the measurement.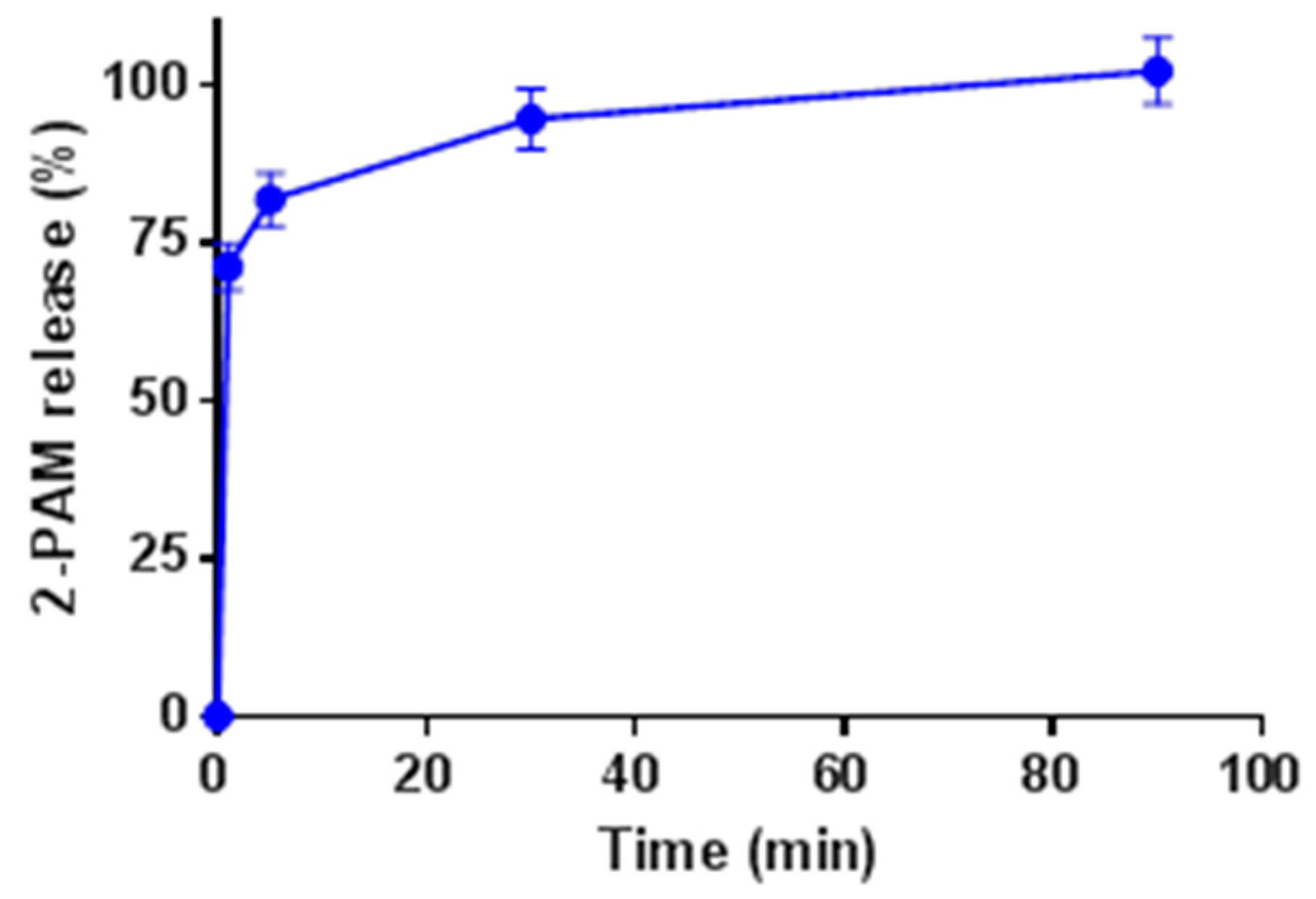 Table 1. Particle size and ζ-potential (with standard deviation) of the MIL-125-NH2 non-toxic nanoparticles (NPs) in different media at 20 °C.
NPs
Medium
Size (nm)
PdI
ζ-Potential (mV)
MIL-125-NH2
DMF
240 ± 70
0.16 ± 0.01
*
Water
660 ± 250
0.263 ± 0.003
−7 ± 4
Methanol
320 ± 100
0.10 ± 0.02
−40 ± 7
Ethanol
220 ± 60
0.06 ± 0.03
−47 ± 19
PBS
230 ± 60
0.18 ± 0.03
−23 ± 5
PBS FBS
210 ± 100
0.220 ± 0.007
−10 ± 4
[email protected]2
Methanol
630 ± 120
0.5 ± 0.1
−10 ± 7
PBS
290 ± 130
0.3 ± 0.1
−18 ± 4
PBS FBS
240 ± 40
0.4 ± 0.1
−9 ± 5
* Note here the impossibility of determining ζ-potential in adapted plastic cuvettes.

© 2017 by the authors. Licensee MDPI, Basel, Switzerland. This article is an open access article distributed under the terms and conditions of the Creative Commons Attribution (CC BY) license (http://creativecommons.org/licenses/by/4.0/).