Open Access This article is
freely available
re-usable
Article
Intrinsic Control in Defects Density for Improved ZnO Nanorod-Based UV Sensor Performance
1
Intelligent Mechatronics Engineering/Smart Device Engineering, Sejong University, Seoul 05006, Korea
2
Department of Chemistry, College of Science, King Saud University, P.O. Box 2455, Riyadh 11451, Saudi Arabia
3
Department of Energy and Materials Engineering, Dongguk University-Seoul, Seoul 04620, Korea
4
Environmental Welfare Research Center, Korea Institute of Science & Technology, Hwarangno 14 gil 5, Seongbuk–gu, Seoul 02792, Korea
5
Department of Electrical Engineering, National University of Sciences and Technology, Islamabad 44000, Pakistan
*
Authors to whom correspondence should be addressed.
Received: 15 December 2019 / Accepted: 9 January 2020 / Published: 13 January 2020
Abstract
:
Hitherto, most research has primarily focused on improving the UV sensor efficiency via surface treatments and by stimulating the ZnO nanorod (ZNR) surface Schottky barriers. However, to the best of our knowledge, no study has yet probed the intrinsic crystal defect generation and its effects on UV sensor efficiency. In this study, we undertake this task by fabricating an intrinsic defect-prone hydrothermally grown ZNRs (S1), Ga-doped ZNRs (S2), and defect-free microwave-assisted grown ZNRs (S3). The defect states were recognized by studying X-ray diffraction and photoluminescence characteristics. The large number of crystal defects in S1 and S2 had two pronged disadvantages. (1) Most of the UV light was absorbed by the defect traps and the e–h pair generation was compromised. (2) Mobility was directly affected by the carrier–carrier scattering and phonon scattering processes. Hence, the overall UV sensor efficiency was compromised based on the defect-induced mobility-response model. Considering the facts, defect-free S3 exhibited the best UV sensor performance with the highest on/off ratio, the least impulse response time, the highest recombination time, and highest gain-induced responsivity to 368 nm UV light, which was desired of an efficient passive metal oxide-based UV sensor. Our results were compared with the recently published results.
Keywords:
ZnO nanorods; doping; UV sensor; defects; mobility; responsivity; nanomaterials
1. Introduction
Owing to certain limitations in optoelectronics, such as an inevitable requirement of direct and wide bandgap materials, ZnO has been researched as an alternative to Si technology. With a broad direct bandgap of 3.37 eV and comparatively higher exciton binding energy, which is higher than GaN (60 meV at room temperature), ZnO demonstrated unique optoelectronic characteristics with biocompatibility. Recently, numerous studies have proposed replacing Si optoelectronic technology with ZnO [
1
,
2
,
3
,
4
]. ZnO has already been fabricated with different nanostructured polymorphic shapes, such as nanorods, nanowires, nanoflowers, nanotubes, nanotetrapods, nanowalls, and nanoparticles [
5
,
6
,
7
,
8
]. The high surface-to-volume ratio makes these nanostructures an important candidate for optoelectronic devices [
9
].
ZnO is known for changes in optoelectronic characteristics depending on the crystal defect density. The generation of defects is yet a very controversial topic, however, Oxygen vacancies have been considered as the most dominating donor defect in ZnO crystal lattice. The topic is so pervasive that it leads the researchers to intensively probe into the defect density-oriented changes in optoelectronic characteristics of ZnO [
10
]. ZnO has been fabricated using multiple methods, such as pulse laser deposition, vapor–liquid–solid, metal organic chemical vapor deposition, molecular beam epitaxy, hydrothermal aqueous chemical growth, and microwave-assisted growth (MAG) methods [
11
,
12
,
13
,
14
,
15
,
16
]. ZnO defect density directly depends on the growth method. Sol–gel methods, including hydrothermal method, are facile, cheap, and user-friendly methods that are in commercial use. However, they generally yield a low crystalline quality nanostructure. Although the other aforementioned methods yield high quality nanostructures, they require sophisticated equipment and involve high costs and temperatures which restrict the use of multiple substrates. We employed the MAG method for ZnO nanorod (ZNR) growth because it is facile, user friendly, commercially benign, and yields the best quality nanostructures in a few minutes.
ZnO is known for multidisciplinary sensor applications because of its strategic location on the borderline of organic and inorganic compounds [
17
,
18
]. Most importantly, it has potential applications in photodetectors and UV sensors because of the surface chemisorbed oxygen species and high level absorption in the UV band [
19
,
20
]. Photodetector applications require fast response and recovery times, large on/off ratios, and high photo responsivity [
21
]. ZNRs are the suitable candidates for these requirements owing to their high surface-to-volume ratio. However, because of certain limitations of intrinsic crystal defects in ZnO and their deteriorating effect on UV sensitivity, many researchers have used surface functionalization, polymer coatings, and doping to improve the sensor efficiency [
22
]. Others have underrated vertical ZNRs and have presented horizontal and bridging ZNR structures to improve the UV sensor efficiency [
23
,
24
]. We believe that more studies should focus on improving the defect density-oriented crystal structure to yield the best possible results from intrinsic vertically aligned ZNR-based sensor.
The prime goal of this study is to provide an intrinsic control in crystal defect density, which decreases the majority charge carrier concentration (
Nd
) in the channel, which in turn reduces the dark current in the device. This also increases the channel mobility (
ρ
), which directly increases the carrier recombination time (
τ
), reduces the impulse response time (
t
), increases the device responsivity (
R
), and thence improves the overall UV sensor efficiency of untreated intrinsic ZNRs. To compare the defect density-oriented UV sensor efficiency, we fabricated three samples—hydrothermally grown ZNRs (S1), Ga-doped ZNRs (S2), and MAG ZNRs (S3). It has been inferred from the structural and optical characteristics that S3 has the best crystalline quality that curtailed the generation of defects. Based on the mobility-response model, S3 demonstrated the best results with the largest on/off ratio, the shortest
t
, and the highest photoconductive gain-induced
R
. Unlike previous studies, we established that n-doping was not an effective method to improve the UV sensor efficiency. This study confirms that an intrinsic control in defect density is an important and adept method to improve the UV sensor performance than using surfactants to stimulate the ZNR surface Schottky barrier or using ZNR polymer coatings to enhance the UV absorption.
2. Materials and Methods
2.1. Substrate Preparation and Cleaning
For device fabrication, all the chemicals and substrates were purchased from Sigma Aldrich (Seoul, Korea) and used without any further purification. The samples S1, S2, and S3 were fabricated on glass substrates (CAS: 60676-86-0, purity 99%). The substrates were first dry-cleaned with N2. They were then rinsed using an ultrasonic bath for 2 min each in acetone (C3H6O) (CAS: 67-64-1, purity 99%), isopropyl alcohol (C3H8O) (CAS: 67-63-0, purity 99%), and distilled water. Further, the substrates were annealed at 300 °C and dry-cleaned with N2 to remove the remaining impurities on the surface.
2.2. Device Fabrication
The first step in device fabrication was the bottom electrode deposition. To make an Ohmic contact with ZnO, silver (Ag) was deposited on the substrate as a bottom electrode. For vertical ZNR fabrication on the substrate, a ZnO buffer layer is inevitable [
25
]. Hence, the 0.029 M ZnO buffer solution was produced by ultra-sonicating zinc acetate dihydrate (Zn(CH
3
COO)
2
·2H
2
O) (CAS: 5970-45-6, purity 99%) and n-propanol (C
3
H
8
O) (CAS: 67-63-0, purity 99%) for 30 min. The formed solution was then pasted on the substrate's surface followed by annealing at 300 °C for 20 min.
The next step was the vertical ZNR fabrication. S1 and S2 were fabricated using a convective hydrothermal method while S3 was fabricated by the irradiative MAG method [
9
,
15
,
16
]. Three different solutions were prepared for S1, S2, and S3 during this process. For S1 and S3, the homogeneous growth solutions were prepared by mixing equimolar (25 mM) zinc nitrate hexahydrate (Zn(NO
3
)
2
·6H
2
O) (CAS: 10196-18-6, purity 98%) and methenamine (C
6
H
12
N
4
) (CAS: 100-97-0, purity 99%) in distilled water. For S2, 1.315 mM gallium nitrate hydrate (Ga(NO
3
)
3
·xH
2
O) (CAS: 69365-72-6, purity 99%) was added and stirred into the abovementioned solution to fix the Ga-doping content to 2%. The doping % was measured using the formula:
Ga%
=
MGa
/(
MGa
+
MZn
) ×
100%,
where
MGa
and
MZn
are the Ga and Zn molar concentrations, respectively. To make the saturated solution, the chemicals in three different containers were stirred continuously for 1 h.
Afterwards, the three different glass substrates with bottom electrodes and a ZnO nucleation layer were immersed into their corresponding solutions for the ZNR growth. For S1 and S2, the autoclaves were placed on hotplates for 6 h at 90 °C with magnetic stirring at the bottom. The samples were then removed from the autoclaves and cleaned with distilled water. On the contrary, the S3 solution was placed in an 850 W domestic microwave oven and subjected to 2.45 GHz microwave radiations for 20 min. The ZNRs were grown using a pulsed microwave heating process [
16
]. After 20 min, the sample was then removed from the solution and cleaned with distilled water. Finally, the top Ag electrode was deposited on the samples to make them metal-semiconductor-metal (MSM) devices. Schematic
Figure 1
illustrates the device structure and fabrication layout. The active 1 μm thick ZNR layer is sandwiched between the top and the bottom Ag electrodes providing an Ohmic contact to the MSM device on glass substrate. The electrical connections are provided to study the sensor response under the dark and illuminated conditions. Upon 368 nm UV illumination, the e–h pairs are generated in the active ZNR layer and the provided potential difference drives them towards the electrodes and the rise or fall of current is recorded accordingly.
2.3. Characterization Tools
This section explains the type of equipment used to characterize the UV sensor devices with their particular characteristic details. Scanning electron microscope (SEM: Hitachi S4700, Hitachi, Tokyo, Japan) images were used to examine the morphology and measure the physical dimensions of the ZNRs. X-ray diffraction (XRD: Rigaku D/MAX–2500 V/PC, Tokyo, Japan) and photoluminescence (PL: FLS 1000, Livingston, UK) spectroscopies were utilized to examine the crystalline structure and the optical characteristics of the devices, respectively. The defect states were also analyzed and inferred from the XRD and PL results. The elemental characteristics, including the weight and atomic percentages of individual elements in a compound, were confirmed by energy dispersive X-ray microanalysis (EDXMA) attached with the SEM equipment (Hitachi S4700, Hitachi, Tokyo, Japan). The composition and oxidation states of the compounds were tested with X-ray photoelectron spectroscopy (XPS: PHI 5000, Versa Probe Ul—vac PHI with Al Ka radiation Monochromator 1486.6 eV, Kanagawa, Japan), Hall–effect characterization was used to measure the real-time carrier concentrations of the samples. Electrical characteristics and photonic response were measured with Keithley 4200A-SCS parameter analyzer (Keithley Instruments, Solon, OH, USA). The current–voltage (
I–V
) characteristics were measured by sweeping the voltage from −2 to 2 V and the photonic impulse response was measured at the constant voltage of 2 V for 368 nm UV on/off conditions.
3. Results and Discussion
4. Conclusions
To epitomize, we studied the intrinsic control in defect density to improve the vertical ZNR-based passive MSM UV sensor efficiency. Three samples each of hydrothermally grown intrinsic (S1), Ga-doped (S2), and microwave-assisted grown (S3) were considered for comparison to support our primary focus. The defect density was confirmed by studying the XRD structural and the PL optical characteristics. It was noted that S3 had the best crystalline structure with the minimum defects. Based on the defect structure, the samples' carrier concentration-centric mobility was calculated and a mechanism for mobility-based UV sensor performance enhancement was drawn. Based on the experimentation and results, it was postulated that S3 demonstrated the best UV sensor results with the least transit response and recovery times, the highest recombination rate, the highest responsivity, and the best gain. It was also determined that Ga-doping or n-doping was not an effective technique to improve the UV sensor performance. Further, as opposed to using the surface treatments to stimulate the Schottky barrier at the ZNR surface or coating the sensor film with polymers to improve the UV absorption, controlling the intrinsic defect density is recommended to improve the ZnO UV sensor performance. The fabricated sensors have applications in optical biopsy, wearable electronics, defense and space applications, and optoelectronics.
Author Contributions
A.u.H.S.R. and A.S. fabricated the devices, designed and conducted all the experiments, and analyzed the data. S.F.S., D.A.A., and F.G. helped in device characterization and fabrication. A.M.A.-E. helped in conceptualization, deriving equations, and planning. A.u.H.S.R. and A.S. wrote the manuscript. All authors contributed to discussing the results and manuscript revisions. A.u.H.S.R. planned and supervised the whole project. All authors have read and agreed to the published version of the manuscript.
Funding
This research was funded by the Sejong University Research Fund.
Acknowledgments
The author would like to thank Researchers supporting project number (RSP-2019/55), King Saud University, Riyadh, Saudi Arabia.
Conflicts of Interest
The authors declare no conflict of interest.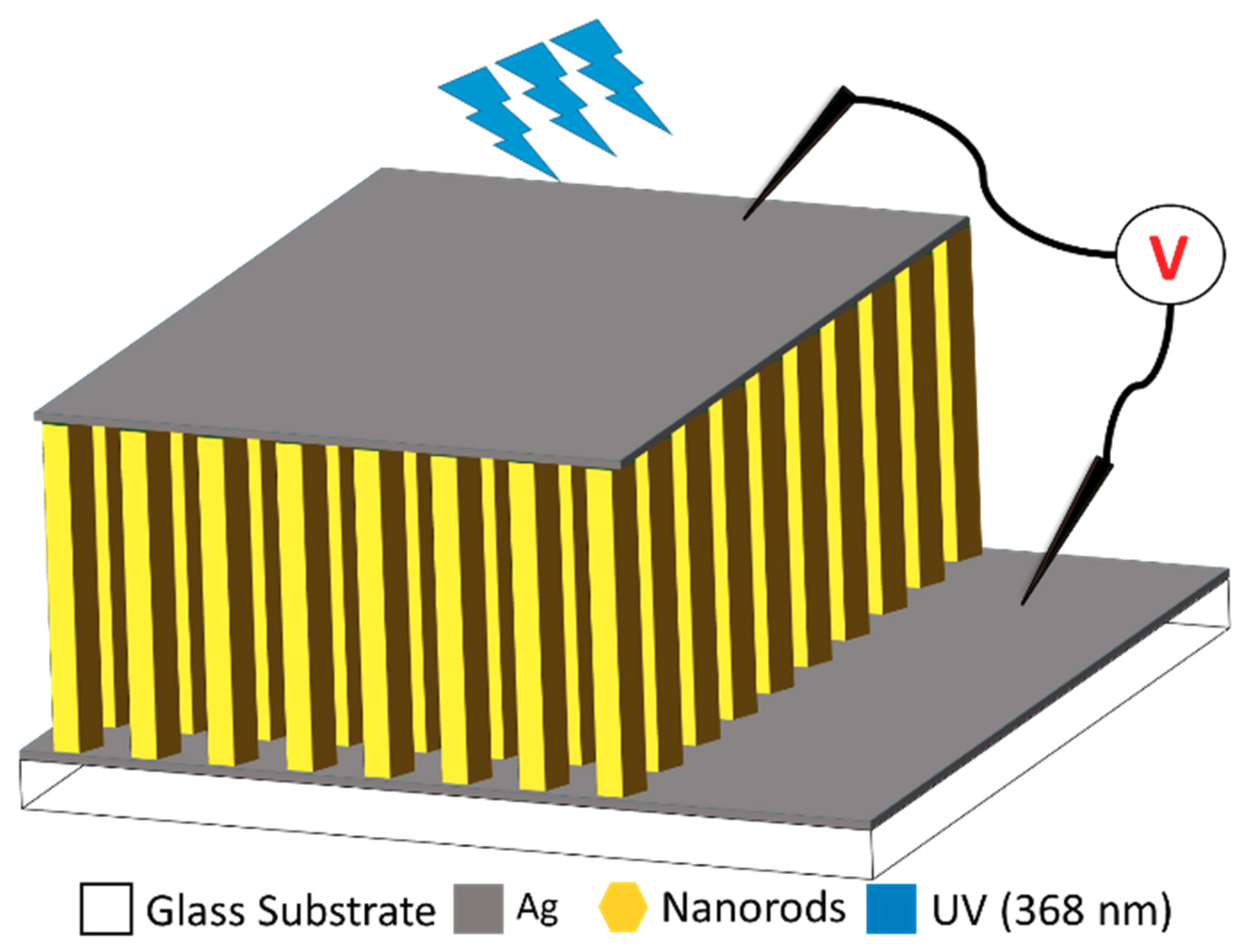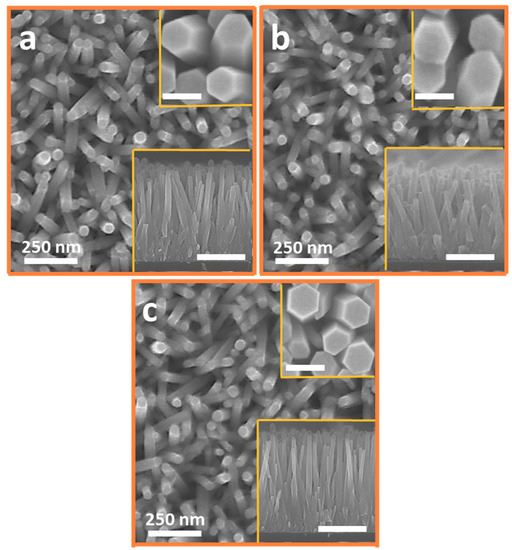 Figure 2. Plain view SEM images of (a) hydrothermally grown ZnO nanorods (ZNRs) (S1); (b) Ga-doped ZNRs (S2); and (c) defect-free microwave-assisted grown ZNRs (S3). The top and the bottom insets are the corresponding magnified images and cross-sectional images of the same ZNRs, respectively. The scale bar in the top insets is 100 nm and in the bottom insets 500 nm.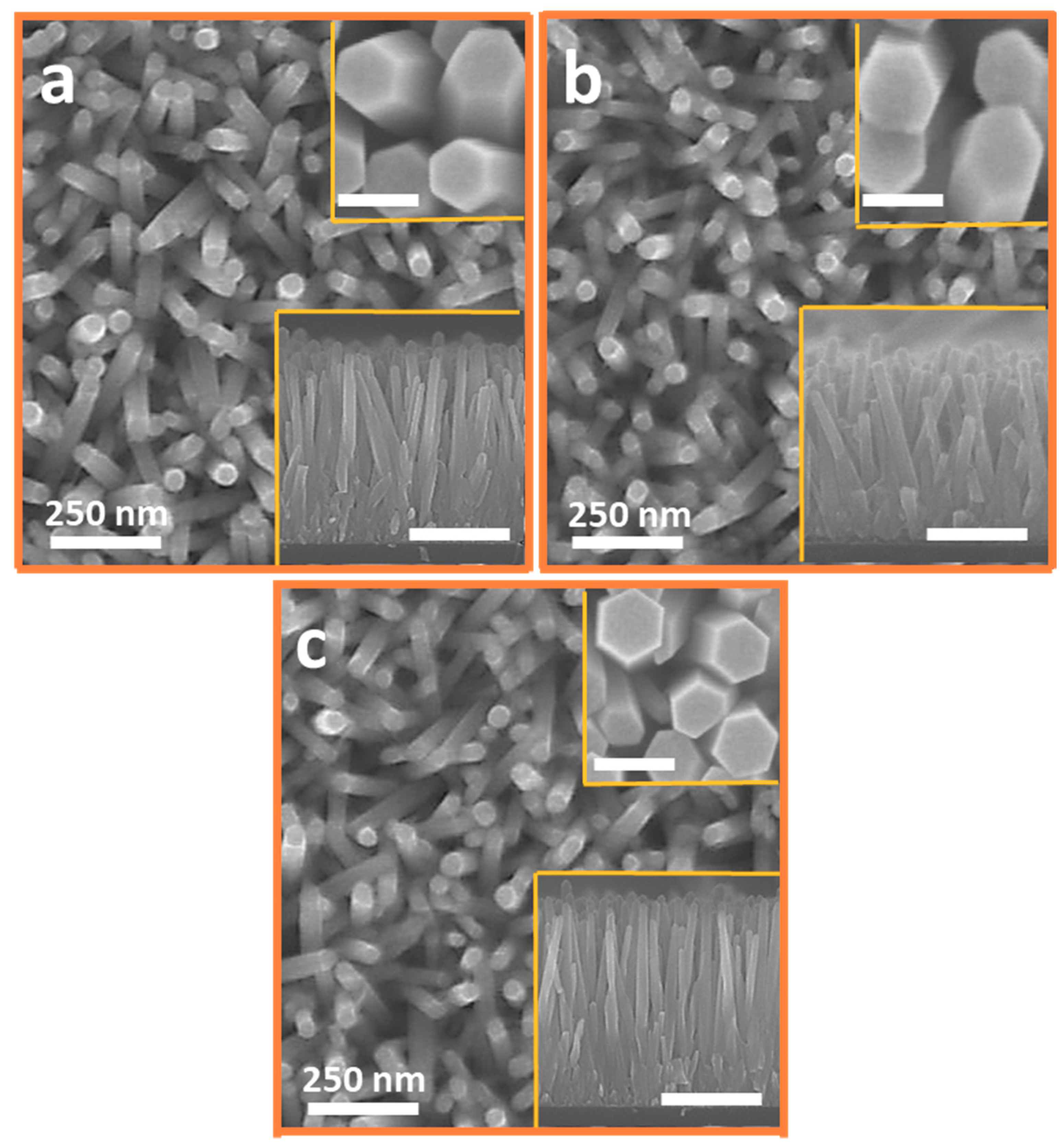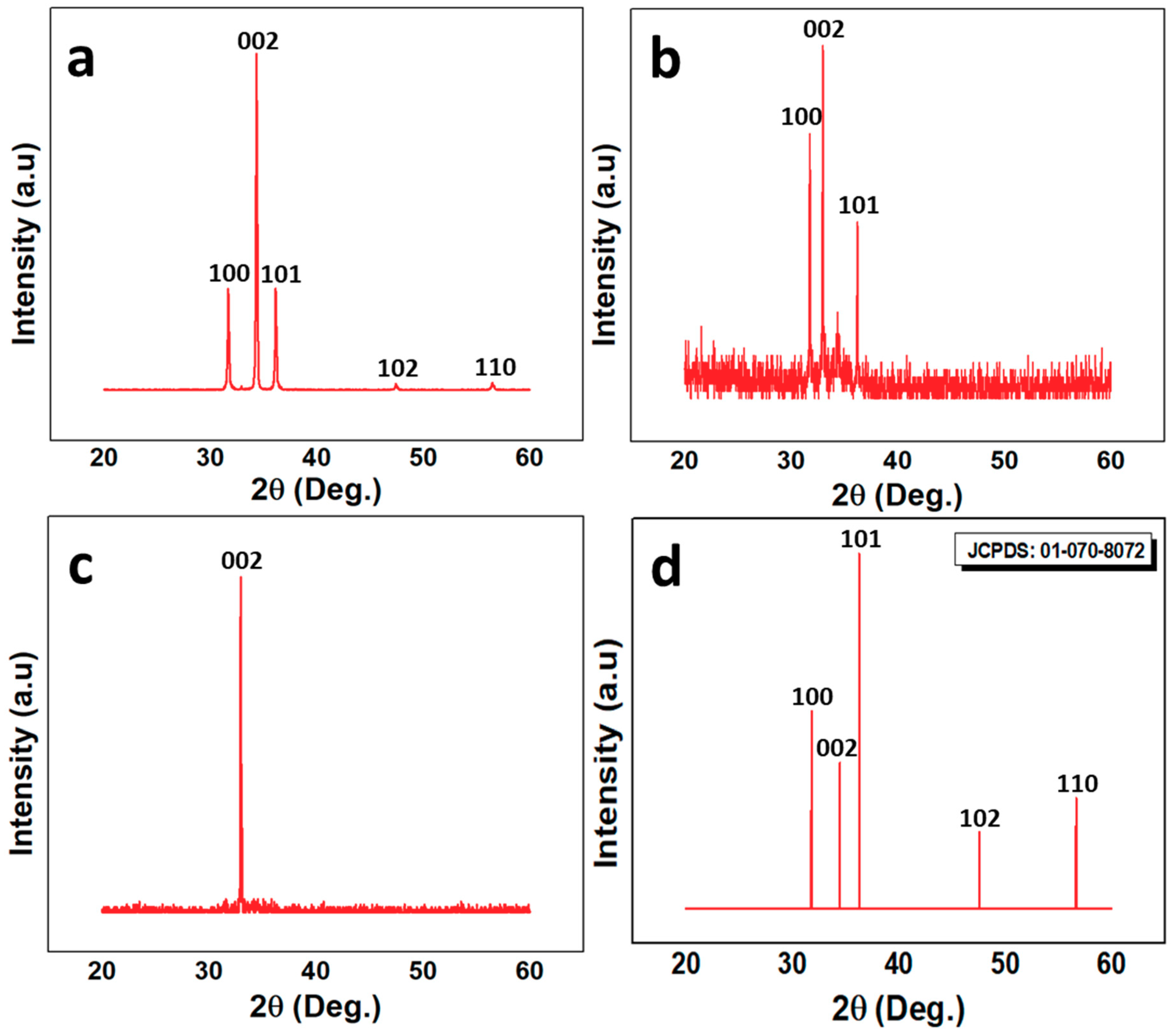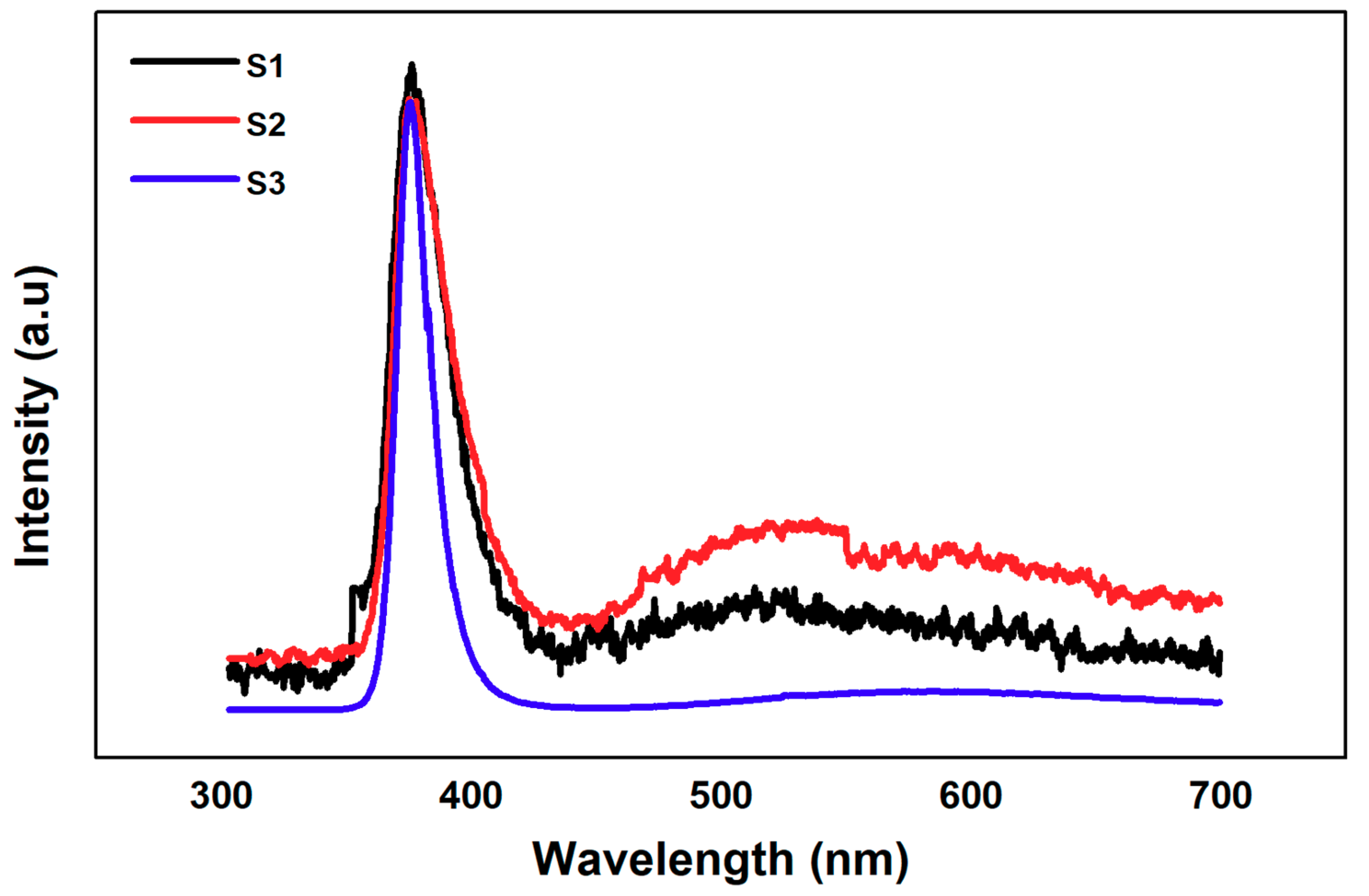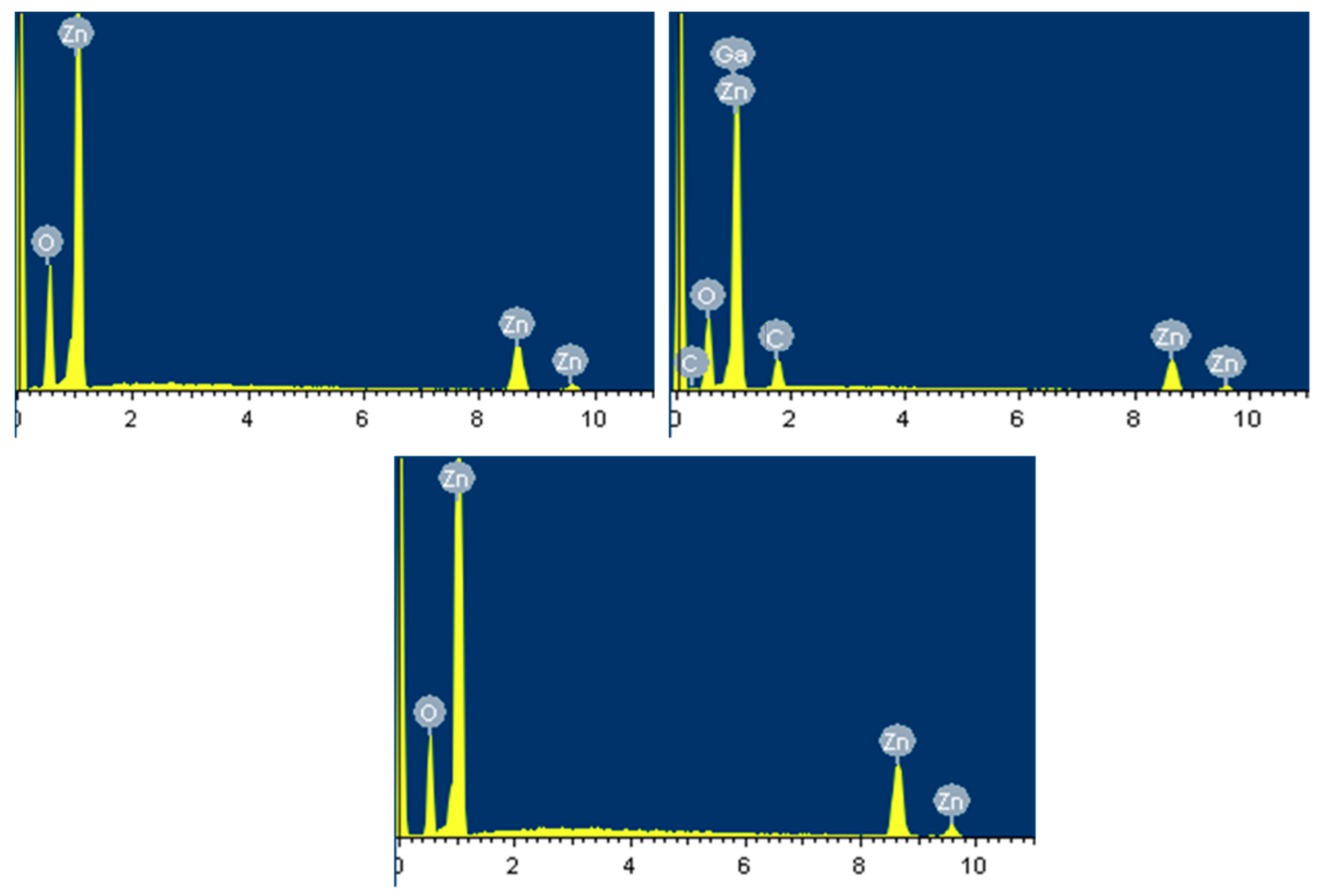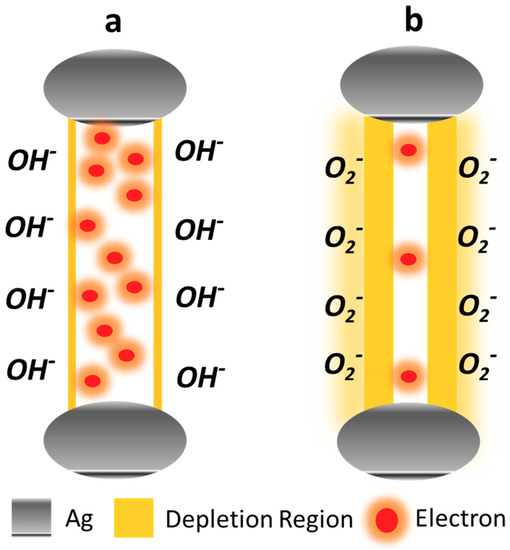 Figure 7. Channel layer e distribution and surface Schottky barrier in (a) defect-prone S1 and S2 with OH– surface accumulation layer and (b) defect-free S3 with chemisorbed surface oxygen.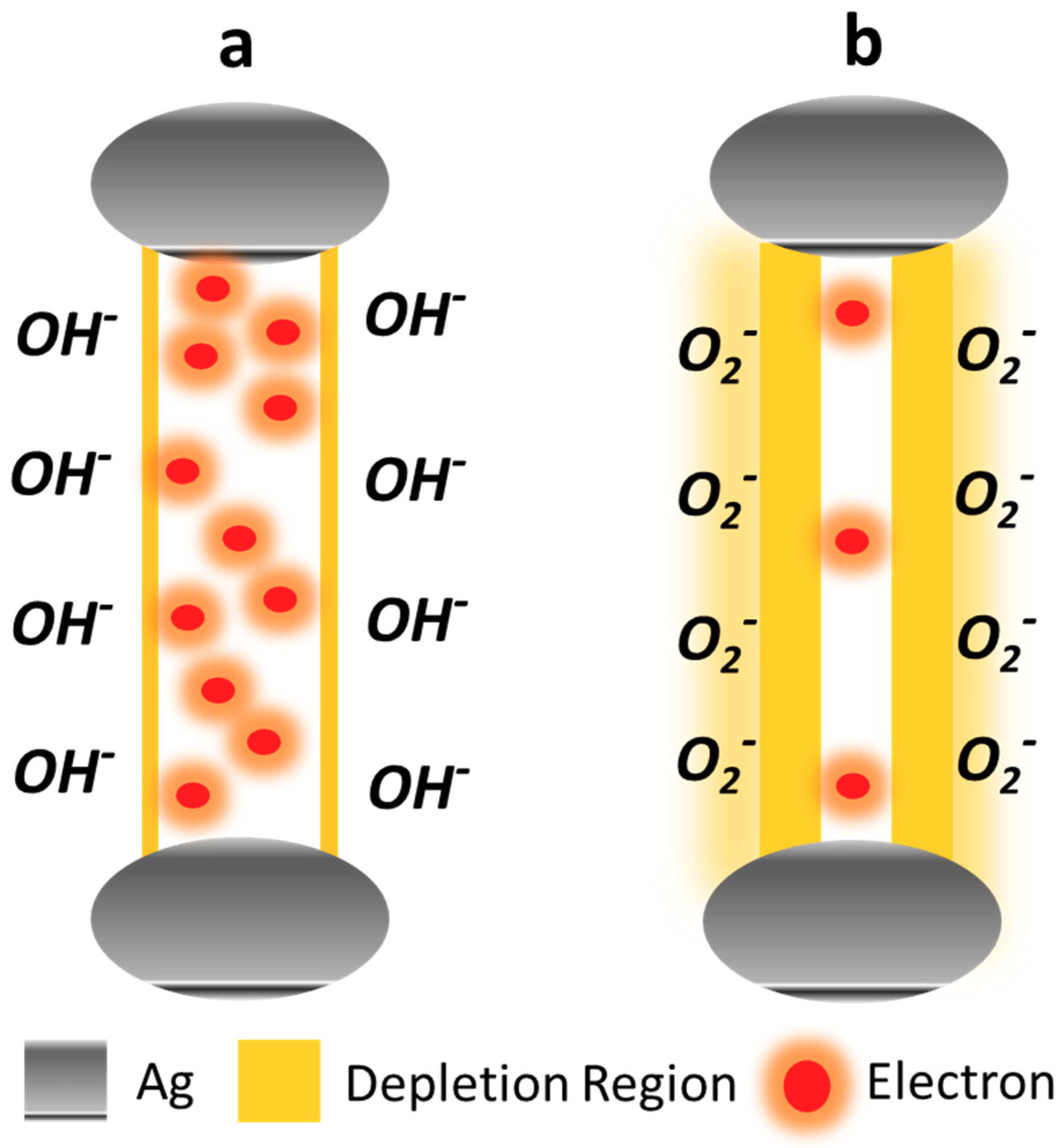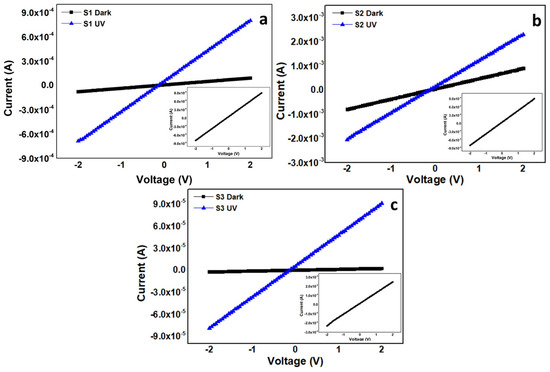 Figure 8.
Current–voltage (
I–V
) characteristics of (
a
) S1; (
b
) S2; and (
c
) S3. The insets show the magnified dark current characteristics of the corresponding samples for clarity.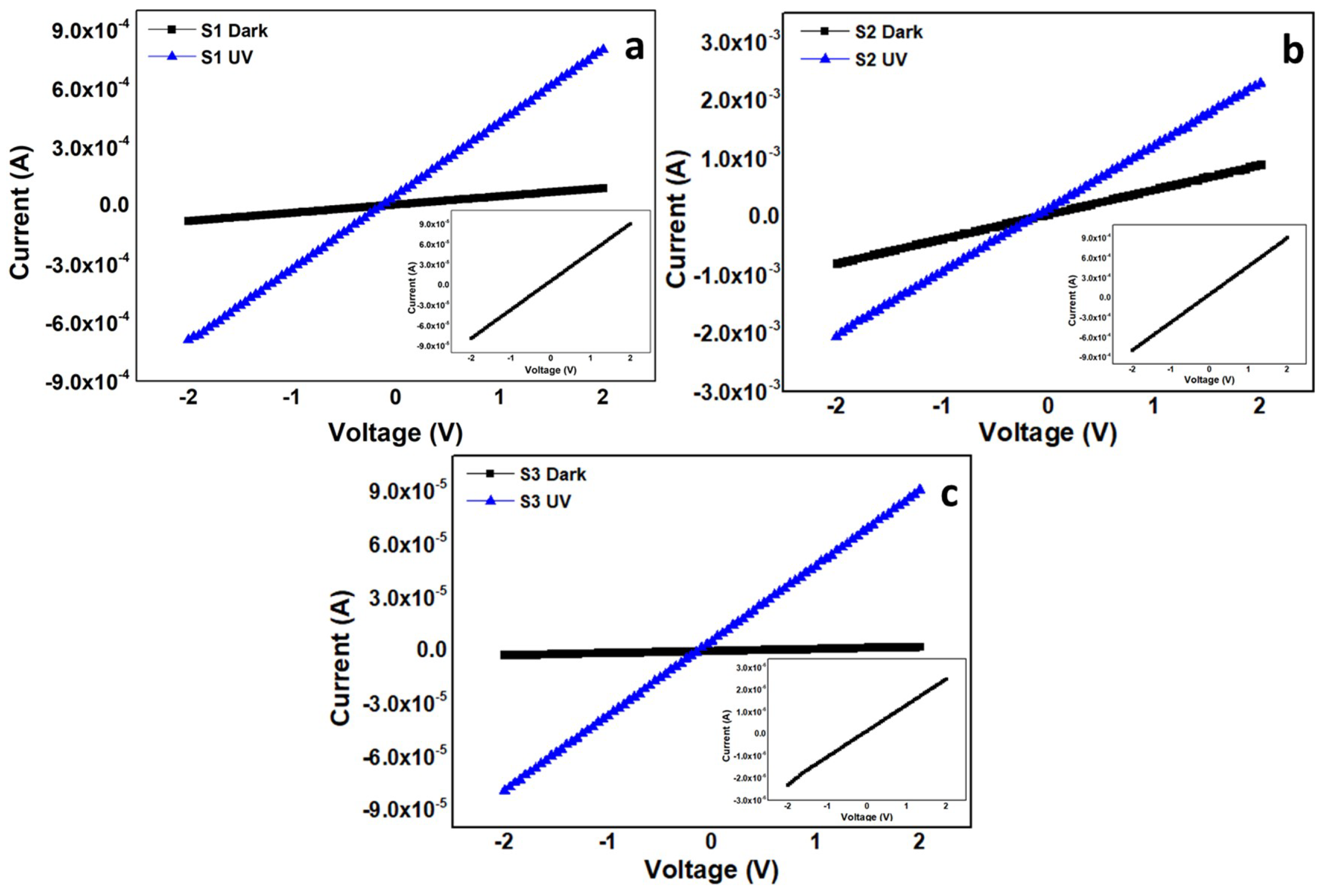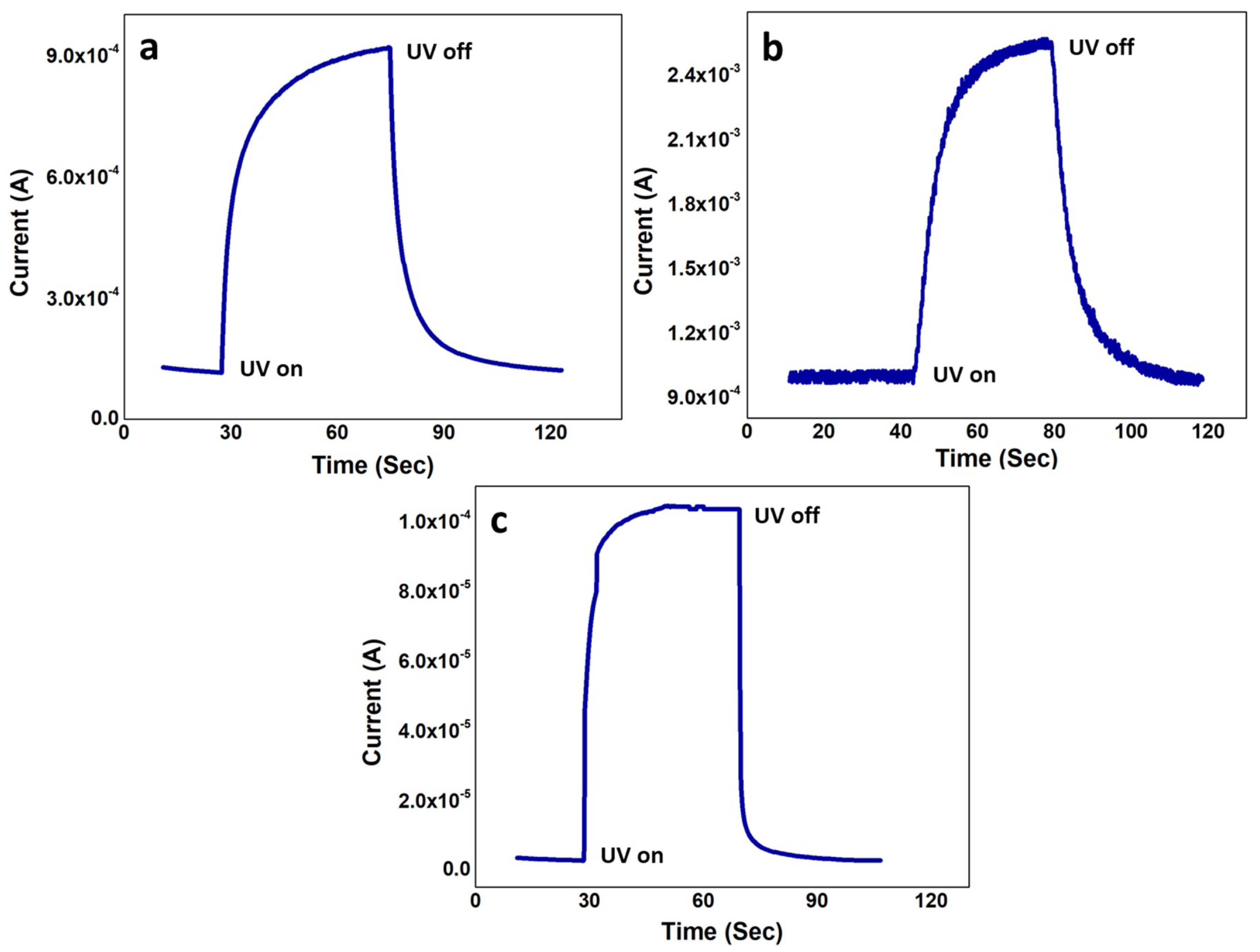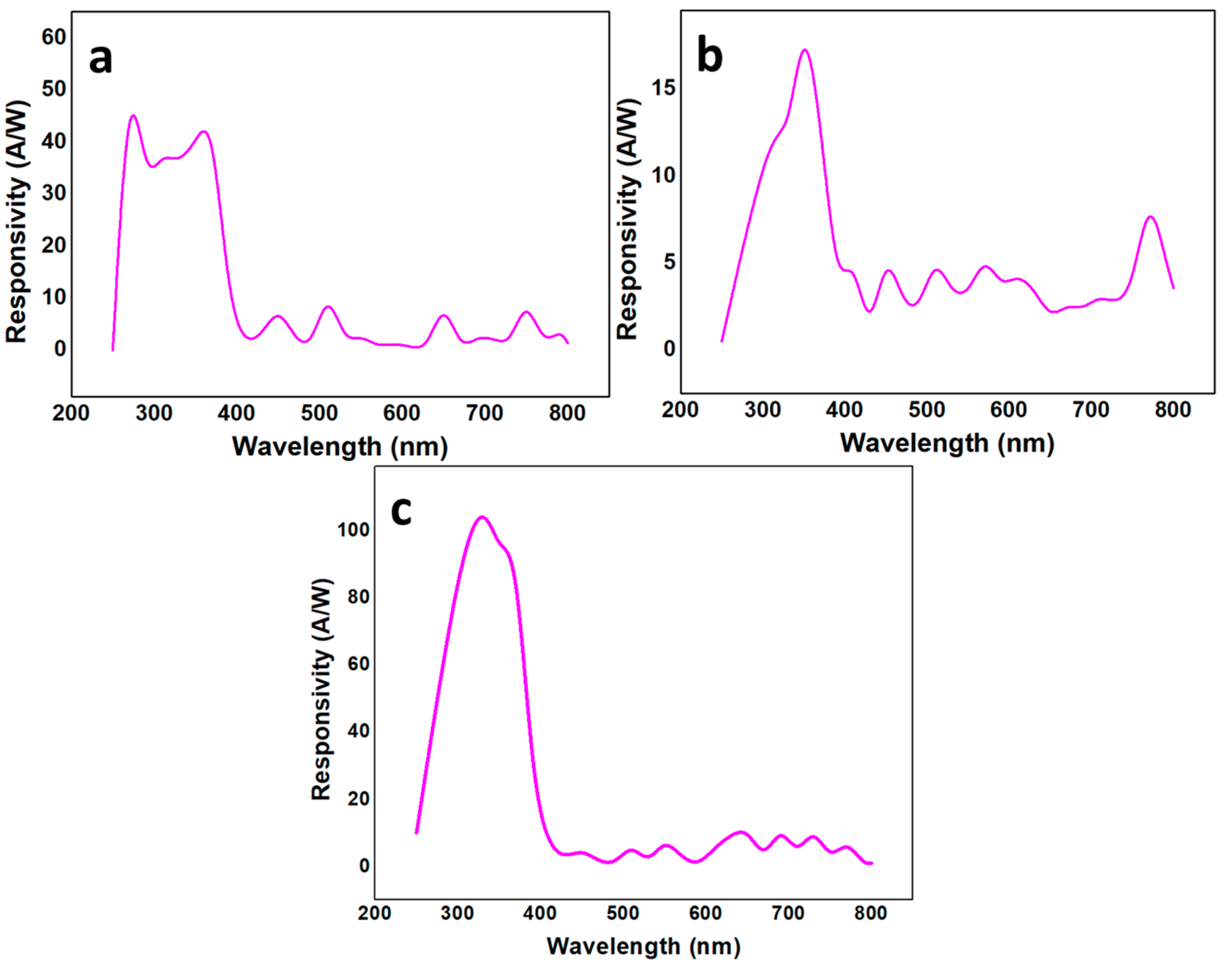 Sample
2

θ

(Degree)
FWHM (Radian)

D

(nm)

C

(Å)

ε

S1
34.63 (±0.04)
0.0046 (±0.0002)
30.93
5.284
1.62
S2
34.80 (±0.08)
0.0054 (±0.0004)
24.07
5.299
2.9
S3
34.48 (±0.01)
0.0021 (±0.0002)
67.16
5.204
0.25
Element
Weight %
Atomic %
S1
O
27.10 (±0.92)
31.68
C
4.01 (±2.06)
11.84
Zn
66.71 (±0.29)
53.84
Ga
2.18 (±1.42)
2.64
Total
100.00
100.00
S2
O
19.93 (±0.81)
38.87
Zn
80.07 (±0.36)
61.13
Total
100.00
100.00
S3
O
24.47 (±0.20)
48.56
Zn
75.53 (±0.16)
51.44
Total
100.00
100.00

© 2020 by the authors. Licensee MDPI, Basel, Switzerland. This article is an open access article distributed under the terms and conditions of the Creative Commons Attribution (CC BY) license (http://creativecommons.org/licenses/by/4.0/).