Open Access This article is
freely available
re-usable
Article
Indocyanine Green Loaded Polymeric Nanoparticles: Physicochemical Characterization and Interaction Studies with Caco-2 Cell Line by Light and Transmission Electron Microscopy
1
Department of Chemistry and Pharmacy, University of Sassari, 07100 Sassari, Italy
2
Department of Public Health, Experimental and Forensic Medicine-Histology and Embryology Unit, University of Pavia, 27100 Pavia, Italy
3
Department of Drug Sciences, University of Pavia, 27100 Pavia, Italy
4
IRCCS Policlinico San Matteo Foundation and Department of Clinical-Surgical, Diagnostic and Paediatric Sciences, University of Pavia, 27100 Pavia, Italy
*
Authors to whom correspondence should be addressed.
Received: 19 December 2019 / Accepted: 9 January 2020 / Published: 11 January 2020
Abstract
:
Biomedical applications of nanoparticles (NPs) have reached an increasing development in recent years. Recently, we demonstrated that newly synthesized poly (ethyl 2-cyanoacrylate) nanoparticles (PECA-NPs) are possible antitumor agents due to their cytotoxicity for cancer cells. Indocyanine green (ICG), an amphiphilic tricarbocyanine fluorescent dye, is widely used for the detection of tumoral extension in different organs during clinical surgery. Moreover, this fluorescent agent is unstable and it has a rapid clearance in physiological conditions in vivo. In this study, ICG was charged in PECA-NPs to improve its aqueous stability and make easier its use for the identification of tumor cells. Microscopic and ultrastructural aspects concerning the related in vitro interactions between ICG-loaded NPs and tumor cell culture were investigated. Obtained results showed an effective stabilization of ICG; furthermore, color inclusions inside the cells treated with ICG-loaded NPs demonstrated the internalization of NPs with associated ICG. Transmission electron microscopy (TEM) analysis demonstrated the cytoplasmic presence of coated vesicles (Ø ≤ 100 nm), hypothesizing their involvement in the mechanism of endocytosis. Therefore, ICG-loaded NPs could be proposed as agents for tumor diagnosis, hypothesizing also in the future a specific therapeutic treatment.
Keywords:
indocyanine green; polymeric nanoparticles; fluorescence imaging; indocyanine green stability; tumor treatment and detection
1. Introduction
Furthermore, during this study, we evaluated if the dye-loading process could improve the aqueous stability of ICG. This could offer the possibility to prolong ICG visualization that might be particularly useful during the surgical resection of the tumor. Therefore, ICG-loaded NPs were characterized in terms of size and fluorescence properties, with special attention to the stabilization effect of ICG resulting from its association with PECA-NPs.
2. Materials and Methods
2.1. Materials and Reagents
Ethyl 2-cyanoacrylate (ECA) was used as a monomer for the polymerization. Cardiogreen
®
(ICG) and Tween 20 were obtained from Sigma-Aldrich (St. Louis, MO, USA). Phosphotungstic acid was purchased from Carlo Erba reagents s.r.l. (Milan, Italy). Antibiotic/antimycotic solution (100×), containing 10,000 units/mL penicillin, 10 mg/mL streptomycin, 25 mg/mL amphotericin B, and dimethyl sulfoxide (DMSO), were purchased from Sigma-Aldrich (Milan, Italy). Dulbecco's Modified Eagle Medium (DMEM with 4.5 g/L glucose,
l
-glutamine, and sodium pyruvate) was purchased from Corning (Mediatech Inc. A Corning Subsidiary Manassas, Manassas, VA, USA). Dulbecco's Phosphate Buffer Solution and inactivated fetal calf serum were acquired from Biowest (Nuaillé, France). MTT (3-(4,5-dimethylthiazol-2-yl)-2,5-diphenyltetrazolium bromide) and trypan blue solution was purchased from Sigma-Aldrich (Milan, Italy). Cell line culture Caco-2 was obtained from the European Tissue Culture Collection. Ultrapure bi-distilled water was obtained by a MilliQ R4 system, Millipore (Milan, Italy). All other chemical reagents were of analytical grade.
2.2. Caco-2 Cell Culture and Maintenance
Caco-2 cell line derived from human colorectal adenocarcinoma were cultured in vitro with complete DMEM culture medium (CM) (1%
l
-glutamine, 1% (
v
/
v
) antibiotic/antimycotic solution, and 10% (
v
/
v
) inactivated fetal bovine serum), in an incubator (Shellab
®
Sheldon
®
Manufacturing Inc., Cornelius, OR, USA) at 37 °C with 95% air and 5% CO
2
atmosphere. At 80–90% of cell confluence, trypsinization was performed and the cell layer was harvested with CM. Afterward, the cell suspension was centrifuged (TC6, Sorvall Products, Newtown, CT, USA) at 1500 rpm for 10 min, eliminated the supernatant, and the cell pellet was re-suspended in 6 mL of CM. The number of cells in suspension was determined in a counting chamber (Hycor Biomedical, Garden Grove, CA, USA), using a 0.5% (
w
/
v
) trypan blue solution to visualize and count viable cells.
2.3. Preparation of ICG-Loaded NPs
ICG-loaded NPs were prepared using an emulsion polymerization method partially modified [
3
]. An appropriate amount of ICG (1 or 2 mg, ICG-NPs1, and ICG-NPs2, respectively) was dissolved into the polymerization medium, which consisted of 10 mL of an aqueous solution of hydrochloric acid (pH 2.5) containing Tween 20 (1.0%
w
/
v
). Subsequently, the ECA (1.0%
v
/
v
) was dropped into the reaction medium under continuous magnetic stirring, which was maintained until the polymerization was complete (3 h). Subsequently, the pH of the mixture was adjusted to 7.4 with NaOH 0.2 M to ensure the end of the polymerization reaction. All the reagents in excess, as well as free ICG, were removed using an ultrafiltration procedure on Amicon
®
devices (30,000 Da MWCO) (Merk Millipore Ltd, Cork, Ireland). The volume of NP dispersion was concentrated to 1 mL, then 10 mL of bi-distilled water was added and the ultrafiltration was carried out. This ultrafiltration process was repeated five times. Once obtained, the purified NP suspension was collected in polyethylene containers and stored at 4 °C.
In order to check free ICG, all the filtered solutions were observed to evaluate the possible green color and analyzed by fluorometric spectroscopy.
2.4. Physicochemical and Ultrastructural Characterization of ICG-Loaded NPs
2.4.1. Dimensional Analysis
Particle size and PDI (polydispersity index) of suspensions (ICG-NPs1 and ICG-NPs2) were determined by photon correlation spectroscopy (PCS) using a Coulter Submicron Particle Sizer N5 (Beckman-Coulter Inc. Miami, FL, USA). Before each measurement, the samples were diluted with bi-distilled water to obtain the concentration required by the equipment (range 5 × 10
4
and 1 × 10
6
counts s
−1
). Three samples of NP suspensions were prepared. Each sample was analyzed three times (
n
= 9) and results are expressed as mean ± standard deviation (SD).
2.4.2. Evaluation of Physical Stability
Based on the obtained results, the formulation ICG-NPs1 was selected for further experiments. The physical stability of ICG-NPs1 was determined to evaluate if significant changes in particle size and PDI occurred over time. After preparation, the sample was stored at room temperature (25 °C) and 4 °C and dimensional analyses were performed after 7, 15, and 30 days, comparing the results with those obtained at the time of preparation.
2.4.3. Ultrastructural Analysis (TEM) of ICG-NPs1
Morphological analysis of ICG-NPs1 ultrastructural features was conducted by TEM. For TEM observations, the procedure reported in Obinu et al. was followed [
3
]. Briefly, a drop (15 µL) of NP emulsion was deposited onto carbon-coated copper grids (200 mesh, Baltec) and, after 15 min, gently dried with a Whatman paper (Whatman
®
Cellulose Filter Paper, Sigma-Aldrich, St. Louis, MO, USA) disk; then, a phosphotungstic acid drop was added and the sample was examined at the electron microscope as negatively stained structure [
34
,
35
].
JEOL JEM-1200 EX II microscope (JEOL ltd, Tokyo, Japan) operating at 100 kV (tungsten filament gun) and equipped with the TEM CCD camera Olympus Mega View III (Olympus Corp., Tokio, Japan) was used to obtain images at different magnifications (12,000× to 100,000×). The optical values of NPs were measured using ImageJ software ver. 1.49h (Waine Rasband; NIH, Bethesda, MD, USA) [
36
]. A semi-quantitative evaluation was performed on the acquired ultrastructural images (reference area 8.33 µm
2
), counting the number of ICG-loaded NPs.
2.4.4. Fluorescence Studies
Fluorescence measurements were performed using an RF-6000 spectrofluorometer (Shimadzu, Kyoto, Japan) with an excitation wavelength of 785 nm. Emission spectra were recorded from 500 to 900 nm wavelength range. To evaluate the influence of ICG concentration on fluorescence intensity, the ICG-NPs1 dispersion and an aqueous solution of free ICG, containing the same concentration of dye (100 µg/mL), were diluted with bi-distilled water to obtain a series of samples with different ICG concentrations (range 0.1–100 µg/mL). The samples were analyzed and both the emission peak wavelength and the peak fluorescence intensity were recorded. Furthermore, unloaded NPs (prepared using the method described in Paragraph 2.3, without ICG) were examined to assess any interference in the emission spectrum.
In order to evaluate ICG fluorescence stability in water, an aqueous dispersion of ICG-NPs1 and an aqueous solution of free ICG, having the same concentration of ICG (10 µg/mL), were placed in the dark at 4 °C for up to 30 days. The ICG concentration was chosen on the basis of the results obtained in the experiment reported above. Fluorescence measurements were recorded at 0, 1, 2, 3, 4, 7, 10, 20, and 30 days and the time-dependent decay of ICG fluorescence was investigated and expressed as a percentage (%) of fluorescence remaining. Each obtained value is the average result of three experimental determinations.
2.5. Cytotoxicity Test
ICG-loaded NP cytotoxicity was investigated by MTT assay analyzing the effects of different NPs concentrations (750, 75, and 7.5 µg/mL of PECA, corresponding to ICG concentration 10, 1, and 0.1 µg/mL, respectively) on the viability of Caco-2 cells. Cells were seeded on 96-well plates (2.0 × 104 cells in 200 μL of CM/well) and incubated at 37 °C and 5% CO2 for 24 h to reach subconfluence growth condition. ICG-loaded NPs were prepared in sterile bi-distilled water and diluted in CM and each sample (200 μL) was put in contact with cells for 24 h. CM alone was used as a control reference. After 24 h of contact with samples, cells were washed with 100 µL of PBS buffer (pH 7.4) and then put in contact for 3 h (37 °C and 5% CO2) with 50 μL of MTT at 7.5 μM concentration in 100 μL of DMEM without phenol red. Finally, 100 µL of DMSO was added to each well to allow the complete dissolution of blue formazan crystals, produced from the reduction of tetrazolium salt MTT by mitochondrial dehydrogenase of only viable cells. Solution absorbance was determined at 570 nm, with a 690 nm reference wavelength, employing an IMark1 Microplate reader (Bio-Rad Laboratories S.r.l., Segrate, Milan, Italy). Cell viability was expressed as a percentage calculated by normalizing the absorbance measured after contact with samples with those measured after contact with pure CM and used as positive control. For each sample were performed eight replicates.
2.6. Microscopic and Ultrastructural Analysis of Interactions between ICG-Loaded NPs and Caco-2 Cell Culture In Vitro
The interaction between ICG-NPs1 and cancer cells was investigated by TEM, incubating for 1 h the NPs with Caco-2 cells seeded in a multiwell plate (Corning®Costar®, Sigma-Aldrich, St. Louis, MO, USA). Samples without NPs were considered as untreated cell controls. ICG-loaded NPs were diluted in medium with ratio 1:1000 (0.1 µg/mL final ICG concentration). Cells were put in contact for 1 h with unloaded NPs and ICG-NPs1, washed, and fixed with a solution containing 2.5% glutaraldehyde and 2% paraformaldehyde in 0.1 M Na-cacodylate buffer (pH 7.4) for 6 h at 4 °C. Postfixation was performed using osmium tetroxide 1.33% in 0.1 M collidine buffer for 20 min at room temperature, then at 4 °C overnight. Cell specimens inside the plastic Petri were embedded in Epon resin cylinders (at 60 °C for 48 h) and subsequently scratched from the plastic support. Semithin sections (0.2 µm) for light microscopy stained with toluidine blue were observed with the Zeiss Axiophot microscope (Carl Zeiss, Oberkochen, Germany) provided with high-resolution optics, particularly an oil-immersion apochromatic objective with a magnification of 63× and a high aperture of 1.4. Images were recorded by 5.0 Mpxl CCD digital camera (Nikon corp., Tokyo, Japan), using a yellow filter to better identify the ICG content. Ultrathin sections (50 nm) for ultrastructural analysis were obtained by Ultracut Reichert (Reichert, Wien, Austria) provided with a DiATOME diamond knife and contrasted with uranyl acetate solution and lead citrate. To evaluate any interference, non-treated cells were used as control; furthermore, the uptake of unloaded NPs was assessed.
2.7. Statistical Analysis
Statistical analysis was performed with GraphPad Prism 5.0 software (GraphPad Software, Inc., San Diego, CA, USA). Data were analyzed using an unpaired
t
-test and the analysis of variance (one-way ANOVA) was followed by Tukey's multiple comparison test. The significance level was set at
p
< 0.05.
4. Discussion
Dimensional analysis by PCS of ICG-loaded NPs showed two different classes of NPs, ranging from 120 (ICG-NPs1) to 200 nm (ICG-NPs2), maybe influenced by the concentration of dye, increasing the dimensions and reducing the homogeneity of suspension. On the basis of these results, further studies were conducted using the ICG-NPs1 formulation that showed for at least 1 month, both at room temperature and 4 °C, good physical stability in terms of dimensions and homogeneity of ICG dispersion. These results ensure a product that dimensionally corresponds to the original and consists of NPs that do not undergo aggregation during the time. As discussed below, changing in size could affect the clearance rate of NPs; moreover, dimensional stable NPs could be advantageous as they can be easily stored and used whenever necessary. Furthermore, the surgeon need not necessarily inject the NPs immediately before surgery.
Instrumental limitations to analysis and the complexity of pathways represent further issues, too. Further studies will be also conducted to better analyze the internalization and intracellular trafficking of these NP systems in tumor cells in vitro and ex vivo.
The future direction could be to specifically modify nanoparticle surface to improve uptake of the systems in tumoral cells, also by active intracellular transport.
5. Conclusions
The results reported in the present research work demonstrated that the PECA-NPs previously proposed can be a promising carrier to load and stabilize ICG. In particular, the NPs here studied showed a particle size (<200 nm) suitable not only for the accumulation in tumor tissues by enhanced permeability and retention effect but also for endocytosis by tumor cells. In addition, the fluorescence studies confirmed that the spectra and the intensity values of ICG-loaded NPs did not change during the time, confirming a clear improvement of the stabilization of ICG in the aqueous media when incorporated into NPs. The possibility to prolong ICG-loaded NPs visualization could be useful during the surgical resection of the tumor. The antitumor activity previously described for PECA-NPs could be moreover exploited, maybe as a synergic effect of loaded anticancer drugs, to support the surgical removal of tumor lesions. The interaction of PECA and ICG-loaded PECA nanosystems with the tumor cells, involving an endocytic mechanism of uptake that leads to their internalization, was here demonstrated. All these results suggested that ICG-loaded NPs could be proposed as theranostic agents for tumor diagnosis and treatment. Anyway, the next goal will be to evaluate the selectivity of these PECA-NPs loaded with ICG, considering specific tumor cellular models (i.e., hepatocellular carcinoma and renal metastases), and the corresponding healthy tissue control (cell line of the human liver) for comparative studies.
Further, in vivo studies are required to confirm the real potential of this formulation.
Author Contributions
Conceptualization, E.G. and P.G.; methodology, A.O., G.R., A.C., and F.R.; investigation, A.O. and F.R.; resources, P.G. and M.M; data curation, A.O., G.R., A.C., and F.R.; writing—original draft preparation, A.O. and F.R.; writing—review and editing, P.G. and M.M.; supervision, P.G., M.C.B., and E.G.; project administration, P.G., M.C.B., E.G., and M.M. All authors have read and agreed to the published version of the manuscript.
Funding
This research received no external funding.
Acknowledgments
The authors acknowledge Massimo Boiocchi (Centro Grandi Strumenti, University of Pavia) for outstanding technical support to acquire the TEM imagines.
Conflicts of Interest
The authors declare no conflicts of interest.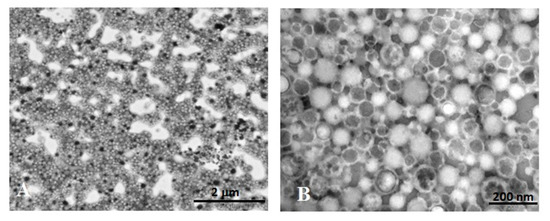 Figure 2. Ultrastructural morphology of negatively stained ICG-NPs1. (A) ICG-NPs1 appeared as aggregates creating a sort of network irregularly shaped (magnification: 12,000×; scale bar: 2 µm). (B) ICG-NPs1 appeared distinct in three different types for the morphology, dimension, and electron density (magnification: 100,000×, scale bar: 200 nm).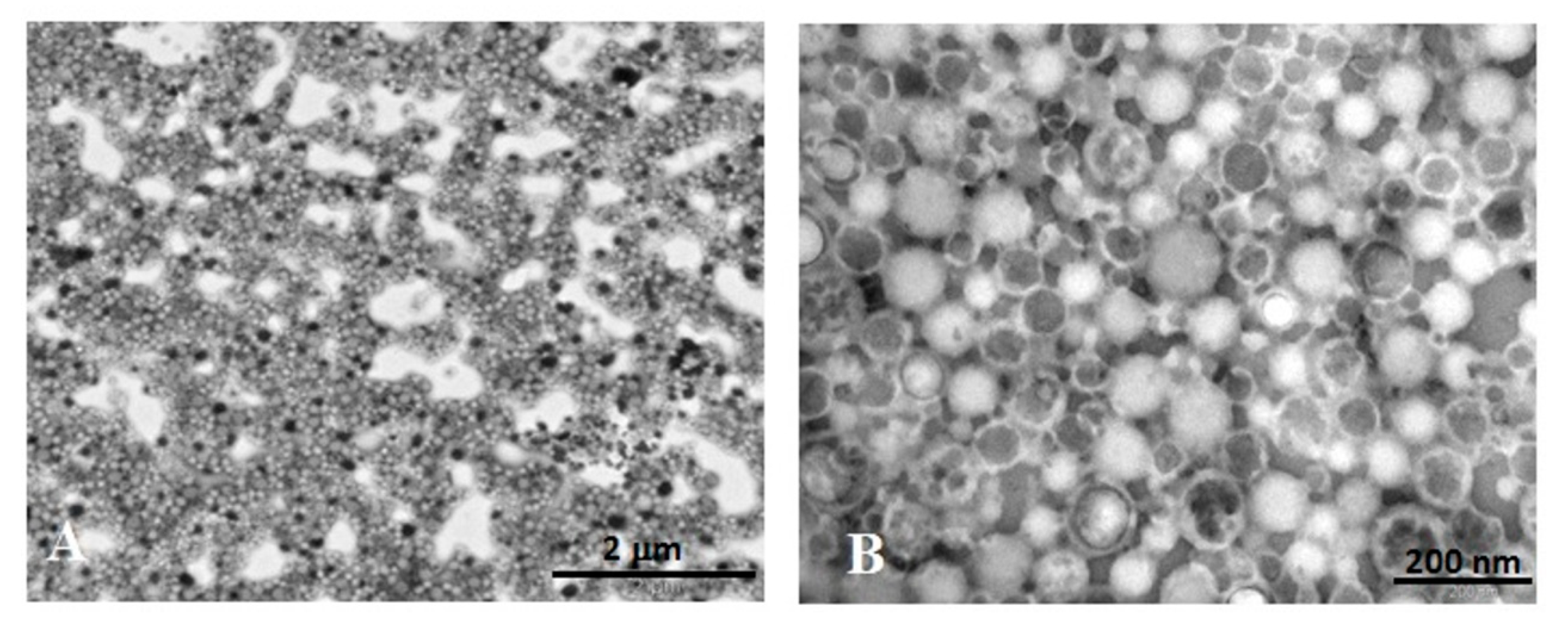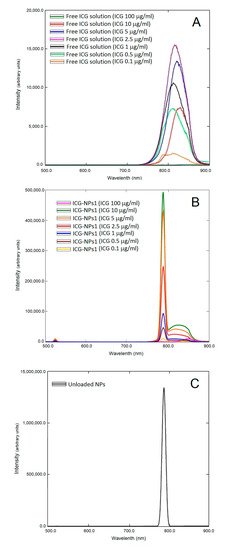 Figure 3. Fluorescence spectra of free indocyanine green (ICG) aqueous solutions (A), ICG-NPs1 aqueous dispersions (B) (ICG concentrations range 0.1–100 µg/mL), and unloaded nanoparticles (NPs) (C).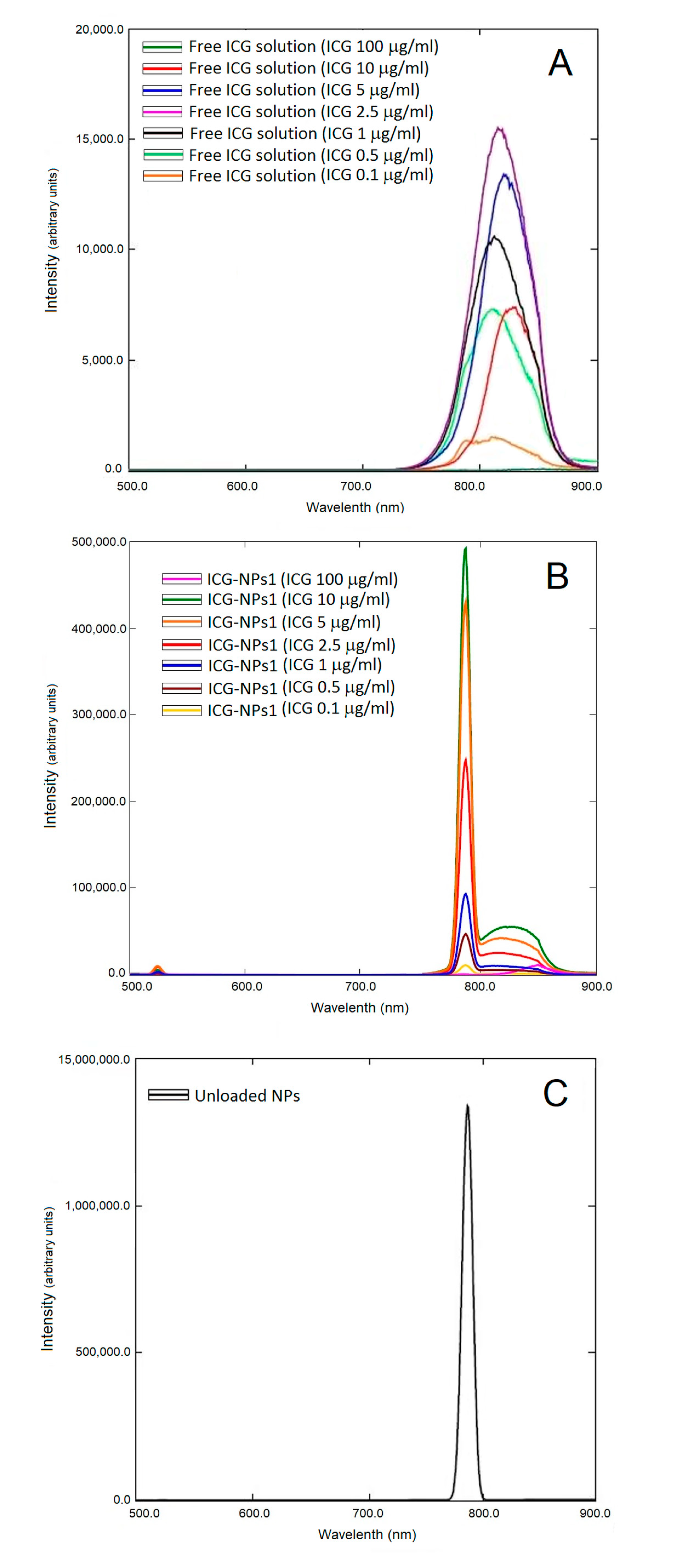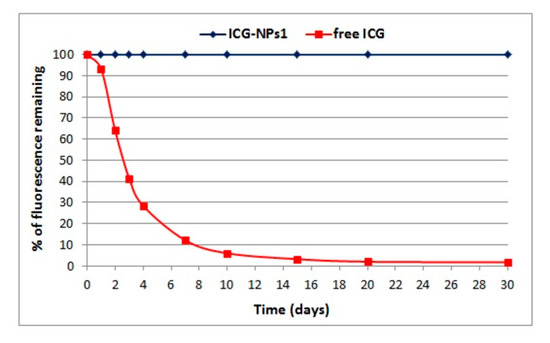 Figure 4. Fluorescence stability in water of free ICG solution and ICG-loaded NPs dispersion (ICG concentration, 10 µg/mL).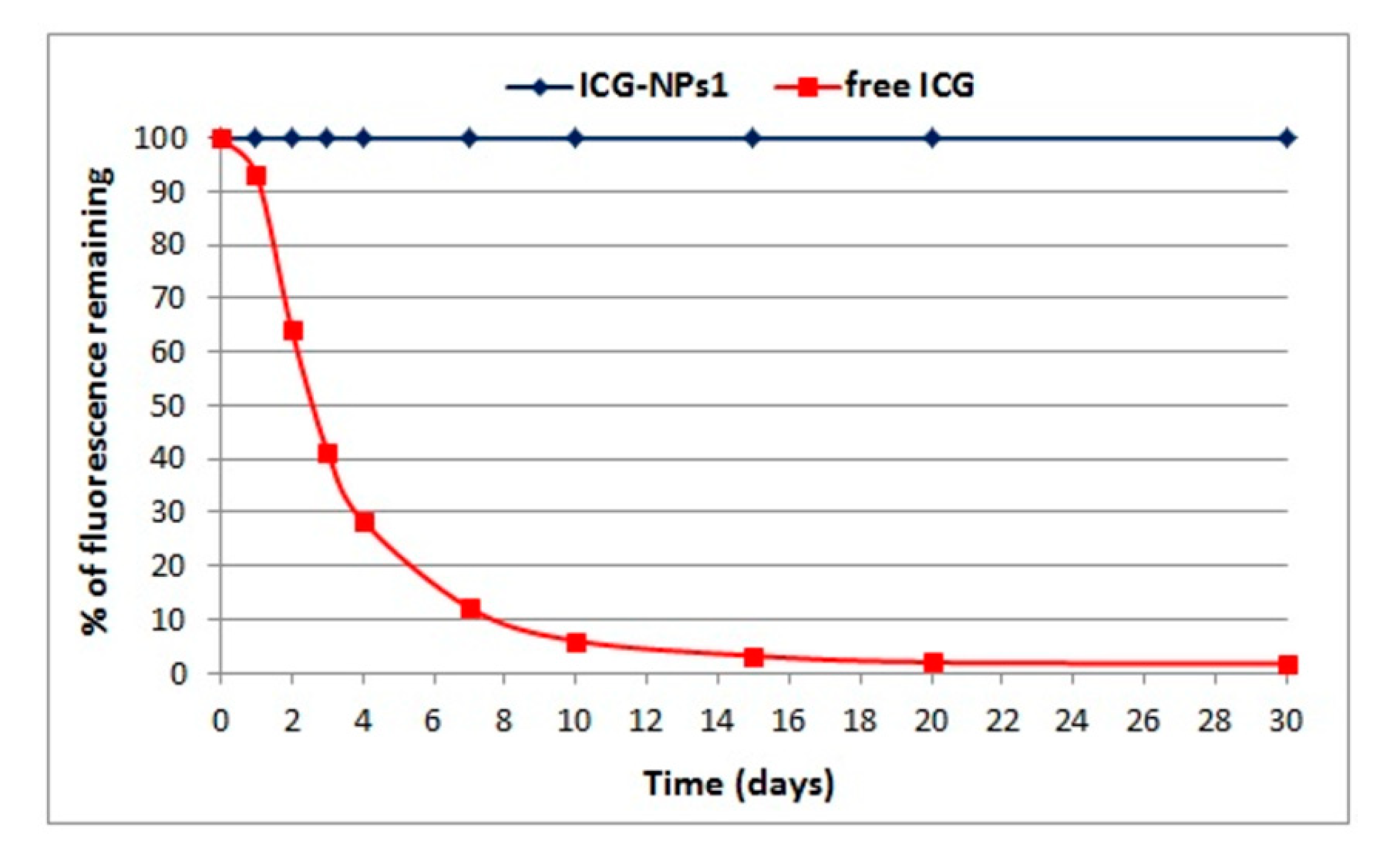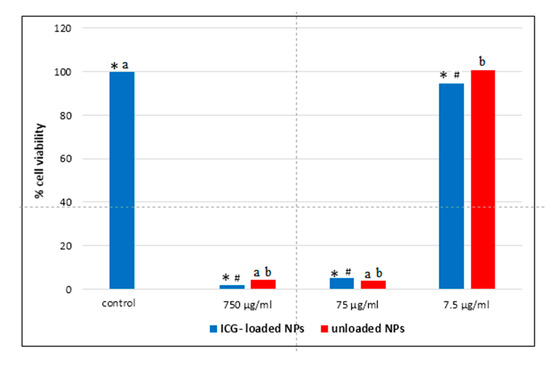 Figure 5.
MTT test of ICG-loaded NPs and unloaded NPs against Caco-2 cells. ICG-loaded NPs:
p
< 0.05: * control vs. 750, 75, and 7.5 µg/mL;
#
7.5 µg/mL vs. 750 and 75 µg/mL; unloaded NPs:
p
< 0.05:
a
control vs. 750 and 75 µg/mL;
b
7.5 µg/mL vs. 750 and 75 µg/mL.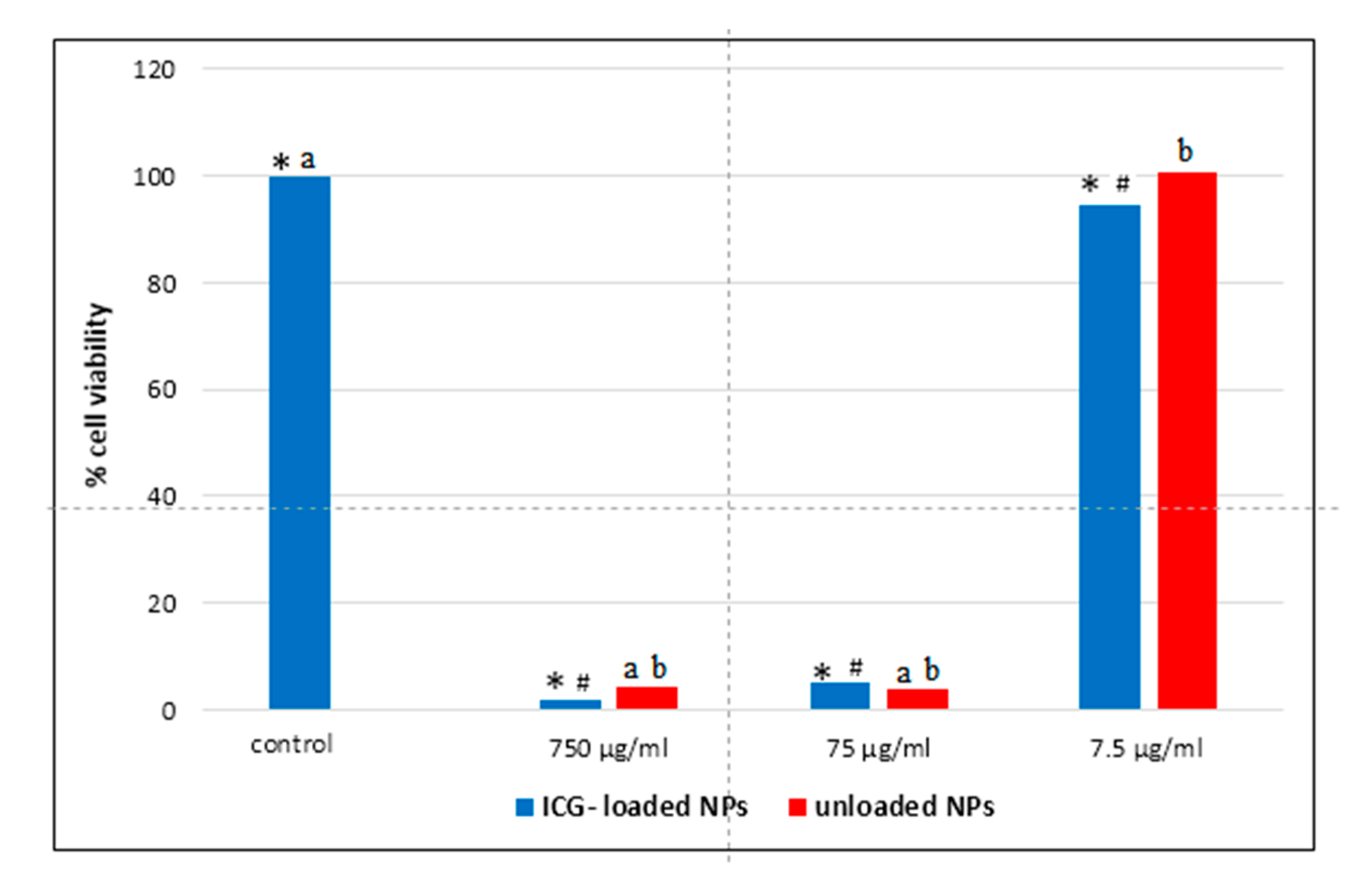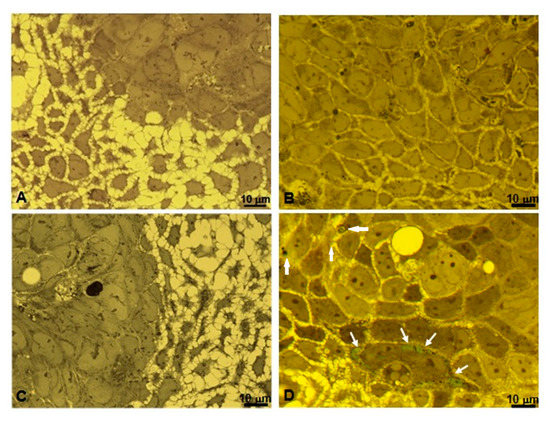 Figure 6. Semithin sections (0.2 µm) of human colorectal adenocarcinoma Caco-2 cell culture stained with toluidine blue and observed through yellow filter in the condenser stage of the light microscope. (A) Untreated cell culture (B) Cell culture treated with unloaded NPs. (C) Cell culture treated with free ICG in water solution. (D) Caco-2 cell culture treated with ICG-NPs1. Green spots are detectable inside cells (white arrows). All images were captured using an oil-immersion apochromatic objective 63x-high aperture 1.4 and each one shows a representative field of many cells. Scale bar: 10 µm.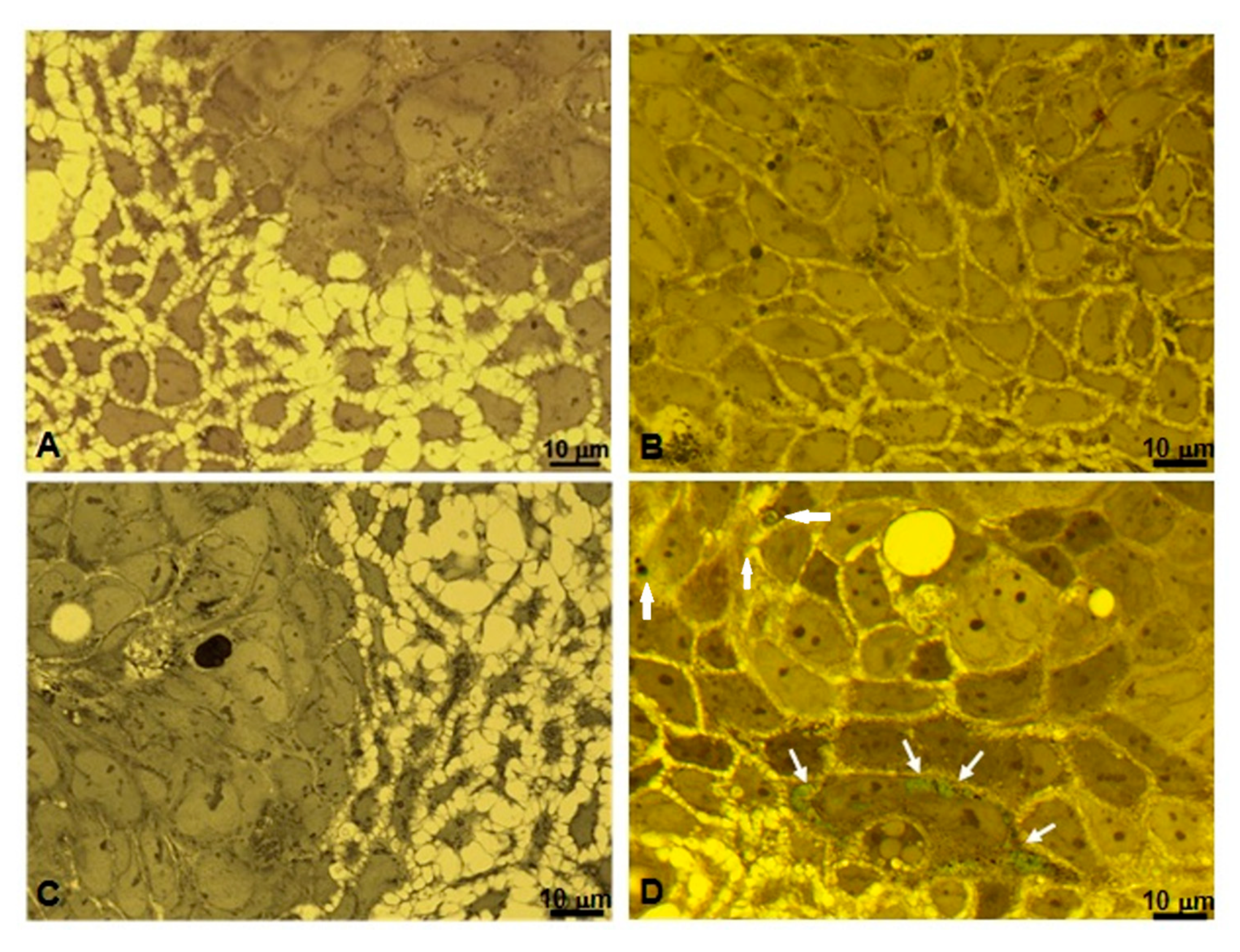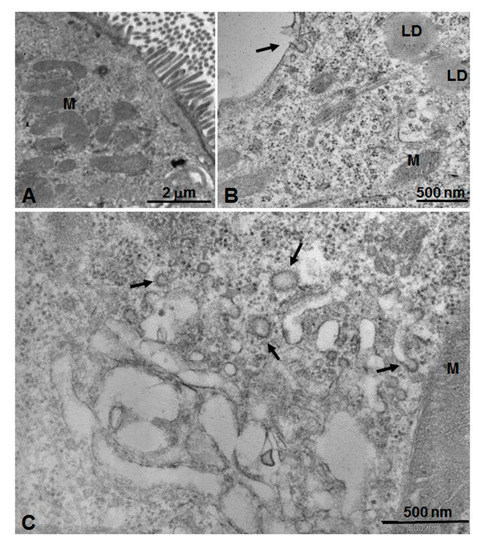 Figure 7. Electron micrographs (TEM) of Caco-2 cell grown in 2D culture in vitro stained with uranyl acetate and lead citrate, analyzed by a transmission electron microscope. (A) An untreated Caco-2 cell control with numerous microvilli on the apical surface (upper right) and mitochondria (M) inside the cytoplasm. Scale bar: 2 µm. (B) Superficial part of a cell with an evident caveola constituted by invagination of the plasma membrane-coated pits on its inner side (black arrow). In the cytoplasm are visible many free polyribosomes, bundles of cytoskeletal elements, some mitochondria (M), and lipid droplets (LD). Scale bar: 500 nm. (C) Cell treated with unloaded PECA-NPs. Numerous coated vesicles distributed in the peripheral part of the cytoplasm are present and associated with cytoplasmic membrane systems (arrows). Scale bar: 500 nm.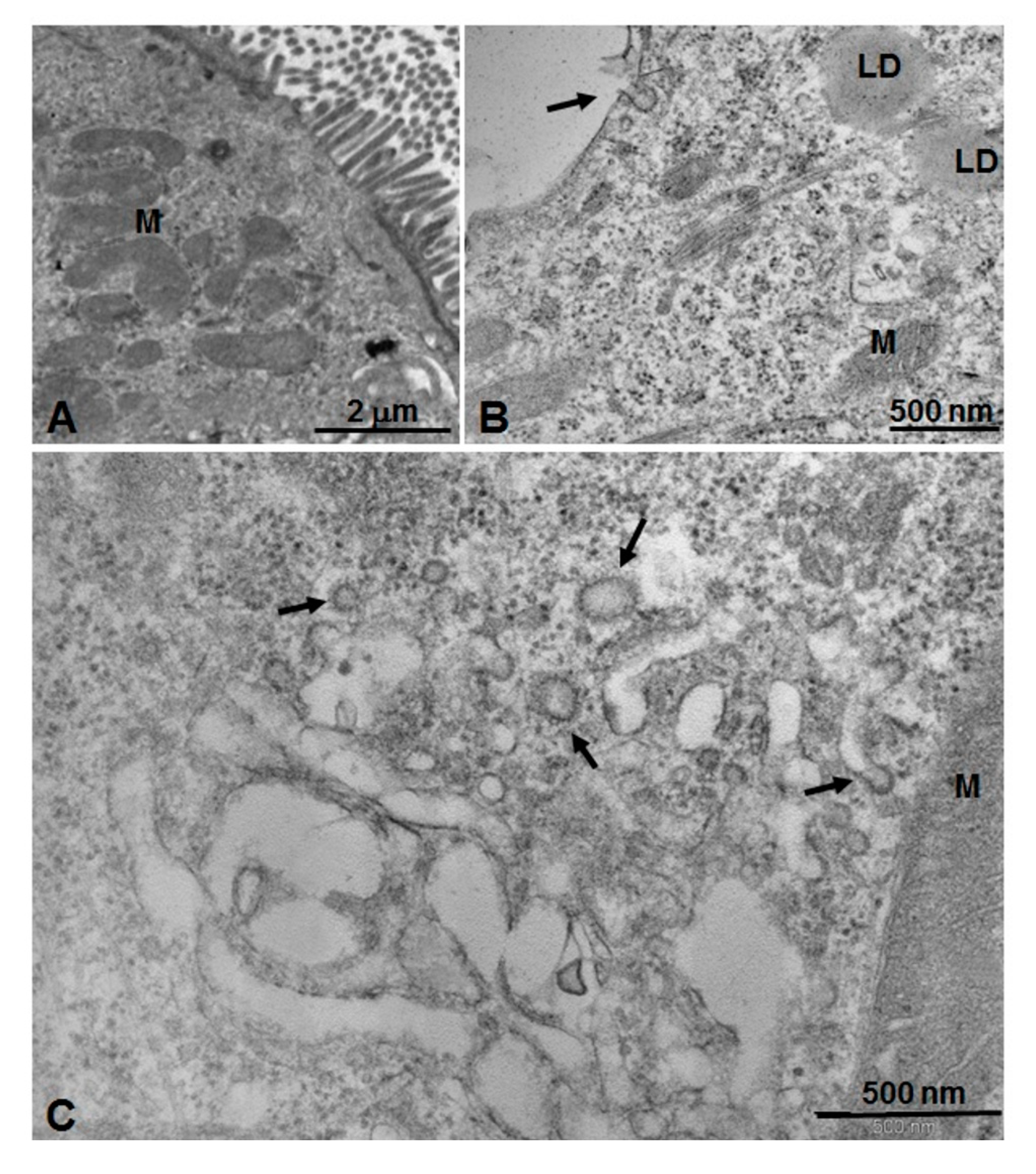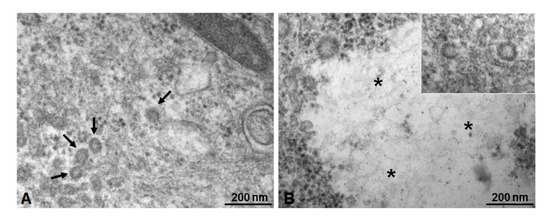 Figure 8. Electron micrographs (TEM) of Caco-2 cells treated with NPs and observed at the transmission electron microscope. (A) Cell culture with unloaded NPs, detectable as small rounded structures (about 100 nm sized) concentrated in cytoplasmic areas. Scale bar: 200 nm. (B) Caco-2 cell treated with ICG-loaded NPs. Rounded structures are distributed in cytoplasm (inset) and near to large light inclusion (asterisks). Scale bar: 200 nm.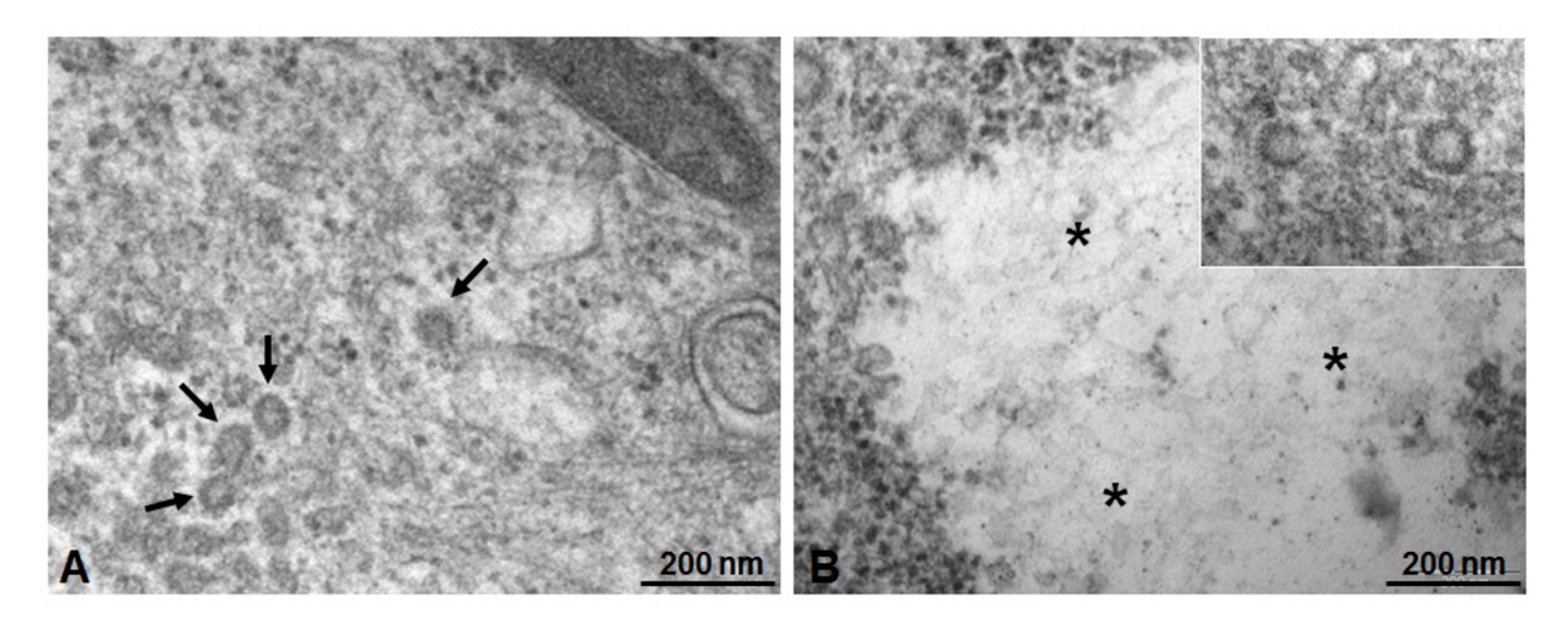 Table 1. Particle size and PDI (polydispersity index) of ICG-NPs1 and ICG-NPs2. Results are expressed as mean ± SD.
| Sample | Mean Diameter (nm) ± SD | PDI ± SD |
| --- | --- | --- |
| ICG-NPs1 | 121.1 ± 0.8 | 0.047 ± 0.023 |
| ICG-NPs2 | 193.9 ± 5.1 * | 0.127 ± 0.062 # |
*

p

< 0.05 vs. ICG-NPs1; #

p

< 0.05 vs. ICG-NPs1.

© 2020 by the authors. Licensee MDPI, Basel, Switzerland. This article is an open access article distributed under the terms and conditions of the Creative Commons Attribution (CC BY) license (http://creativecommons.org/licenses/by/4.0/).