Open Access This article is
freely available
re-usable
Article
Can Social Robots Make Societies More Human?
Instituto Superior Técnico/Institute for Systems and Robotics, Av. Rovisco Pais 1, 1049-001 Lisbon, Portugal
Received: 12 September 2018 / Accepted: 15 November 2018 / Published: 22 November 2018
Abstract
:
A major criticism social robots often face is that their integration in real social, human environments will dehumanize some of the roles currently being played by the human agents. This implicitly overestimates the social skills of the robots, which are constantly being upgraded, but which are still far from being able to overshadow humans. Moreover, it reflects loosely rational fears that robots may overcome humans in the near future. This paper points to a direction opposite to mainstream, and claims that robots can induce humanizing feelings in humans. In fact, current technological limitations can be managed to induce a perception of social fragility that may lead human agents to reason about the social condition of a robot. Though robot and/or technology phobias may bias the way a social robot is perceived, this reasoning process may contribute to an introspection on the meaning of being social and, potentially, to contribute to humanizing social environments.
Keywords:
social robots; human-robot interaction; humanizing technology
1. Introduction
Unsurprisingly, robots have been considered as instigating all sorts of fears in people. The issue of predictability arises immediately once a human is facing a robot. Even though a certain dose of skepticism by people regarding new technologies may be considered as natural, social robots have been "credited" (mainly by the media) with skills far beyond realistic expectations, both in what concerns static (not involving movement) and dynamic (involving movement) interactions.
In addition, the role of the media, nudging people to (sometimes) extreme emotional states of mind (as caused by the fear induced by a hypothetic social domination by robots), prevents a proper perception of the advantages of social robots. It seems a question worth some analysis if (generically) media ethics related to robotics is beneficial to society in general.
The paper starts by discussing human fears and prejudice, and the slow acceptance of some technologies by societies that allows them reaching stable states. Along the paper, intermediate conclusions are collected from the different knowledge areas considered. Evidence from out-lab experiments is presented. This evidence was obtained spontaneously, i.e., the experiments where not scheduled in advance as to test a specific thesis. Instead, the experiments aimed at simply gathering information on interesting situations arising when the robot is running in fully autonomous mode, and no expert/technical help is present in the environment.
2. Fearing the Unknown?
However, when operating in the diversity of cultural backgrounds, often existing in complex social environments, it may happen that some people do not appreciate interacting with a robot because, if it is too smart, it may be difficult to trust, as there may be not a quick way of knowing what it is capable of.
Thus, a social robot must exhibit its intelligence convincingly but also in a careful form, convincing people that there are no hidden meanings/feelings/intentions. Establishing trust is thus a key issue. Moreover, as with humans, accepting errors plays an important part in it; that is, intentional and non-intentional errors require careful management, to help convey an adequate notion of trust.
In addition to the fear of the physical actions that social robots can take, the fact that they can record image and sound triggers, immediately, fears of privacy violation (and, in some situations, legal issues may be at stake). Moreover, even if the hardware and software making the robots can be guaranteed to be safe, it is difficult to ensure that no third party installs a device onboard (e.g., a micro-camera or sound recorder) that operates independently of the robot (which, then, is simply acting as a transporter vehicle for the spying devices).
3. Slow Integration to Beat a "Prejudice" against Robots
The main claim of the paper is supported on a number of observations of social robots in real environments (note that adjectives such as "real" or "realistic" to qualify environments are often used with very different hidden meanings—in this paper, a "real environment" is an environment that is not controlled in a laboratory sense), where empathic, even friendly, behaviors from people towards robots can be observed, often conveying positive perceptions. Whether empathy is simply an expression of curiosity, or due to some other factor, is difficult to assess.
4. Humanizing Robotics Technology
Technology limitations tend to act in favor of humanization, as they convey a perception of weakness/frailty that may trigger sympathetic feelings. This is precisely a key finding in some ongoing experiments at IST (Instituto Superior Técnico/Institute for Systems and Robotics, Lisbon, Portugal).
The type of social robotic experiments considered in the paper often raise practical issues in what concerns the scientifically valid collection of data. Regular experiments rely (i) on direct observation and recording—in general, constrained due to privacy regulations which, when duly addressed easily bias the results—and (ii) on post-processing analysis, i.e., feature extraction pointing to concepts that are often difficult to disambiguate, e.g., emotions and subsequent statistical processing. In the case of purely observational, non-scheduled, experiments, it is necessary either to wait until any relevant events are triggered (which may require a long time), or to sample the environment with short-time experiments. The rate of events may thus be small, as the case of those reported in this paper which tends to further increase the time necessary for assertive conclusions to be drawn.
The social skills of the robot were limited to (i) asking people for a handshake whenever someone is detected in front of the robot while it is waiting, and (ii) asking people to follow the robot when navigating between a collection of locations in the environment.
The robot was fully autonomous, and the people managing the experiment stayed out of sight during the entire duration, and did not intervene in any way. The experiment duration was constrained only by the duration of the batteries (approximately 4 h).
This particular type of robot does not usually operate in this type of open public area. Its physical shape is known to most people, but not its social skills, though there is a general understanding that it is a programmable device. Some people knew that it was used in the Robotics labs located in the same building.
People passing by naturally looked at the robot. The photos show common situations observed during the experiment, with people spontaneously initiating an interaction (trying to shake hands and following) with the robot.
The same type of robot is being used in a pediatric ward of a hospital for basic interactions with children and acceptance studies. While the acceptance of the robot by the children was very good, it was a collection of a priori unexpected behaviors by visitors and staff that suggested the thesis in this paper.
In general, there will be a multitude of admissible reasons for such behaviors. One may conjecture an analogy with, for example, the small breaks staff members take during a normal daywork—which clearly include the escaping of social pressures.
The fact that, in both experiments presented, no auxiliary/technical staff to the robot was in sight may have influenced the triggering of such behaviors. The presence of the robot in the environment seems to represent a catalyst for such behaviors. However, it must be emphasized that the theatrical behavior observed does not correspond to a bilateral interaction—the robot is not humanly aware in an emotional sense, only in a perceptual/sensory sense.
The dynamics of such behaviors may be subject to a novelty effect. This would be analogous to behaviors often seen among humans when a new element enters a social circle, with an initial attention/interest peak followed by a decrease along some period of time, eventually reaching a stationary level. As aforementioned, identifying such dynamics, e.g., the mean time between activations may require long-run experiments, as, to avoid introducing any biases, these must be spontaneous.
5. Conclusions
In a mixed human-robot society, the humans can assume that robots have skills that foster privacy violations (allegedly) and, hence, develop their own skills to fool the robots, much as they do among themselves. This feedback process has the potential to improve the awareness of humans on their own personality processes and recognition of their frailties. This is likely to play a positive role in humanizing societies.
Two forces are running here in parallel: on one side, people will have increasingly better knowledge about the robots' skills; on the other side, social robots will tend to be increasingly complex/sophisticated, and its predictability will decrease, i.e., it will be more like a human and less like a machine. The effect may be twofold. On one side, there may be a humanizing perception, as humans are often not predictable. Simultaneously, a fear of the unknown and/or some form of phobia against (social) robots may develop and, hence, constrain interactions.
Funding
This research was partially funded by European Project FP7-ICT-9-2011-601033-MOnarCH and Portuguese FCT project [UID/EEA/50009/2013].
Conflicts of Interest
The author declares no conflict of interest.
Figure 1. Pepper robots acting as hosts in large enterprise stands at the EuroCIS 2017 trade fair for retail technologies in Dusseldorf, Germany.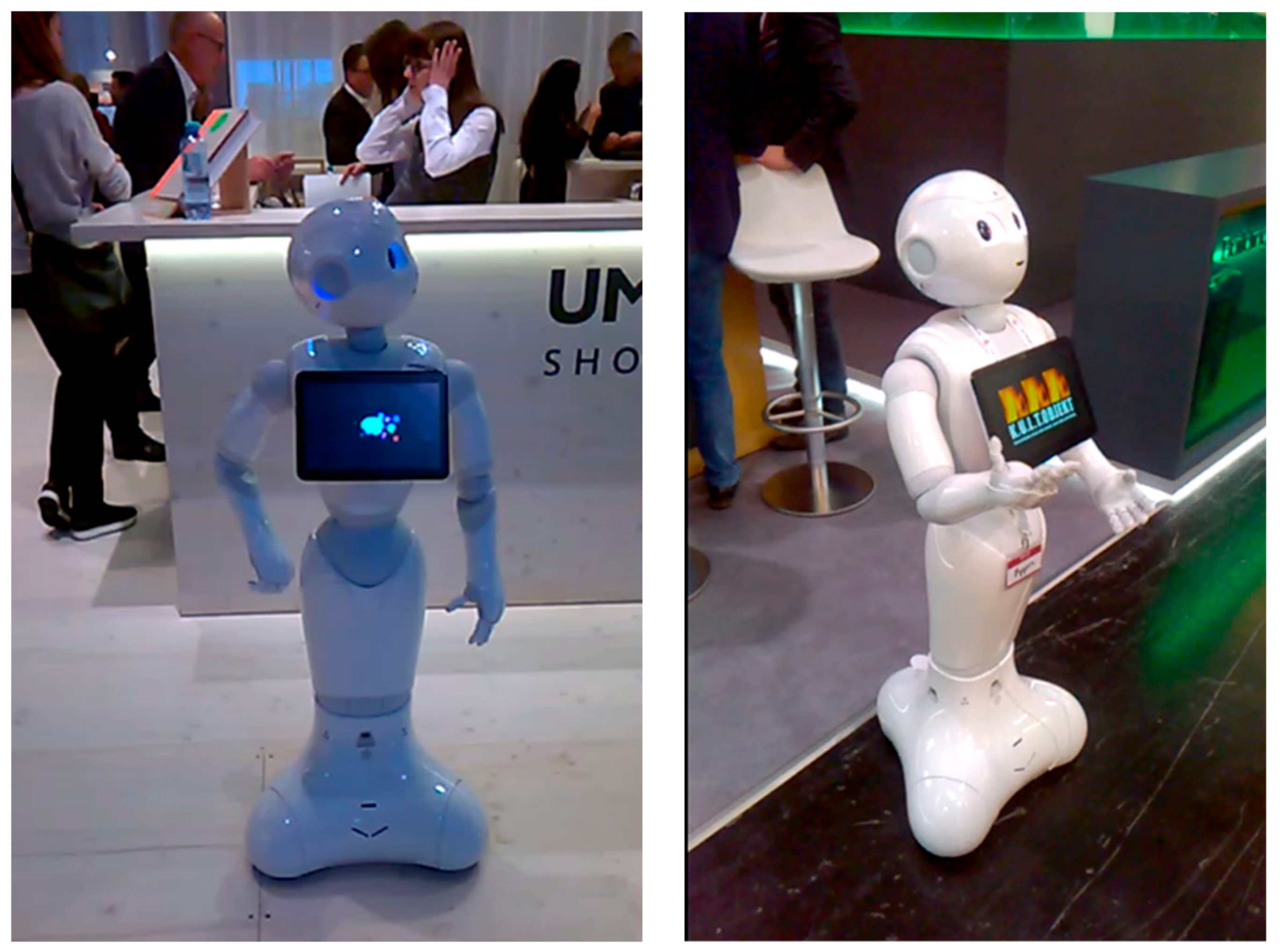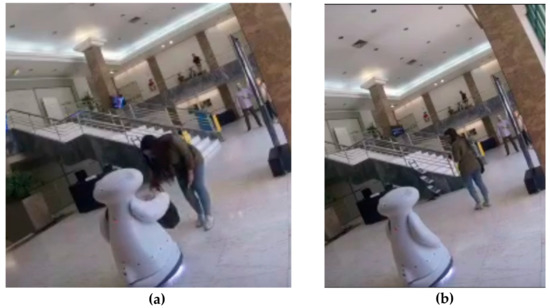 Figure 2. Exploring the skills of the robot. (a) Person taking the initiative of starting an interaction with the robot; (b) Person looking back to confirm that the robot is not going to continue interacting.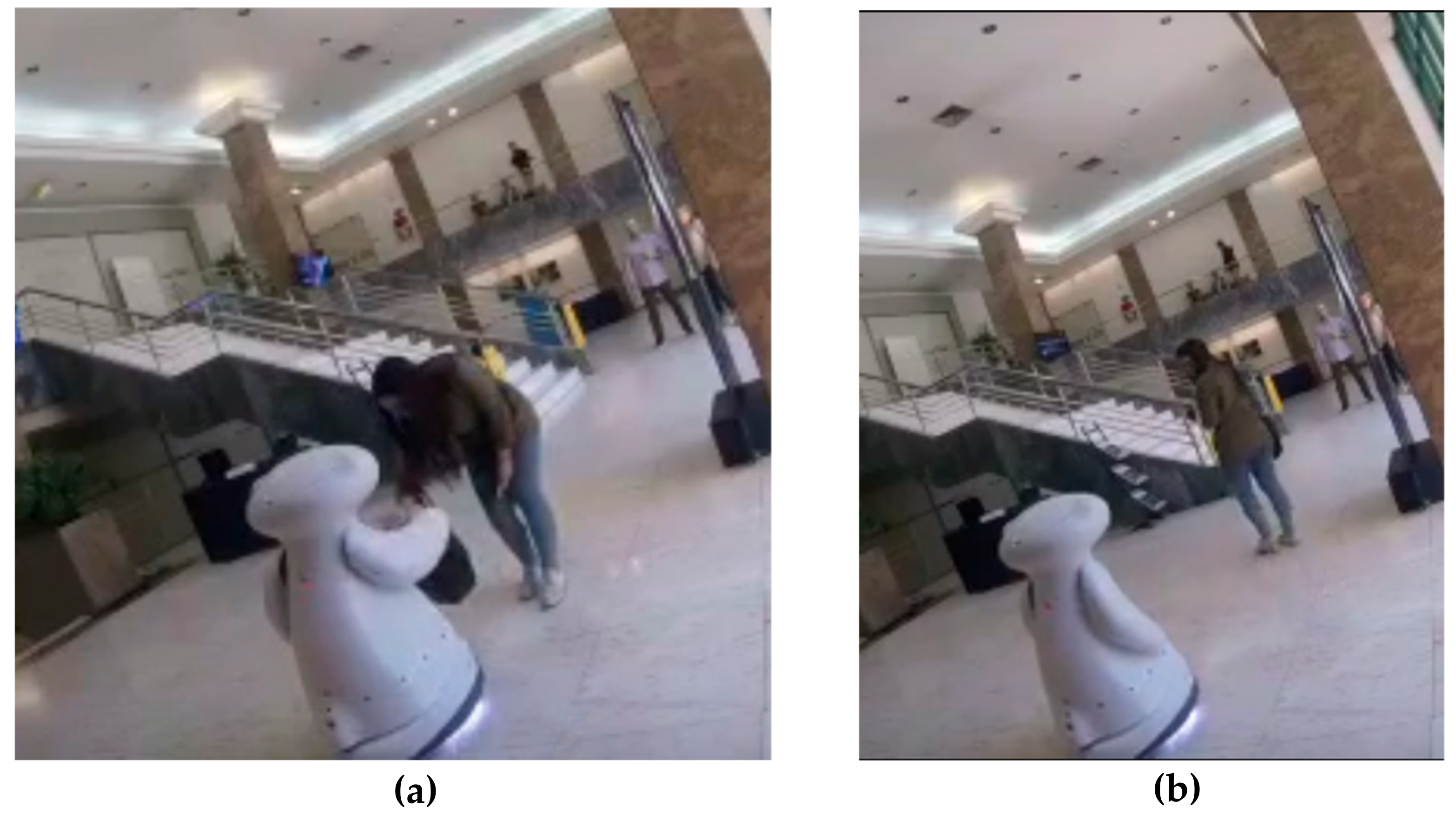 Figure 3. (a) Person trying to initiate an interaction without success (not getting a proper response from the robot); (b) Person initiating a successful interaction (getting a proper response from the robot).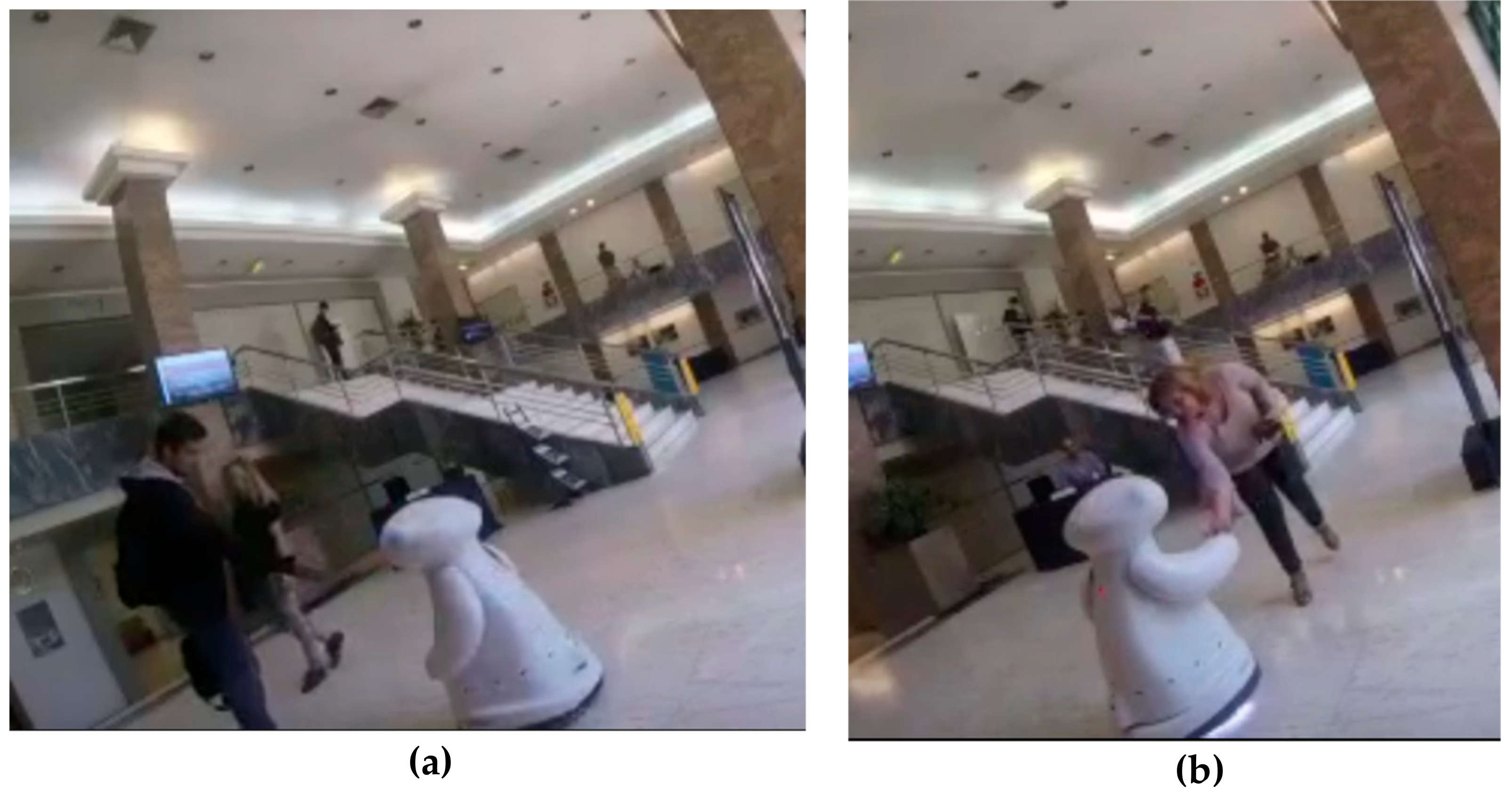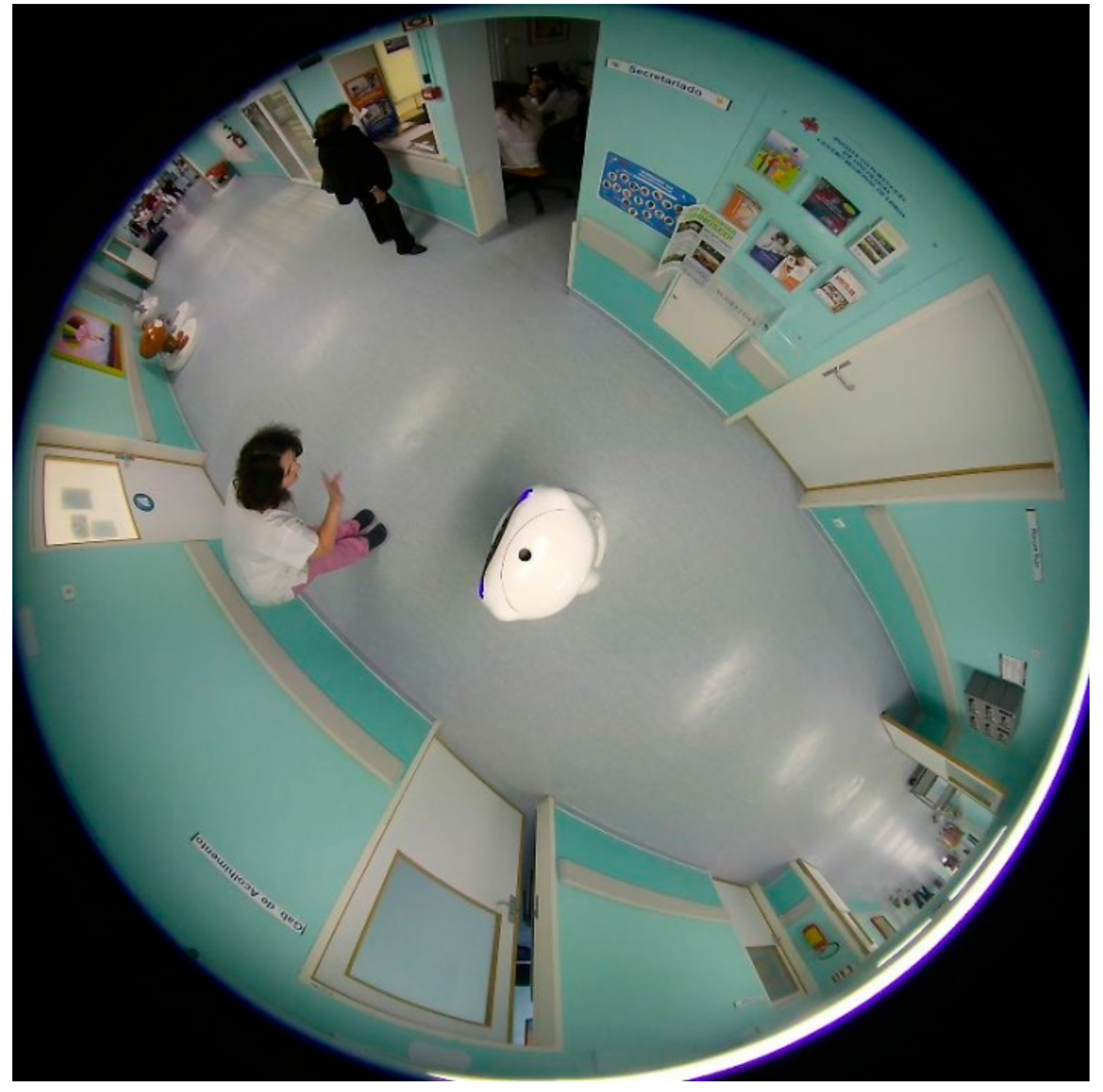 © 2018 by the author. Licensee MDPI, Basel, Switzerland. This article is an open access article distributed under the terms and conditions of the Creative Commons Attribution (CC BY) license (http://creativecommons.org/licenses/by/4.0/).