Open Access This article is
freely available
re-usable
Article
Process Discovery in Business Process Management Optimization
1
Faculty of Electrical and Computer Engineering, Rzeszów University of Technology, 35 959 Rzeszów, al. Powstańców Warszawy 12, Poland
2
Asseco Poland S.A., ul. Olchowa 14, 35 322 Rzeszów, Poland
*
Author to whom correspondence should be addressed.
Received: 13 July 2019 / Accepted: 27 August 2019 / Published: 29 August 2019
Abstract
:
Appropriate business processes management (BPM) within an organization can help attain organizational goals. It is particularly important to effectively manage the lifecycle of these processes for organizational effectiveness in improving ever-growing performance and competitivity-building across the company. This paper presents a process discovery and how we can use it in a broader framework supporting self-organization in BPM. Process discovery is intrinsically associated with the process lifecycle. We have made a pre-evaluation of the usefulness of our facts using a generated log file. We also compared visualizations of the outcomes of our approach with different cases and showed performance characteristics of the cash loan sales process.
Keywords:
business processes management (BPM); process discovery; BPMN; CMMN; process-aware information system; business process redesign (BPR)
2. Related Works
The second group mentioned by the same authors contains methods based on event log analysis. The event log includes a set of execution sequences, based on which the relationship between the different activities may be determined. Such real data can be used to build a process model directly from its working implementation. Based on isolated use cases, archival data, and negative logs (which represent workflow sequences not allowed during the process execution), such method allows for optimal redesign of the initial business process model. One of the first steps in this method is for the developer to determine the initial and final state of the process and the variants of transitions performed by actors on specific resources. A particular business process consists of multiple use cases. Such a structure can be defined by a set of n-element vectors that describe the order and number of executions for each task. Then, the event log is generated and analyzed. The event log is a set of traces of events that can be defined as an ordered sequence of activities in the process. Traces are described by the use case identifier, the event identifier, the timestamp, the activity name, the resource, and the cost. Based on such a record, it is possible to determine many useful statistics, such as the number of events in use cases, the duration of the case, etc. Next, the mining-driven approach may be applied to generate a BPMN diagram using the event log generated from the business process model; in our case, it is a cash loan process. There are many process discovery algorithms which can be used in the BPMN diagram building process, for example, the α-algorithm (abstraction-based algorithm), the heuristic miner (heuristic-based algorithm), the ILP Miner (language-based algorithm), or the inductive miner (inductive-based algorithm).
Our work combines a few techniques described above and a few of them we consider to embed into our framework in the future. First of all, we use well-grounded methods of process mining as the primary source of knowledge in the system. We connect them with existing BPM and ACM tools used in enterprises and an omnichannel cooperation platform, obtaining the solution called the omnichannel business model (OBM). The solution (a) allows catching and storage of the knowledge from the cloud of information hidden in the enterprise resources and (b) can automate future processes and general enterprise activity using the unhidden knowledge and BPR techniques.
3. New Business Management Model
A process-aware information system (PAIS) is a kind of software which supports organization in business process automation involving many accessible assets, such as data sources, software applications, and primarily enterprise employees and customers. PAISs usually use up-front designed scenarios to execute an ordered set of activities leading to the goal of the process.
Process mining is a data mining technique which enables the ability to discover knowledge about real processes in an organization hidden in the data produced during its regular activity. It automatically constructs models, usually using a Petri net or BPMN notation, taking the stream of events registered by the enterprise software as an input [
2
,
3
]. Three main aspects of business process development are usually covered by the process mining, as follows: Process discovery, which gives an outlook of the real flows of processes, conformance checking, which allows for finding gaps between assumptions and the reality, and process improvement, which helps to minimize those gaps.
In this paper, we demonstrate selected process mining techniques used to discover process models from event logs, find logs, and model deviations, and demonstrate the performance characteristics of the process of a cash loan sale as an example. We also suggest a new approach for building a software system which aims to help the community capture its emergent behavior. Using the analytical approach, we have sketched the required system model called the omnichannel business model (OBM), which is shown as a component model in
Figure 1
. The OBM is an example of a PAIS which provides a unique emergence-aware logic embedded together with domain-specific enterprise logic. That additional logic is provided by a few software modules, described in greater detail in Reference [
9
] and shortly sketched below.
Adaptive case management engine (ACM) is the business process management software aiding a novel approach to support people doing a process-aware activity, where the process is not described up-front, but is orchestrated on-the-fly by workers doing their job with the domain knowledge. The process mining engine (PME) is a module which enables discovery of process models and provides their verification and expansion based on data from event logs which describe real, not hypothetical, business processes. The business rules management system (BRMS) is the module used to automate flow in the decision points of processes. Key performance indicators (KPI) are the set of procedures which calculate efficiency indicators and make them available to workers. The social module (SM) engages cooperating parties in formal and informal communication, increasing the level of social awareness. The business process management engine (BPM) enables automation of activity sequences discovered by the system. The knowledge engine is the main part of the solution which coordinates the whole system and makes the gathered knowledge maximally usable [
9
].
4. Modeling the Process of a Cash Loan Sale
In this paper, we present means of data mining discovery in terms of the omnichannel business model, an emergent system class which is characterized by a self-organization feature. We create a model of the real business process of a cash loan and then we discuss key steps of process mining and cost estimation. The cash credit sale process is usually tied with high levels of some efficiency indicators, such as cost efficiency or the speed of decisions. This requirement has a critical impact on the level of automation offered by the system [
1
,
6
,
7
]. The discussed process is built on the set of use cases (UC), shown in
Figure 2
. Each use case may be performed by one on more business roles fulfilled by one or more persons (connections between actors and use cases do not unambiguously appoint who is responsible for the use case; e.g., in the figure, some of them may be performed by two roles). The model also neither orders use cases nor defines which are necessary to achieve the goal of the process.
In the real business environment, many possible traces may be used to move from the starting point of the process to its final state. Even many of the use cases have constraints disabling their use in some circumstances. Typically, a few of them may be used in a different order, resulting in hundreds of possible solutions as regards the whole population of process traces. Usually, this puzzle is solved (better or worse) by business analysts, process engineers, or other highly skilled workers.
In our model, we propose discussion of three main event paths. A first variant called passive-defensive (), the second is called active-defensive (), and the third is called active-offensive (), where the first part of the name concerns level of pro-active behavior of sellers (the passive seller only follows customer needs, the active seller tries to maximize transaction) and the second part concerns the level of the financial risk involved (the offensive variant involves higher risk expecting higher sale) These variants are defined as follows:
In the literature, many different notations for process models may be found. At the first step of the analysis, Petri nets are used, especially its subclass known as WorkFlow nets (WF-nets) [
3
,
4
,
5
,
6
,
13
,
24
,
25
,
26
]. A WF-net is a Petri net with a defined starting point for the process and a separate ending point for the process [
2
,
4
]. All nodes are on a path from source to sink.
Figure 3
presents a WF-net generated for our model of the cash loan process. The model is designed to describe the handling of an application for a new cash loan where customers may apply for a money transfer from a bank. As
Figure 3
shows, the process may start by a loan request registration (A) request or other activities like financial data entry (B) or identification data entry (C). Each action is represented by a transition that is a square. Transitions are interconnected by points that model the potential process status. Each point is defended by a circle. In a Petri net, a transition is activated, i.e., a proper action may be performed if all input points have a token. Transition loan request registration (A) has only one input point (start), and this point initially includes a token to represent the request for compensation. Other transitions like financial data entry (B) or identification data entry (C) have two input points. The transition uses one token from each of its input points and creates one token for each of its output points.
Therefore, starting the transition, i.e., loan request registration (A), causes the termination of the token from the initial point of entry and the creation of the token for the output place. Tokens are presented as black dots. The setting of tokens in specific points, in this case, the request state, is defined as marking. In our WF-net model, we can distinguish activities which may be processed by different job roles, i.e., consultant, analyst, and manager. At many use cases, the same activity may also be processed by a different person with the same job role. Additionally, some activities like contract printing and signing (F), credit scoring (H), and offering (I) may be realized by the consultant job role as an analyst. Let us notice that the activity approval (K) is assigned only to the manager. The process ends after paying the money transfer (L) activity of the cash loan request.
In
Figure 4
, we present the same process model in terms of the BPMN diagram [
1
,
2
,
3
]. The business process model and notation (BPMN) uses explicit gateways instead of points for simulating the logic of control flow. The diamonds with an "×" mark indicate XOR split/join gateways, whereas diamonds with a "+" mark indicate AND split/join gateways. The presented graphs were obtained with the use of RapidMiner Studio, a popular mining tool, with the ProM extension (RapidProM). This software is an upgradeable structure that handles a large number of process mining techniques, which are prepared and distributed as extensions and plug-ins [
2
,
3
,
4
,
5
,
6
,
7
,
13
,
26
].
5. Process Discovery and Aspects of the Emergence
Process mining and process discovery is a new trend in scientific research. These techniques focus on the extraction of knowledge about a (business, system) process from its execution logs. Process mining enables system engineers to see the system (process, application) from different perspectives, such as the process (or control flow) perspective and/or the performance, data, social network, and organizational perspectives. We can say that process mining, as well as process analysis and modeling, is an entirely new research discipline that can be placed in the field between data mining and machine learning [
1
,
2
,
3
,
4
,
5
,
6
,
7
,
27
]. By redesigning business processes, organizations make significant changes to improve their performance indicators.
Following the presented idea of the omnichannel business model (OBM), especially its process mining engine (PME) module, we can implement in it the process discovery techniques in order to confirm the adequacy of the conceptual model of the system. Conformance checking is used to verify real system functions with recorded activity flows and to quantify and diagnose its deviations. Such knowledge may improve an existing process model by modifying or extending the a priori model to reflect reality, sufficiently retrieving an event log, and creating a model with no use of any a priori information.
In the analyzed system, we aim to discover new rules in existing event logs of real processes in order to improve them. These new rules and new activity flows in the process may improve the first system model constructed at the beginning of the system (or application) implementation.
5.1. Methodology
In the approach proposed, existing enterprise-class tools are combined with the sophisticated methods of process discovery, resulting in the comprehensive solution, which may be used in the real enterprise to aid its business activity. The methodology used contains the following:
(1)

A deep study on process mining techniques and the selection of the most appropriate ones, as regards the incorporation into the solution and the ability to work in real business circumstances. Both process discovery and social network discovery methods are used to gather the knowledge present in the organization;

(2)

Creating the working omnichannel business model (OBM) solution, which connects the discovery tools, the BPM/ACM tools, and other enterprise tools, and controls/transforms the flow of data produced and required by them;

(3)

Implementation of business process redesign (BPR) mechanisms to utilize the knowledge discovered;

(4)

Real-world long-time tests of the system with careful analysis of the results and improvement of the solution, if required; and

(5)

Assessment of the applicability of methods, algorithms, and tools selected in support of the typical process-sensitive enterprise.
The omnichannel business model (OBM) solution provides the process mining engine (PME) module. This module is responsible for the process discovery and it tightly cooperates with the knowledge engine (KE), the central component of the system. PME acquires information resulting from calculations performed in other parts of the system, processes it, and gathers knowledge in the form required for further automation of processes. For example, the PME module receives information about the BPMN models resulting from the actual activity of the process participants and confronts this information with the indicators derived from the KPI module and the knowledge about the reputation of the participants from other modules. The PME module creates a BPMN model and the resulting knowledge allows it to issue a recommendation on the most beneficial ways to continue the process. In particular, the Alpha algorithm, which records events and creates a BPMN diagram as a Petri net showing the action stored in the log [
4
,
13
]. If the event log provides information about resources, individuals may also discover resource-related models, e.g., a social network showing how people work together in an organization [
2
,
3
,
4
]. After the BPMN model is generated, it has to be enriched with information regarding the effectiveness of possible paths. The model is traversed using paths from all successful cases, and transitions between activities are marked by a unique value. In the simple solution, each transition used gets one point to sum, while in more a sophisticated one, each granted point is multiplied by a value which is a result of the function of measured KPIs of the case [
2
,
3
,
25
]. The activity performer choosing the next step in the process sees punctuation of each reachable path. The punctuation serves as a hint which helps them to select the best processing path.
The most important tasks of the PME module include the following:
Data transformation between models operating in particular modules (e.g., historical data from Camunda API, event log in XES format, process model in PNML format, Camunda API for process model management, etc.);

Storage of the proposed knowledge base, created based on the performed tasks;

Storage of the procedural knowledge base resulting from the discovery of processes;

The categorization of process participants according to different criteria (reputation, performance, internship, function, etc.);

Marking and suggesting the most suitable paths;

Awarding contractual awards resulting from reputation analysis and KPIs (awarding reputation strengthens the level of cooperation that determines emergence).
5.2. Event Log of the Cash Loan Process
In the area of process mining, the carrying out of a process is called a trace or a case and is a sequence of events. A set of traces is called an event log and is a key concept in the field of process mining. Every event log, trace, or event can contain data attributes which must at least describe the executed activity type and may also include other information, e.g., the resource or time information. Every type of activity is also called an event class [
1
,
2
,
3
].
Figure 5
presents a small fragment of an event log correlated to the process of handling the cash loan requests. Each line in the table shows one event of some business case. We can distinguish a few attributes like case id and event id, which are strongly related to the activity attribute, timestamp, resource, and cost. Each event id is a unique value grouped in a specific case and assigned to an activity realized in the process by a particular resource (user, worker). The activity set contains 12 different actions (see
Figure 2
) which may be performed by a specific job role, e.g. consultant (resource: Pawel, Mirek, Maciek), analyst (resource: Andrzej, Marek), and also manager (resource: Dominik). Let us notice that some activities may be performed only by a specific job role—only the manager may do approval activity or only the analyst (Marek or Andrzej) may do, e.g., credit scoring, but there are a few activities common for consultant and analyst, e.g., money transfer, offering, or contract printing and signing. An important attribute is a timestamp, which informs when the activity was started. In this event log, the actions are treated as atomic and the table does not disclose the time period of the actions. The table also shows the costs associated with the events. As we can see, two of the same activities may be triggered by different resources in a separate case in almost the same time. However, it is a different business case. Our event log contains 19 cases and 267 events.
In
Table 1
, some aggregated information is presented about our event log of the cash loan process. For each case, we can obtain the number of its events, the resource count involved in the activities performed, and, one of the most important things, the case duration time, which is obtained from the start of the first activity in the case through to the completion of the last one. By using timestamps in the event log, we can find bottlenecks, service levels, throughput times, and frequencies. By analyzing the event log of the modeled process information about resources, decision rules, quality metrics, etc., may be obtained.
7. Conclusions
We have made a preliminary assessment of the feasibility of using our approach with a generated log file. We made a comparison of the graphical result of our approach to the cash loan sales process. In this article, we do not intend to evaluate the usefulness of the graphical results but instead focus on demonstrating the strength of our artifact, which can create visualizations that expose more aspects of BPM social networks and process-aware information systems (PAIS). Designing a proper sequence of use cases, as well as identifying rules to automate the flows between them, is a complex task that requires a lot of experience. The key to orchestrating use cases is the sequence in which they occur.
We have demonstrated that PAISs are systems dedicated to process management that function in many areas of human activity. There is no perfect instrument to monitor their work and analyze the processes they perform. To this end, one of the encouraging methods, process mining, can be used. Process mining is a discipline combining data mining and process modeling techniques. Process exploration offers automated techniques for detecting process models from event logs, verifying the suitability of process models and event logs (compatibility checking) and improving discovered processes with new data. The provided analysis of the discovery process can be used to validate the analysis in BPM and that the software fulfills the requirements, and an experiential study in an appropriate business environment could be used. It can also be used as a utility to give an uninterrupted view of the actors' behavior and allow for online improvement.
As our contribution, we consider the proposal for the construction of software systems based on the omnichannel business model (OBM) as well as a process mining engine (PME), a module which enables discovery of process models and provides their verification and expansion on the basis of data from event logs which describe real, not hypothetical, business processes. We showed an example of cash loan process optimization the functionality of PME component of the OBM architecture presented by us. The PME can be successfully used in software systems in case of having data from event logs which describe real, not hypothetical, business processes. Visualizations of the results show the different options for solving the problem clearly and legibly. The obtained results allow identification of bottlenecks and eliminate unnecessary operations that affect the efficiency of the process (e.g., cash loan sales). These solutions and the example of implementation fill the existing gap between the rich literature on mining techniques and commercial systems and tools using discovery algorithms.
Further research will try to confirm experimentally correctness of assumptions taken, using big enough samples of business cases processed in the discussed system. Additionally, a significant problem to be faced in the future is the issue of the quality of business process event logs determined based on incorrect and missing values. Further research will focus on detecting abnormal and reconstructing missing values. We also plan to focus on how to represent procedural knowledge growing in the organization, making it useful for process automation.
Author Contributions
Conceptualization, P.D. and M.K.; methodology, P.D., M.K., and M.M.; software—formal analysis and investigation, P.D., M.K., and M.M.; resources, P.D., M.K., and M.M.; writing—original draft preparation, P.D., M.K., and M.M.; writing—review and editing, P.D. and M.M.; visualization, P.D., M.K., and M.M.; supervision, P. D.; project administration, P.D. and M.M.
Funding
This project is financed by the Minister of Science and Higher Education of the Republic of Poland within the "Regional Initiative of Excellence" program for years 2019 – 2022. Project number 027/RID/2018/19, amount granted 11 999 900 PLN.
Conflicts of Interest
The authors declare no conflict of interest.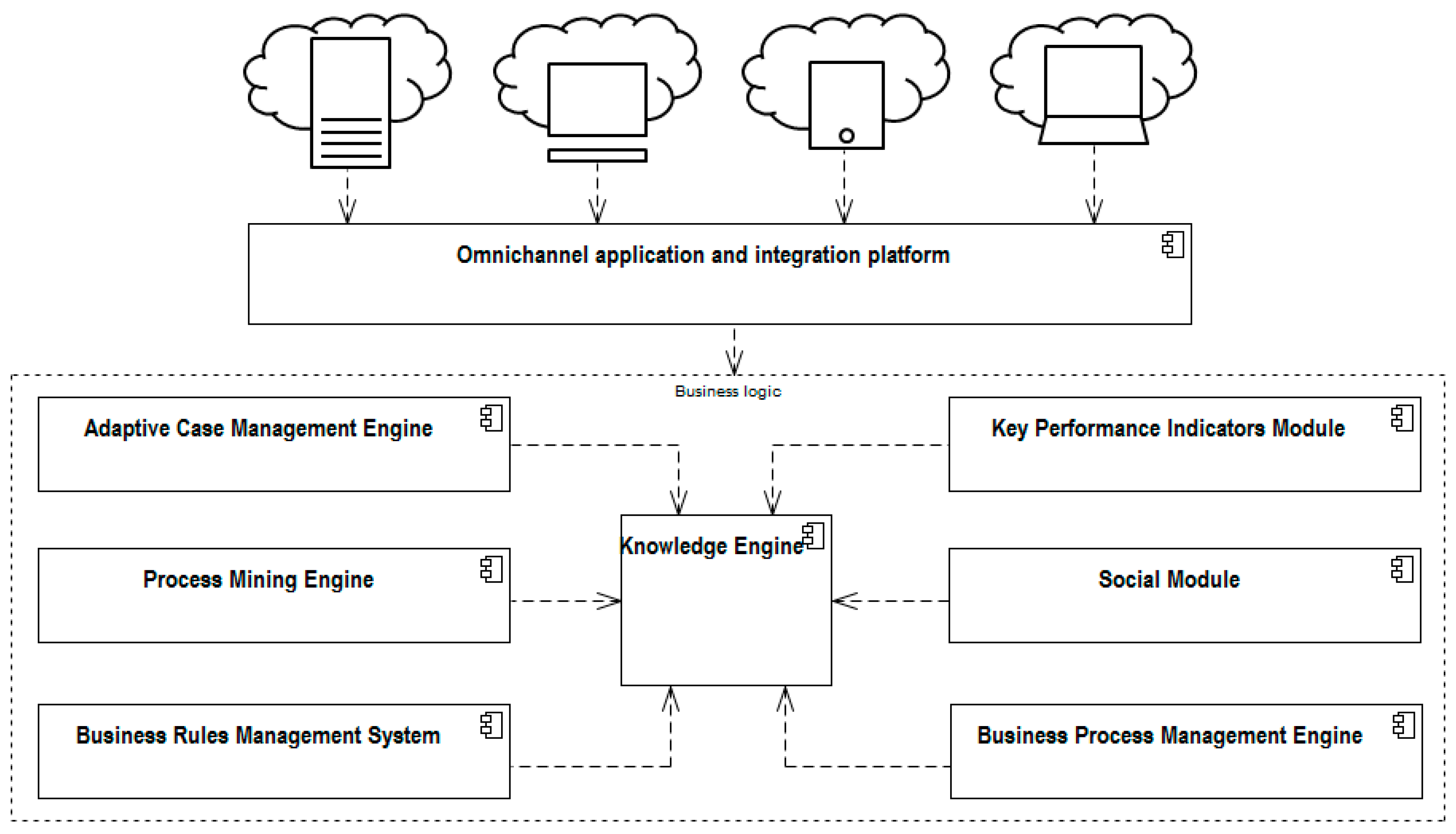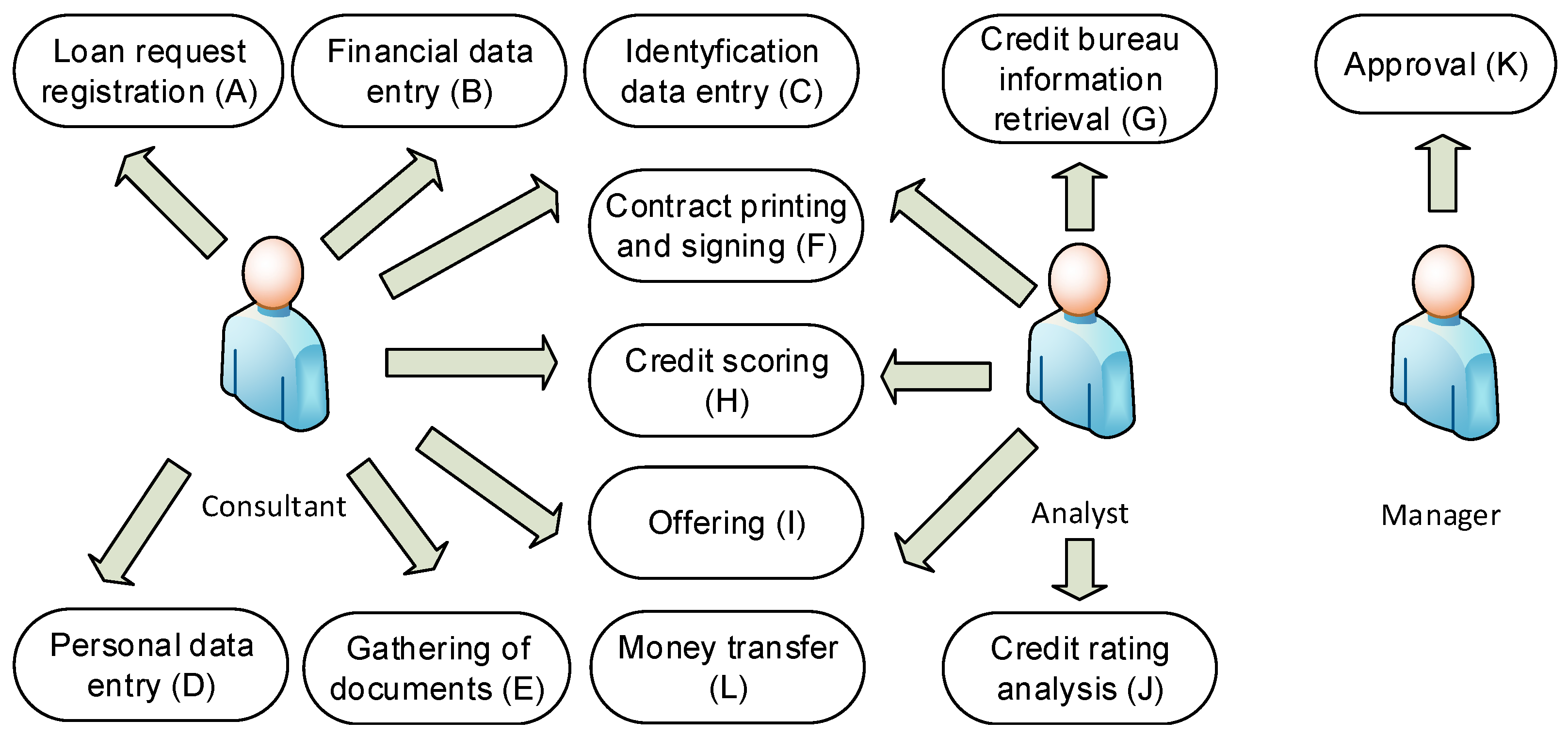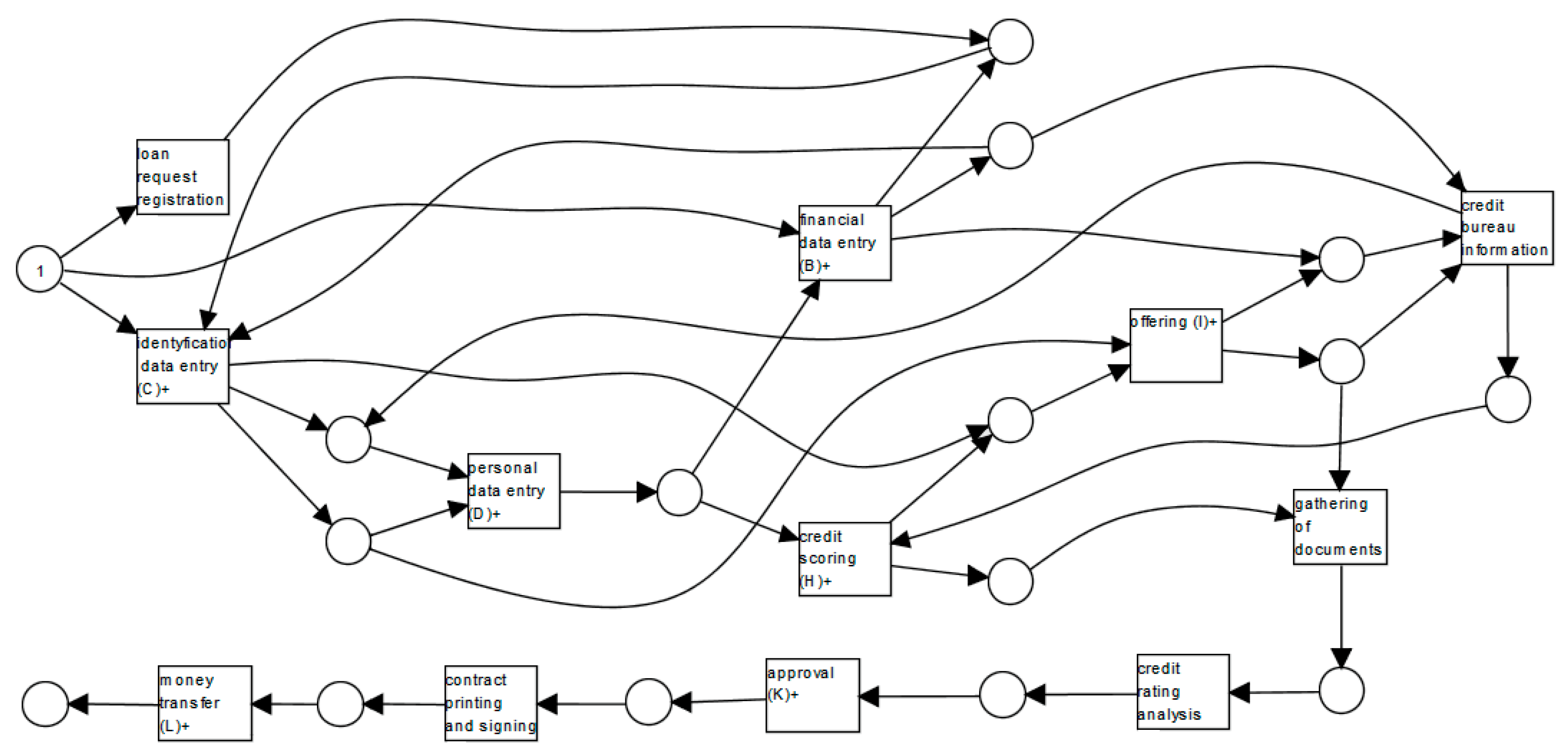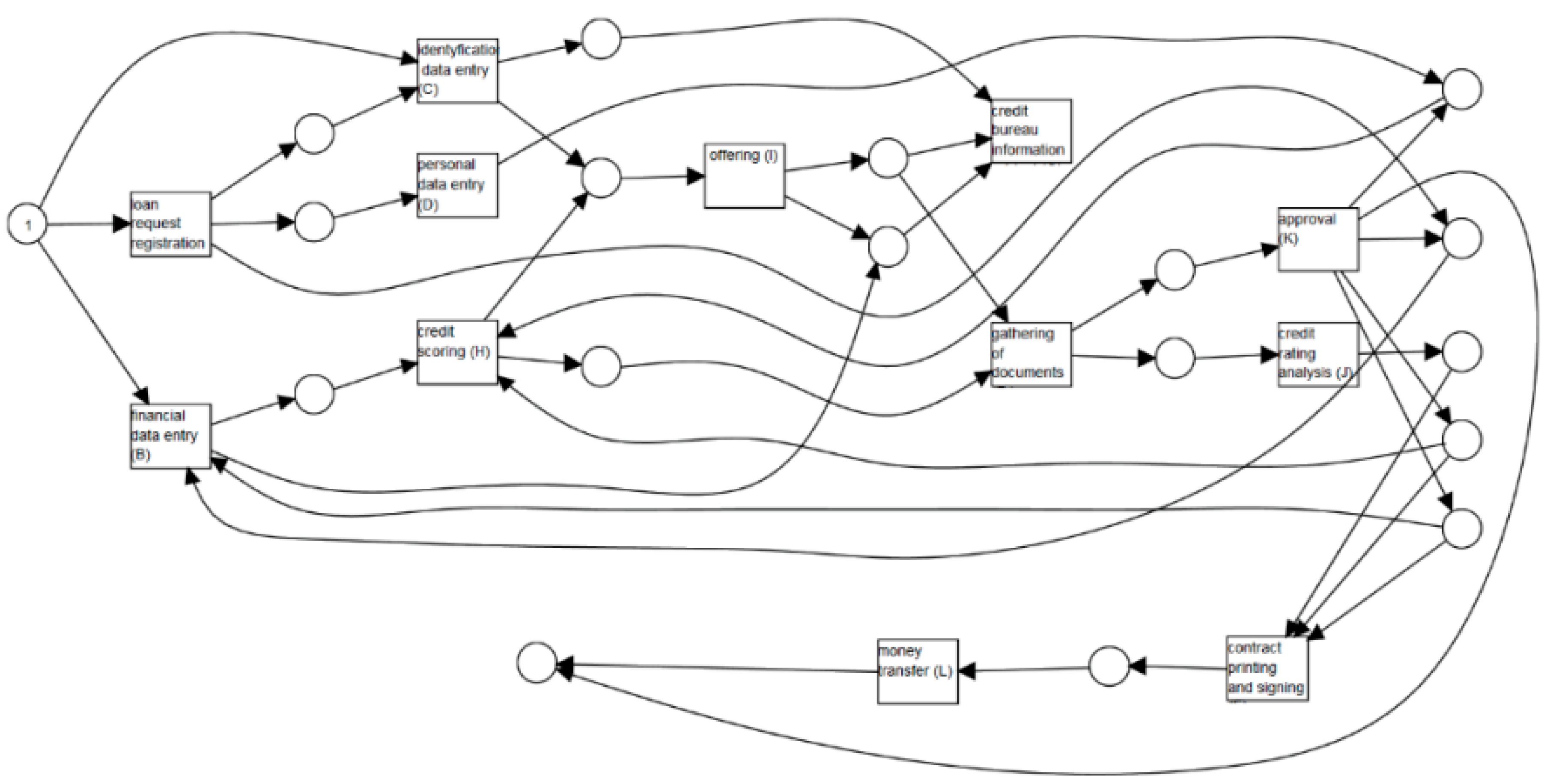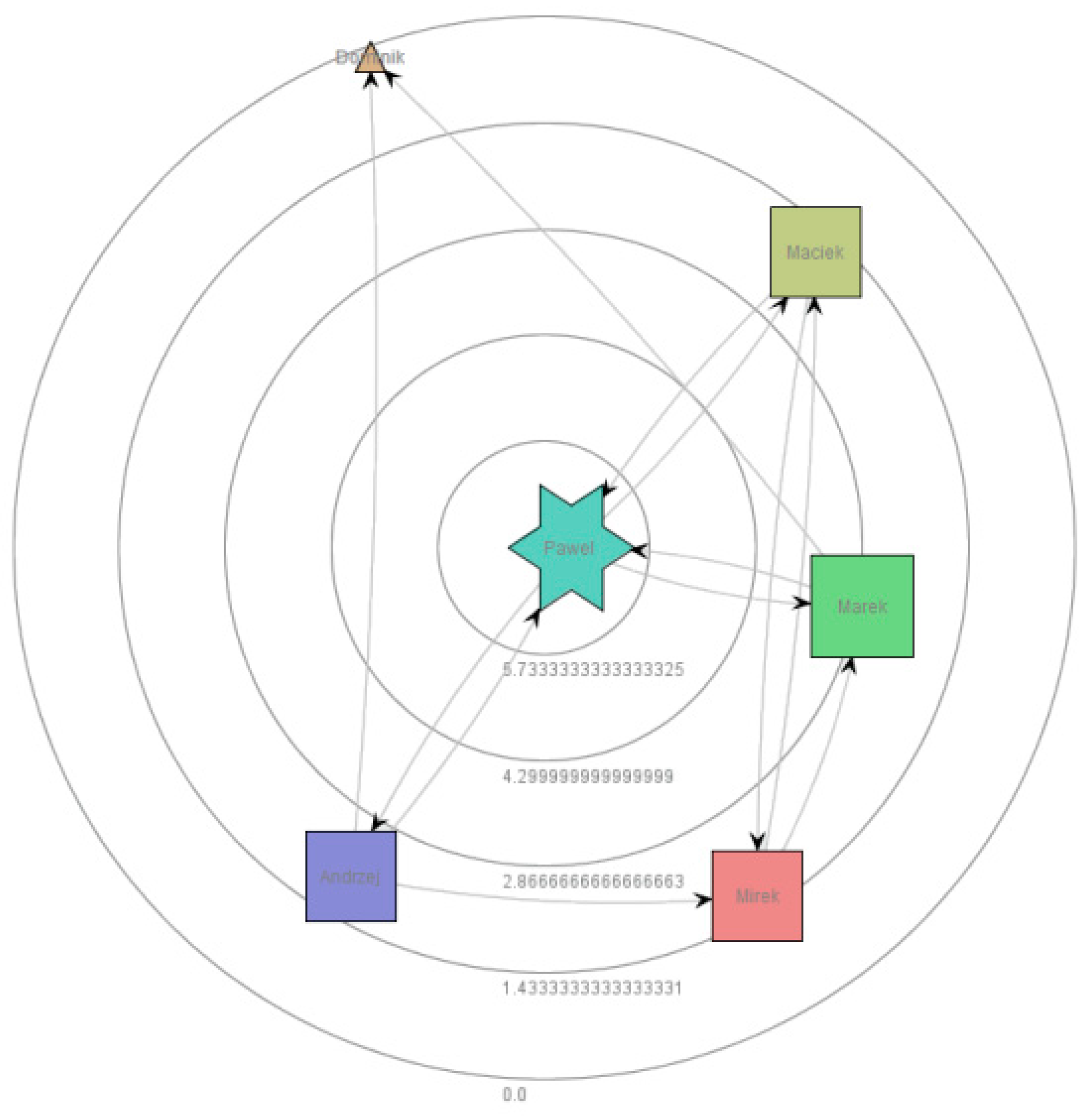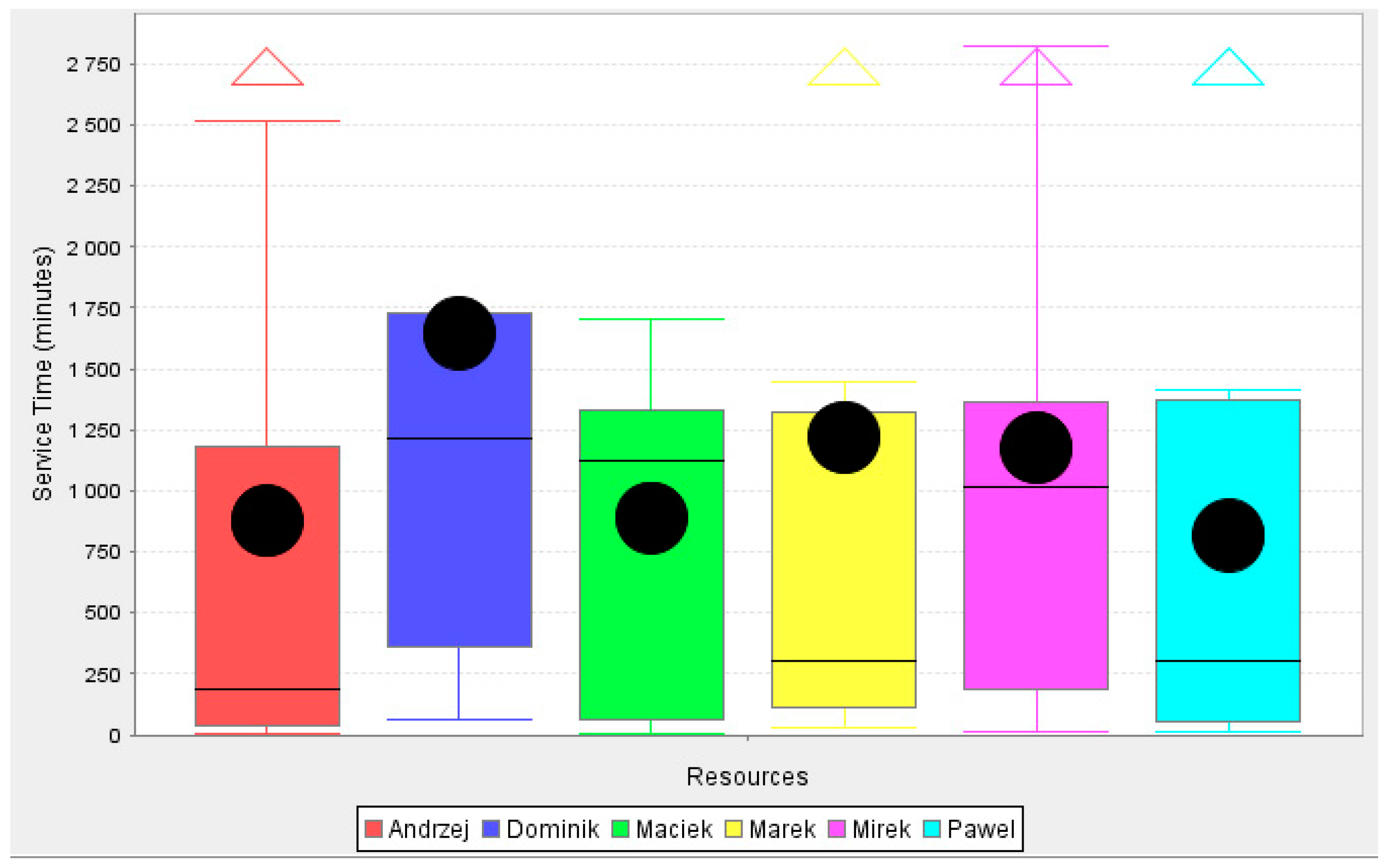 | Case ID | Events Number | Duration Time | Resources |
| --- | --- | --- | --- |
| 1 | 11 | 11 days, 4 h | 6 |
| 2 | 11 | 9 days, 4 h | 5 |
| 3 | 12 | 14 days, 2 h | 6 |
| 4 | 12 | 11 days, 3 h | 6 |
| 5 | 12 | 14 days, 17 h | 4 |
| 6 | 12 | 17 days, 23 h | 4 |
| 7 | 12 | 15 days, 19 h | 6 |
| 8 | 10 | 13 days, 1 h | 5 |
| 9 | 10 | 12 days, 5 h | 5 |
| 10 | 10 | 13 days, 20 h | 5 |
| 11 | 10 | 10 days, 21 h | 6 |
| 12 | 15 | 19 days, 21 h | 6 |
| 13 | 25 | 27 days, 20 h | 6 |
| 14 | 15 | 14 days, 20 h | 6 |
| 15 | 20 | 20 days, 22 h | 6 |
| 16 | 15 | 12 days, 20 h | 6 |
| 17 | 20 | 21 days, 2 h | 6 |
| 18 | 20 | 23 days, 22 h | 6 |
| 19 | 15 | 16 days, 18 h | 6 |
| | | | | | | | | | | | | |
| --- | --- | --- | --- | --- | --- | --- | --- | --- | --- | --- | --- | --- |
| | K | F | G | J | H | B | E | C | A | L | I | D |
| K | −0.78 | 0.90 | −1.0 | −0.89 | 0.83 | 0.8 | −1.0 | −1.0 | −1.0 | −1.0 | −1.0 | −1.0 |
| F | −1.0 | −0.81 | −1.0 | −1.0 | −1.0 | −1.0 | −1.0 | −1.0 | −1.0 | 0.91 | −1.0 | −1.0 |
| G | −1.0 | −1.0 | −0.73 | −1.0 | 0.66 | −1.0 | −1.0 | −1.0 | −1.0 | −1.0 | −1.0 | −0.7 |
| J | 0.73 | 0.5 | −1.0 | −1.0 | −1.0 | −1.0 | −1.0 | −1.0 | −1.0 | −1.0 | −1.0 | −1.0 |
| H | −1.0 | −1.0 | −0.60 | −1.0 | −0.88 | −1.0 | 0.5 | −1.0 | −1.0 | −1.0 | 0.96 | −1.0 |
| B | −1.0 | −1.0 | 0.85 | −1.0 | 0.8 | −1.0 | −1.0 | −0.22 | −1.0 | −1.0 | −1.0 | −0.64 |
| E | 0.5 | −1.0 | −1.0 | 1.0 | −1.0 | −1.0 | −1.0 | −1.0 | −1.0 | −1.0 | −1.0 | −1.0 |
| C | −1.0 | −1.0 | 0.8 | −1.0 | −1.0 | −0.30 | −1.0 | −0.84 | −1.0 | −1.0 | 0.5 | −0.42 |
| A | −1.0 | −1.0 | −1.0 | −1.0 | −1.0 | 0.8 | −1.0 | 0.83 | −0.66 | −1.0 | −1.0 | 0.88 |
| L | −1.0 | −1.0 | −1.0 | −1.0 | −1.0 | −1.0 | −1.0 | −1.0 | −1.0 | −0.78 | −1.0 | −1.0 |
| I | −1.0 | −1.0 | 0.5 | −1.0 | −1.0 | −1.0 | 0.99 | −1.0 | −1.0 | −1.0 | −1.0 | −1.0 |
| D | −1.0 | −1.0 | −0.23 | −1.0 | 0.5 | −0.45 | −1.0 | −0.58 | −1.0 | −1.0 | −1.0 | −1.0 |
| Class | Occurrences (Absolute) | Occurrences (Relative) | Replay Cost Factor |
| --- | --- | --- | --- |
| credit scoring (H) | 32 | 11.99% | 12 |
| offering (I) | 28 | 10.49% | 12 |
| approval (K) | 28 | 10.49% | 20 |
| gathering of documents (E ) | 28 | 10.49% | 15 |
| credit rating analysis (J) | 28 | 10.49% | 20 |
| credit bureau information retrieval (G) | 23 | 8.61% | 10 |
| financial data entry (B) | 23 | 8.61% | 12 |
| identification data entry (C) | 19 | 7.12% | 10 |
| personal data entry (D) | 19 | 7.12% | 10 |
| loan request registration (A) | 17 | 6.37% | 60 |
| money transfer (L) | 11 | 4.12% | 30 |
| contract printing and signing (F) | 11 | 4.12% | 20 |
| Class | Frequency (Absolute) | Frequency (Relative) | Replay Cost Factor |
| --- | --- | --- | --- |
| Pawel | 53 | 19.85% | 2 |
| Mirek | 49 | 18.35% | 3 |
| Maciek | 48 | 17.98% | 2 |
| Andrzej | 47 | 17.60% | 3 |
| Marek | 42 | 15.73% | 3 |
| Dominik | 28 | 10.49% | 2 |

© 2019 by the authors. Licensee MDPI, Basel, Switzerland. This article is an open access article distributed under the terms and conditions of the Creative Commons Attribution (CC BY) license (http://creativecommons.org/licenses/by/4.0/).