Open Access This article is
freely available
re-usable
Article
Study on Unknown Term Translation Mining from Google Snippets
1
School of Information Engineering, Anhui Open University, Hefei 230041, China
2
Provincial Key Laboratory of Computer Information Processing Technology, Soochow University, Suzhou 215006, China
*
Authors to whom correspondence should be addressed.
Received: 16 May 2019 / Accepted: 12 August 2019 / Published: 28 August 2019
Abstract
:
Bilingual web pages are widely used to mine translations of unknown terms. This study focused on an effective solution for obtaining relevant web pages, extracting translations with correct lexical boundaries, and ranking the translation candidates. This research adopted co-occurrence information to obtain the subject terms and then expanded the source query with the translation of the subject terms to collect effective bilingual search engine snippets. Afterwards, valid candidates were extracted from small-sized, noisy bilingual corpora using an improved frequency change measurement that combines adjacent information. This research developed a method that considers surface patterns, frequency–distance, and phonetic features to elect an appropriate translation. The experimental results revealed that the proposed method performed remarkably well for mining translations of unknown terms.
Keywords:
unknown term; translation mining; web mining; google snippets
1. Introduction
The rapid development of Web 2.0 and constant expansion of the network size has led to a great increase in the amount of informational resources in multiple languages on the Internet. Because most populations tend to express their demands in their local language, linguistic differences have become a major obstacle. Cross-language information retrieval (CLIR) enables people to retrieve documents written in multiple languages through a single query. Despite the rapid advancements in this field, CLIR still has a major choking point when a query involves the translation of unknown terms, which is known as an out-of-vocabulary (OOV) problem. Searching for and finding the correct translations of those terms is bound to enhance the performance of CLIR, machine translation systems, and question-answering systems. Otherwise, if unknown terms are translated incorrectly, the performance of CLIR or other systems is greatly reduced.
This research suggests a new approach for mining translations of web-based terms. It adopts co-occurrence information to expand the cross-linguistic terms so as to more effectively extract bilingual web snippets that are more relevant. In order to extract valid candidates, the research employed various term extraction methods with frequency change measurement. All kinds of features were studied during the stage of ranking the translations to assign weights to the candidates.
2. Related Works
Due to the emergence of more bilingual resources on the Internet (e.g., Chinese to English, Korean to English, and Japanese to English), web texts generally contain the co-occurrence of some terms with corresponding translations. This makes it feasible and more reliable to explore web data and then translate queries for mining OOV translations.
Despite extensive studies on the mining of term translations based on the web, as mentioned above, there is still a huge gap in our ability to reach satisfactory performance. First, existing studies do not expand the query to collect sets of web pages, or the expansion approaches are defective and not applicable to diverse OOV terms. Second, continuous strings were regarded as translation candidates in these studies, while these strings are generally ineffective lexical units. Finally, apart from frequency, other features also exist for selecting potential translation candidates, such as surface and phonetic patterns as well as distance.
3. Web-Based Term Translation Mining System
4. Experimental Evaluation
5. Conclusions
This study proposed an approach for mining the translations of unknown terms based on the web and it is an extension of our research team's work. The first key step was a method based on co-occurrence information for expanding source queries to gather valid bilingual snippets. The study then employed the FCMAI to mine valid candidates from small bilingual corpora containing noises. To select the correct translations, we adopted an approach based on surface patterns, frequency–distance, and transliteration modeling. Meanwhile, we made improvements in our experiment based on the work [
26
], especially in the areas of the FCMAI algorithm, the strategies of the combined method, the preprocessing of corpus data (i.e., POS tagging), and so on. It can be observed from the experimental results that the proposed approach performed well in mining the translations of unknown terms.
To improve the quality of translation mining and to carry out experiments on larger test sets, more features will be considered in further research, including semantic analysis results. For better query translation, performance in retrieving cross-linguistic information must be enhanced. We also plan on validating this concept further by conducting experiments.
Author Contributions
Conceptualization, B.L. and J.Y.; methodology, B.L. and J.Y.; software, B.L. and J.Y.; validation, B.L. and J.Y.; formal analysis, B.L.; investigation, B.L.; resources, J.Y.; writing—original draft preparation, B.L.; writing—review and editing, J.Y.; project administration, B.L. and J.Y.; funding acquisition, B.L. and J.Y.
Funding
This research was funded by the National Natural Science Foundation of China under Grant No. 61672367, the Key Program of the Foundation for Young Talents in the Colleges of Anhui Province under Grant No. 2013SQL097ZD, the Program of Quality Engineering in the Colleges of Anhui Province under Grant Nos. 2017SJJD101 and 2018XFSYXM010, the Key Program of the Natural Science Foundation of Anhui Education Committee under Grant KJ2019A0969, and the Foundation of Anhui Open University under Grant No. JY19-01.
Acknowledgments
The authors express their gratitude to the anonymous reviewers for their carefulness and patience.
Conflicts of Interest
The authors declare no conflict of interest.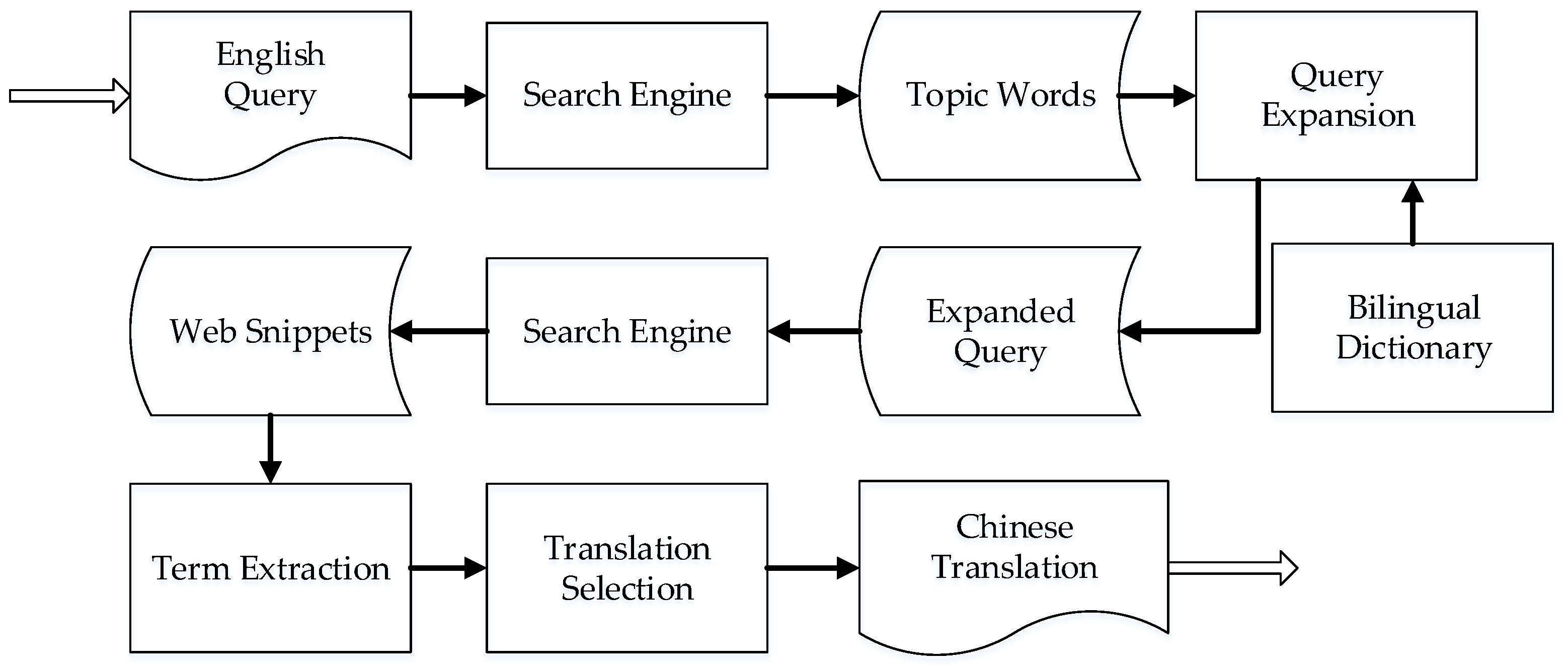 | No. | Surface Patterns |
| --- | --- |
| 1 | E (C, C(E, E (C, C (E |
| 2 | E [C, C[E, E [C, C [E |
| 3 | E.C, C.E |
| 4 | E,C C,E |
| 5 | E>>(C |
| 6 | E』(C |
| 7 | E|C |
| 8 | E-C |

Table 2.
Top
n
inclusion rates in the mining results of term translations obtained by changing the number of snippets.
No.
Method
Top 1
Top 3
Top 5
Top 10
50
Baseline
45.8%
68.2%
75.2%
89.1%
Our approach
58.1%
77.5%
80.6%
89.1%
100
Baseline
66.7%
80.6%
82.2%
91.5%
Our approach
73.6%
87.6%
89.1%
94.6%
150
Baseline
66.7%
77.5%
82.9%
90.7%
Our approach
73.6%
82.2%
87.6%
91.5%

Table 3.
Top
n
inclusion rates of term translations mined using machine translation and translation based on web pages.
| Method | Top 1 | Top 3 | Top 5 | Top 10 |
| --- | --- | --- | --- | --- |
| BabelFish | 41.9% | N/A | N/A | N/A |
| Chi-squared and context vector | 30.2% | 44.2% | 55.8% | 79.1% |
| Combined method in [26] | 61.2% | 74.4% | 82.2% | 90.7% |
| Our approach | 73.6% | 87.6% | 89.1% | 94.6% |

© 2019 by the authors. Licensee MDPI, Basel, Switzerland. This article is an open access article distributed under the terms and conditions of the Creative Commons Attribution (CC BY) license (http://creativecommons.org/licenses/by/4.0/).